WBSC XV Women's World Softball Championship
Women's World Softball Championships Quarterfinal & Semifinals
Women's World Softball Championships Quarterfinal & Semifinals
By Gary KingstonSOUTH SURREY, B.C. -- Thirty countries made their way to Canada for the 15th Women's World Softball Championships. There were a few surprise
Jul 24, 2016
by FloSoftball Staff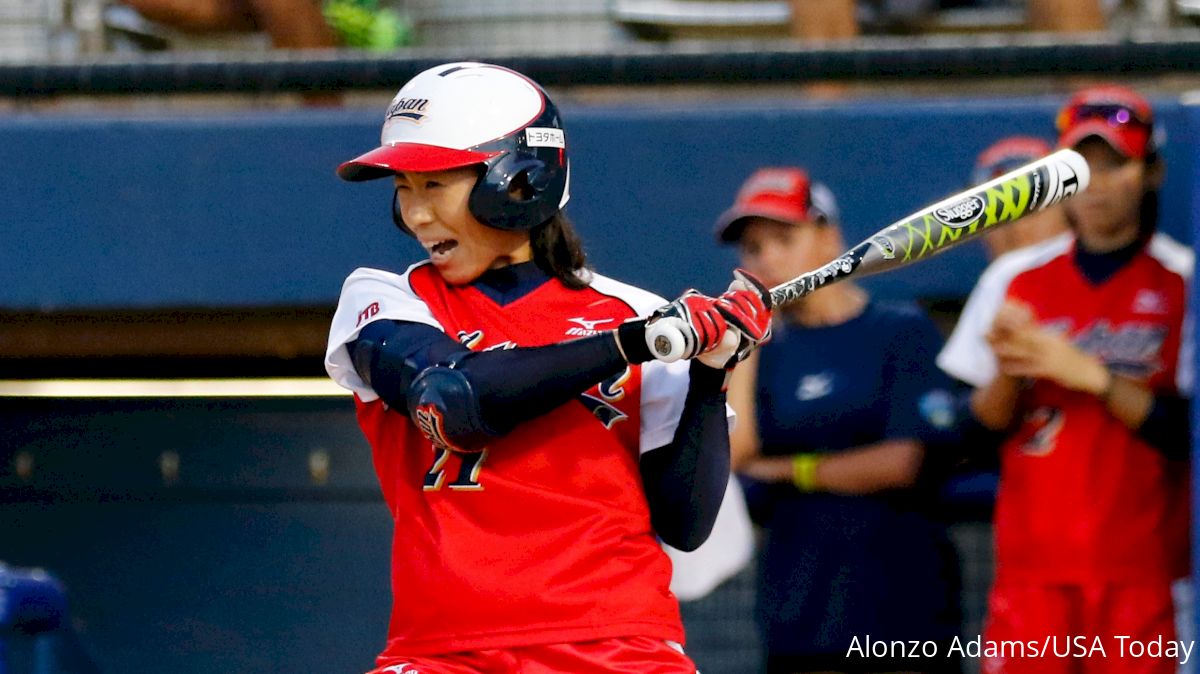 By Gary Kingston
SOUTH SURREY, B.C. -- Thirty countries made their way to Canada for the 15th Women's World Softball Championships. There were a few surprises during the lengthy tournament. Mexico made it in the final eight and not Australia. It could well be another USA vs Japan final.
USA 4 JAPAN 3
You normally have to play smart, error-free softball to beat Japan's national women's team. USA struggled with both concepts in a Saturday night semifinal, but still managed to squeeze out a 4-3 victory to advance directly to Sunday's final.
The Americans ran into an out at home when second baseman Kelsey Stewart tried to test the arm of Japanese right fielder Misato Kawano. The Americans also committed three errors in the infield.
But they pounded out 11 hits and scored twice in the third and fifth innings to get the all-important win in the double knockout playoff and avoid a Sunday afternoon semifinal.
If the Japanese can beat Canada in that one, it will set up a sixth straight US/Japan game for the World Championship gold medal.
"Timely hitting," said U.S. coach Ken Eriksen of how the US prevailed. "And we had a gutsy kid on the mound."
Ally Carda, a UCLA grad, went the distance except for one batter, coming out in the bottom of the seventh to allow left-hander Delanie Gourley to strike out Nozomo Nagasaki before returning to induce Haruna Sakamoto into an game-ending pop up.
Stewart and shortstop Delaney Spaulding made costly errors that led to a Japanese run in the fourth inning but Eriksen assured his middles to erase the miscues from their minds.
"They didn't put their head between their tail. Stewart comes up with a really good ground ball play to get out of a big inning with runners on base and Delaney made a couple of nice plays. We all picked each other up and we all looked at each and said 'I got you."
The US did suffer a potentially devastating blow when slugger Amanda Chidester was hit on the hand by a Yamato Fujita pitch in the top of the third and had to exit the game. She was replaced by Ali Aguilar, who doubled to center field in the fifth to drive in Valerie Arioto, who had doubled to right field just before her.
Aguilar eventually scored what turned out to be the winning run on an RBI single by Kasey Cooper off the glove of Japanese first baseman Natsuko Sugama.
CANADA 9 NETHERLANDS 2
With tears streaming down the cheeks of Lauren Bay Regula realizes she is going to be playing for a medal at a Women's World Softball Championships on home soil.
It was the reason why the soon-to-be 35-year-old mother of three came back to the sport after a seven year absence.
"I'm excited, it doesn't look like I am, but I am," said the heat-throwing lefthander from Trail, B.C., as she wiped her eyes and tried to collect herself after pitching Canada to a 9-2 win over the Netherlands at Softball City before a crowd of 3,250 on Saturday night.
I can't put it into words. I'm just more excited than you can imagine. - Lauren Bay Regula, Pitcher
The victory was secured when veteran shortstop Jenn Salling slammed a three-run home run in the bottom of the fourth to put Canada up 8-2. That win set up a semifinal matchup Sunday afternoon, with two-time reigning champion Japan, which fell 4-3 earlier in the day to the US.
The winner will face the Americans for the gold.
Bay Regula threw four innings, striking out five and giving up just three hits, one of them a two-run home run by red hot Netherlands shortstop Britt Vonk, who is favored to be the most outstanding player at the tournament.
The strong-armed Salling hasn't been far behind Vonk with some timely hits and rock-solid defense.
"These two events (Worlds and Pan Am Games gold in Toronto in 2015) are the reason why I came back to play for Canada," said Salling, who was away from the program for two years while concentrating on pro ball. "It's like the coolest thing ever. Unreal."
Canada will be in tough today against the Japanese. But both Bay Regula and Salling noted that the squad will lean heavily on what they learned playing double-headers for 10 days against a Japanese B team in Japan in June.
"They're always tough to beat, but we're very well prepared," said Salling. "We got to see Japanese softball for 10 days straight. We definitely know what we're getting ourselves into, but I think we're prepared for it."
The Netherlands finished the tournament in fourth place, the country's best finish at worlds and the best finish ever by a European country.
CANADA 5 MEXICO 0
Mexico, which turned plenty of heads early in the tournament by winning its first six games, including a 2-0, eight-inning upset over Australia. They struggled to keep the momentum going as ace Dallas Escobedo got rocked by the long ball.
Japan went deep twice on the former University of Arizona star in a 2-0 win on Friday night and Canada's Kaleigh Rafter and Victoria Hayward also hit solo shots.
Natalie Wideman drove in a run with a single up the middle in the fourth and Rafter followed with a single to right field. Jenn Salling collected RBIs in the seventh with a sac fly.
Canada's Sara Groenewegen delivered an outstanding performance in the circle. The University of Minnesota ace kept Mexico's hitters off balance all afternoon with a terrific mix of rise balls and off-speed pitches. She struck out 11 and allowed only three hits.
"She's not afraid of the moment," head coach Mark Smith said of the 21-year-old. "That's what you want in the circle."
While the loss was disappointing for Mexico, the fifth-place finish was easily the country's best at a world championships.
"We set a goal of finishing top five, but once we got into the playoff round and we were undefeated for a bit, we wanted to go higher and higher," said outfielder Koral Costa, who just completed her senior season at the University of Oregon.
"But I'm proud of everybody and what we accomplished. Out of 31 countries, finishing fifth is great. Japan, Canada, the US, they spend a lot of time on the field together practicing, a lot of training time as a team. We met two days before the World Cup in Oklahoma and to come here and finish top five, it's pretty good."
NETHERLANDS 8 VENEZUELA 1
The Dutch have easily been the best team in Europe over the last decade. They took it to Venezuela early chasing their goal of a first ever appearance on a World Championships podium.
Shortstop Britt Vonk, a University of California grad now playing for the Scrap Yard Dawgs in the National Pro Fastpitch league, led off the top of the first with a single continuing her hit streak. Vonk scored on a double by Chantal Versluis, who later stole third on and scored on a wild throw.
Vonk is hitting .764 through five championship round and playoff games with two home runs and eight RBIs. She also scored in the third as the Netherlands tallied three times in that inning to build a 5-0 lead.
"Those are the teams that you have to jump on early because you know they'll battle to the end, Versluis, a 28-year-old outfielder and 12-year veteran of the national team, said of Venezuela.
The Latin Americans got on the scoreboard in the bottom of the fourth against Dutch starter Eva Voortman when Yuruby Alicart opened with a walk and scored on a single by Ana Coscorrosa. But Ginger de Weert relieved Voortman and struck out the next three batters to end the inning.
"That was pretty important," said de Weert. "We didn't want to give them any life."