PGF National Championships (18U/12U/10U)
PGF High School All-American 2016 Game Recap
PGF High School All-American 2016 Game Recap
By Carlos Arias After helping Tony Rico's Firecrackers won their first PGF 18U Premier National Championship on Friday evening, Utah-bound Alyssa Barrera de
Jul 30, 2016
by FloSoftball Staff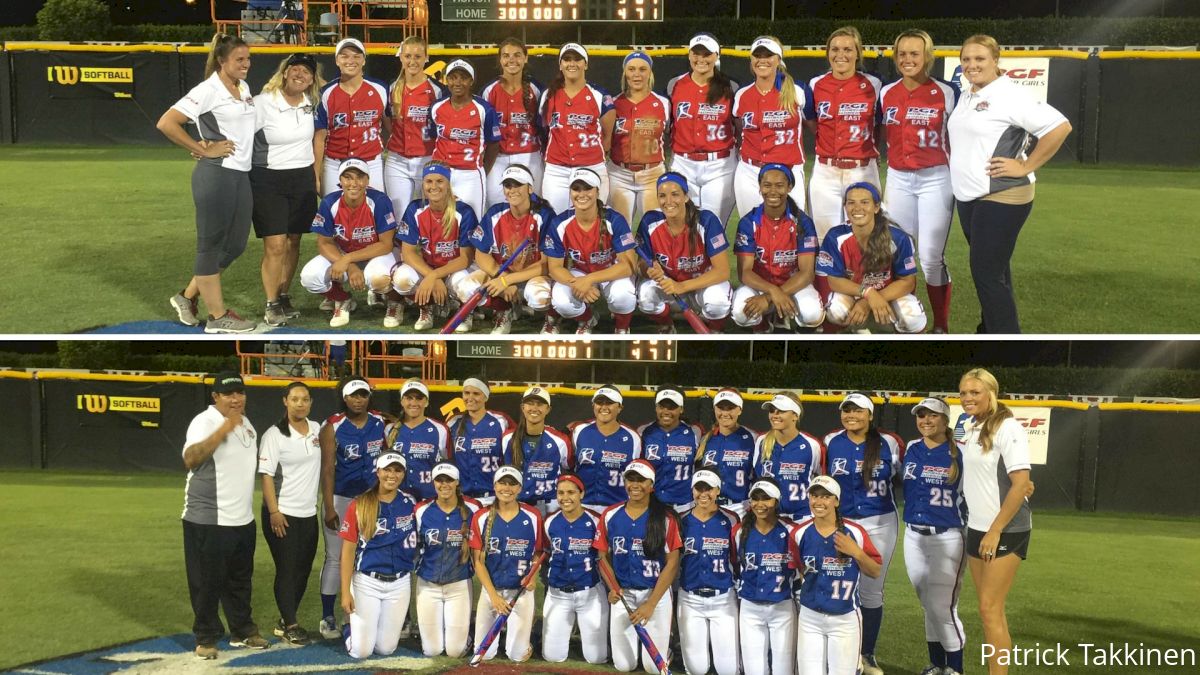 By Carlos Arias

After helping Tony Rico's Firecrackers won their first PGF 18U Premier National Championship on Friday evening, Utah-bound Alyssa Barrera decided she needed a nightcap.

Barrera chopped a single up the middle off the outstretched glove of Oklahoma-bound pitcher Nicole Mendes to drive in Oregon-bound Mia Camuso for the a 2-0 walk-off triumph by the West over the East in the first ever PGF High School All-American Game on Friday night at Deanna Manning Stadium at Bill Barber Park in Irvine, Calif.

"Coming from that championship game, winning that one and then getting to be a part of this game and playing with all these great players was almost overwhelming to be able to do that," Barrera said. "It was a great feeling. I honestly went up there to look for a pitch, find a hole, put the ball in play and make things happen."

Barrera wasn't the only All-American to make things happen. Washington-bound Nicole Bates, who was one of the other stars from the Firecrackers PGF championship team, led off the bottom of the first with an infield single for the West, stole second base and took third on Tennessee-bound Jenna Holcomb's ground out.

That set the stage for the play of the game. UCLA-bound Aaliyah Jordan hit a shot deep to center field that looked like a sure home run, but Georgia-bound Ciara Bryan leaped up, getting her glove well above the 10-foot fence, made the catch, crashed into the wall and held onto the ball. Bates tagged and scored to give the West a 1-0 lead, but Bryan's spectacular catch was worthy of ESPN's "Top 10" on SportsCenter.

Arizona-bound Dejah Mulipola added a two-run double that scored her future Arizona teammate, Jessica Harper, and UCLA-bound Madilyn "Bubba" Nickles, the only high school senior to make Team USA's national team this summer, to give the West a 3-0 lead after one inning.

James Madison-bound Madison Naujokas drove in Morgan McCallum with a single in the top of the fifth to help the East get on the scoreboard in the top of the fifth.

The East got two runs in the top of the sixth to tie it, 3-3, after Baylor-signee Taylor Ellis walked with the bases loaded to force in a run and McCallum drove in the tying run with a sacrifice fly.

The East had runners on second and third in the top of the seventh, but Nickles pitched her way out of the jam to set th stage for Barrera's heroics in the bottom of the seventh.

Both teams were coached by softball royalty. The West was coached by Jennie Finch, Toni Mascarenas and Crystal Bustos, while the East was coached by Jennie Ritter, Garland Cooper and Suzy Brazney.