Create a free account to unlock this article!
Get Started
Already a subscriber? Log In
By Carlos Arias
There are always big upsets on Day 1 of bracket play at the PGF Nationals and Tuesday's 16U Premier Division action was no different with Corona Angels-Slye (West Hills, Calif.) and So Cal Athletics-McNee (Corona, Calif.) getting knocked into the loser's bracket at Huntington Beach Sports Complex.

Vipers Knock the Angels into the Loser's Bracket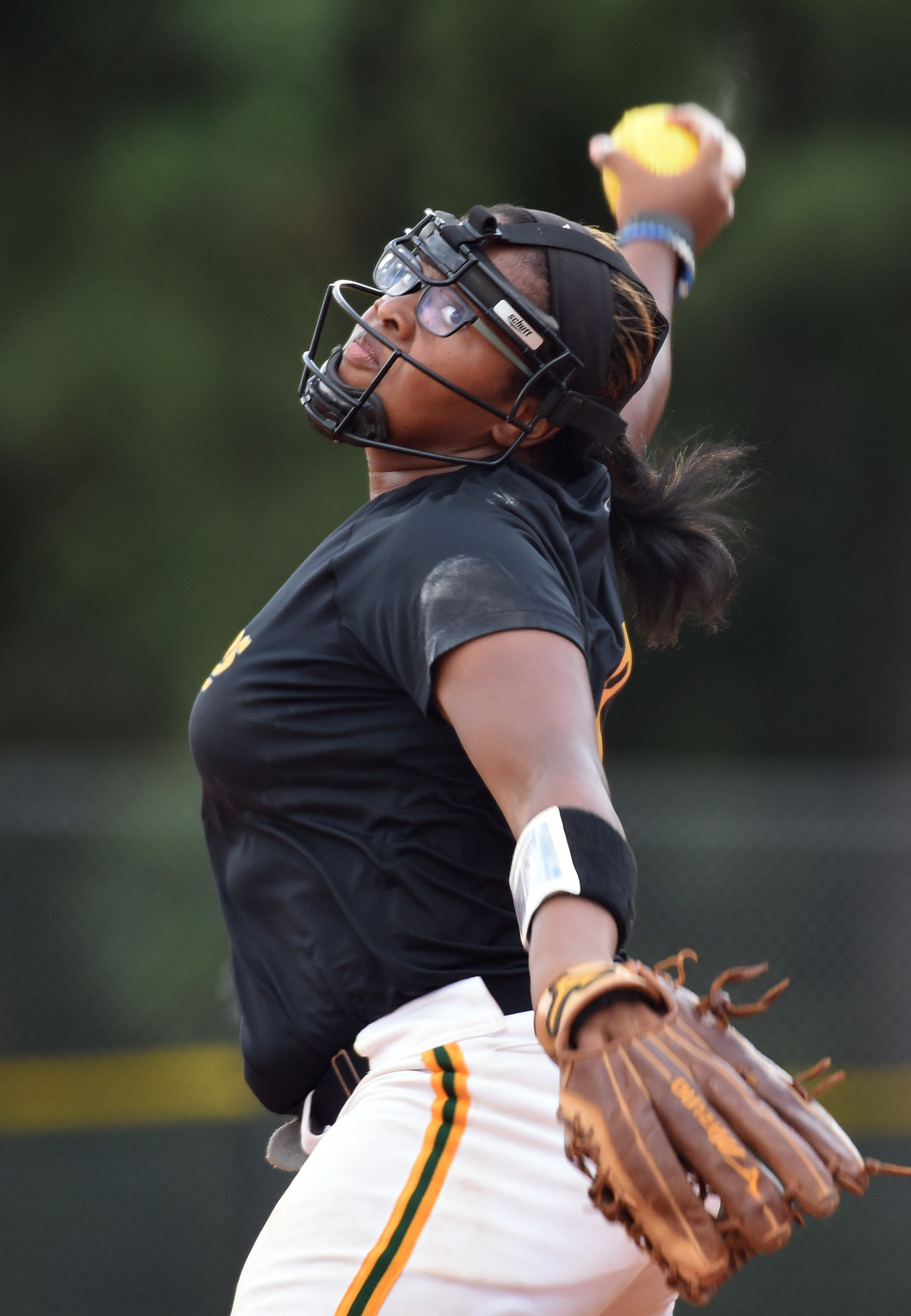 Brianna Butler, a 2018 pitcher who has verballed to Duke, tossed a shutout and Amy Vetula delivered a ground-rule double to drive in Michigan State-commit Charla Echols in the top of the sixth as the Atlanta Vipers (McDonough, Ga.) knocked off the Corona Angels, ranked No. 4 in the nation by FloSoftball.
"This definitely keeps our momentum going," Atlanta Vipers coach Marty Moore said. "We have been playing really solid the last few weeks. The first bracket games of any tournament are huge, especially this one."
DeMarini Athletics Upset So Cal A's McNee
DeMarini Arizona Athletics (Tempe, Ariz.) ace Morgan Leinstock, a 6-foot-1 right-hander who is deaf, turned in a gutsy effort, scattering seven hits and striking out five to hold on for a 4-3 win despite a late rally by the No. 10 So Cal Athletics in the bottom of the seventh.
"I tried to calm myself down and just throw hard and play my best," Leinstock said.
Gavyn Gerardin drove in Syracuse-commit Alexis Kaiser with a double in the top of the second to stake the the Demarini Arizona Athletics to a 1-0 lead. Utah-commit Chandler Walter had an RBI double and Kaiser had a sacrifice fly to make it 3-0. Walter gave the Demarini Arizona Athletics a much-needed insurance run with a sacrifice fly that drove in Indiana-commit Taylor Gindlesperger in the top of th fifth for a 4-0 advantage.
The So Cal Athletics got an RBI single from Kallahan Hunter in the bottom of the sixth and RBI singles from Alondra Mejia and McKenna Batteron in the bottom of the seventh before Leinstock got a line out to first to end the game with the bases loaded.
"I was stressing out big time," said Leinstock, an uncommitted 2019 pitcher/first baseman from Horizon High of Scottsdale, Ariz. "So my teammates called a timeout. They said, 'Calm down. Let's just get this one out. You got this.' Then we got the last out to finish the game."
The double-elimination PGF Nationals concludes with the 16U Premier national championship game on Saturday, Aug. 6, at Deanna Manning Stadium at Bill Barber Park in Irvine, Calif. There will also be national title games for 16U Platinum, 14U Premier and 14U Platinum on Saturday.
PGF NATIONALS SCOREBOARD
TUESDAY, AUG. 2, RESULTS
16U PREMIER DIVISION FIRST ROUND
BRACKET A
Cal Nuggets 4, Nor Cal Firecrackers-Miller 2
Arizona Cats 7, Corona Firecrackers 3
Georgia Impact 2, AASA 1
NJ Intensity-KOD 7, Nor Cal Bandits 1
OC Batbusters-Lastrapes 11, Houston Power 6
(Play-in game) Birmingham Thunderbolts 99 4, New Lenox Lightning 0
Birmingham Thunderbolts '99 10, So Cal Athletics-Briggs 0
Viginia Glory 9, Impact-Plocheck 5
Tennessee Fury 8, Minnesota Sting 0
Atlanta Vipers 1, Corona Angels-Slye 0
Explosion-Greg 5, NW Bullets 4
(Play-in game) NC Lady Lightning 5, Texas Glory-RWB 1
Beverly Bandits-Conroy 10, NC Lady Lightning 5
So Cal A's-Mercado 8, Texas Peppers 1
EC Bullets 4, Ohana Tigers 2
Absolute Blast 7, Victory USA 1
BRACKET B
Corona Angels-Perez 8, USA Explosion 0
Georgia Force 15, Texas Impact-Jackson 4
Courage 2, Cal Cruisers 0
South Dakota Renegades 5, Nor Cal Firecrackers2K 1
Las Vegas Rage 5, Carolina Elite 2
(Play-in game) Power Surge 1, Illinois Chill 0
USA Athletics 7, Power Surge 0
NJ Intensity-Hawkins 7, Beverly Bandits Premier-Allen 2
Texas Glory-Naudin 11, Illinois Sparks 3
Sorcerer 3, Vienna Stars 2
OC Batbusters-Smith 7, Pennsylvania Strikers 1
(Play-in game) Washington Majestics 4, Firecrackers-Hagberg 2
Team Alabama 7, Washington Majestics 1
Firecrackers-Ensey/Richmond 4, Grapettes 0
Demarini Arizona Athletics 4, So Cal A's-McNee 3
So Cal Choppers 3, NV Lil Rebels 0
Suncats 1, Thunderbolts 2000 0
AZ Mizuno Storm 17, Irvine Sting 3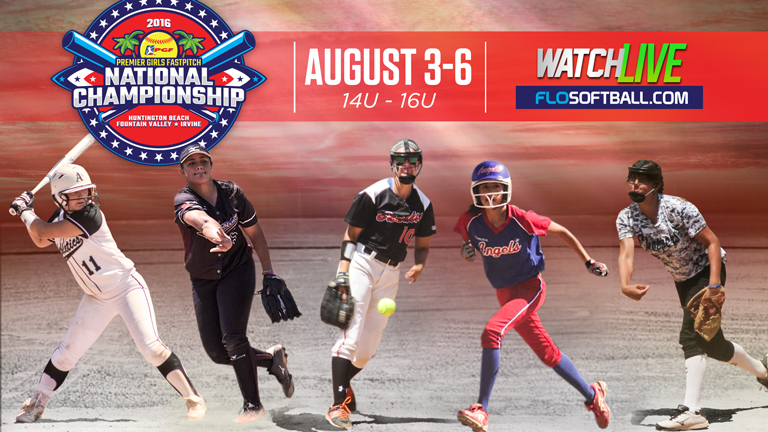 14U PREMIER DIVISION FIRST ROUND
BRACKET A
Southern Force 8, West Bay Warriors 1
Tampa Mustangs 9, OV Suncats 5
Cal Grapettes 9, Lady Lightning 5
Cal Breeze 6, Texas Blaze NTX 0
Texas Glory 12, PA Strikers 6
(Play-n game) Firecrackers-TJ 3, So Cal A's-Briggs 2
Birmingham Thunderbolts-Dorsett 8, Firecrackers-TJ 0
Team Seattle 5, Beverly Bandits Demarini 1
Illinois Chill 7, Oklahoma Ultimate 2
So Cal A's-Mercado/Smith 8, Firecrackers-Vidal 0
Birmingham Thunderbolts-Roberson 7, AZ Thundercats 1
(Play-in game) Firecrackers-Young 10, Carolina Elite 1
Firecrackers-Young 2, Firecrackers DFW 0
Firecrackers-Ryono 4, Houston Power Futures 2
Ohio Hawks 3, Illinois Lincoln Way Storm 0
Bevery Bandits Premier 7, Cal Cruisers 1
Ohana Tigers 6, Texas Impact 2
LTG Lions 2, Texas Aces Express 0
BRACKET B
Texas Mizuno Impulse 5, Cal Nuggets 4
Georgia Impact 10, Texas Bombers 2
So Cal Choppers 2, Firecrackers-Brashear/Thornburg 0
Texas Blaze-Bonola 4, Atlanta Vipers 0
So Cal Breakers 4, Irvine Sting 0
Huntsville Sparks 10, Dirt Dogs-Heffley4
Texas Sudden Impact 12, San Diego Renegades 2
TX Intensity 10, Chicago Cheetahs 5
Corona Angels-Marty 4, FL Gainesville Gold 2
Universal Fastpitch 2, Cal Suncats 1
Corona Angels-Dom vs. Dirt Dogs-Lee