Create a free account to unlock this article!
Get Started
Already a subscriber? Log In
By Carlos Arias

The Cal Nuggets (Redwood City, Calif.) rallied for five runs in the bottom of the sixth, then held on despite a three-run rally by the Arizona Cats (Tucson, Ariz.) to pull out a 9-8 victory in the second round of the 16U Premier winner's bracket at the PGF Nationals on Wednesday at Huntington Beach Sports Complex.
Cal-commit Cam Kondo connected on a grand slam on a nine-pitch at-bat with a full count and two outs in the bottom of the sixth to give the Nuggets an 8-5 lead.
The Nuggets got some much-needed insurance when UC Santa Barbara-commit Mailey McLemore drew a walk and Cal-commit Sona Halajian came through with two-out double for a 9-5 Nuggets' lead heading into the top of the seventh.
"The Cats rallied to score three runs to make it 9-8," Nuggets coach Haley Woods said, "but Lauren Innerst was able to strike out two of the three batters that recorded outs in that inning, ending the game on a strikeout looking."
The Nuggets play Georgia Impact-Lewis in the third round on Thursday at 8 a.m. on Field 1. The Arizona Cats drop into the loser's bracket of the double-elimination tournament, which concludes with the 16U Premier national championship on Saturday, Aug. 6, at 7 p.m. at Bill Barber Park in Irvine, Calif.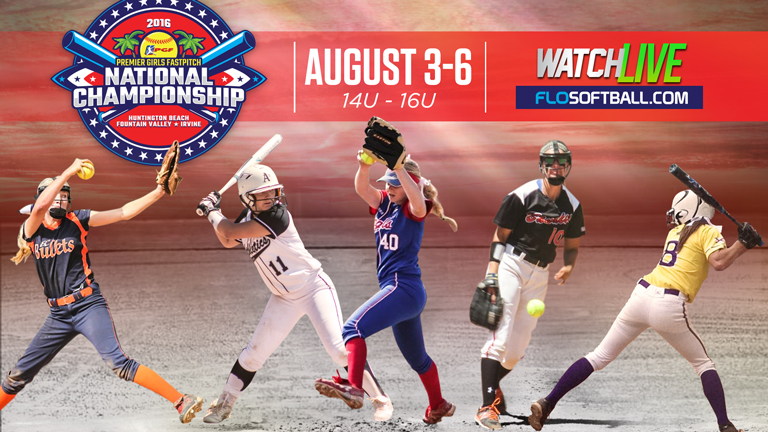 Georgia Impact-Lewis (Atlanta, Ga.) 3, Jersey Intensity-KOD (Farmingdale, N.J.) 0
Bailie Barnes pitched a three-hit shutout with one walk and seven strikeouts to lift Georgia Impact over Jersey Intensity.
Birmingham Thunderbolts '99-Roberson (Mobile, Ala.) 3, OC Batbusters-Lastrapes (Laguna Niguel, Calif.) 1
Mississippi State-commit Grace Fagan allowed one run on three hits and struck out nine to get the complete game victory for the Bolts.
"That was an amazing team to face," Fagan said. "Every batter I pitched to was a battle, and I had to focus on every single pitch. I love games like that. It was so fun to play. We have great momentum right now. Our energy on the field and in the dugout was high that entire game. We are taking one game at a time and we are here to compete."
Tennessee Fury (Harrison, Tenn.) 5, Virginia Glory (Lorton, Va.) 1
Tennessee-commit Kaili Crawley and Aubrey Reed each homered, Tennessee Tech-commit Brooke Parrot started and got the win and Tennessee-committed Ashley Rogers pitched four innings of scoreless relief to get the save for Tennessee Fury, which plays Birmingham Thunderbolts '99-Roberson on Thursday at 8 a.m. on Field 2.
"We beat them a couple of weeks ago at a PGF showcase exposure in Mississippi," Tennessee Fury coach Jody Parrott said, "but they are a very good team. I'm not predicting anything. It should be a good game."
Explosion-Greg (Riverside, Calif.) 6, Atlanta Vipers-Moore (McDonough, Ga.) 4
Long Beach State-commit Maddy Ruffin's RBI double gave Explosion a 5-4 lead and Grand Canyon-commit Taylor Olsen had an RBI single in the bottom of the sixth to move Explosion into the third round. Explosion faces the Beverly Bandits-Conroy on Thursday at 8 a.m. at Field 3.
"This will be the first time we see each other," Explosion coach Greg Borzilleri said. "It's two top-10 teams in the nation ready to go at it."
Beverly Bandits-Conroy (Orland Park, Ill.) 7, So Cal Athletics TO-Mercado (Temecula, Calif.) 2
Oregon-commit Lauren Burke homered on the first pitch of the game and Loyola-commit Danielle Williams had an inside-the-park home run that scored three runs in the second to power the Bandits.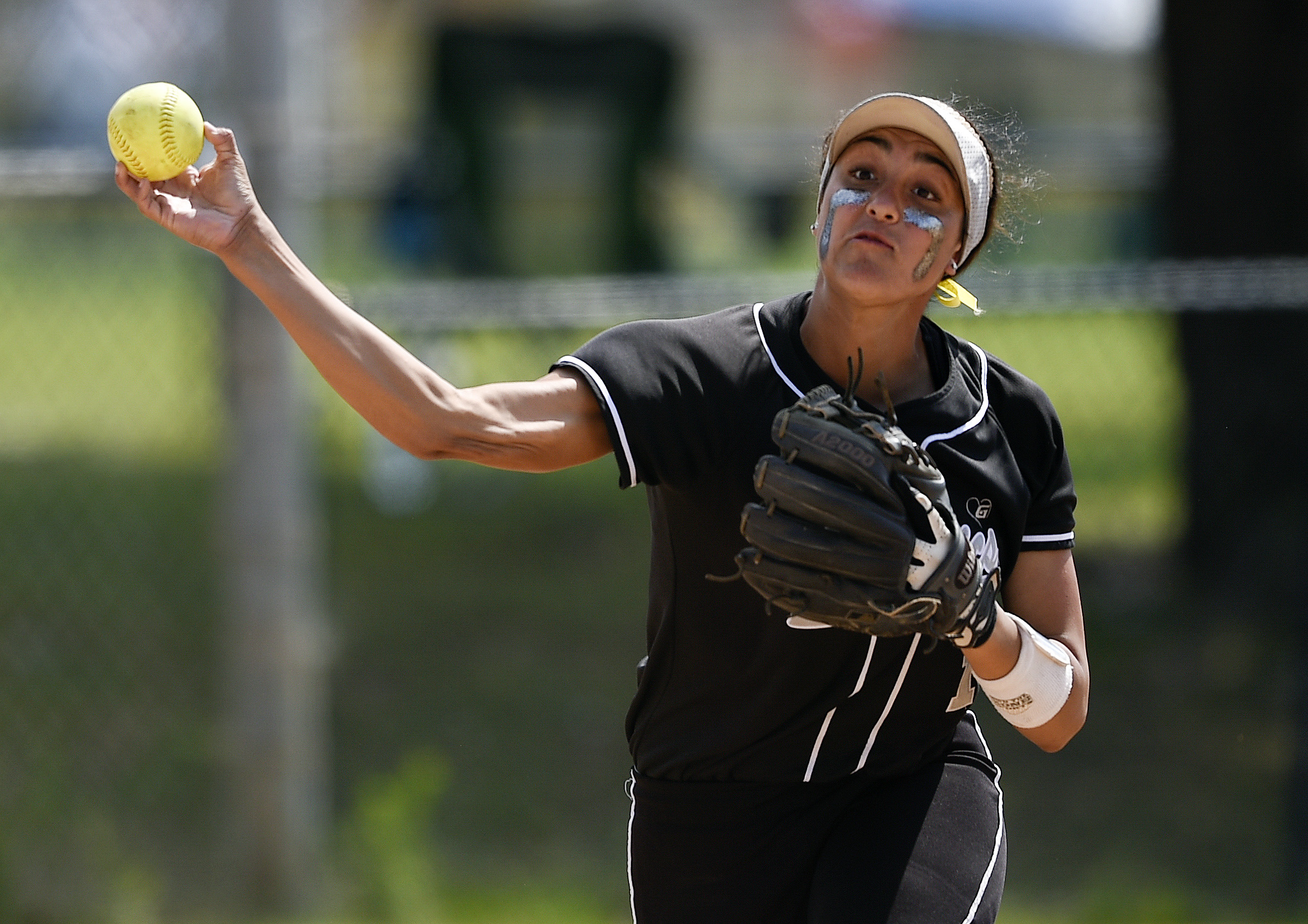 Photo by Kelvin Kuo/USA Today Sports
East Cobb Bullets-Biele (Johns Creek, Ga.) 12, Absolute Blast (Kirkland, Wash.) 0
Auburn-commit Kelley Lynch and Kassidy Krupit combined on a four-hitter with 11 strikeouts and the Bullets got 11 hits from eight different players to advance in the winner's bracket.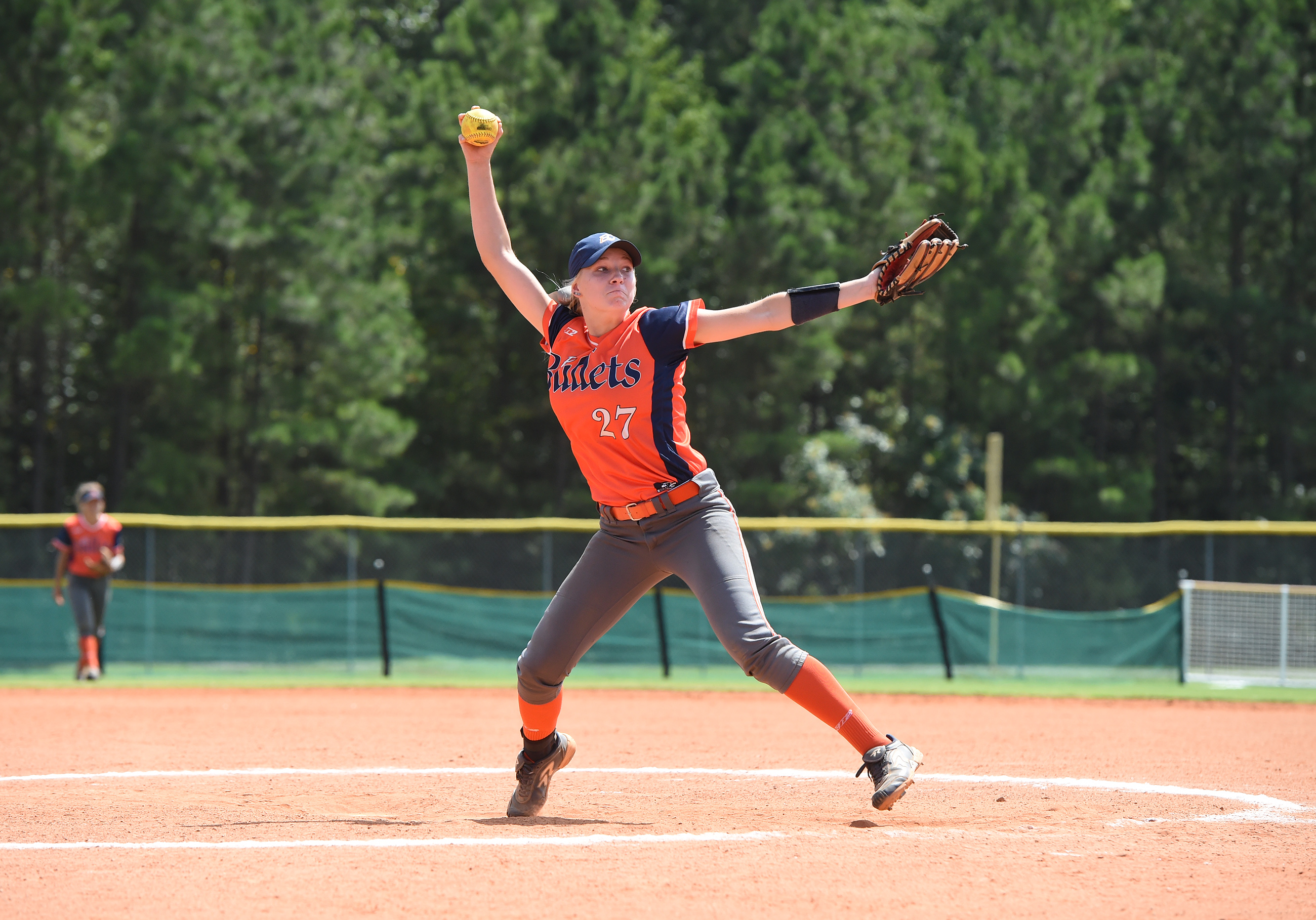 Photo by Adam Hagy/USA TODAY Sports
Texas Blaze White (Round Rock, Tex.) 1, Beverly Bandits DeMarini-Ketelhut (Orland Park, Ill.) 0
Florida-commit Rylee Trlicek threw a four-hitter with three strikeouts to record the shutout and Tiffany Licon provided the offense with an RBI single in the bottom of the third to lead Texas Blaze, which plays the East Cobb Bullets in the third round on Thursday at 8 a.m. on Field 4.
Corona Angels-Perez (Whittier, Calif.) 7, Georgia Force-Haag (Suwanee, Ga.) 3
Boise State-commit India Kelly went 2 for 3 with three RBI, Haley Kella went 2 for 3 with two doubles and two runs and Caitlyn Koenig went 2 for 3 with two RBI to lead the Corona Angels.
The Corona Angels play the South Dakota Renegades in the third round on Thursday at 8 a.m. at Field 5.
South Dakota Renegades (Valley City, N.D.) 2, Courage (Yorba Linda, Calif.) 1
Callie Wether went 2 for 3 with a two-run double in the top of the first and San Diego State-commit Grace Glanzer limited Courage to three hits, one run and struck out five to lead the Renegades to victory. Renegades left fielder Ali Lindner made two circus catches in the outfield to save at least two runs.
USA Athletics (Long Beach, Calif.) 9, Las Vegas Rage (Las Vegas, Nev.) 1
UCLA-commit Kelli Godin went 3 for 3 with a walk, two stolen bases and two runs scored and Jessica Martinez went 2 for 4 with two RBI to keep the USA A's going in the winner's bracket.
Jersey Intensity-Hawkins (Farmingdale, N.J.) 2, Texas Glory-Naudin (Princetion, Tex.) 1
Intensity Hawkins pitcher Reggie Kanagawa shut down a very potent Texas Glory offense until the top of the seventh. Kanagawa issued 11 pop outs. Jersey Intensity plays the USA A's in the third round on Thursday at 8 a.m. at Field 6.
Sorcerer (Pleasanton, Calif.) 2, OC Batbusters-Smith (Chino Hills, Calif.) 1
Michigan State-commit McKenna Gregoy tossed a complete game as Sorcerer pulled out the win over the Batbusters. Brianna Bowers went 2 for 3 with a bunt single to drive in Arizona-commit Riley Kuderca with the tying run in the fourth. Bowers doubled and scored the go-ahead run on Gregory's single in the sixth.
Sorcerer advances in the winner's bracket to face Firecrackers-Ensey/Richmond on Thursday at 8 a.m. on Field 7.
Firecrackers-Ensey/Redmond (Fountain Valley, Calif.) 4, Team Alabama (Helena, Ala.) 2
Kansas-commit Lexy Mills scattered 10 hits, walked one and struck out eight to get the complete game win, Pacific-commit Madeline Domingo went 1 for 2 with two RBI, Hailee Rios went 1 for 3 with an RBI and Charlotte McBride made a diving catch in left field in the final to secure the win for the Firecrackers.
So Cal Choppers-Ziese (Newhall, Calif.) 4, DeMarini Athletics (Tempe, Ariz.) 1
Texas-commit Shea O'Leary gave up three hits, two walks, one run and struck out five to help the Choppers edge the DeMarini A's.
Arizona Suncats (Tucson, Ariz.) 4, AZ Mizuno Storm (Phoenix, Ariz.) 0
The Suncats advance to the third round for a showdown against the Choppers on Thursday at 8 a.m. on Field 8.