Hot 100 2020s… #90-81
Hot 100 2020s… #90-81
Today, we continue our look at the top 100 players in the 2020 class… we're spotlighting 10 each day as we count down from 100 to No. 1!These players were c
Sep 6, 2016
by Brentt Eads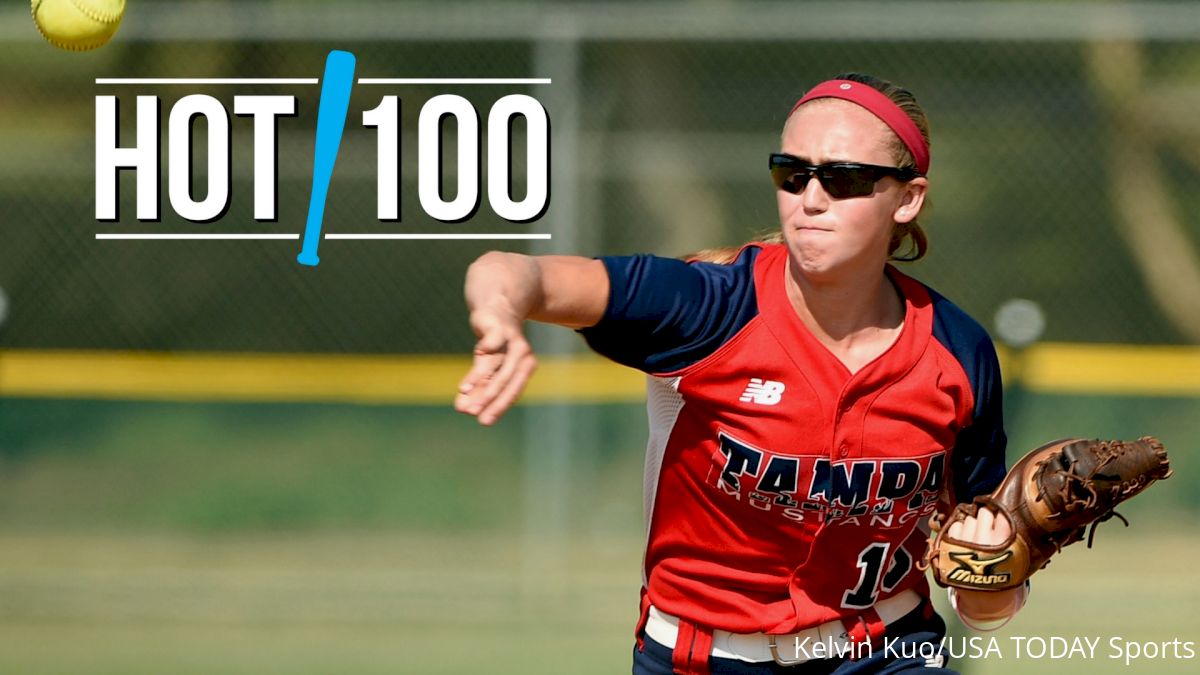 Unlock this article, live events, and more with a subscription!
Get Started
Already a subscriber? Log In
Today, we continue our look at the top 100 players in the 2020 class… we're spotlighting 10 each day as we count down from 100 to No. 1!

These players were chosen based on input and feedback from college and club coaches who've seen them play all across the nation.

Criteria for choosing and ranking the players including performances at the club and high school levels and projecting how they will play at the collegiate level.

Following unveiling of the Hot 100, FloSoftball will also announce our rankings of the Next 100 (players 101-200) and our 2020 Watch List.

Click here to see 2020 Hot 100 prospects #'s 100-91.

Today we feature players #90 to 81 with standout players from California (3), Florida (2), Georgia, Illinois, Indiana (2) and Texas.

***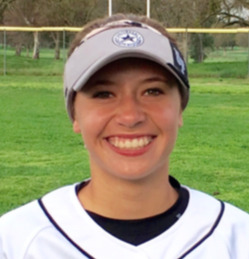 90--Sophie Jacquez, MIF… Universal Fastpitch (uncommitted)
Sophie excels on defense at both shortstop and second and has demonstrated great range with a strong arm, soft hands and quick release. On offense Sophie is a gap hitter who can also play small ball if needed. After a strong performance at PGF Nationals, her recruiting attention really took off and the infielder is making an unofficial visit to Ole Miss in September and is being recruited from schools in the SEC, Pac-12, Big West, Mountain West and several other conferences.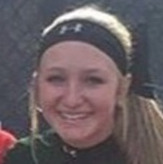 89--Sydney Chambley, OF/P… Atlanta Vipers - Jiles (uncommitted)
Sydney is a triple threat at the plate and hit .527 this year in club ball with nine home runs in 90 games for the Vipers. She is a lefty who hits for power, but she can slap and drag bunt for a hit also. Sydney has excellent speed and a strong arm in the outfield which is the position she prefers. A good all-around athlete with speed and power, she'll play basketball this year as well. The Georgia freshman is being looked at by SEC and ACC schools and already has offers extended to her.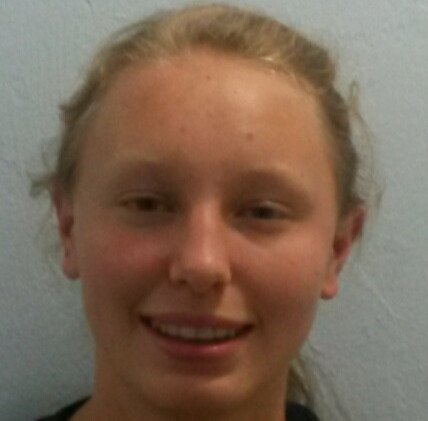 ​88--Regan Hermeling, OF/C… Jacksonville Storm (uncommitted)
Regan has great mechanics in the outfield and at the plate where she hits for average but also can surprise with pop in the bat. She can run and has great range in the grass and speed on the bases. One coach said of the Florida player, "She is pound-for-pound one of the most athletic players in her class." After joining Addison Davis's Jacksonville Storm team last year she hit .456 with 34 RBI. Regan has offers from SEC, ACC and Sun Belt programs.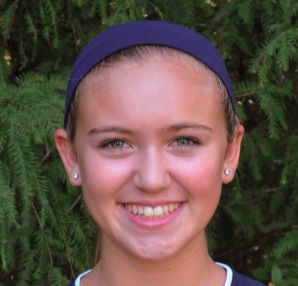 87--Kali Reis, SS… Tampa Mustangs - TJ (uncommitted)
Kali is a left-handed hitter who leads off for the power Mustangs offense and hits for average and power. An excellent athlete with speed, a strong arm and smooth hands at shortstop, the Florida standout offensively has great hand speed through the hitting zone which has attracted many scouts. She has the ability to hit right-handed, but is such a threat from the left side she usually lines-up at that side. Kali is being heavily recruited by SEC, ACC and AAC schools and has set multiple visits for this fall.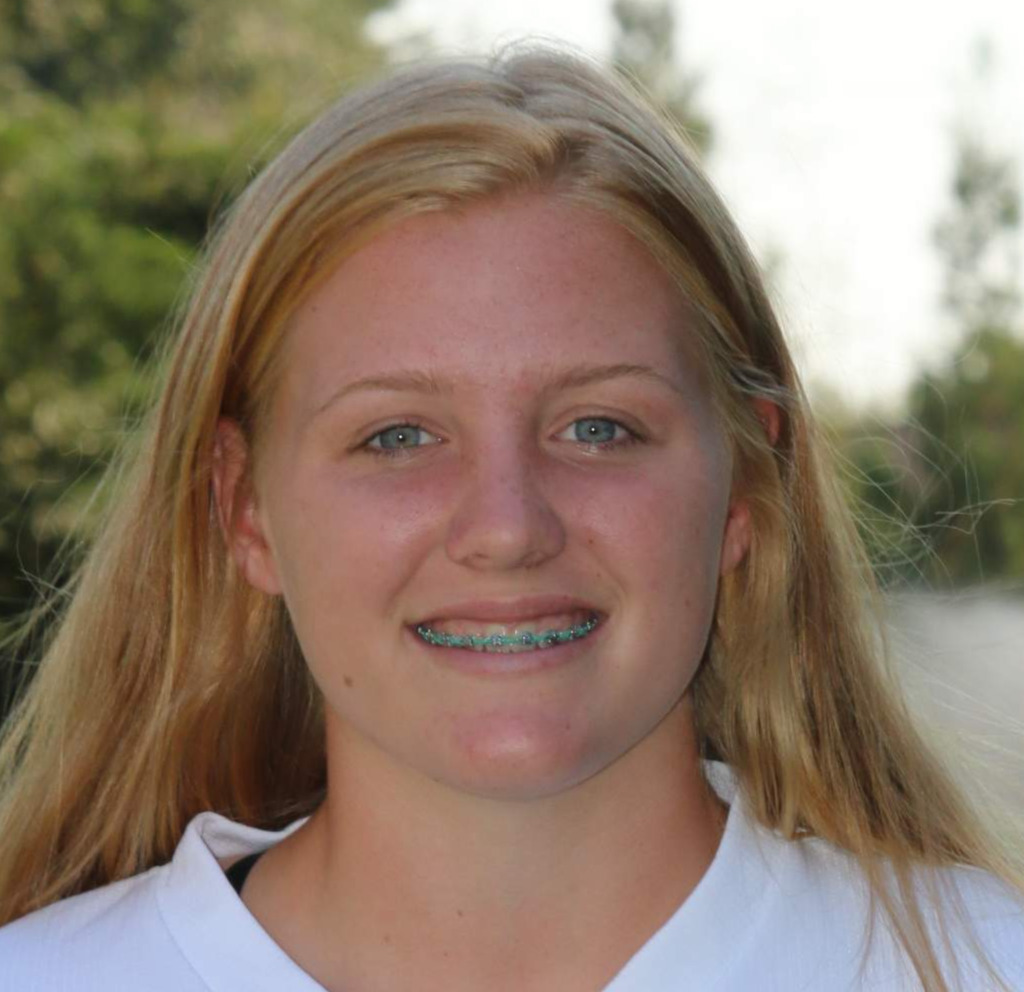 86--Katelynn Oldwin, P… LTG Lions (uncommitted)
Katelyn is a young but dominant pitcher who has the physical attributes and a lot of the tools to develop as one of the top hurlers in the 2020 class. Already measuring in at 5-foot-10, she throws 63-64 mph and spins a heavy ball with late movement. Batters have a difficult time squaring the ball up against her and Katelynn does a good job of hitting her spots consistently. She joined the Lions' program recently and her recruiting attention is starting to take off. Coaches believe she'll be committed by the end of the year.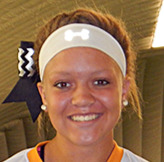 85--Taylor Nicholson, SS/OF… Beverly Bandits - Dorsey (uncommitted)
Taylor is one of the top overall athletes in the 2020 class and excels not only in softball, but also in basketball and volleyball. The freshman from Champaign, Illinois has "crazy skills" according to one coach including great versatility at the plate and in the field. She bats from both sides of the plate with slapping proficiency from the left and power from the right. One Big Ten school asked Taylor to switch to the left at a tournament and she went 13-for-15. Her mother, Angie Nicholson, recently took the head coaching softball position at Hampton University.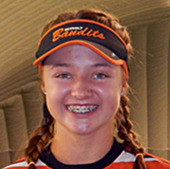 84--Cassidy Grimm, 3B/SS… Beverly Bandits - Harms/Harkness (uncommitted)
Cassidy helped the Bandits - Futures to a Top 25 finish at PGF 14U Nationals as she led the team in hitting with a .333 average. Cassidy is fearless on the field and has great physical tools including terrific foot and bat speed which helps her generate power. She has the defensive tools to play third and can charge the plate on bunts and slap hits in addition to having the range and arm at short to make tough plays look easy. One coach said of the Indiana freshman, "She is tough as nails and has the heart of a champion."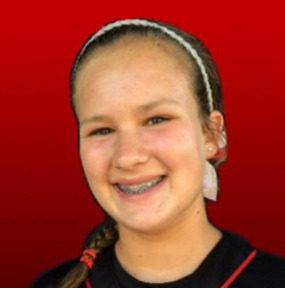 ​83--Alexandra Williams, P/3B… San Diego Renegades - Pearlstein (uncommitted)
Alexandra, who also goes by "Alexa," is a fast-rising pitcher with great command of the strike zone. She tops out about 60 mph, but her effectiveness comes from her spins and movement on her throws. She's also a smooth-fielding third baseman who hits in the 3-hole because of her gap power and the fact she rarely strikes out. Alexa batted over .500 this year and is being recruited by SEC schools and, closer to home, the University of San Diego.

82--Bre Warren, OF/SS… Diamond Sports Hotshots - Dumezich (uncommitted)
Bre has great athletic bloodlines as her father, Ty Warren, played football at Texas A&M and in the NFL with the Patriots and Broncos. Bre has great size and speed: she's a 6-foot lefty slapper who can hit for power and is explosive with her bat and on the base paths. She got a late start in playing softball so where she can end up is anyone's guess. This year Bre hit .462 with a .529 on-base percentage and six triples. She also batted .632 in the 14U Power Pool at Colorado Sparkler. Bre is getting recruited by numerous Top 25 college programs including most of the SEC and Big 12.
​

81--Erin Coffel, SS… Indiana Magic Gold - Rudd (uncommitted)
Erin is a smooth-fielding shortstop who has all the physical and softball skills to excel at a high level in college. Leading the Indiana Magic in high-level tournaments like Atlanta Legacy, Boulder IDT and Scenic City, she batted .439 this summer with 10 home runs, 80 RBI, 28 doubles and nine triples. She started getting offers in eighth grade and is being actively recruited by Michigan, Northwestern, Kentucky, Louisville, and Ohio State and has had unofficial visits to those schools while also being recruited by an additional 14 softball programs.