Hot 100 2020s… #80-71
Hot 100 2020s… #80-71
Today, we continue our look at the top 100 players in the 2020 class… we're spotlighting 10 each day as we count down from 100 to No. 1!These players were c
Sep 7, 2016
by Brentt Eads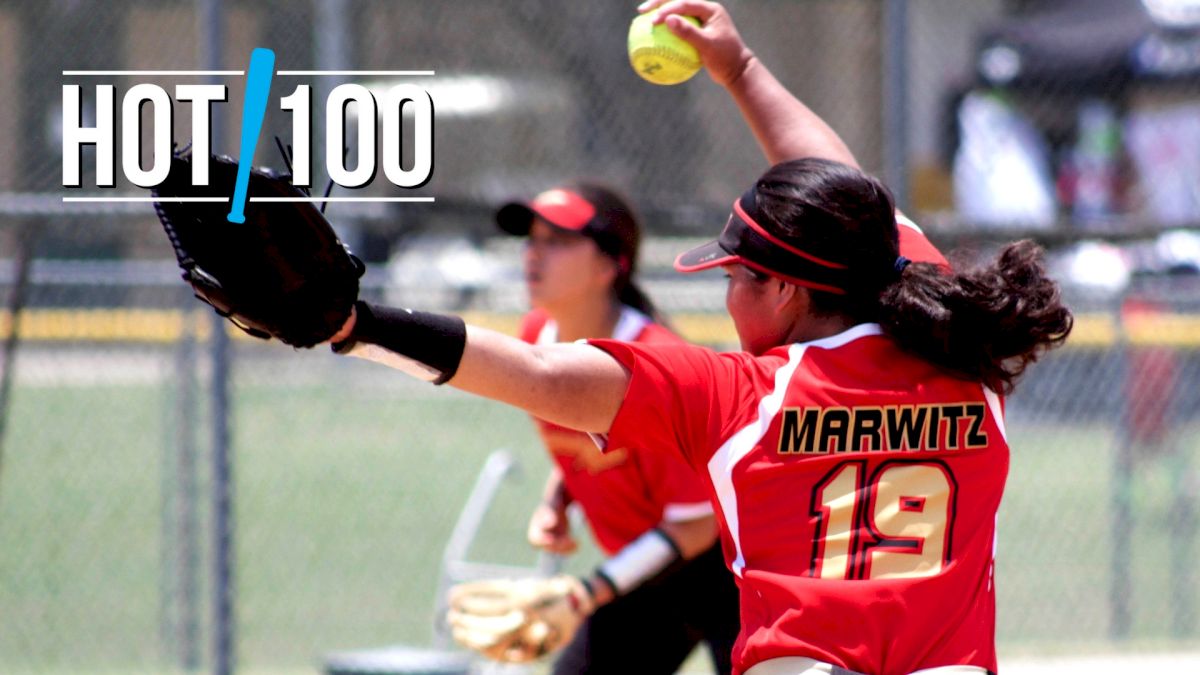 Unlock this article, live events, and more with a subscription!
Get Started
Already a subscriber? Log In
Today, we continue our look at the top 100 players in the 2020 class… we're spotlighting 10 each day as we count down from 100 to No. 1!

These players were chosen based on input and feedback from college and club coaches who've seen them play all across the nation.

Criteria for choosing and ranking the players including performances at the club and high school levels and projecting how they will play at the collegiate level.

Following the unveiling of the Hot 100, FloSoftball will also announce our rankings of the Next 100 (players 101-200) and our 2020 Watch List.

Click here to see 2020 Hot 100 prospects #'s 100-91, 90-81.

Today we feature players No. 80 to 71 with standout players from Arkansas, California (2), Florida, North Carolina, Ohio (2), Rhode Island and Virginia (2).

***
80--Taylor Heckman, OF… Beverly Bandits -- Dorsey (Ohio State)

Taylor is the prototype outfielder and leadoff hitter who has outstanding speed and creates havoc on defenses because she can do so much. Play back and she'll lay the ball down and get on base but come in too close and she'll drive the ball into the outfield. Versatile and athletic, Taylor can play the middle infield and has an excellent glove and arm, but because she can cover so much ground she's the ideal outfielder. She and Riley Zana, a corner infielder for Rona Dorsey's Bandits team, will likely be together for the next eight years as both Ohioans are staying in-state to play for the Buckeyes.
79--Meadow Sacudura, C… Beverly Bandits -- Moran (Maryland)

Meadow, according to one coach is "as good defensively as any kid I've seen at her age." Another stated, "She is a true QB directing her team at the position." Meadow has a 1.8 pop time and calls a great game. She frames very well and is light years of her age group in understating the game defensively. The Virginia freshman, who played for the Vienna Stars previously, will line-up for Chad Moran's team and bring to the Bandits a very high softball IQ along with the ability to hit for average to both sides of the diamond.
78--Madi Simon, SS/UT… Explosion -- Greg (uncommitted)

The key word coaches and scouts use to describe Madi is "versatility." She's an all-around athlete who can line up anywhere on the field but has college-level abilities as a middle infielder and outfielder. Offensively, Madi is a line-drive, gap-to-gap hitter who has the pop to beat you deep as well. Advanced both athletically and skill-wise, she's the only 2020 to make the talent-laden Explosion-Greg team which tied for 13th at PGF Nationals this summer and Madi's recruiting attention is starting to accelerate this fall.
77--Cally Kildow, P/MIF… DeMarini Aces (uncommitted)
Cally, who hails from Arkansas, was a key part of the Aces 14U pitching staff this year and led the team with a 1.44 ERA. Showing she is a two-way threat, she also led the team in home runs and compiled a .450 batting average hitting in the 3-hole. When not pitching, you can find Cally playing middle infield or centerfield. Competitive and a great leader in the circle, she is built and runs very similar to Mizzou commit Callie Martin on the Aces 18U team. She was clocked at 63 mph at the Kentucky camp and has several visits set up this fall with interest from schools like Kentucky, Georgia, Oregon, Missouri and Purdue.
76--Scotland David, OF/2B… Jacksonville Storm (uncommitted)
Scotland's stock continues to rise as one of the top outfielders in the country in large part due to her great speed which allowed her to bat .474 and steal 42 bases this summer. Scotland is a power slapper with 2.6-2.7 home-to-first speed and is a great leader on and off the field. Georgia, Oklahoma State and Central Florida have reportedly offered the Florida freshman and she's also getting interest from Michigan State, Ole Miss and many others now too.
75--Allison Smith, P/1B… Ohio Lasers Green (uncommitted)

Allison is a 5-foot-10 right-handed pitcher who throws 64-65 mph with great spin and control. At the Atlanta Legacy event she pitched 22 innings with 34 K's and only three walks with a 1.59 ERA. After that stellar performance she received offers from Ohio State and Indiana and is hearing from a host of ACC and SEC schools now too. Allison is also a dangerous hitter and for the summer batted .533 with a .667 on-base percentage. She benefits from having a mother who played softball at Kent State as her pitching coach and her father, who has coached baseball for 26 years, as her hitting coach.
74--Kayla Baptista, 3B… Rhode Island Thunder (uncommitted)
Very few top-level 18U Gold teams have had an eighth grader play for them, but that was the case this summer as Kayla started at third base every game for the Thunder, one of the top programs in the East if not the nation, and also hit in the 2-hole. She was second on the team with 141 plate appearances and had 10 steals. She's fearless on the field and her advanced skills have led to campus visits to Penn State, Tennessee and UConn among others.
73--Jala Wright, P/UT… Carolina Elite 14 Gold -- Fisher (uncommitted)

A great two-way prospect, Jala played in the top tournaments in the nation and batted .398 with an on-base percentage of .487 while going 27-for-29 on the base paths. A true speedster, she is a next level outfielder with great closing speed, a big arm and the ability to cover a lot of ground. She's also a top-shelf pitcher, who at 5-foot-10, throws in the low 60's with a knee-buckling change-up. Her recruiting is getting heated and she visits South Carolina, Michigan State and North Carolina-Wilmington this month with visits to North Carolina and Duke in October.
72--Claire Davidson, P/UT… Vienna Stars (uncommitted)

Claire is a lefty pitcher and power hitter who led the Stars to a Top 10 finish at PGF Platinum Nationals this summer. She batted .439 with an OPS of 1.263 with 11 homers--including three grand slams--while shining at PGF hitting .462 with a 0.45 ERA (1.49 for the summer). Claire throws in the low 60's and has excellent accuracy and movement on her pitches. She also possesses good speed and a strong arm in the outfield while being able to play a stellar defensive first base. She's had heavy recruiting interest from top programs like Auburn, Oklahoma, Florida State, Duke and Penn State and could decide by the end of the year.
71--Janelle Marwitz, P… Gametime Stars (uncommitted)

Janelle is a ball-spinning right-handed pitcher who makes it hard for batters to get a good pitch to hit. She hits 63 mph in addition to her spins which helped her compile a 36-5 record this year and in 243 innings produced 208 K's. Janelle helped the Stars finish in the Top 10 at USA Elite Select and Top 17 at PGF Nationals through her pitching and hitting, which included a 1.232 OPS this year. Her older sister, Jennifer, is a sophomore outfielder for the Kansas Jayhawks and Janelle's recruiting is starting to increase now in part because she has already posted a 24 on the ACT.