Hot 100 2020s… #70-61
Hot 100 2020s… #70-61
Pictured: Mayce Allen from Texas.Today, we continue our look at the top 100 players in the 2020 class… we're spotlighting 10 each day as we count down from
Sep 8, 2016
by Brentt Eads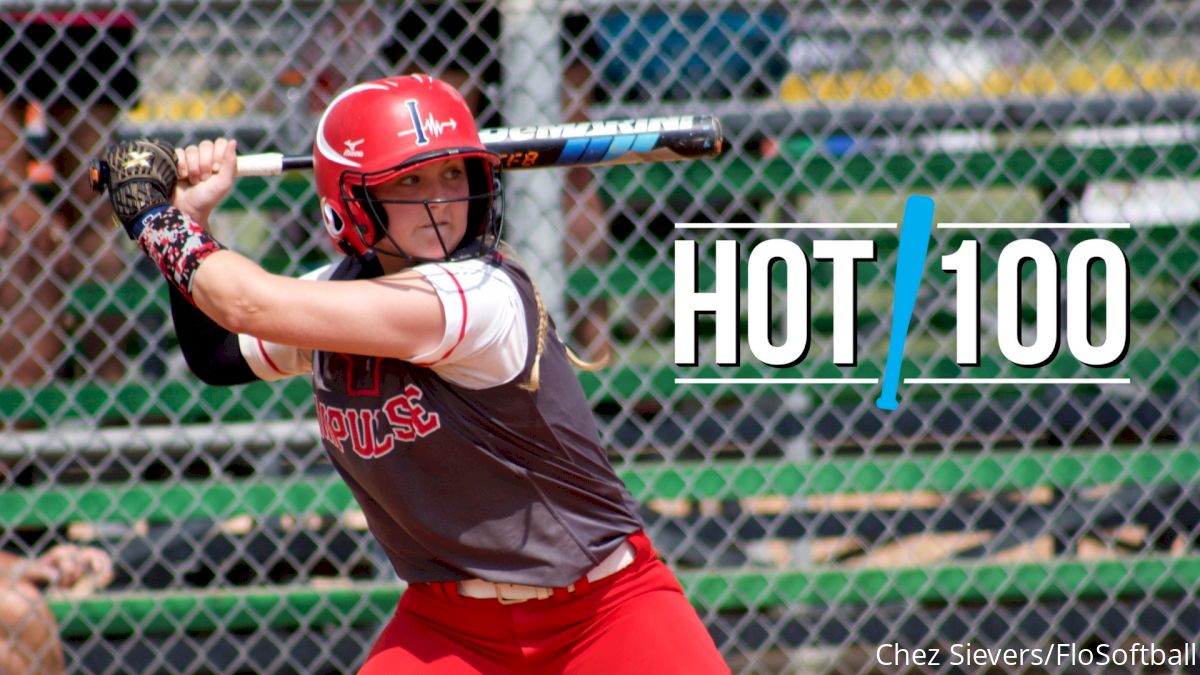 Unlock this article, live events, and more with a subscription!
Get Started
Already a subscriber? Log In
Pictured: Mayce Allen from Texas.

Today, we continue our look at the top 100 players in the 2020 class… we're spotlighting 10 each day as we count down from 100 to No. 1!

These players were chosen based on input and feedback from college and club coaches who've seen them play all across the nation.

Criteria for choosing and ranking the players including performances at the club and high school levels and projecting how they will play at the collegiate level.

Following the unveiling of the Hot 100, FloSoftball will also announce our rankings of the Next 100 (players 101-200) and our 2020 Watch List.

Click here to see 2020 Hot 100 prospects #'s 100-91, 90-81, 80-71.

Today we feature players No. 70 to 61 with standout players from Arkansas, California (5), Georgia (2), Illinois, and Texas.


***
70--Makenzie Chappell, OF/P… Glory Adkins/Berkhiser (uncommitted)

Makenzie can do it all on the field: she pitches, is a leadoff slapper and has great range and speed in centerfield. One coach said of her, "She has one of the best softball IQ's out there." An impactful offensive threat, Makenzie hit .444 during the spring and summer for her Georgia club team and stole 122 bases. She puts immense pressure on a defense and forces opponents to play her perfectly. Makenzie is starting for her varsity team right now and is getting SEC, ACC, Big 12 and Big Ten interest (visiting Michigan State this month). She'll also trip to Oklahoma State in October.
69--Peyton Bannon, SS… Illinois Chill (uncommitted)
Despite being one of the youngest members on the Chill's 14U team this past year, Peyton stood out on offense and defense at PGF Nationals where she was second on the team in batting average hitting over .400 while constantly putting the ball in play and moving runners along. Peyton can steal bases, drop a bunt for a hit, and is outstanding on defense, which is probably the best part of her game right now. Like all great infielders she makes the difficult plays look easy and always find the right hop. Peyton is getting looked at by numerous Big Ten schools as well as other Power 5 Conference programs.
68--Devyn Netz, P/3B… So Cal A's - Briggs (uncommitted)

Devyn is a two-way threat in that the 5-foot-8 freshman pitches in the low 60's with excellent movement and at the plate hits for power to all fields. In the circle, she works quickly with focus and intensity and once she gets into a rhythm is difficult to hit off. A pure athlete, she combines advanced physical tools with a competitive fire; one coach said, "Devyn plays the game with great passion." She has Pac-12 interest -- she's already tripped to Washington -- and this year will play for Ken Briggs So Cal A's 16U team.
67--Alison Newland, OF… Georgia Impact - Newland (uncommitted)

Alison is a lefty hitter who can slap one in the 6-hole, lay down a drag bunt or hit it out. She has excellent plate discipline and is hard to strike out at she rarely swings at a bad pitch. The outfielder led the Impact in several offensive categories: .454 batting average, .552 OBP, 84 runs and 38 walks. Alison, or "Ali," has great instincts and a feel for the game--not surprising as her father Scott played baseball in the SEC and is her club coach. Scouts say Alison plays bigger than her 5-foot-5 frame; one remarked: "Ali plays like she's 10 feet tall and bulletproof." The Georgia freshman has multiple offers and is being recruited by ACC, Pac-12 and SEC schools among others.
66--Mayce Allen, C/OF… Team Mizuno Impulse - Gwyn (Texas A&M)

Mayce is an elite level catcher with a big-time arm behind the plate. She handles the pitching staff well and controls the flow of the game as a confident field general. The Texan is athletic enough to play the outfield at a high level as well because of her speed and arm strength. Offensively, she is a force due to her ability to hit for power and steal when on base. She batted over .400 for the summer with 16 home runs and 62 RBI in 157 at-bats. As a backstop, she only made two errors in 157 chances (.987 fielding percentage) and threw out 18-of-24 runners attempting to steal. Mayce drew interest from the Pac-12 (Washington, Oregon, UCLA, Stanford) and SEC (LSU, Florida) as well as Oklahoma and Nebraska before she committed to Texas A&M today (September 8, 2016) .
65--Hallie Wacaser, OF/UT… Beverly Bandits-Harms/Harkness (uncommitted)

Hallie is a coach's dream in that she is versatile and can play multiple positions at a very high level, from outfield to middle infield and even pitch. The Arkansas standout has an excellent stick and great speed -- in the 2.7 range home-to-first --but her best attribute is her hands. Said one coach, "Hallie has some of the fastest hands I have ever seen." Small in stature, she nonetheless has a lot of pop in her swing because she generates such quick bat speed. She's getting Big Ten and Pac-12 interest and took a visit to the University of Washington over Labor Day weekend.
64--Jordyn Hutchins, P/UT… Universal Fastpitch (uncommitted)

Jordyn is a mighty mite in that she's 5-foot-2 but has one of the best swings from the left side of the plate that you'll see in the 2020 class. One scout said of her, "Jordyn can hit for the cycle any given day." An impact player on defense as well, she has a D1 arm right now and can throw out runners at any base. Jordyn even can pitch effectively with a knee-buckling change, but many feel she's one of the top centerfielders in the country. Jordyn is getting heavy Pac-12 and SEC interest as well as hearing from schools in the West in the Big West, Mountain West and West Coast conferences.
63--Jamie Sellers, P/1B… Ohana Tigers -- Quarles

Jamie is a big, powerful hitter and right-handed power pitcher who can impact a game all by herself because of her abilities in the circle and at the plate. She comes from a softball family as one sister, Rachel, is a junior catcher at Pacific and another sister, Cami, is a high school senior and has committed to Boston College. Jamie hit .430 last season for the Tigers and had only five strikeouts in 223 at-bats. The So Cal freshman has played at an elite level since the age of 10 when she played at ASA Nationals in Kentucky. Her recruiting interest is picking up and she's hearing from Big 12 and Pac-12 programs among others.
62--Emily Cazares, OF… OC Batbusters - Campbell (uncommitted)

Emily is an athletic centerfielder with good range and God-given ability in that when she hits the ball, it goes a long way. She's a natural lefty with an effortless swing and has 2.6-2.7 home-to-first speed. Emily is a terror on the base paths and that speed translates into great first-step jumps in centerfield. A clutch hitter, she's also a winner and captured a PGF 12U National Championship with the OC Batbusters-Mascarenas team, played for the Batbuster 14U team that won a Boulder IDT title and also took the USSSA Elite Select 14U crown where Emily was named the Tournament MVP. College-wise, she has attended the Arizona camp and has interest from SEC schools like Tennessee and LSU.
61--Marlene Friedman, SS… Explosion - Flores (uncommitted)

Marlene is a big, strong shortstop with an excellent arm and strong defensive skills. She can make plays deep in the hole that other shortstops can't and at the plate she is a gap hitter who can also go deep at any time. Coaches rave about her great work ethic and desire to keep improving her game and help her team win. Marlene is getting heavy looks from top Pac-12 and SEC schools and will play on Coach Bobby Flores's competitive 16U Explosion team this year.