Hot 100 2020s… #50-41
Hot 100 2020s… #50-41
Today, we continue our look at the top 100 players in the 2020 class… we're spotlighting 10 each day as we count down from 100 to No. 1!These players were c
Sep 12, 2016
by Brentt Eads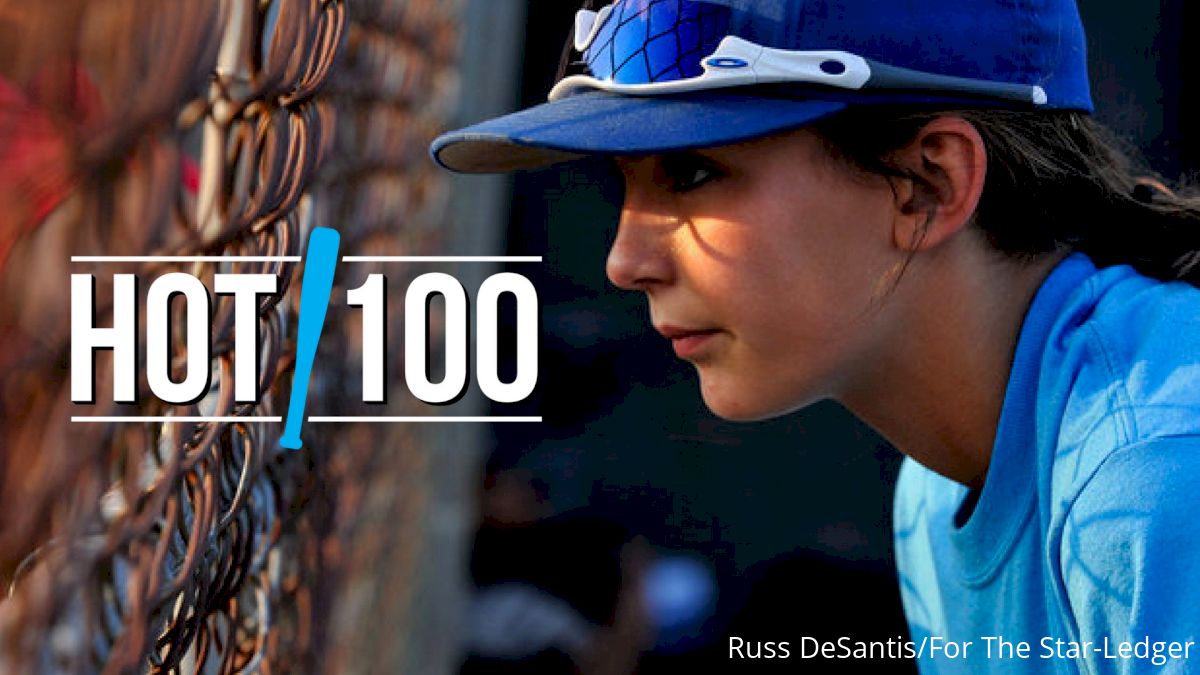 Unlock this article, live events, and more with a subscription!
Get Started
Already a subscriber? Log In
Today, we continue our look at the top 100 players in the 2020 class… we're spotlighting 10 each day as we count down from 100 to No. 1!

These players were chosen based on input and feedback from college and club coaches who've seen them play all across the nation.

Criteria for choosing and ranking the players including performances at the club and high school levels and projecting how they will play at the collegiate level.

Following the unveiling of the Hot 100, FloSoftball will also announce our rankings of the Next 100 (players 101-200) and our 2020 Watch List.

Click here to see 2020 Hot 100 prospects #'s 100-91, 90-81, 80-71, 70-61 and 60-51.

Today we feature players No. 50 to 41 with standout players from California, Georgia (3), Indiana, Iowa, Missouri, New Jersey, Texas and Washington.

***
50 --Hannah Lerma, C/OF… Corona Angels - Tyson 14U (uncommitted)

Hannah is another one of the great athletes to come out of the Corona Angels program. She's a dynamic leadoff batter with excellent speed and a very strong bat. She can call a great game as a backstop or use her athleticism to roam centerfield. Hannah hits for power, but can also drop a bunt and is also a big threat on the base paths. One coach said of her, "She really rakes the ball" while another said, "Hannah has the heart to play against anyone, she's tough and is a grinder." The Southern California freshman is being recruited by Pac-12, Big 12 and Big Ten schools such as Nebraska and Michigan State.
49--Amber Linton, P/MIF… Georgia Impact -- Newland (uncommitted)

Amber is a 6-foot intimidating pitcher who has two nasty pitches: a drop ball and a drop curve, which induce ground balls all day long. She's also added a great change-up that is extremely difficult to pick up. She led the team in ERA last year ( 1.18) and also was tops in strikeouts. When Amber throws hard, she can locate well and understands how to pitch and not just throw. The Georgia hurler never gets rattled and is a calming presence to the rest of the team when she's in the circle. Coaches also say what will make her an elite college player--and she's getting SEC, Pac-12 and Big Ten interest--is a "spectacular work ethic."
48--Trinity Cannon, 3B… Firecrackers -- DFW (Texas A&M)

Trinity, along with having a great last name for an infielder, is one of the most dangerous power-hitters in the 2020 class. Her strength is off the charts and her forearms and wrists generate tremendous bat speed and drive. The Texan also has a good eye and if the ball is anywhere around the plate there's a good chance it's going out of the park. She's also a great defender and can take her time on balls to her because of her bazooka arm. Her toughness is legendary: in a 10U game, she was hit in the eye by a line drive that dropped her to the ground, but after leaving for a few innings insisted she return to the game to help her team win. Trinity committed to Texas A&M in January, 2016 fulfilling a lifelong dream as her grandfather was an Aggie.
47--Maren Judish, P… DeMarini Aces (uncommitted)

Maren joins the Aces 14U team after a strong run with the Iowa Premier. At PGF Nationals she was invited to the PGF Elite Camp where, in Huntington Beach, she led her team in strikeouts and tallied double digit K's in several games. The Iowa native has been clocked at 64 mph at several camps and is very effective as an up-and-down pitcher because of her strong command of a riseball and drop ball. Maren is also able to locate her change as an effective change of pace. She takes pitching lessons from Rich Thomas, the father of USSSA Pride pitcher Chelsea Thomas and a former Mizzou pitcher. Maren is hearing from Big Ten schools like Michigan, Northwestern, Iowa and Minnesota as well as SEC programs like Mississippi State. Cal State Fullerton has also offered.
46--Madison Kerpics, P… Birmingham Thunderbolts 02 (uncommitted)

Madison, or "Smiley" as she's known by her teammates, is a fast-rising pitcher with above average velocity and some of the best spins in the 2020 class. She's known for her curve which has a late break and she also has integrated a screw, drop and circle change which drops and gets a lot of swings and misses. Madison had a great high school start for her Georgia team this fall, pitching a no-hitter with 12 K's in her first varsity outing. When her Bolts team plays Alabama high school ball in the spring, Madison plays for the Atlanta Vipers-Holbrook 02 squad and helped that team earn an ASA berth this year. She's hearing from national programs like Georgia, Auburn, Ole Miss, Louisville, Stanford and Duke.
45--Lauren Boyd, P/UT… St. Louis Esprit 18 -- Huecker (uncommitted)

Lauren is from Union, Missouri--a small rural town 30 miles west of St. Louis--but she is known to top college programs around the country after having a strong year at top events including PGF Nationals, the USA Elite Select Championship and Boulder IDT. Lauren is a multi-position talent in that she can pitch consistently in the 64-65 mph range and also play at a high level at shortstop where she batted .468 in the 18U division this year. She has a fierce competitive work ethic and one Big Ten scout says, "Lauren is a baller, she just loves to compete." Programs showing interest include Oklahoma, Michigan, Mizzou, Arizona, Northwestern, Arkansas, Louisville, Iowa and Minnesota.
44--Kayla Roncin, 1B/OF… Jersey Intensity (uncommitted)

Kayla is a unique story: she played baseball for eight years and made national news by leading her Toms River Little League baseball team to a New Jersey state championship by hitting two home runs in the championship game. She also was the first girl to ever win MVP honors at the Cal Ripken Golden Spike Tournament where she batted .800. Kayla made a smooth transition to softball two years ago and hasn't missed a beat. She has a 66 mph overhand throw and the 5-foot-10 five-tool athlete is quickly improving her skills at first base and in the outfield. Kayla helped lead the 14U Intensity National team to a 5th place finish at PGF Nationals and will play on the Intensity 16U-VanBoxmeer team this year. She has college interest from programs like Notre Dame, South Carolina, Georgia and Central Florida.
43--Aslinn Spradlin, MIF… Atlanta Premier 02 -- Ryman (uncommitted)

Aslinn is a lead-off hitter who maintained a .500-plus average this year and led Atlanta Premier in runs and RBI. She has excellent range at shortstop because of her great speed which helped her go 65-for-67 on the bases. Aslinn finished 2016 on fire, too, going 11-for18 and 4-for-6 in her last two tournaments. One coach described her as, "the type of player who can dominate an entire game for a team." That includes defensively as well; she makes the tough plays look routine and made only five errors in 100 games for her Georgia club team. Aslinn is playing varsity ball in the Peach State this fall and has been hitting over .500 for this season. She has received emails from over 85 universities including most of the SEC and ACC.
42--Stormy Kotzelnick, 2B/OF… Beverly Bandits-Harms/Harkness (Washington)

Stormy was the first 2020 player to verbal when she committed to the Huskies at age 13. The Indiana freshman is an explosive athlete and has been clocked at 2.64 home-to-first tools. According to one coach, "Stormy can hit with the best of them" and bats for power and average. She is a lefty stick with all the tools and can hit the ball to all the gaps. When that happens, she can easily turn a single into a double or triple. Stormy hit .375 at PGF Nationals playing against top pitching and tied for the team lead with five RBI. She also has great strength and can dead lift 250 pounds. Before committing early, even though young, she had major programs across the nation after her including most of the Pac-12.
41--Raigan Barrett, SS/3B… Team Seattle (Washington)

Raigan is a power-hitting shortstop who has a high contact-to-damage ratio and has the potential and high ceiling to be a top 10 national player in her class by the time she graduates high school. Not afraid to swing and miss, Raigan hits to all fields and is athletic enough defensively to line up in the middle of the field for Washington. Raigan batted .333 for Team Seattle at 14U in 2015 and came back this summer to hit .364. She's also a standout basketball player and is considered one of the top point guards on the West Coast. The middle infielder committed to UW this summer (August, 2016).