Hot 100 2020s… #40-31
Hot 100 2020s… #40-31
Today, we continue our look at the top 100 players in the 2020 class… we're spotlighting 10 each day as we count down from 100 to No. 1!These players were c
Sep 13, 2016
by Brentt Eads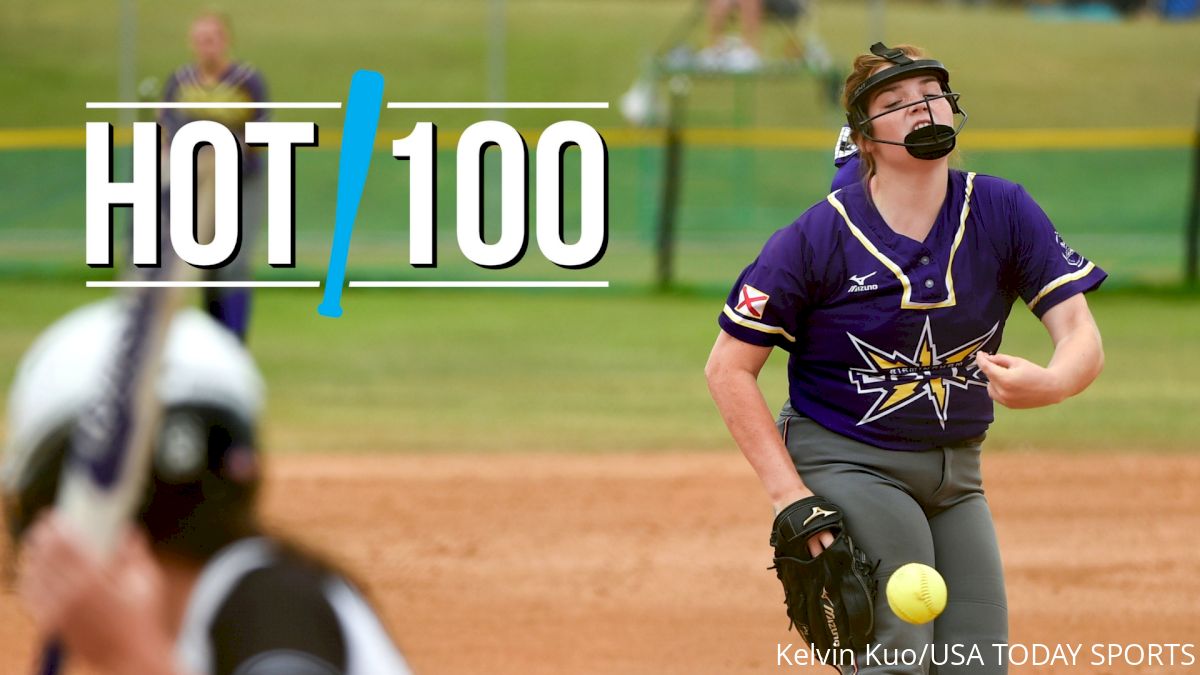 Unlock this article, live events, and more with a subscription!
Get Started
Already a subscriber? Log In
Today, we continue our look at the top 100 players in the 2020 class… we're spotlighting 10 each day as we count down from 100 to No. 1!

These players were chosen based on input and feedback from college and club coaches who've seen them play all across the nation.

Criteria for choosing and ranking the players including performances at the club and high school levels and projecting how they will play at the collegiate level.

Following the unveiling of the Hot 100, FloSoftball will also announce our rankings of the Next 100 (players 101-200) and our 2020 Watch List.

Click here to see 2020 Hot 100 prospects #'s 100-91, 90-81, 80-71, 70-61, 60-51 and 50-41.

Here are the players ranked No. 40 to 31 with standout players from Alabama, Arizona (2), California (3), Oklahoma, Texas (2) and Virginia.
40--Katelynn Carwile, P/1B… Gametime Stars (Oklahoma State)

Katelyn is a lefty pitcher who tops out around 64 mph and mixes in a screw, rise and change. She's working on a backdoor curve and when she perfects that will be all but unhittable. The Oklahoma freshman compiled a 68% strike percentage this summer with a 2.23 ERA but she's also a top-level hitter as she had .434 batting average and cracked 18 triples showing her athleticism. Versatile in that she can play first base and even the outfield, Katelynn can also slap or lay down a bunt when needed to and with the glove she's very efficient, putting up a .991 fielding percentage. She drew heavy interest in the fall of 2015 and reportedly was offered scholarships from Kansas, Tulsa and Oklahoma before she committed to Oklahoma State.
39--Taylor Holcroft, 3B/1B… Explosion - Flores 16U (uncommitted)

Taylor has a big stick and the potential to be a top-of-the-line power hitter in any major conference at the next level. One coach said of the So Cal standout, "This kid rakes, pure and simple." She showed her potential when she played up with the Explosion-Greg 16U team at Boulder IDT this summer and went 7-for-9 with five doubles and six RBI against elite competition. Taylor isn't just a one dimensional player either; she has a good glove and a strong arm and her athleticism allows coaches to look at her as a defensive anchor at either corner spot. She is getting growing interest from top schools in the SEC and Pac-12.
38--Crystal Davila, 3B… Texas Bombers 16U Gold (Texas)

Crystal is a slick-fielding infielder with great range. She has proven at the highest levels that she is able to play multiple positions well, although third base seems to be a natural fit because of her excellent arm strength. One coach describes her defensive play as "electric." Offensively, Crystal is the type of hitter who can drive the ball to all fields and has a lot of pop so she can go yard at any time. A five-tool player, she has the speed to steal bases and create instant offense and produce runs on her own. Staying in-state, she became the first 2020 to commit to the Longhorns.
37--Blaise Biringer, SS/C... Oro Valley Suncats -- Judge (uncommitted)

Blaise has the whole package: she's a five-tool threat who is playing on the Suncats 18U Gold team right now and will split time with Todd Judge's team and the 16U program. She's an excellent catcher who will also likely line up at shortstop on the younger team. Blaise has a big arm and really soft hands and is a true lead-off batter, but can hit in the 3-hole as well. Derek Allister of OnDeck Softball said, after Blaise shined at a showcase, "She looked equally comfortable behind the plate and on the dirt. Her play belies her age." A natural lefty, she led her team with a .500-plus batting average and also had the highest fielding percentage at short. Pac-12 schools--including Arizona and ASU--are after her as are schools in the SEC. Central Florida, UNLV and others have reportedly offered also.
36--Kennedi Houshmandzadeh, SS… Firecrackers -- Houshmandzadeh (uncommitted)

Daughter of former Cincinnati Bengal wide receiver T.J. Houshmanzadeh-- her club coach now--Kennedi is also a great athlete who combines excellent speed and strength. Playing shortstop, she has superior lateral and vertical movement to get to balls most defenders can't. When she puts her glove on the ball, Kennedi has a quick release and strong arm making her one of the top defenders in the nation. One coach said Kennedi has the best glove-to-hand transition time he's seen. She hits in the 2-hole as a right-handed batter, but will transition to lefty periodically because of her 2.78 laser speed home-to-first, which was tops of 80 prospects at a recent camp. Kennedi is tripping to out-of-state SEC schools like LSU, Auburn and possibly Tennessee among others she's
considering.
35--Aris Carroll, P/3B… Mizuno Storm (Arizona)

Twin sister of Sophia Carroll, who is also going to the Univ. of Arizona (both committed in November, 2015), Aris played on the Mizuno Storm-Holtorf 14U team and will play on Richard Beach's Mizuno Storm 16U team this year. Aris pitches and works with former Arizona star Becky Lemke and is improving consistently. When not in the circle she plays first and third because of her strong arm and solid glove in the field. She hits with power and possesses a quick bat and also has what one coach describes as "an incredible work ethic." Another coach says, "Aris is a baller who displays a love for the game and her teammates." The twin sisters were also recruited by Oklahoma, Washington, UCLA, ASU, Nebraska and Oregon before choosing to stay close to home and play for Mike Candrea's Wildcats.
34--Shelby Lowe, P/1B… Birmingham Thunderbolts 01 (uncommitted)

Shelby is one of the fastest-rising players in the 2020 class and don't be surprised if she ends up in the top 10 of the class before she graduates. A workhorse pitcher who has drawn comparisons to Paige Parker of Oklahoma because of her build and bulldog mentality in the circle, Shelby is a 5-foot-10 lefty with great spins and movement with a riseball that is very tough to resist. She went 16-5 with 174 K's this summer and two of those loses came to the PGF National Champion So Cal A's-Mercado team. Hailing from a small town, Pickens Academy about 30 miles from Tuscaloosa, Alabama, Shelby has narrowed her list to five schools and the only ones she'll visit: Alabama, Auburn, Florida State, Mississippi State and Tennessee. Auburn and MSU have reportedly offered already.
33--Ryleigh Carricaburu, C/SS… Firecrackers -- Houshmandzadeh (uncommitted)

Ryleigh is one of the top defensive catchers in the nation with a pop time regularly in the 1.7 range although at one camp recently was timed at 1.66 seconds. Her arm strength is off the charts as is her ability to get rid of the ball extremely quickly. Said one coach, "Ryleigh has it all: a great arm, glove and she can swing it. She does it all." A superb all-around athlete at 5-foot-9, the Riverside, California freshman played Little League baseball for six years before jumping to softball during her 11U/12U season. In 2015--in only her second full season of softball--she caught 67 innings at PGF Nationals to lead her OC United team to a 5th place finish. Top major programs from the Big Ten, Big 12, Pac-12 and SEC are recruiting her including schools like Texas, UCLA and Florida.
32--Melody Coombs, SS/OF… Lady Lightning Gold Futures (Syracuse)

Melody, or "Mel" as she is also called, is a great athlete with blazing speed and excellent range in any position she plays. She is built for power and speed and can lay down the bunt at any given time with the pop to drive the ball to the gaps or over the fence. As one coach said, "Mel can beat a team with one swing while being able to steal a base on any pitch." Another scout said, "She is a true beast on the diamond and is an instant game changer." Melody had interest from several SEC and Big Ten schools, but chose Syracuse because of the quality of education and her connection and bond with the coaching staff.
31--Hayden Brown, C… Texas Glory -- Naudin (uncommitted)

Hayden is an elite Power 5 athlete with the ability to create momentum in one swing. She was a key component of the Texas Glory 14U team that finished 5th at Boulder IDT and is a franchise-type catcher in that she does everything at a high level. Hayden is a field general who takes command of the game and can help the pitchers stay calm and focused. Strong and athletic, she generates great bat speed and can clear the fence to all fields. Hayden is getting heavily recruited from top programs everywhere including schools like Big 12, SEC, ACC and Conference USA.