Hot 100 2020s… #30-21
Hot 100 2020s… #30-21
Today, we continue our look at the top 100 players in the 2020 class… we're spotlighting 10 each day as we count down from 100 to No. 1!These players were c
Sep 14, 2016
by Brentt Eads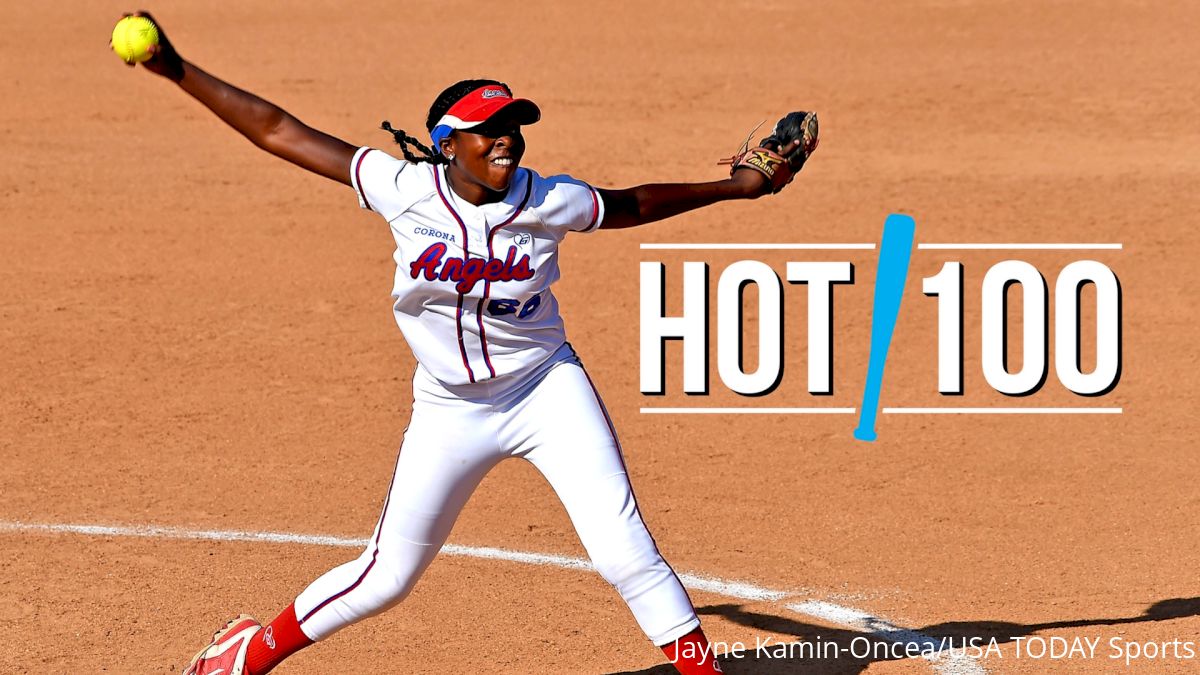 Unlock this article, live events, and more with a subscription!
Get Started
Already a subscriber? Log In
Today, we continue our look at the top 100 players in the 2020 class… we're spotlighting 10 each day as we count down from 100 to No. 1!

These players were chosen based on input and feedback from college and club coaches who've seen them play all across the nation.

Criteria for choosing and ranking the players includes performances at the club and high school levels and projecting how they will play at the collegiate level.

Following the unveiling of the Hot 100, FloSoftball will also announce our rankings of the Next 100 (players 101-200) and our 2020 Watch List.

Click here to see 2020 Hot 100 prospects #'s 100-91, 90-81, 80-71, 70-61, 60-51, 50-41 and 40-31.

Here are players No. 30 to 21 with standout prospects from California (4), New Jersey (3), Ohio, Oklahoma and Tennessee.


***
30--Ryleigh White, P/3B… Beverly Bandits - Harms/Harkness (uncommitted)

Ryleigh has been on the national radar since the 7th grade when she threw 64 mph at the Top Prospects Combine and then was seen by Oregon coach Mike White at the New England's Finest Camp. The 6-foot-1 New Jersey standout has continued to improve physically and in her pitching skills despite having a back injury that hampered her this summer. She's hitting 66 mph now and complements her power pitches with downward movement on her spins. At an OnDeck camp, Ryleigh scored in the top 21 of 5,300 athletes tested and ranked No. 1 in the 2020 class. She's been on unofficial visits to Oregon, Tennessee, Cal State Fullerton, Notre Dame, Michigan, Florida, Alabama, Hofstra and will be visiting James Madison this month also.
29--Riley Frizell, P/1B… Beverly Bandits -- Moran (Missouri)

Riley is a versatile pitcher/infielder who was highly coveted because of her arm and her bat. In the circle, the Ohio freshman throws hard--consistently in the low-to-mid 60's (clocked at 65 mph, which you can see on YouTube) and has all the pitches including a 51 mph change, a drop and curve. She's the ideal No. 2 in the circle but her bat is also what got her SEC attention as she hits bombs and is a masher with good size and athleticism. One coach said, "Some think Riley can be a clean-up hitter for Mizzou for four years." She's solid in the field and when not in the circle has the tools and glove to be a strong presence at first base.
28--Karina Gaskins, 3B/OF… Jersey Intensity (Notre Dame)

Karina is a power-hitting corner who has met and exceeding all expectations as she's emerged as not just a great physical talent, but also a tremendous leader whose quiet confidence lifts the game of those around her. She can smash the ball to all sides of the field and the ball explodes off her bat. One coach said of the New Jersey freshman: "Karina is one of the fiercest hitters I have ever seen." She also plays a strong third base with a good arm aided by a quick release. Karina continues the Irish pipeline from Kevin O'Donnell's program that included at least one signee from 2014-2016 with commits in the Classes of 2018, '19 and now '20.
27--Emari Frazier, SS/3B… Birmingham Thunderbolts 02 (uncommitted)

When all is said and done with the 2020 class, don't be surprised if Emari is in the top 10, perhaps top 5, of the entire class. Several coaches and scouts say she has elite talent and one SEC source remarked, "I think Emari is the next Bianca Bell." A big strong athlete who plays shortstop and hits clean-up for the Thunderbolts, Emari is an efficient, deadly hitter who is one of the most dangerous players in the class. The Tennessee freshman has played in major tournaments, including Nationals, since shining at the 8U level and currently she's had interest from nearly every school in the country with strong consideration going to UCLA and LSU.
26--Paige Knight, P/3B… Tulsa Elite (Oklahoma)

Paige is a 5-foot-10, athletic talent who can do it all: she can crush the ball, has a huge arm, and possesses good speed. She hit in the 3-hole this summer for the Tulsa Elite which had top 5 finishes at the USA Softball JO Cup and Colorado Fireworks Super 48 among others. Paige has an advanced bat and combines the ability to hit for a high average with a solid stroke for power. The Oklahoma standout finished a strong summer batting well over .400 almost every weekend. Paige's recruiting stock was just starting to explode when she committed to the home-state Oklahoma Sooners after getting several other offers.
25--Presleigh Pilon, MIF… Athletics -- Mercado (uncommitted)

Presleigh is one of the top defensive infielders in the nation and the top pure second base prospect. She has amazingly quick hands and makes super-fast ball transfers thanks to working several years defensively with esteemed coaches Dave Mercado and Rob Baca. Offensively, she's hit close to .500 the last three seasons and has above average speed to aid her bat skills. A line-driver hitter primarily, her power numbers are increasing as she's doing powerlifting to improve her strength. Presleigh is being looked at by LSU as well as Oklahoma, Oregon, Alabama and Tennessee where she's visited with pending trips to Ole Miss, Florida, Michigan State, South Carolina and Arkansas possible. However, it's been mentioned the So Cal standout could be committed within a month.
24--Sarah Willis, P/OF… Corona Angels - Tyson 14U (Auburn)

Sarah is a two-way standout and has a stellar resume playing at the highest levels with proven big-game success. Few pitchers, for example, can say they pitched back-to-back PGF National Championship games like Sarah did when she threw in the 12U title game in 2015 and was a relief pitcher this year in the 14U championship. Sarah is a tough, competitive pitcher who wants the ball all the time and, says one coach, "Has the edge and drive to excel." Sarah has been clocked consistently at 63-64 mph with a 43 mph change along with a drop ball in and out, a rise and screwball. This year, she had a 2.47 ERA and hit .420. The SoCal star verballed to Auburn in January of 2016 at the age of 13 after having received interest and gone on trips to schools in the Pac-12, Big 12, and SEC.
23--Grace Guzman, OF… All American Sports Academy (uncommitted)

Grace has been on the radar of major colleges since the 7th grade when she shined at the OnDeck-produced West Coast Elite Camp. She began playing with the Sorcerer 18U Gold team that year and has more than held her own playing with and against girls up to five years older than her. Grace does everything well and last year hit leadoff and in the 2-hole for Sorcerer Gold and started in centerfield after moving over from right field where she played in 2015. With the retirement of Sorcerer Head Coach Pete Aguayo, she has moved to another elite NorCal program, AASA. Grace currently has multiple offers from UCLA, Stanford and Cal with interest from Oregon, Northwestern, Notre Dame and Oklahoma. She'll visit Michigan this month too.
22--Giulia Koutsoyanopulos, 1B/OF… OC Batbusters -- Campbell (Arizona)

Giulia, or "G" as she also is called, can do almost everything at a high level. She is athletic, runs and hits well and plays a strong first base. Giulia also can play left field but projects to be a great fielding/hitting first baseman in the Pac-12 because she has explosive power to all fields. Coaches rave about her work ethic, passion to improve and drive to succeed as well. The Mission Viejo, California freshman led her OC Batbusters-Mascarenas 12U team to a PGF National Championship in 2015 and followed that up two months later by committing to the Wildcats on October 17 at a prospect camp. Arizona was the long-time leader as Giulia had gone to Jennie Finch camps in Orange County every year since she was eight and her club coach, Toni Mascarenas, was an All-American in Tucson.
21--Jayda Kearney, OF… Jersey Intensity (Georgia)

Jayda is a true five-tool player who can do it all. She has tremendous power and speed and will be a game-changer for the Bulldogs, who she committed to in April, 2016. Jayda showed how explosive she is offensively at the PGF 14U Nationals this summer by going 9-for-13 (.692. average) which was the highest of the week. In the five games played, she also had a home run, four steals and an eye-opening .765 on-base percentage and a 1.688 OPS. The New Jersey freshman has a strong, athletic physique and can drive the ball to all fields. Jayda is also an All-American caliber defender with the ability to cover a huge amount of ground and go horizontal to make diving catches that few have the abilities to get to, let alone catch.