Hot 100 2020s… #20-11
Hot 100 2020s… #20-11
Today, we continue our look at the top 100 players in the 2020 class… we're spotlighting 10 each day as we count down from 100 to No. 1!These players were c
Sep 15, 2016
by Brentt Eads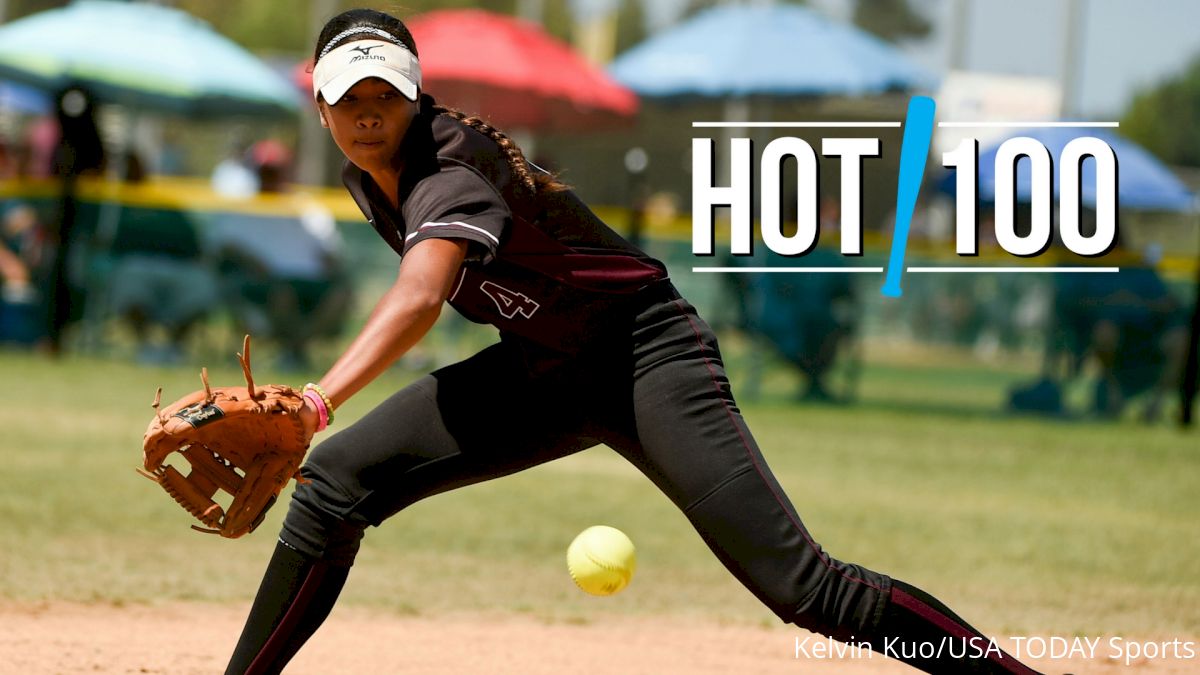 Unlock this article, live events, and more with a subscription!
Get Started
Already a subscriber? Log In
Today, we continue our look at the top 100 players in the 2020 class… we're spotlighting 10 each day as we count down from 100 to No. 1!

These players were chosen based on input and feedback from college and club coaches who've seen them play all across the nation.

Criteria for choosing and ranking the players includes performances at the club and high school levels and projecting how they will play at the collegiate level.

Following the unveiling of the Hot 100, FloSoftball will also announce our rankings of the Next 100 (players 101-200) and our 2020 Watch List.

Click here to see 2020 Hot 100 prospects #'s 100-91, 90-81, 80-71, 70-61, 60-51, 50-41, 40-31 and 30-21.

Today we feature players No. 20 to 11 with standout players from California (5), Florida, Georgia, Illinois, Maryland and Texas.
***
20--Jesse Fontes, P… So Cal Choppers -- Fausett (Arizona)

Jesse is a natural left-handed pitcher who is noted for her great poise on the mound; as one coach puts it, "She has ice water in her veins and shows no expression… she's unflappable." Jess throws a riseball, curve, drop and a screwball that's her money pitch. The Fillmore, California freshman led her So Cal Choppers 12U team to the PGF National Championship game in 2015 and a runner-up place at Boulder IDT this year. Jesse is a workhorse who threw 11 straight games at PGF Nationals and elevates her play when the game is on the line. She's a big-game pitcher who loves the pressure of tight situations. Also a good basketball player, Jesse committed to Mike Candrea and the Wildcats on March 19th of this year.
19--Tehya Bird, P/SS… Universal Fastpitch (Oregon)

Tehya is a 5-foot-9 great all-around athlete who is a dual threat as a right-handed pitcher and shortstop. She throws in the 63-65 mph range when in the circle and as an infielder has great range with a strong arm. Tehya also showed the ability to hit for power and average this year for Universal Fastpitch as she batted .430 with 12 home runs and 71 RBI in 58 games. Along with her physical abilities, she's a take-over-the-game type of player who has the "it" factor in that she gets the job done and elevates the play of those around her. Tehya became an Oregon fan after attending a camp and asking her parents to decorate her room in Duck colors. Two years later she was seen at a showcase by Oregon Coach Mike White and recently because the first 2020 commit for the Pac-12 program.
18--Skylar Brooks, SS… Texas Blaze White (uncommitted)

Skylar is a fearless athlete who goes hard after every ball and once broke her nose at a play at second, went into the dugout to stick two pieces of paper in her nostrils and asked to go back out. Along with her toughness, she has great athletic skills and, according to one coach, has been timed in the high 2.5 range home-to-first. Skylar is a lefty who has all the tools and just needs the experience against elite competition to maximize her unlimited potential. A great team player who is well-loved by her peers, Skylar is getting major college attention from schools like Ole Miss, Tennessee, Georgia, Mississippi State, North Carolina and most of the Big 12.
17--Tiare Jennings, SS… OC Batbusters -- Campbell (Oklahoma)

In a year of great shortstops, Tiare is one of the best and is considered an elite player because she combines great defensive skills with a power bat. She also has the attributes and instincts you can't coach and one scout remarked, "She just gets the job done." A great athlete, the 5-foot-8 freshman is a three-sport star who also shines in volleyball and basketball. She hits in the 3-hole for the Batbuster-Mascarenas team that won Colorado IDT 14U and the USA Elite Select Championship this year after winning the PGF 12U Nationals in 2015. Tiare had offers from Pac-12 schools like UCLA, but a fall camp at Oklahoma a year ago caused her to fall in love with the Big 12 power and on Sept. 2, 2016 she called Patty Gasso and said she wanted to play for the current National Champs.
16--Destinee Noury, MIF… Athletics -- Mercado (Oklahoma)

Destinee has one of the strongest arms in the country and coaches say she does everything well. She was a key cog on the So Cal A's-Mercado team that dominated PGF 14U Nationals, going 7-0 on the way to a national title, while also going undefeated to win the Colorado Sparkler Fireworks tournament. Destinee has good size and is strong in her fundamentals. She has an excellent technical swing and is a smart player who is always thinking two or three steps ahead, be it on defense or at the plate. Destinne has shined at nationally prestigious camps such as the OnDeck West Coast Elite Camp in October 2014 where Derek Allister of OnDeck praised her for her "sophisticated level of play" and "poise and athleticism." She's one of five Oklahoma commits in the 2020 class already.
15--Kamaya Cohen, OF… Gainesville Gold (Florida)

Kamaya is the prototype speedy outfielder who as a lefty can drag, slap and swing away with big-time power. She steals tons of bases even against the best catchers and even when everyone in the park knows she is going to steal. It's Kamaya's power that separates her from the good slappers who just try to get on base as the freshman has the power to hit bombs and drive in runs too. She's an excellent defensive centerfielder who covers a ton of ground and has an above-average arm that can nail runners trying to take the extra base. The Florida native committed to the Gators on October 15, 2015 after a strong fall run of performances in major events launched her status to being one of the best players in her class.
14--Bailey Dowling, SS/2B… Beverly Bandits - Harms/Harkness (Alabama)

Bailey is an excellent all-around athlete--she won state championships in Illinois at the junior high level in track and volleyball. On the softball field Bailey shines on defense where she has great defensive skills and on offensive where she can go yard at any time. She has soft hands and a strong arm playing the middle of the infield and with the bat can hit to all fields. Bailey can take over not only a game, but an entire tournament as she did last fall at the Veteran's Tribute Showcase where she batted 7-for-13 with a triple, home run and five RBI. Her strong fall propelled her to the top of recruiting lists with programs from Big Ten and SEC before she committed to Pat Murphy and Alabama this summer.
13--Morgan Smith, P/OF… OC Batbusters -- Campbell (uncommitted)

Morgan is a 5-foot-10 great all-round athlete who throws hard and hits the ball just as hard. Her strength is her versatility as the So Cal freshman is a great hitting pitcher who plays left field when not in the circle. Morgan throws in the mid-60's with good off-speed stuff and one coach said, "Morgan throws lights out every time I see her." And she's just scratched the surface as a hurler since this past season was essentially her first spending at least half of her time pitching. Morgan runs like a deer and at the OnDeck June Jamboree tested so well she ranked No. 27 out of 5,296 athletes ever tested (her Allister index of 96.82 puts her in the 100 percentile). Major programs all over the nation including UCLA, LSU, Alabama and Tennessee are showing heavy interest.
12--Emily Wilke, C/3B… Atlanta Vipers -- Holbrook (uncommitted)

Emily is a 5-foot-10 catcher and third baseman who is so athletic she hits leadoff. She batted .439 with a .487 on-base percentage for the Vipers against elite competition this summer and helped the club team finish in the top 10 at ASA Nationals and 17th in Colorado. She currently is starting as a freshman for her Georgia high school team. One coach said of Emily, "She has the best instincts of any kid at this age that I've seen" and major colleges--especially ones in the SEC like Florida, Alabama and South Carolina--are heavily after her. One Top 25 program has already offered a full-ride and Emily is reportedly in the process of considering which offer to take, most likely to an SEC school.
11--Maddie Penta, P… PA Chaos (uncommitted)

Maddie pitched for the Chaos 18U Gold team last year as an eighth grader and learned a lot backing up 2017 Hot 100 pitcher Maggie Balint, who is now at Oregon. Only 13 because she moved up a grade a few years ago, Maddie finished with 57 K's, just 12 walks and a 1.71 ERA in 50 innings pitched after joining the Gold team midway through the season. Throwing with great accuracy and mixing in a devastating change, she got playing time in major tournaments like PGF 18U Nationals, Boulder IDT, and TC/USA Nationals which resulted in several major programs in conferences like the SEC, ACC and Pac-12 believing she's the top pitcher in the country. Getting nationwide attention, Maddie is being watched closely by universities like Georgia, Kentucky, Maryland, Mississippi State, Florida State, Duke, Ole Miss and Oregon.