Hot 100 2020s… #10-1
Hot 100 2020s… #10-1
Today, we conclude our look at the top 100 players in the 2020 class… we looked at 10 each day and finish the list with the Top 10! These players were chose
Sep 16, 2016
by Brentt Eads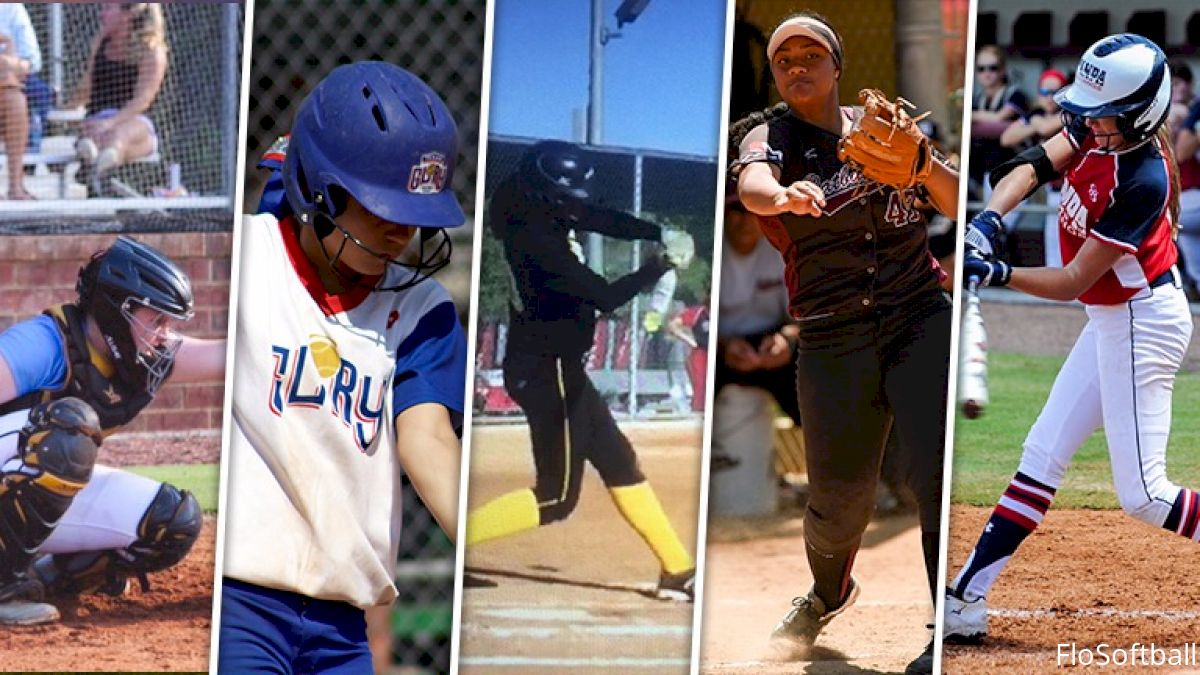 Unlock this article, live events, and more with a subscription!
Get Started
Already a subscriber? Log In
Today, we conclude our look at the top 100 players in the 2020 class… we looked at 10 each day and finish the list with the Top 10!

These players were chosen based on input and feedback from college and club coaches who've seen them play all across the nation.

Criteria for choosing and ranking the players includes performances at the club and high school levels and projecting how they will play at the collegiate level.

Now that the Hot 100 is complete, FloSoftball will announce our rankings of the Next 100 (players 101-200) and our 2020 Watch List in the next few days.

Click here to see 2020 Hot 100 prospects #'s 100-91, 90-81, 80-71, 70-61, 60-51, 50-41, 40-31, 30-21 and 20-11.

Wrapping up the list, we feature players No. 10 to 1 with standout players from Arizona, California (3), Florida (2), Georgia (2) and Texas (2).
***
10--Cameron Fagan, OF… Team North Florida (Missouri)

Cameron comes from amazing athletic DNA as her father, Kevin, won two Super Bowl rings as a defensive lineman with the 49ers and three of her sisters have played college softball: Kasey (Arkansas), Sami (Missouri) and Haley, who is in her final year at Auburn. Cameron herself is very athletic and fast as a triple threat from the left side who can bunt, slap for power and square up and hit away--all equally well. One coach said, "She has everything you want in a stick." Cameron has played centerfield because she gets great jumps on the ball and has started working in the middle of the infield too; this year she'll play short for Team North Florida. Like her sisters, she has a great work ethic and has been working with weights since the 6th grade. Already tall and lean, it's expected she will likely end up with the body frame of her siblings who are in the 5-foot-9/5-foot-10 range. Cameron committed to Mizzou last fall and should make an immediate impact when she reaches the SEC.
9--Nicole May, P/3B… Sorcerer 16U (Oklahoma)

Nicole is a dual threat who is as good of an infielder as she is as a pitcher. She never leaves the field because her softball IQ is off the charts. Nicole always plays in control and never shows her emotions. At 5-foot-11, she moves well at third base and can move laterally and come in or drop back equally well. As a right-handed pitcher, she throws in the 60's and has an accomplished riseball, curve and change. Offensively, Nicole bats in the front of the line-up and has great power and a swing that can change a game instantly. Interestingly, after a year at 8U her coaches said she didn't have the athletic ability to play at an elite level, but another coach lit a fire under her. She eventually took up basketball and now plays freshman volleyball too. Nicole has played up most of her career and at age 14 is now playing with the Sorcerer 16U team. Since joining Gary Gascoigne's squad, she went from the No. 4 pitcher to the ace and helped the team finish 2nd at last year's PGF Ultimate Challenge and 1st at the TCS World Series in Reno this year. Nicole shined at the 2015 OnDeck June Jamboree and was offered by Oklahoma in September of 2015 while on an unofficial visit. She took her time and finally called the Sooner coaches on August 19 of this year to commit.
8--Camryn Wincher, SS… Stingers Gold (Texas)

Camryn began playing for her father, Les, when she was seven-years-old and has been with his Stingers Gold team ever since. She is a great all-around athlete who averaged 19.5 points per game in hoops last year, stars in volleyball as well and as a 5-foot-10 leadoff hitter in softball led the Stingers with 14 home runs and a .569 batting average playing mostly 16U competition. Camryn has a great work ethic and mixes weight and agility training to fine-tune her quickness, speed and power. She is the type of player you want up at the plate with the game on the line and one reason is because she can beat you in so many ways. In one club game this year, she started the game with a solo home run, then got on base via a bunt, and, batting left handed the third time up, drilled the ball off the fence. One opposing pitcher, who has already committed to a college, said, "Everywhere I throw the ball, Camryn puts her bat on it." One coach remarked, "I've seen this kid bat three times and all three times she has hit home runs off of three different pitchers." Perhaps Camryn's greatest attribute is her hand speed, which accelerates the bat through the zone so it explodes upon contact. Major programs like Auburn, Oregon and Florida State have shown interest and schools from the SEC, Pac-12 and Big 12 have offered but it looks like Texas is the strong leader at this point.
7--Jasmine Perezchica, OF/2B… Athletics -- Mercado (Arizona)

If you want the perfect lead-off hitter to build your team around, Jasmine is the one you'll likely choose. She has amazing speed and is a great table setter. Hitting lead-off for the Athletics, she spearheaded the team's offense at PGF Nationals where she hit .529 and led the team with six steals in six games to help David Mercado's team go 7-0 to win the 14U National Championship. You don't have far to look to see where Jasmine gets her amazing softball IQ, either, as her father, Tony, is the Arizona Diamondback's Minor League fielding coordinator. Jasmine has been around the fields all her life and it shows on defense as she knows how to control the outfield, move the other players around and read the batters as to where they are likely to hit the ball. She combines great intelligence with accelerated physical abilities in that she can make diving catches and pull the ball back in over the fence. At the plate, Jasmine can bounce the ball or drive it into the gaps, take what the pitcher offers and places the ball seemingly at will. Said one coach, "If you get Jasmine out, it's luck." She committed to Arizona about a year ago and can bring to the Wildcats what Chip Bennett did for UCLA the last few years: exciting plays on offense and defense thanks to great, great speed.
6--Riley Blampied, MIF/C… Georgia Impact -- Newland (Alabama)

Riley is unbelievably smooth in the field, has a cannon for an arm and makes plays that others can't. She has good power at the plate and led the Impact team in home runs. Riley can beat you in so many ways and is the type of player you build a program around. Said one scout after watching her at the Colorado Sparkler tournament, "Riley is a woman amongst girls." She is a future middle-of-the-order bat at a premium position and her defense is notable for her loose, natural softball actions. The Georgia standout has been in the Impact organization since she was 10 and her athleticism and body control--combined with her tireless work ethic--make her one of the most coveted recruits in the nation. The highest compliment you could give her is she is the infielder that everyone else in the South compares players against. The freshman has offers from powers like Florida, Alabama and Oregon, visited UCLA during PGF Nationals and trips to Oklahoma this month.
5--Chooch Carroll, C… Atlanta Vipers -- Vallery (Auburn)

Her real name is Leslie Carroll, but no one calls her that after an Italian relative said "She's a Chooch," which means "funny, goofy and silly." That's Chooch's demeanor off the field; on the grass and dirt she is all business. The Georgia slugger has been so good for so long it's hard to believe she's just a freshman. Two years ago, Chooch began blasting 225 feet home runs and, amazingly, at age 12 was wearing men's size 13 ½ foot shoes. Her feet were so big, Ringor had to custom-make her cleats but she's grown into those shoes quite nicely and, once she finally grows into her body, has the potential to be one of the best players in the nation at any age level. One coach called her a "beast hitter" and playing up at 16U this summer she finished with a .426 average, 10 home runs and 62 RBI. She's begun her high school career in Georgia hitting over .500 as well. Her defense is also played at a high level and Chooch is consistently being measured in the 1.6 range for her pop times. One reason for the freshman's success is an Olympian-like workout regime which includes an hour of training before school and after. Auburn got in early and locked up Chooch when she committed last December.
4--Sophia Carroll, MIF/OF… Mizuno Storm (Arizona)

Sophia is a game-changing athlete who can play multiple positions and has become highly sought-after because of her incredible range at shortstop. She can go deep behind third, backhand the ball and throw a rocket to get out a speedy runner or sprint behind the pitcher's circle and cut off a ball going over second and twist and make an accurate throw to first. The Arizona freshman excels in every area of the game: she's quick to the ball and has a cannon for an arm in the infield, has a power bat but hits for a high average too and has great leadership abilities. Her greatest trait, however, may be her instincts which allow her to see the whole field and know where everyone should be at all times. Sophia batted close to .630 for the Storm last year with 20 home runs at the 14U level and will play for Richard Beach's 16U Mizuno team this upcoming season. After being recruiting by Pac-12 schools like Washington, UCLA, ASU and Oregon as well as Oklahoma and Nebraska, Sophia and her twin sister Aris committed to Arizona in November of 2015.
3--Avery Goelz, 1B/OF… Tampa Mustangs -- TJ (Florida)

Avery has been called a "six-tool player," meaning she has all the physical gifts but adds a softball IQ that few possess. She is way above average in every category as far as skills go and has a gifted softball sense that allows her to anticipate the play and follow her instincts to be ahead of her opponents. Although she was just barely out of the eighth grade, Avery played for her father's Tampa Mustangs 18U and 14U teams over the last year with a composite batting average of .493 to go with 13 home runs, 112 RBI, 106 runs scored and 25 steals. Avery has benefited from not just having her father as a coach, but following in the footsteps of her older sister, Kinsey, a member of the FloSoftball 2017 Hot 100 and a recent commit to Mississippi State. Avery was brought up last summer (2015) to be part of the Mustangs 16U team that won the PGF National Championship and witnessed her older sister get the game-winning hit. A lefty who many feel is perhaps the best pure hitter in the class, Avery has received significant offers from top-ranked programs in the SEC, ACC and Pac-12. One scout said regarding the Florida freshman, "I've seen her do things no one else can."
2--Zaida Puni, 3B… OC Batbusters -- Campbell (uncommitted)

The OC Batbusters organization has a long history of producing All-American talent, from Laura Berg and Jennie Finch in the past to Sydney Romero (Oklahoma) and Amanda Lorenz (Florida) in the last few years. It's still early for Zaida Puni, but it shouldn't be long before she's added to the list of Batbuster greats. One of the top power-hitters not just in the 2020 class, but in the entire club softball scene, many experts feel Zaida could've played at the 18U level last year in that she physically looks grown-up and has the explosive bat that would allow her to succeed on the field with players four, even five, years older than herself. A fierce hitter who crushes the ball because of her strength, Zaida was described by one coach as "having more power than anyone her age group, bar none." Another said of her, "She's a beast and doesn't understand yet how great she can be." That potential was on display this summer at PGF Nationals where Mark Campbell's 14U team was one of the favorites entering the tournament, but lost on the first day and had to fight its way through the loser's bracket to win eight games and finish tied for 3rd. Zaida was a major reason the team went on a winning streak as she batted .458 with a 1.042 slugging percentage and a 1.578 OPS. She led her talent-laden team in hits with 11, home runs with 4, and was second in RBI with eight. A dynamite third baseman who can make all the plays on defense, she has Pac-12, SEC and Big 12 schools after her including early favorites UCLA and Oklahoma.
1--Jayda Coleman, IF/OF… Texas Glory -- Naudin (Oklahoma)

Jayda is the third straight Oklahoma Sooner commit to be ranked as the No. 1 player in the FloSoftball Hot 100 following in the footsteps of 2019 pitcher Brooke Vestal (Firecrackers-Rico) and 2020 catcher Kinzie Hansen (Athletics-Mercado). Not coincidentally, those two won PGF National Championships this year, Brooke at the 18U Premier level and Kinzie at the 14U Premier level. Jayda almost won her own national title two years ago playing for the DirecTV Genies, coached by her father, Cedric Coleman. Jayda put up video game-like numbers in 2014 at PGF batting .625 (15-for-24) with a .700 on-base percentage and an eye-popping 1.658 OPS. The Genies came up one run short, losing to Hansen's A's-Mercado 12U team 4-3, but her amazing week in Huntington Beach showed everyone the talent and explosiveness Jayda brings to the field. It's not just the numbers, either, but the way she plays the game and actually baits the opponent into making mistakes. At such a young age, Jayda is always thinking three steps ahead and once started a triple play when a pop-up with runners on first and second wasn't called an infield fly rule. She waited for the call that never came so she cleverly let the ball drop, fired to third which led to the runner on first and the batter being thrown out also. Those heady plays and instincts, combined with 2.6 home-to-first speed and the ability to seemingly do whatever she wants with her bat and glove, makes her a game-changer in every aspect of the sport. Says one scout, "When Jayda gets on the bases, she is going to let you know she is there. I have seen some of the best catchers in the game not come close to throwing her out." Playing at the 16U level this past year, she was the leading hitter on the Glory as an 8th grader hitting at a .600 clip and over the summer had 12 homers including six in Colorado. There, she led off one game with a dinger and the opponent decided that was enough; the team then walked Jayda every at-bat afterwards including her last one in ITB with a runner already on second. That is the type of respect Jayda generates. After her break-through nationals two years ago, seven of the eight D1 teams that made the Women's College World Series soon offered her and, ultimately, Jayda felt that Oklahoma was the place that felt most like home. To be the No. 1 player in the FloSoftball Hot 100, you have to be, well, special. Jenna Lilley--the first Hot 100 No. 1 (2014) was like that; so was Amanda Lorenz in 2015. So far, those are the first two classes to actually play in college and the pair of top-ranked Hot 100 players has done just fine. Jayda is a worthy representative to those current college standouts and the others who will one day be there too. Jayda has all the physical talent in the world and combined with instincts, smarts and everything else needed can be a transformative player in another way: she's a lefty who plays shortstop. Says one observer, "You would think that would be a disadvantage, but not with her… she just makes it happen." Whether she stays there remaings to be seen--some think she has the abilities to stay at short and revolutionize the position, but others feel she could be an All-American at second, first or the outfield. That's a question Patty Gasso and staff will have to decide in four years, but until then Jayda herself says it best: "If a girl can beat me out at shortstop, then we're winning a National Championship so bring it! What I care most about is winning."