Meet Jayda Coleman No. 1 Hot 100 2020 Prospect
Meet Jayda Coleman No. 1 Hot 100 2020 Prospect
Yesterday, we unveiled the top 10 players in the FloSoftball 2020 Hot 100 and for the second time we find the No. 1 overall prospect calling the Lone Star S
Sep 17, 2016
by Brentt Eads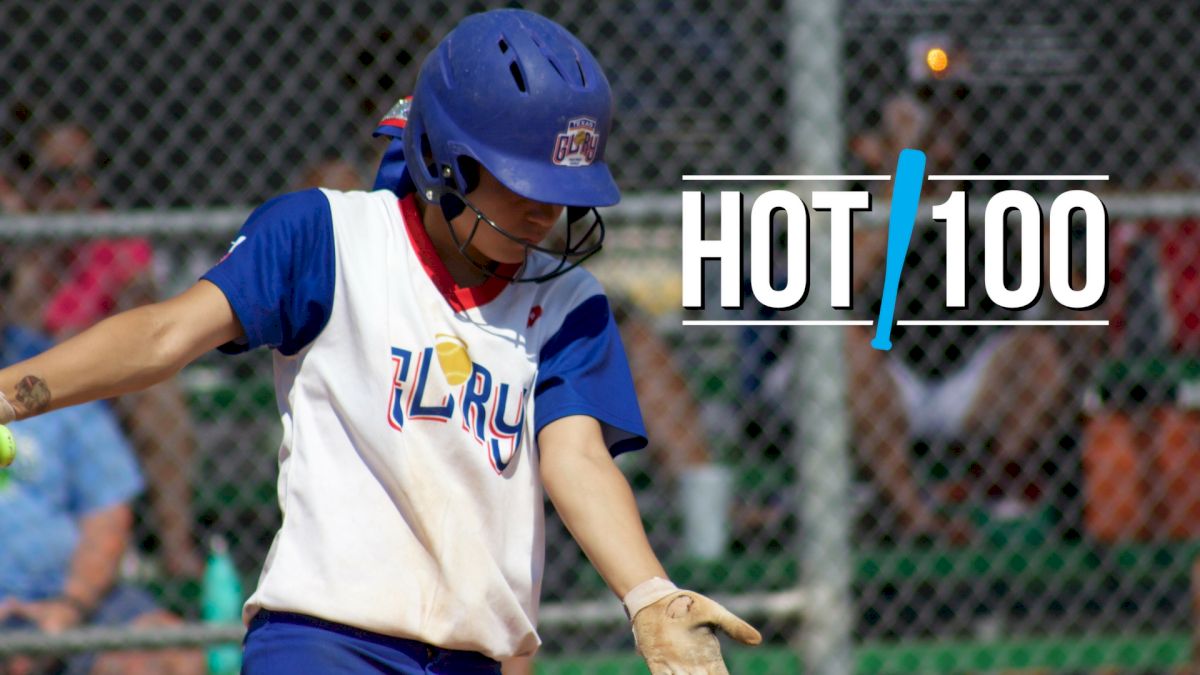 Yesterday, we unveiled the top 10 players in the FloSoftball 2020 Hot 100 and for the second time we find the No. 1 overall prospect calling the Lone Star State home (the top prospect in the 2018 class was Brooke Vestal from New Braunfels, Texas).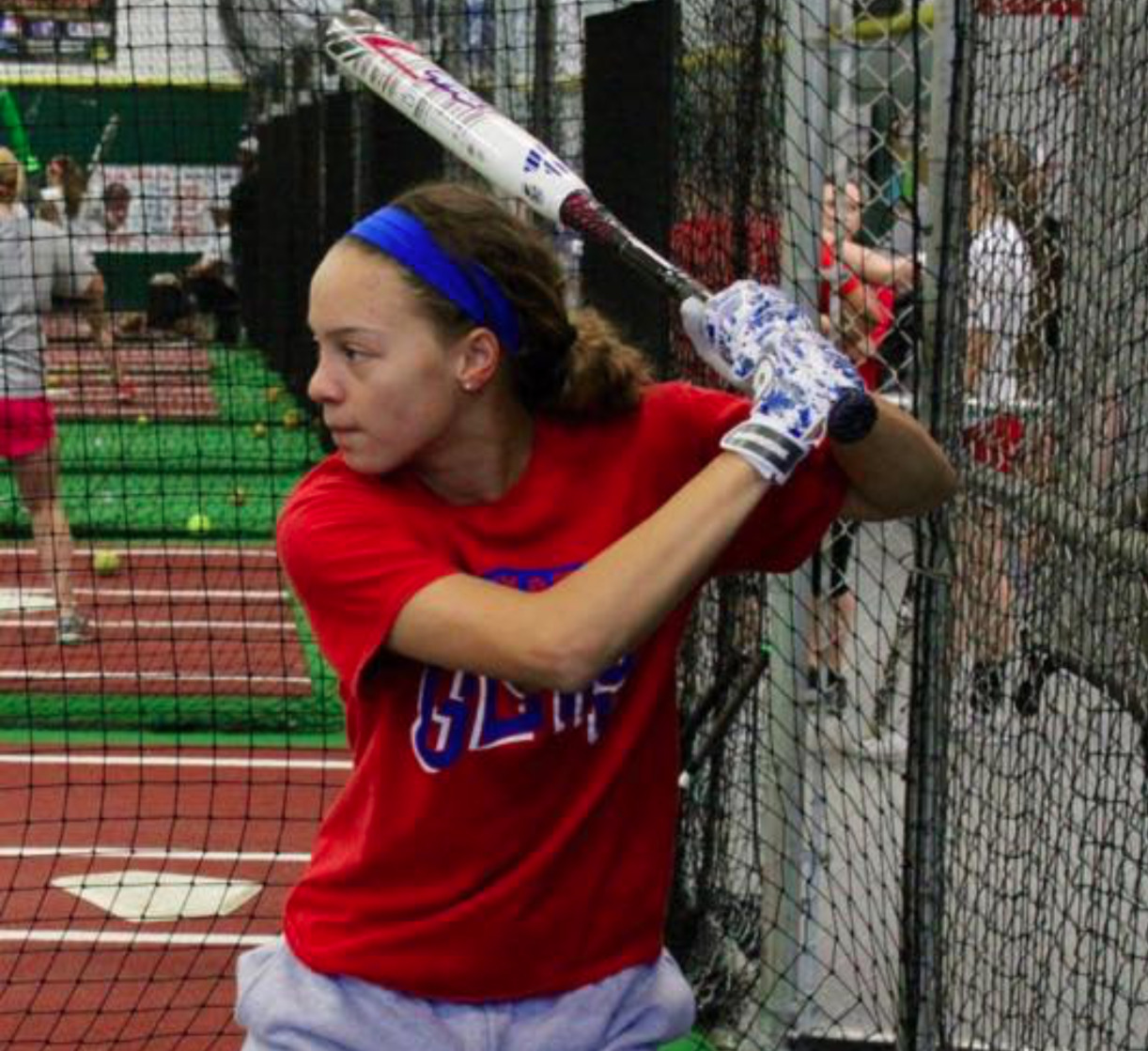 The No. 1 honor for the freshman class went to Jayda Coleman, a 5-foot-7 shortstop who attends The Colony High School and, like Vestal, has committed to Oklahoma.

In this FloSoftball exclusive feature, we learn how Coleman exploded onto the national softball two years ago and is considered so good at her position that she could potentially revolutionize the game…

***
THE JAYDA CURSE?
If you're the top player in the entire country for your class, you're doing something right, but when Jayda Coleman showed up at football games during her tour of top colleges last fall, the home team coaches had reason to frown.
Seems that for every trip the then-eighth grader took to a prospect campus--be it to a Big 12 or SEC power--the home team always would lose.
Like, every time. It became known as the "Jayda Curse."
"We don't know what it was," laughs the freshman softball player's mother, Deana, "but whenever Jayda took an unofficial visit to a campus, the home team would get beat. It got to the point where they probably didn't want Jayda coming to their games!"
"It kinda stinks," Jayda laughs now. "I went to Texas A&M and they lost to Ole Miss. I went to LSU and they lost to Florida and when I went to Florida they were playing Ole Miss and the Gators lost. And when I went to Oklahoma they lost to Baylor and when I visited Texas, they lost to Oklahoma State."
Not that that she remembers all those glum Saturday outcomes or anything.
"Yes," she admits sheepishly, "I was a curse."
That, however, was before she committed to Oklahoma… maybe now that she finalized her future, the curse is over?
"Perhaps," Jayda says, her voice picking up, "because I recently went to Oklahoma and they beat Louisiana-Monroe. So maybe the curse is broken."
DirectTV Genies
Two years ago, a relatively unknown club team from Texas with the rare corporate-focused name of DirecTV Genies entered the white hot spotlight of the prestigious PGF Nationals in Orange County, California and almost shocked the club world by running the tables.
Coached by Cedric Coleman, Jayda's father, the Genies were undefeated before losing by just one run, 4-3, to the powerhouse So Cal A's-Mercado team in the PGF 12U title game.
Jayda was the star of the Genies team--she was probably the MVP at the 12U level and there was such a thing--as she batted .625 (15-for-24) with a .700 on-base percentage and made one jaw-dropping play after another at shortstop.
Watch highlights of Jayda's offensive and defensive plays in the 2014 PGF 12U Championship Game including a bare-handed double play at 1:15 in the clip…


The Genies were sponsored financially by Brian Zaher, a regional manager in Texas for DirecTV, whose daughter Kenzlee played on the team along with Jayda. The team dominated locally but the coaches knew that if they were to help the players get national exposure, they had to face better competition.
"We had heard you had to play in California or Florida to get recognized," says Cedric, "but many on the team we were playing on at the time said they didn't want to travel and couldn't afford to. So Brian and I said we'd see what we could do and put the Genies together. Before long, as we started to get out and play higher caliber teams, we saw that we matched up pretty well with high-caliber teams."
As the team started to dominate across Texas, the parents saved up for travel expense while DirectTV stepped in to provide money for uniforms and to help with the costs to go to PGF Nationals in Huntington Beach, Fountain Valley and Irvine, California.
The little team that no one heard of became the talk of the 12U age division and the lefty shortstop who stroked the ball and made breath-taking plays all over the field emerged as one of the hottest recruits in the nation.
FAMILY OF ATHLETES… AND COACHES

Her father Cedric played baseball at East Central Oklahoma, her mother Deana was a softball standout at Texas Women's University and older sisters Ashlee, now 27, played at North Central Texas College while Jhanna, now 20, ran track in high school and is now attending Charleton State.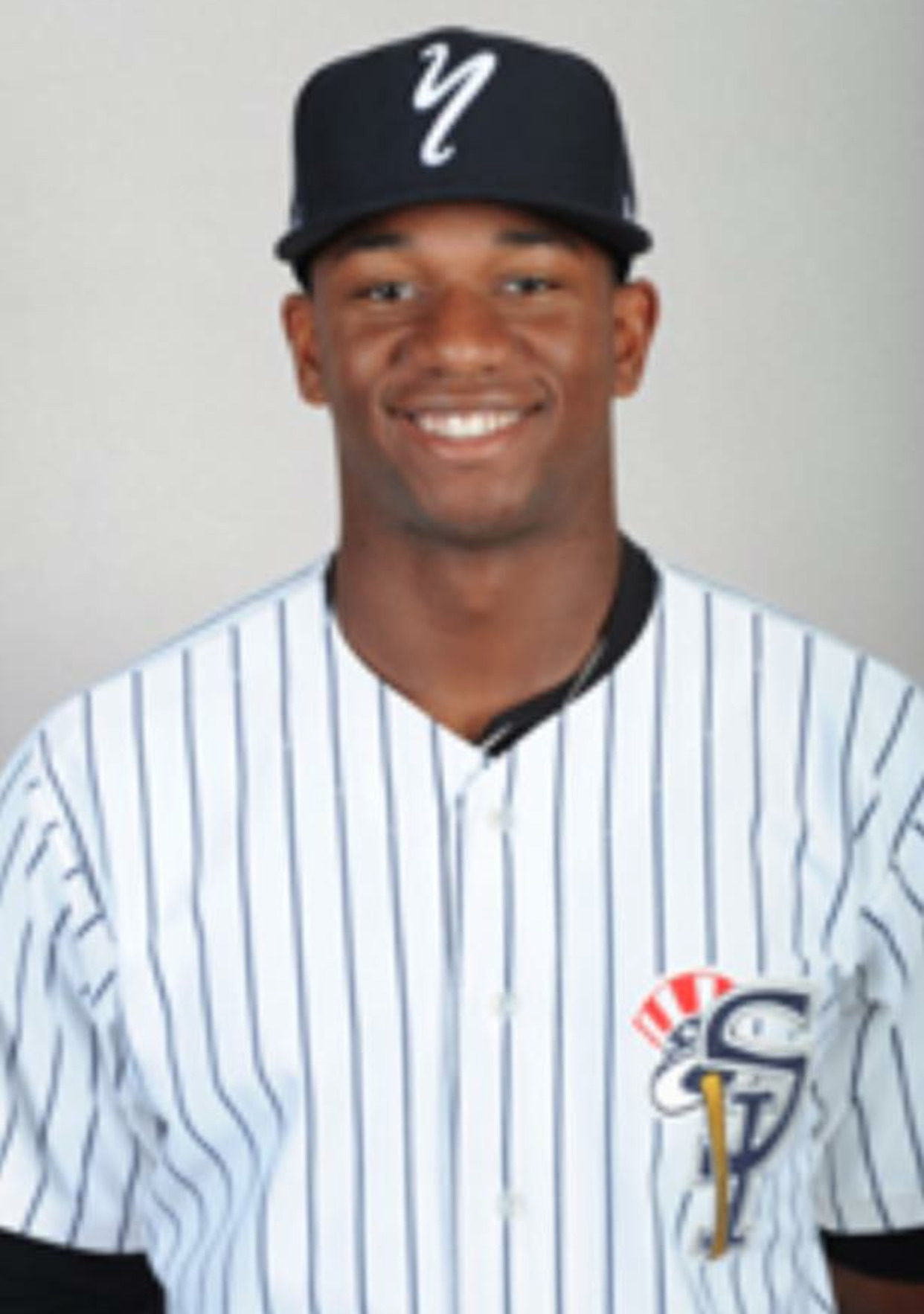 The girls also have a cousin, Kendall Coleman, who plays in the New York Yankees' minor league system.
Ed Naudin laughs and says good-naturedly, "Both parents will say they are the one that Jayda got all of her talent from."
Once her parents and siblings stopped playing, they transitioned into being coaches and Jayda had not one, but three softball coaches around her dinner table giving her advice and council
"Almost every Sunday after we have practice, my Mom gets on me about hitting, my Dad gets on me about hitting, and my sister about my running or attitude," Jayda jokingly complains.
"It's true, I'm constantly getting coached all the time and it's good sometimes and bad sometimes, but, really, it's all for the good as having good coaches like I do only makes me better."
"Plus, my Mom will be my high school coach for four years so I better get used to it."
Both parents have, and will be, right next to the freshman as she plays this year. Her mother is the head coach at The Colony High, located about 15 minutes from the family's home in Frisco, Texas, while her father is currently one on the assistants on Ed Naudin's team.
Oldest sister Ashlee is also a head coach at the high school level, running the softball program at Wakeland High, a 5A school in Frisco close to the Coleman's home.
PICK A SPORT, ANY SPORT…

It was clear that Jayda was a special athlete. The ultimate question was what sport would she commit to playing in college.
"We knew at age six or seven she was different," her father remembers. "When she was 10 and started playing 10U softball, we knew she was D1 material."
"The first time I saw her," recalls Coach Naudin, "she was a 10U kid and was just better than everybody else. Jayda's always played up and always played well. You could put her on the mound or wherever you needed her on the team and you just knew she was special."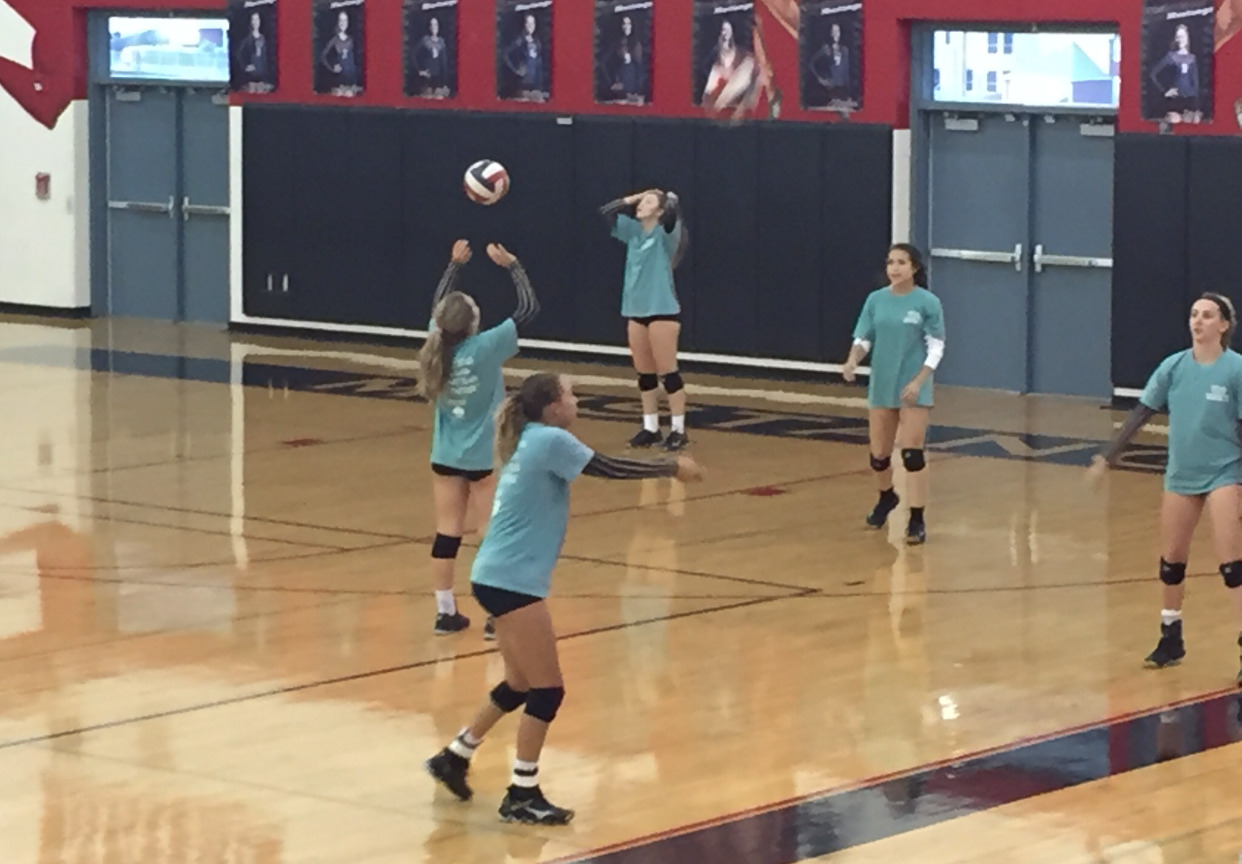 The athlete's mother adds, "Jayda always played softball, but a few years ago the head soccer coach at Wakeland High said, 'Let me borrow her, I want her to play goalie because she's a D1 goalie in soccer."
The young athlete also shines on the volleyball court as an outside hitter and as a seventh grader was moved up to play for the eighth grade team. Currently, she's playing on the varsity volleyball team at The Colony as an outside hitter and Friday night helped lead her Cougars to another win.
Even in that sport, she was recognized early on as a potential star.
Cilene Drewnick, a two-time member of the Brazilian Olympic volleyball team and head of the Instinct Volleyball club organization, did a camp at Wakeland High and immediately saw great potential in Jayda even as a junior high student.
"It was not more than a half hour after the event started," remembers Deana, "and Cilene was walking around asking, 'Who are this kid's parents? She can play at the next level!'"
"Our head volleyball coach told her, 'You can try, but Jayda's pretty well set on softball."
So was there really any chance that volleyball or soccer would have been her future collegiate sport over softball?
"I really, really like volleyball and it's fun to play," Jayda explains, "but I love softball. I would love to play volleyball too in college, but I'm not 6-foot-8 and can slam it down."
I grew up playing softball and it was my first love. I was pretty much playing in my mom's stomach before I was born so in a way I was out there playing with her. It's the sport I was destined to play.
THE RECRUITING PROCESS BLOWS UP

It didn't take long for the coaches to start knocking on the Coleman door after her eye-opening play at PGF Nationals two years ago.
Within a few weeks, seven of the eight teams who had made it to the 2014 College Women's World Series had offered scholarships.
By that time, Jayda was wearing the red, white and blue colors of Texas Glory and college coaches had to start with Ed Naudin to get to Jayda and her parents.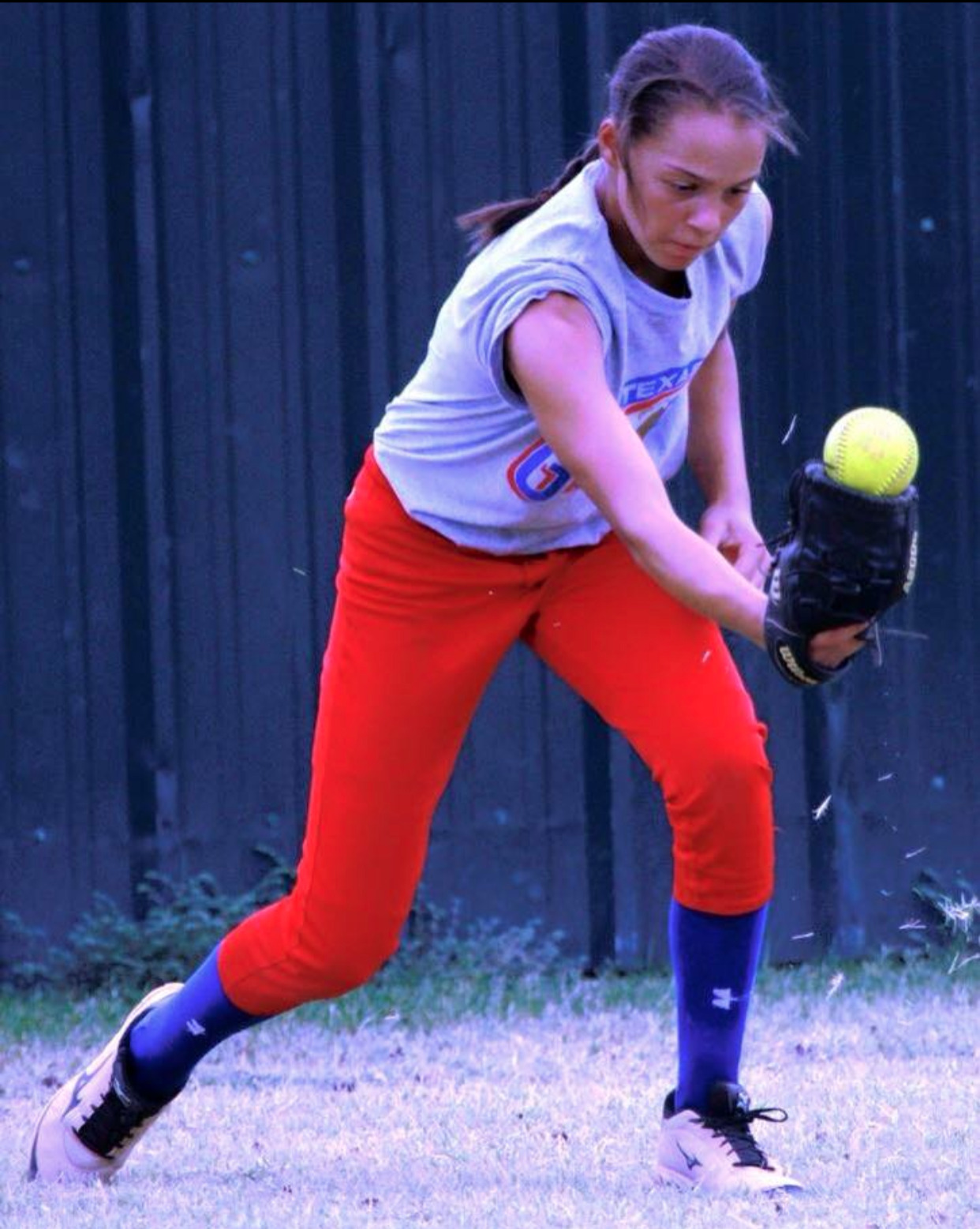 Cedric had quietly decided before Nationals that he wanted to step down as head of the Genies team.
"My Dad was done coaching," Jayda says, picking up the story, "and before we went to California he told everyone he was going to quit. For me he wanted me to go to an organization that was well-known and respected. He knew Kevin Shelton (head of the Glory organization and 18U head coach) and Ed and knew being with them would really help me a lot with recruiting.
Naudin admits his job in getting his new star pupil wasn't too difficult.
"Anybody and everybody wanted a shot at Jayda," he recalls.
"One coach asked about her and I told him, "I think she's going to be an All-American for four years."
The coach was surprised and replied, "You never talked about a player like that before, Ed."
And I responded, 'That's because I feel that she's that special; she's as good as anybody I've ever had.'"
Within a month after PGF Nationals ended, Jayda had schools coast to coast after her--from Florida, Texas A&M and LSU in the SEC to Oklahoma in the Big 12 to UCLA in the Pac-12.
Texas A&M was the first to call Naudin about Jayda and not too long afterwards, when the young player was visiting College Station, Tripp McKay, then an assistant at Oklahoma, called the Glory coach expressing the Sooners' interest.
Jayda would eventually visit LSU and Florida, which had been her dream school, but after the trip to Gainesville she realized it was too far away and decided schools on the coasts like Florida and UCLA--though she loved the coaches, players and universities--were no longer possibilities.
"Jayda told us, 'My Grannie couldn't see me play, those schools are too far,'" her mother recalls.
Legendary softball figure Lisa Fernandez, now an assistant coach at UCLA, was sympathetic to Jayda's concerns.
"Lisa was great," explains the athlete's parents, "and told us, 'It doesn't matter where Jayda plays, the next step for her is the Women's National Team. I'm a Jayda fan and look forward to watching her play at that level.'"
Jayda continued to do her due diligence and visited more SEC and Big 12 schools, but in September of 2014 she tripped to Norman, Oklahoma and felt everything click while on the OU campus.
"The others were great schools with great teams and great atmospheres," Jayda says diplomatically, "but when I was at Oklahoma, I could see myself walking on the field and playing there. It just felt like home."
Barely into her eighth grade year of school, she says that trip was when she fell in love with the program and everything it had to offer. The visit was to check out the campus and participate in a prospect camp and another star on the fields at that time was 2019 catcher Kinzie Hansen, who had lined up against Jayda in the championship game as her A's-Mercado team beat the Genies to win the 12U title.
The two athletes, now recognized as the No. 1 prospects in their classes according to the FloSoftball Hot 100 lists, soon became friends.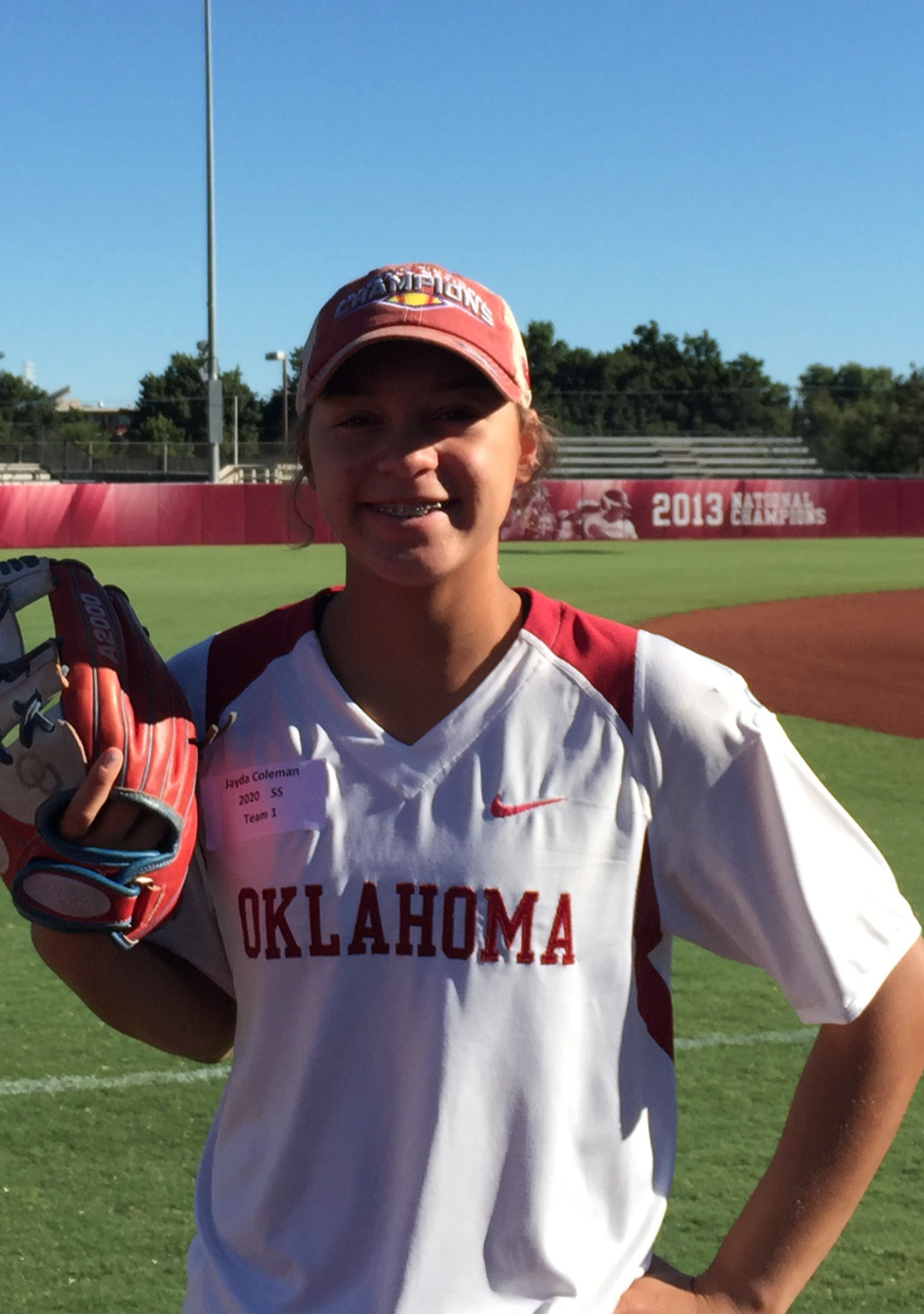 "'You stole on me!' Kinzie laughingly told me," Jayda remembers, "I had singled to center and I stole second but the next time I got on second I got too big of a lead and Kenzie picked me off. So we're even right now and somehow we're going to have to find a way to break the tie!
Hansen had enjoyed her experience at Oklahoma so much that about a week later she verbally committed.
Jayda, although she loved her time on the Sooners' campus too and ultimately compared every subsequent college visit to the this one, wasn't quite ready to pull the trigger.
In fact, it would be about another 14 months before the young player would finalize her recruiting decision.
"She was so young," says Deana "and we wanted her to take visits which actually really helped her as Jayda continually said, "I can't see myself here at the other schools. They're wonderful schools, they're awesome, she would tell us, but they're not Oklahoma.'"
"What sold me," adds the athlete's father, "was when Jayda said, 'I can see myself at OU even if I don't play softball.'"
It didn't hurt that Oklahoma was pulling out all the stops.
In November of 2015, Jayda was playing a middle school basketball game in North Texas when a huge storm struck. A tornado warning was issued, sirens went off and a heavy downpour soaked the area.
To everyone's amazement, into the gym walked a drenching wet couple who had travelled the two and a half hours to the North Texas to watch the sporting event.
"It was Patty (Gasso) and her husband Jim," marvels Cedric, "and we couldn't believe they battled their way through the storm to come see Jayda. But after that, we knew it was a done deal."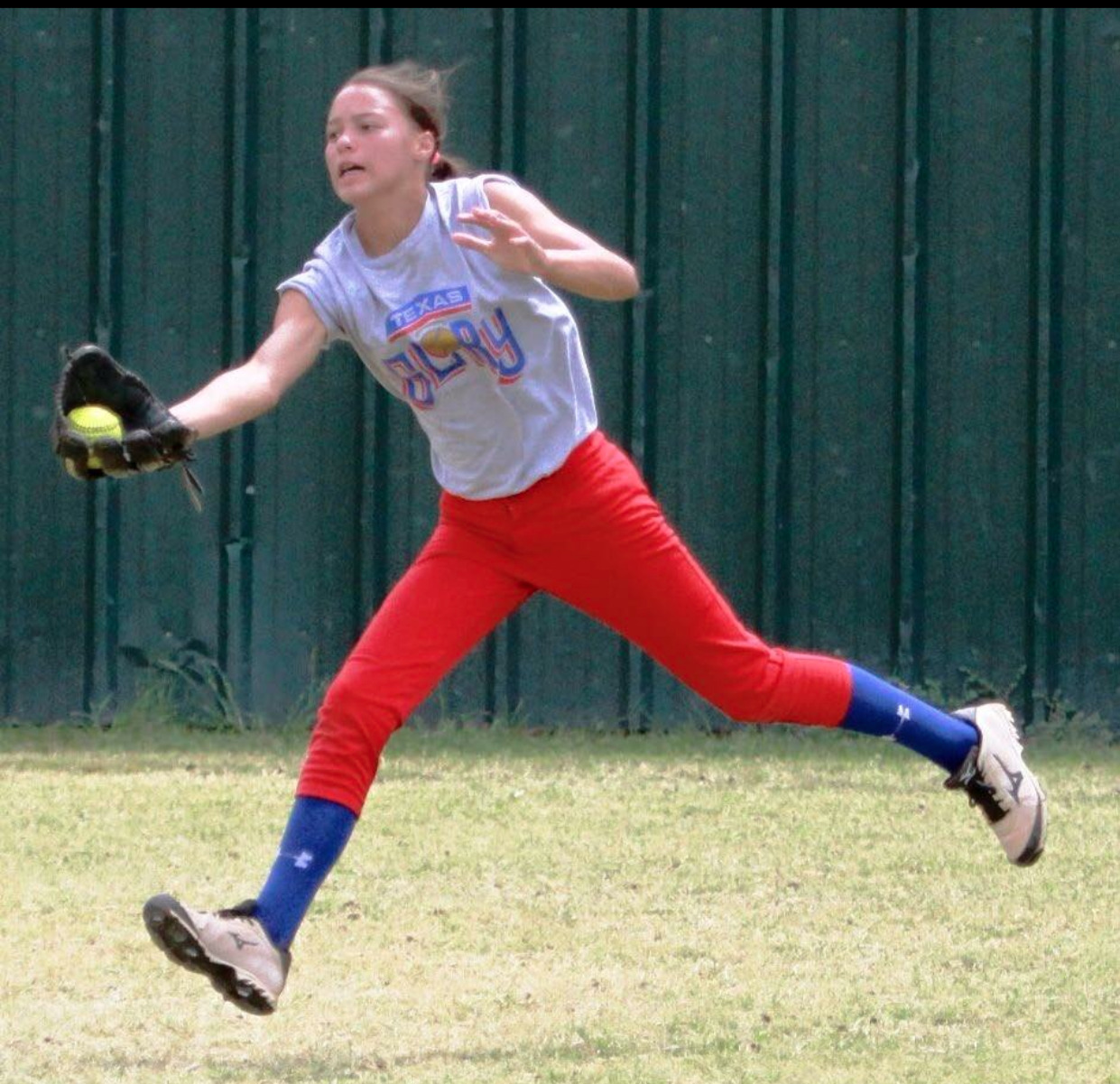 Months later, at a Sooner camp in January of 2016, the Coleman parents and player asked Coach Gasso if they could talk to her.
"We pulled her to the side and asked for a moment of her time," Cedric begins. "Coach Gasso took us in her office and Jayda sprang it on her, saying simply, 'I want to be a Sooner."
"Patty was in shock," Jayda's father and coach continues, "she had no idea. She told us, 'You don't even know how happy you made me.'"
So what made the Oklahoma THE one?
"I fell in love with the campus," Jayda explains, "and remember driving through it and being impressed how clean it was and how nice the people were."
"And I love the coaching staff and how it's like a family there. "I've been coached by everyone in my family and it's like a family atmosphere there too. At Oklahoma they are all business on the field, but off of it they like to have fun. And it's close enough that my family will be able to see me play."
"My first camp there, I looked up in the stands and thought to myself, 'I could play here.' I just felt so comfortable and knew it was the place for me."
ELITE TALENT

Ask 10 people what makes Jayda a franchise-type player and you'll get 10 different answers. And that's a good thing as it shows how many tools and talents she brings to the field.
One college coach off the record said it's her athleticism. Another it's her instincts and yet another said it's her fiery competitiveness.
What do those closest to the athlete--and the player herself--think?
"There are two main factors I see," begins Naudin, her club coach. "She's a little more polished than most players and she has the maturity to impact the game no matter where she's playing. Everything Jayda does is electric."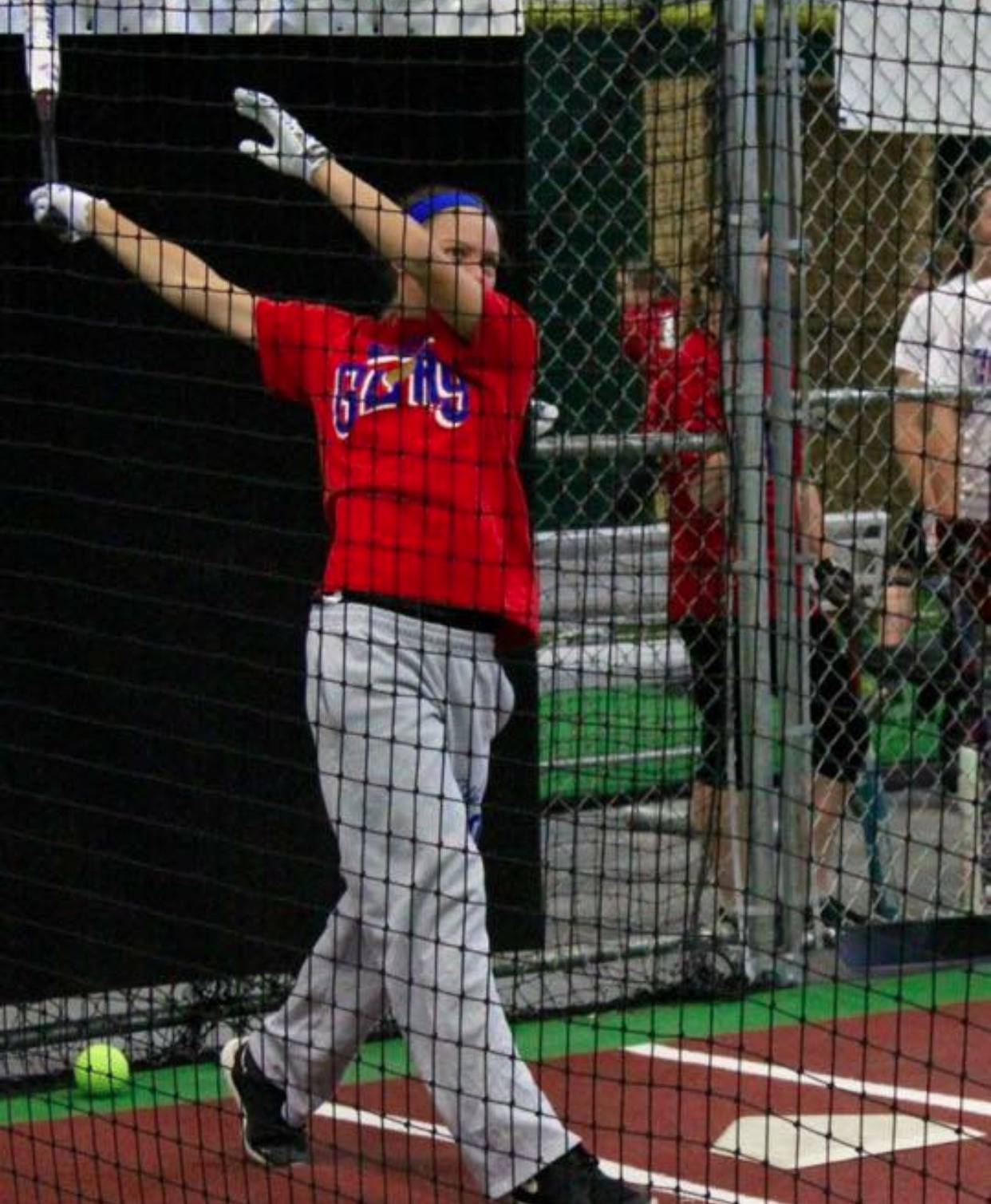 "My only question was if she could do it moving up the ranks, from 12U to 14U and now 16U which she played for me last year, and she's done it. She's the one."
Her parents continue listing Jayda's strengths.
"Tools," her mother says succinctly. "Jayda has all the tools--physical and mental-- to take over a game. Physically, she can hit the home run and she can lay down a bunt, but I feel her biggest strength is how she makes things happen she wants to happen. She can bait you, leading off base and make you throw to try to pick her off."
"She was at a game in Colorado this summer and was dancing off third so much the pitcher didn't know what to do. Jayda was trying to induce a throw and it frustrated the players, coaches and parents on the other team they were screaming, 'Throw the ball AT her!'"
Deana continues, "It's the whole combination that makes her who she is. Another Oklahoma commit, 2018 pitcher Grace Green said, in response to the question, who do you not want to face at the plate? She responded, "Jayda Coleman. It's because Jayda can get on base and manufacture a run and because the can read the defense and make it tense up leading to something good happening for her team."
Jayda, for her part, goes to the intangibles as what she likes best about her game.
"I think I lead the team and I'm best at that," she says simply. "I was one of the youngest on 16U Glory and I get excited and pump my teammates up. I try to bring more energy on the field."
Playing 16U this past year against girls two and even three years older, Jayda was the leadoff hitter for the Glory and hit .600 over the season with 11 home runs including six in Colorado against elite completion. Just an eightlh grader at the time, she still led the team in batting average.
Her reputation proceeded her and against one team, the South Dakota Renegades that would go on to finish 2nd at PGF 16U Nationals, Jayda hit a leadoff homer and the Renegades went on to walk her every subsequent at-bat, even in ITB with a runner on second.
The strategy worked as the South Dakota team won the game.
Examples of respect like that are numerous; many times with runners on second, Jayda has been walked because the opposition knows she can't run past the baserunner ahead of her. Better to put two on than have Jayda do more damage with her bat, they feel.
Her signature play was the bare-handed grab from the second baseman as she covered the bag in the PGF National Championship game and fired to first to complete a SportsCenter-worthy double play, but she's made many such "wow plays" including ones where she gone deep behind second, spun 360 degrees and fired the ball to first for the out.
Going back to the list from coaches, one says the "prettiest part of Jayda's game is her footwork" on offense and defense. "It's what allows her to do all the other things so well."
Says another, "Her arm strength allows Jada to have a lot success, but her feet is the nice part and allows her to make the plays she does. She can make a spin and throw the ball blindly and it's in the glove.
Naudin mentions several two more stories showing why Jayda's mental game is as advanced as her physical one.
"At PGF it was a close game and the other team had runners at first and second. Jayda's at shortstop and the batter hit a pop fly, a bit deep, and Jayda takes a good run at it and then, because there's no infield fly rule called, she drops it--just short hops it on purpose--to get their fast lead baserunner off the field. She thinks 15 steps ahead of us and Cedric told me after the play, She did that on purpose."
"PGF again, it's a bracket game and we have a runner at third. Jayda walks and is thinking, I'm stealing second. But she doesn't go all the way and intentionally gets into a run-down. She goes back to first eventually, but when the ball is thrown back to the pitcher, she takes off again and again gets into a run-down and does it five times until we finally have our runner score on a bang-bang play at the plate. It was so smart and at the same time so frustrating for the other team."
REVOLUTIONIZING A POSITION?

There's an axiom in softball and baseball that you can't have a lefty at shortstop. Balls to the left make it too difficult to backhand for lefties and then transition the ball to hand and make the throw to first.
However, Jayda is a natural lefty and the thinking has been that she would eventually move to another position. Only one problem: no one has been better than her at the position.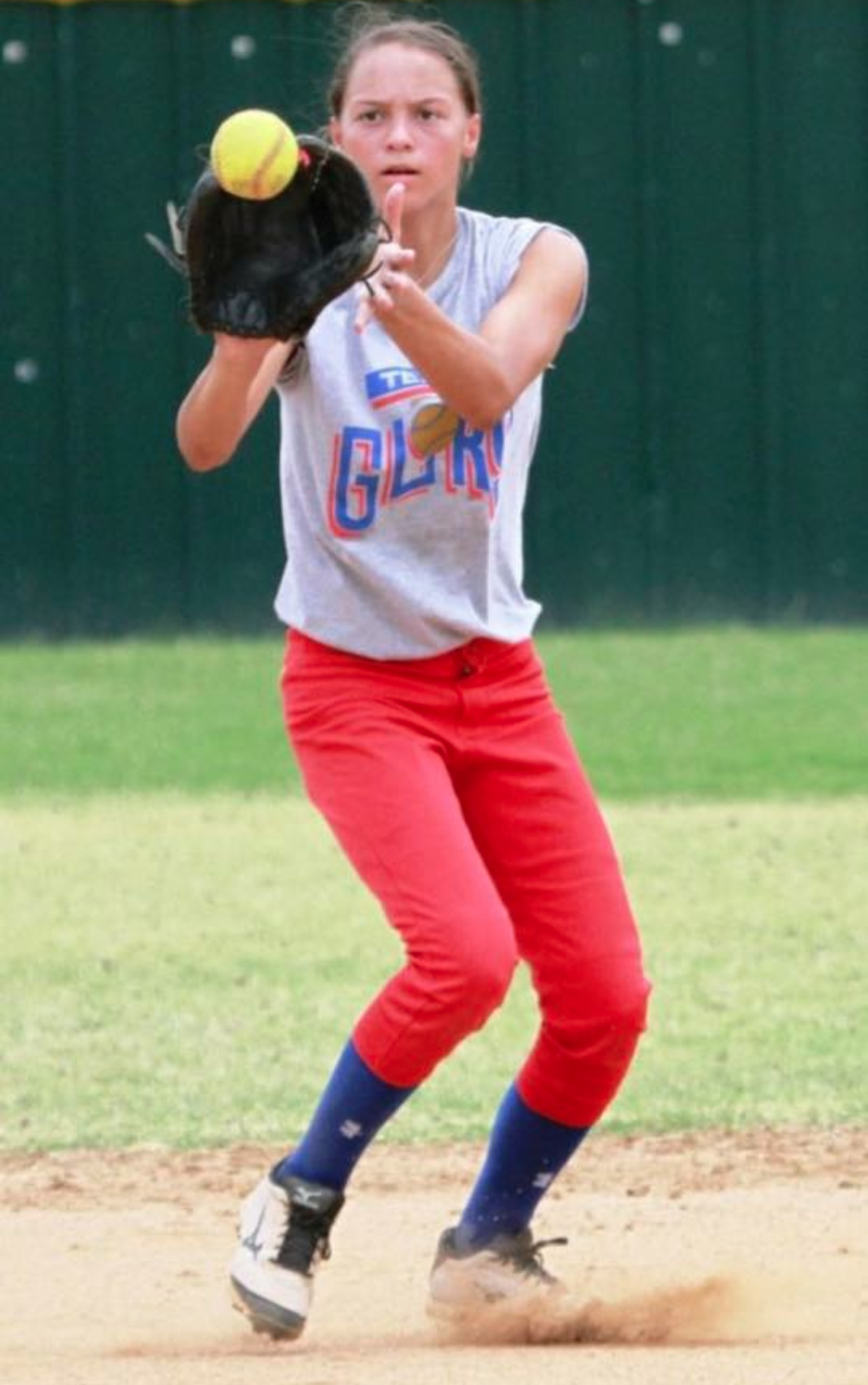 "The plan was always to get someone to take over and move Jayda to another spot, but until we find someone else, she's there. We really have tried to get a shortstop and we'd tell them, 'You ARE the shortstop and move Jayda to first or the outfield, but three games later she'd be back at the position because she would beat them out and be the best there." says Cedric.
"As we pushed her as she got older, she kept making the plays and Ed said, finally, 'We'll keep her there until she can't do it anymore.'"
When Jayda gets to OU, it's up to Patty where she'll play--be it second, first, outfield or shortstop.
And that will be an interesting process to watch because if there's one player who could open the way for lefties at the six position, it's Jayda Coleman. And the skepticism about her not being able to make the plays there only spurs her on.
"Some people say I can't do it and I want to prove them wrong," she states. In my mind, it doesn't matter if you're left-handed, right-handed, right-footed or whatever. If you make the plays, you make the plays."
She even has her supporters: after one game at PGF, a prominent club coach walked over to Jayda after the game with a word of encouragement.
She told Jayda, "I was a lefty and was told all my life, 'You can't play there at shortstop, go somewhere else,' so I want you to do it so badly, to show that a lefty can do it for all the lefties like me who were told they can't do it."
If there's someone who can revolutionize the position, it's you.