PGF Shootout Championships 2016
FloSports Announces Launch of OTT Apps on Roku and Apple TV
FloSports Announces Launch of OTT Apps on Roku and Apple TV
Austin, TX (Oct. 11, 2016) -- FloSports today announced new apps available on the Roku and Apple TV platforms that will give consumers direct access to its
Oct 11, 2016
by Chez Sievers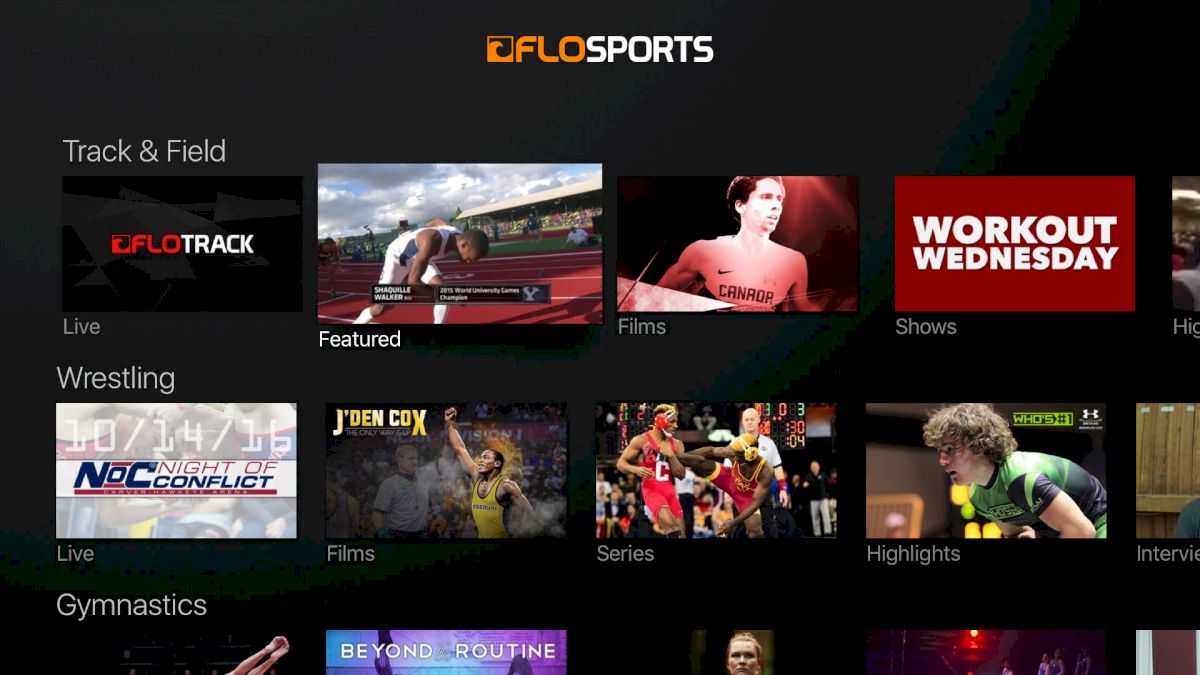 Austin, TX (Oct. 11, 2016) -- FloSports today announced new apps available on the Roku and Apple TV platforms that will give consumers direct access to its live events, documentaries, studio shows, highlights and other original video content across its network of sites. Using the Cisco Infinite Video Platform, FloSports now offers a complete multi-screen experience for the millions of sports fans it serves each month.
"As the leading direct-to-consumer sports media network, FloSports is committed to providing die-hard sports fans more content on more platforms across all devices," FloSports co-founder and CEO Martin Floreani said. "Today's news gives the leagues, governing bodies and other rights holders we partner with the ability to showcase their events on the world's most popular OTT platforms. We're excited to give our subscribers the living room sports viewing experience that they want."
The FloSports apps are free to download and include both free and premium content. Existing
FloPRO
subscribers on any FloSports website can view premium content with their existing login information, while new users can purchase
FloPRO
subscriptions via in-app purchases. Yearly subscribers to any FloSports website have universal access to premium content network-wide.
Covering a range of sports from track & field to fastpitch softball, FloSports is adding 2-4 new sports to its network each quarter. Recent launches include FloKO, an eSports site dedicated to fighting games, and FloMarching, which encompasses the world of competitive marching bands, drum corps, indoor marching and more.
"FloSports is breaking the barriers of traditional broadcasting and delivering on its mission to serve millions of people with live and on-demand coverage of sports you can't watch anywhere else," said Rajeev Raman, Sr. Director, Service Provider Video Software, Cisco. "Using our cloud service, we are helping our customers like FloSports further define where TV is headed for the future - on every device.
For more information, visit
FloSports.tv
.
ABOUT FLOSPORTS
FloSports is a direct-to-consumer, subscription-based sports media company based in Austin, Texas, that partners with event rights holders and governing bodies to unlock a world of sports coverage that true fans have been waiting for. Through live streaming of premier events, original video programming, and weekly studio shows, FloSports is growing the sports, the athletes and the fans. Current verticals under the FloSports header are Wrestling, Grappling, MMA, Elite Fitness, Boxing, Softball, Gymnastics, Marching, Basketball, Volleyball, eSports, Cheerleading, and Track.
About Cisco
Cisco (NASDAQ: CSCO) is the worldwide technology leader that has been making the Internet work since 1984. Our people, products, and partners help society securely connect and seize tomorrow's digital opportunity today. Discover more at newsroom.cisco.com and follow us on Twitter at @Cisco.
Cisco and the Cisco logo are trademarks or registered trademarks of Cisco and/or its affiliates in the U.S. and other countries. A listing of Cisco's trademarks can be found at
www.cisco.com/go/trademarks
.