Create a free account to unlock this article!
Get Started
Already a subscriber? Log In
Saturday in Southern California was bracket play day for elite 18U, 16U and 14U teams at the PGF Shootout. When the dust cleared, six teams punched their tickets to compete for a title on Championship Day Sunday.

As is always the case, there were surprises, upsets, stellar performances and spectacular softball action.





FloSoftball will live stream the trio of title matchups which take place at the following times (all times are Pacific Standard Time):


16U -- 9:00 am: Bandits-JT vs. Sorcerer
18U -- 11:00 am: Athletics-TO vs. Bandits-Conroy
14U -- 1:00 pm: So Cal Choppers vs. Angels-Tyson
The reason, in case you're wondering, why the age divisions are slightly at of order: to allow the Bandits teams to play early and make their flights back to Chicago!
***
Here are previews of each of the games, how the teams got there and what to look for in each match-up.
Spoiler alert: each team gets to play on Sunday because of one common reason… great pitching!
16U Championship: Bandits JT vs. Sorcerer
Bandits head man Bill Conroy had a birthday on Saturday and he got a great present from his organization: both teams he brought out to Southern California for the PGF Shootout advanced to play on Sunday.
It makes for a difficult day in getting to the airport on time to make it back to Chicago on time, but you think Coach Conroy and players won't mind.
Playing in Huntington Beach during the day, Conroy wasn't able to watch his 16U team advance, but he didn't have to worry as Jen Tyrrell, the head coach, had matters well in hand.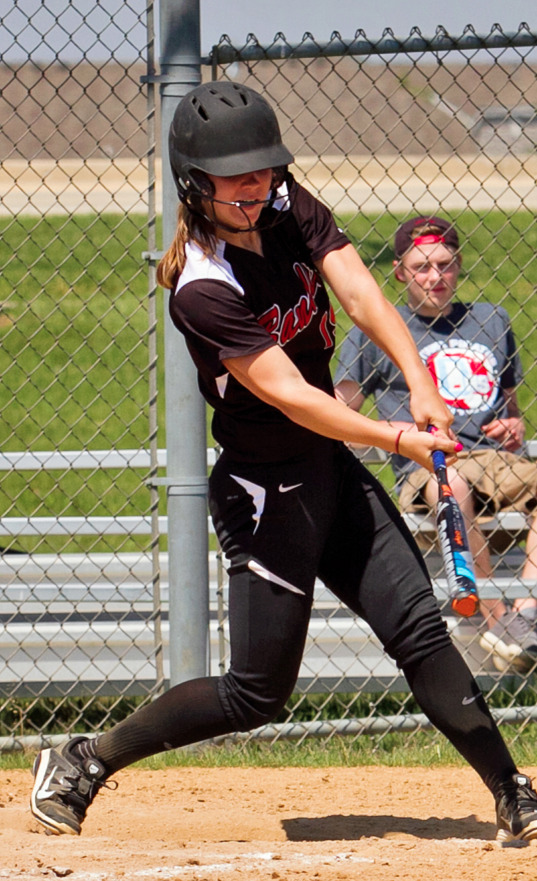 The Bandits younger team has two at the top players in their classes, 2019 pitcher Sydney Supple (committed to Northwestern) and 2020 shortstop Bailey Dowling (Alabama, pictured), playing out of their minds.
Supple went 3-0 on the day in the circle and pitching 15 innings had 21 strikeouts while allowing only six hits. The first two games--wins over So Cal A's-Briggs and Illinois Chill--she gave up just one hit in each contest.
On the offensive side, Dowling is in the zone, hitting four home runs in five games counting pool play action on Friday.
"The team is playing great," admits Coach Tyrrell. "We're well balanced with power, speed and pitching--we're a complete team. We played well back at home, but feel to take this team to the next level we have to play the best teams in the country. And this is an important event for us because it's the last big tournament we'll be in before Colorado.
Lining up against the Illinois-based Bandits Sunday morning will be Paulie Gabales's Sorcerer team which also advanced with three wins on Saturday courtesy of great pitching.
Dari Orme, a 2018 hurler committed to Fresno State, went the distance in all three games -- wins over the AZ Suncats, Corona Angels-Slye and a 7-0 shutout over a competitive Grapettes team.
In her 21 innings, Orme only gave up two runs so she can be as dominant as anyone in her division.
Sorcer also has excellent team speed including three players who run in the 2.6 to 2.7 home-to-first range: 2018 outfielder Ashley Esty, 2019 outfielder Brady Glover and 2018 infielder Natalie Miller.
But Coach Gabales points to another reason for the team's success this weekend.
"We're a cohesive unit," he explains. "We used to be the Firecrackers2K team and we're entering our third season together so the team knows each other, what we can do and what it takes to win."

18U Championship: Athletics-TO vs. Bandits-Conroy
It's not too big of a surprise that Bill Conroy's 18U team made it to the championship game-- he does have the No. 1 ranked pitcher in the 2017 class according to FloSoftball's Hot 100 list in Alexis Holloway (Notre Dame, pictured) and the Bandits were ranked No. 4 in the FAB 50 18U club rankings.

What is surprising is that the Bandits advanced to the title game without the team's top hitter, OF Lauren Burke (Oregon), who is in Oregon this weekend attending her own Homecoming events.
Nicole Cuchran, a 2018 3B committed to DePaul, however, has stepped in and been the offensive leader hitting close to .600 this weekend.
"She's on fire," said Conroy Saturday night. "She's had a quality at-bat every time she's come to the plate."
The key, though, has been the pitching of Holloway, who has been all but untouchable this weekend. In 21 innings of work this weekend, (counting pool play) the Indiana native had not allowed a run heading into the championship game.
The Bandits will need every aspect of their game clicking to pull off a win against Brian Tidd's Athletics team.
The A's-TO pitching has been all but unhittable. In eight games counting pool and bracket play, the pitchers did not allow a run. Every game has been a shutout win with the scores on Saturday being 7-0, 10-0, 3-0 and 5-0.
That's domination.
And as good as the pitching has been, the defense has been right there as well with only one error recorded in the eight games and that coming in the semi-final win over the So Cal A's-Richardson team.
Unlike most of the teams in the championship which had ridden one workhorse, the Athletics-TO team have three pitchers who've been stellar: Hannah Bowen (2017, Arizona), Sydney Preston (2018, uncommitted) and Breanna Vasquez (2018, Central Florida).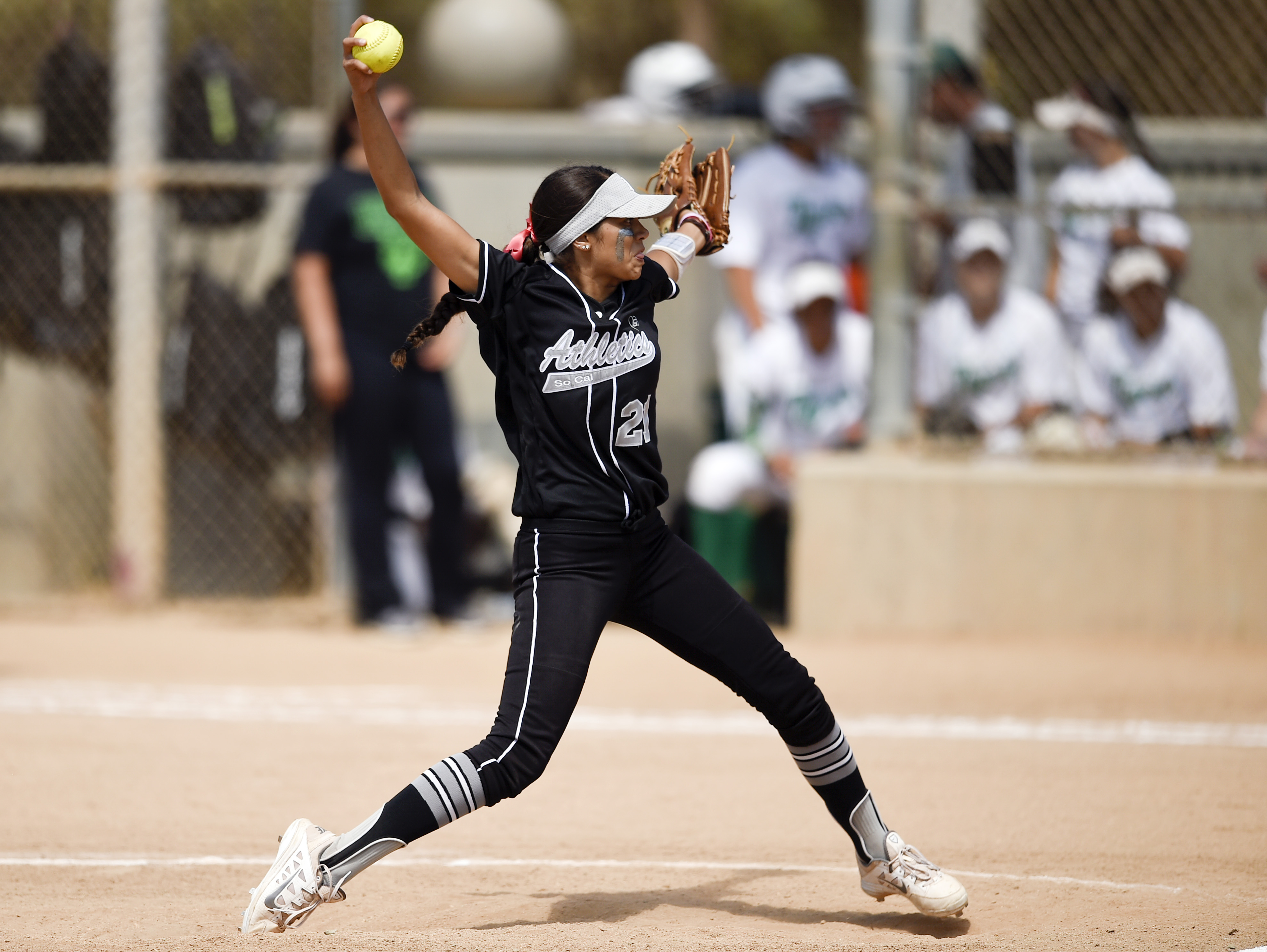 Pictured: Breanna Vasquez (Kelvin Kuo/USA TODAY Sports)
"Our pitching has been great, obviously," Coach Tidd told FloSoftball Saturday night, "but it's been a team effort. We have a small roster in that we have 15 kids so every game we use everybody. Most of our roster has been with us since they were 10 or 11 years old so we all know each other and what we can do."
One interesting note from the TO team: Brian Tidd's daughter, Emily (2018, Utah State) plays on his team while his niece, Payton (2018, Notre Dame), left this year to play on the A's Richardson team--the same squad Tidd's team defeated to make it to the championship. Payton, however, wasn't in uniform as she was at home participating in Homecoming activities also.
14U Championship: So Cal Choppers vs. Angels-Tyson
Gary Fausett's Choppers team has one of the top young pitchers in the club scene in Jesse Fontes (2020, Arizona). She was using her screwball and curve to perfection on Saturday as the Choppers won three games by scores of 3-0, 3-0 and 4-0.
Fontes helped the Choppers win championships before, was humble after the last win saying, "Our defense was really good and the offense came alive to pick me up."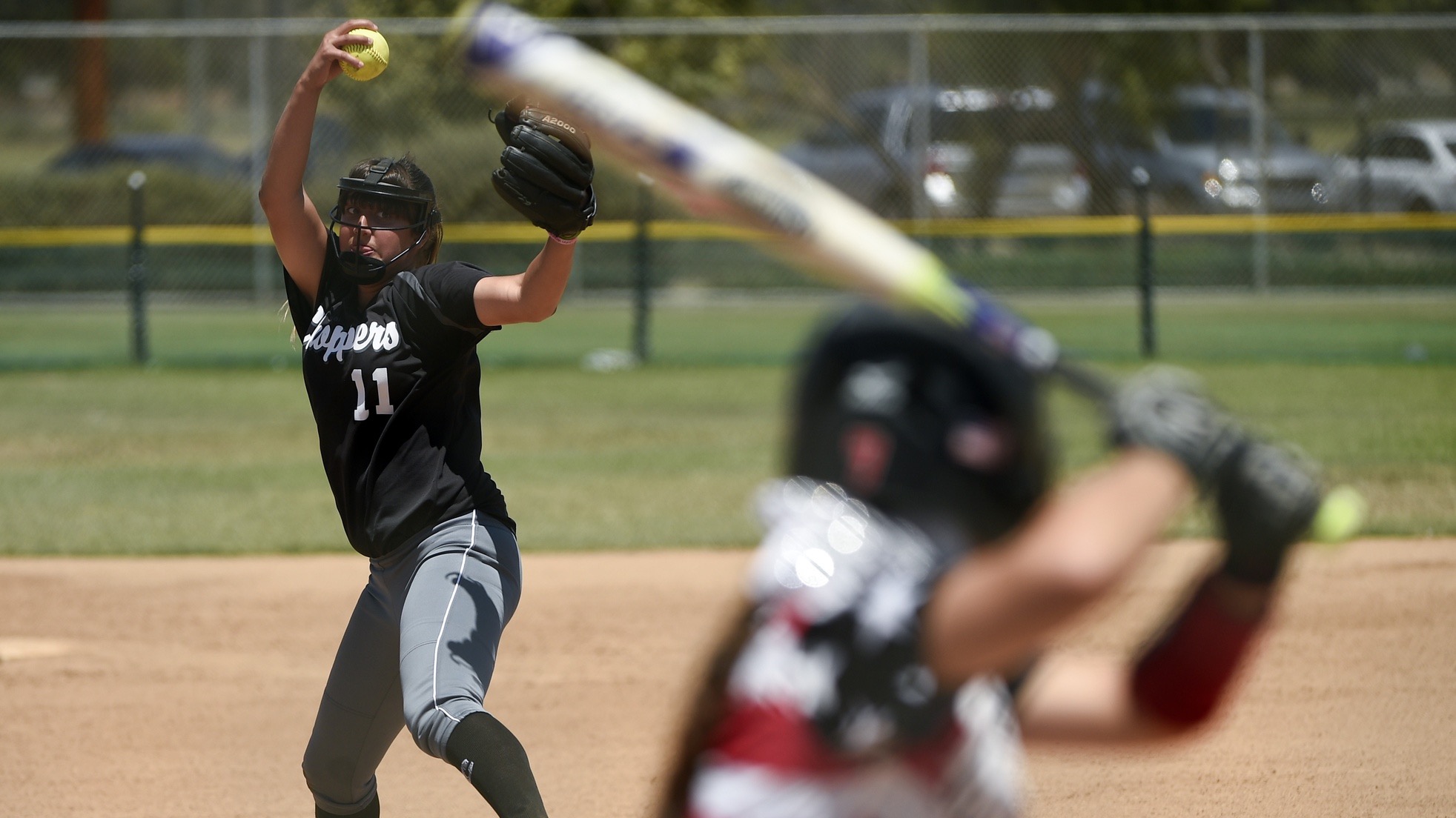 Pictured: Jesse Fontes (Kelvin Kuo/USA TODAY Sports)

While the Choppers cruised to the championship game, the Corona Angels were two outs away from seeing their tourney run end Saturday afternoon.
The Grapettes were up 3-1 going into the bottom of the seventh, Marty Tyson's team loaded the bases before 2021 IF Cydney Sanders walk off triple to give the Angels a thrilling 4-3 win.
Another superb 2020 pitcher, Sarah Willis (Auburn), came up clutch in the Angels wins on Saturday as she pitched 12 innings scattering seven hits and striking out nine.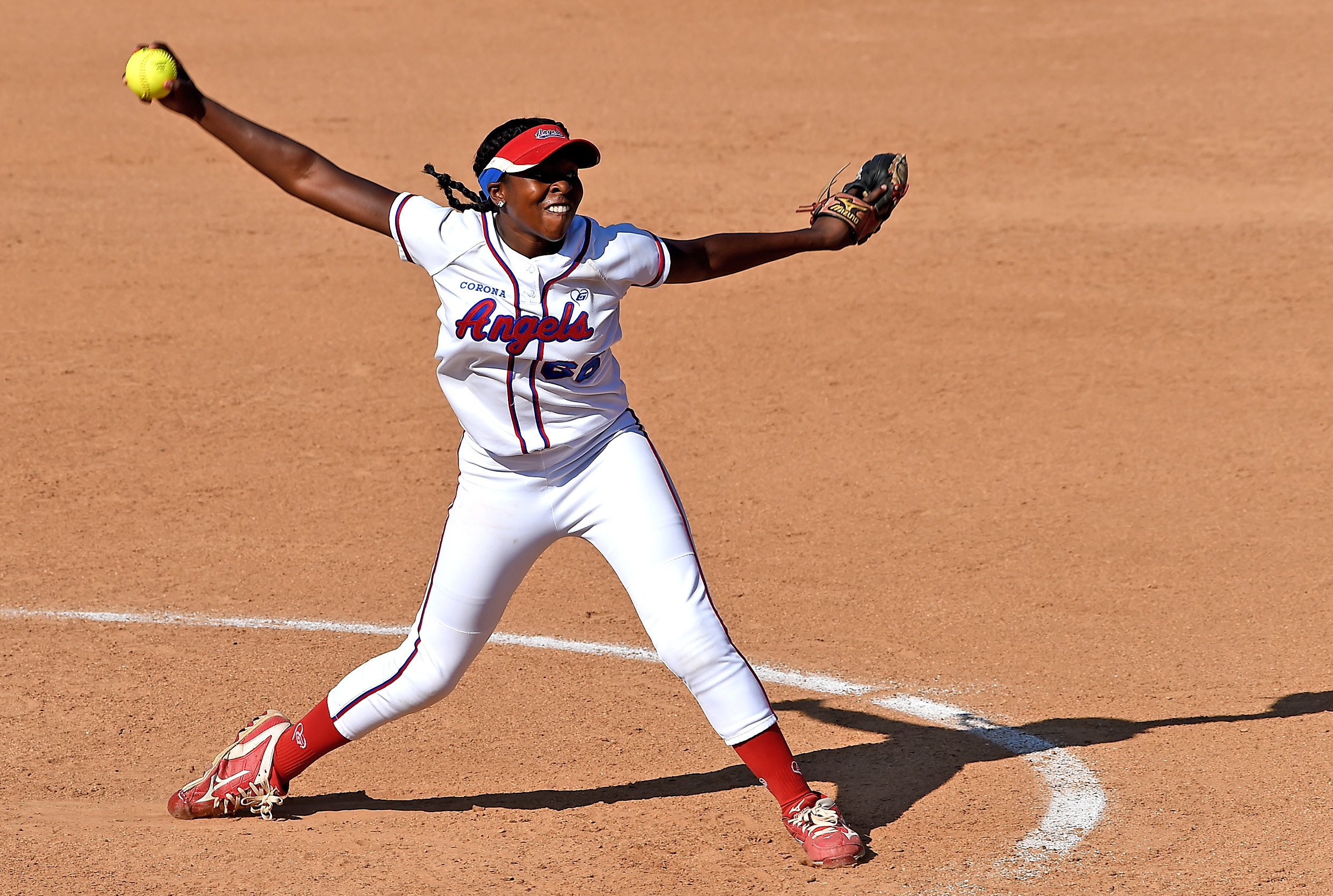 Pictured: Sarah Willis (Jayne Kamin-Oncea/USA TODAY Sports)
Like the two other age divisions before it, the 14U championship features two great pitchers who can shut down the opposition and could be key to creating another nail-biting 1-0 game.
Or, as these championships seem to go, unsung heroes may emerge to make these title games ones to remember for a long, long time!