Hot 100 Final 2017s #90-81
Hot 100 Final 2017s #90-81
We continue our final look at the top 100 players in the 2017 class…we're spotlighting 10 each day as we count down from 100 to No. 1. We'll announce the Top 10 of the class on Friday, November 4, then on Saturday, Nov. 5 we will reveal the "Next In (101-
Oct 25, 2016
by FloSoftball Staff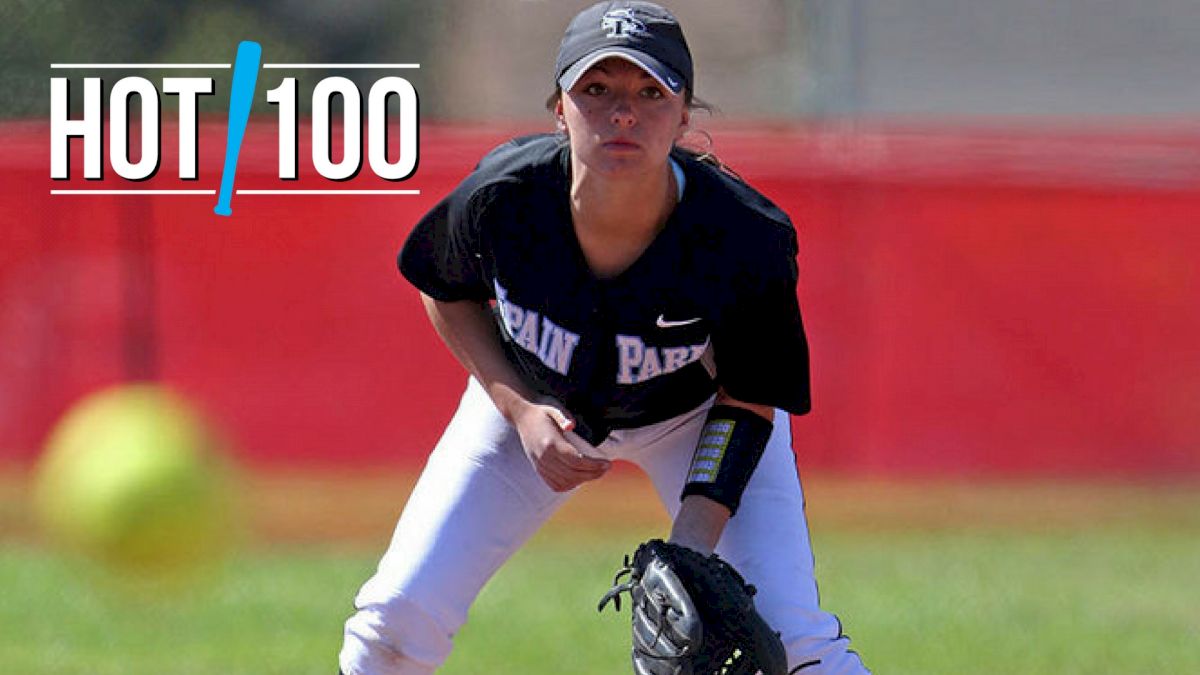 Unlock this article, live events, and more with a subscription!
Get Started
Already a subscriber? Log In
We continue our final look at the top 100 players in the 2017 class…we're spotlighting 10 each day as we count down from 100 to No. 1.
We'll announce the Top 10 of the class on Friday, November 4, then on Saturday, Nov. 5 we will reveal the "Next In (101-200)" and finally on Sunday, Nov. 6 will
unveil our Top 50 College Classes.
There's been a lot of movement in these rankings compared to the previous list published six months ago pre-summer tourneys. For example, there are 16 new players in the final 2017 Hot 100 (indicated with an *) and many players making being jumps up the lists.
These players were chosen based on input and feedback from college and club coaches who've seen them play all across the nation.
Criteria for choosing and ranking the players including performances at the club and high school levels and projecting how they will play at the collegiate level.
Below we feature players No. 90 to 81 with standout players from Alabama, California (4), Georgia, Illinois, North Carolina, Texas and Washington.
***
90--Taylor Johnson C/3B/1B… Beverly Bandits (Wisconsin)*
Taylor is a pure power hitter who bats for average and can go deep at any time. She was the Illinois 2015 Gatorade State Player of the year when she batted .624 with 15 home runs, 50 RBI and 58 runs scored. A three-time All-Area honoree, she clubbed another nine home runs to give her 42 for her career which puts her 12 off the state record. Taylor is very athletic and can play the corners but her strong skills behind the plate--most notably a cannon for an arm and great leadership skills-make her a franchise-type catcher. She should see early playing time in the Big Ten next year.
89--Summer Hargett C/1B… Explosion - Denio/Wilson (Northwestern)
Summer is a 5-foot-9 athletic catcher who has been dinged up a bit, but should be healthy for a great 2017 senior year run. She is a power hitter who can crank the ball out of the park from line to line and has the athleticism to play several spots including first. A great athlete, she runs very well for a catcher and is also a black belt in karate. From San Diego, Summer helped her then club team, the Power Surge, win the ASA National Championship in 2012 and this year in the talent rich Western League--which has produced current talent like infielder Sarai Niu (freshman at Mississippi State) and Corona Angel ace pitcher Megan Faraimo (2018 grad, UCLA commit)-she hit .353 last spring with a .427 on-base percentage.
88--Ava Tillmann P… Georgia Impact (Ole Miss)
Ava throws in the mid-60's with her screwball and is excellent at spotting her pitches and keep the ball down with her drop ball to induce ground balls. Last fall she shined in the circle and at the plate as she led her Georgia team to a 2nd place finish in the regional tournament and has a 1.53 ERA while batting .410 and knocking in 30 RBI. She's had a great high school career which got off to an explosive start as she won 25 games as a freshman and was the 5AAA Region's Player of the Year. She's been in the Impact organization for several years andin 2014, when she committed to the Rebels, helped her Impact-Gibson team to a 5th place finish at Boulder IDT and 7th at PGF Nationals. Popular at her school, she was recently voted 2nd runner-up as Homecoming Queen and has even been her school's mascot (a Bulldog).
87--Hope Brandner IF… All American Sports Academy (Oregon State)*
Hope is a main reason AASA is ranked as the #3 team preseason in the FloSoftball 18U FAB 50. One of five Beaver commits on Bryan Merrida's team, she bats clean-up for the club squad and had a great summer capped by batting .500 at PGF Nationals (14-for-28) with six home runs. Hope is a fearless competitor who plays stellar defense at first base and scouts say she is the type of player you want to have in the batter's box with the game on the line. She had an explosive junior year for her Nor Cal high school, hitting .680 with 50 RBI and eight homers in only 50 at-bats.
86--Hannah Boos P… Ohana Tigers (San Diego)
Hannah earned All-CIF honors for her Southern California high school and was 2nd Team All-Orange County and Co-Pitcher of the Year in the Empire League. She's one of four pitchers returning for the Tigers making Shawn Quarles team one to watch this year at the 18U level. Hannah is simply a winner; she's won championship at the club and high school levels including an ASA 14U National Championship and a CIF title at Pacifica High in Garden Grove, Calif. Hannah effectively mixes a curve, change and screwball and has been a leader by example and action on her teams since a young age. Coaches rave about her positive attitude and competitive fire too.
85--Maddie Morgan SS/2B… Washington Ladyhawks - Miller (Alabama)
Maddie is an explosive hitter who holds her Washington school record with a .657 average but she's also a dangerous home run hitter too. She's had success at the club level and two years ago helped her Ladyhawks team finish in the Top 10 at PGF 18U Nationals. Maddie has an accelerated understanding of the game and has a great competitive passion and intensity for the game. She's also been a coach, helping her parents lead a 12U team to the 2016 NSA Washington State title. The Northwest standout committed to Alabama as a freshman.
84--Ashleigh Inae MIF/3B… Explosion - Denio/Wilson (East Carolina)
Ashleigh has flown under the radar until recently, but playing for one of the top club teams in the country, coaches have seen what she can do against elite competition. The senior has a cannon for an arm and is an excellent hitter with home run power and able to drive the ball into the gaps. She is athletic and is versatile on the field. She has triple threat offensive skills and plays with her heart on her sleeve. Ashleigh plays high school ball in Riverside for one of the top programs in So Cal and as a freshman played with current Alabama pitcher Alexis Osorio and helped lead to the team to a 2nd place finish in CIF Southern Section Div. I. This year the infielder earned Riverside Press-Telegram All-Inland Empire honors.
83--Jenna Olszewski OF… Birmingham Thunderbolts (Auburn)
Jenna is a versatile player with all the tools who had a good summer playing for one of the nation's top club programs. She can play shortstop or second, but her strongest position appears to be roaming the outfield where her speed and quick first step allow her to cover a lot of ground. She's been with the Bolts' organization for five years and has played at an elite level including a 3rd place finish on the 16U team at PGF Nationals a year ago. Jenna has been a Class 7A All-State pick in high school and over the last two years in Alabama is hitting .375 with 77 RBI. This year in 31 games she had seven assists and didn't make an error in 33 chances. Jenna committed to the Tigers during her freshman year.
82--Brittany Jackson OF/SS…Texas Glory (Kansas)
Brittany is a lefty with what one coach describes as "ridiculous speed and hands." She can bat lead-off or hit in the 2-hole. Her advanced foot speed and bat control keeps the defense guessing. Brittany ranked third in the Dallas/Ft. Worth area in batting average with a crazy .791 mark and her on-base percentage was .784. Impressively, she hit safely in 20 of her team's 21 games and when on base she swiped 21 bases. Her honors included Class 5A 3rd Team all-State, Dallas Morning News 1st Team All-Area and District 14-5A Offensive Player of the Year. The senior also draws praise from her coaches and teammates for being a great leader and positive personality on the field and in the dugout.
81--Sarah Genz 3B… Lady Lightning Gold Midwest (Notre Dame)
Sarah lead the Lightning Gold Midwest team to unparalleled heights including a 17th place finish at PGF Nationals this summer. During the summer, she had 145 plate appearances and only struck out three times. A huge offensive threat because of her consistency, Sarah has home run power, but is a more consistent gap hitter. Disciplined and intelligent with great instincts for the game, the Midwest senior is the spark for her teams and has been described as "the hardest out in the line-up." From South Dakota, she's been home schooled with a 4.0 GPA and committed to Notre Dame in October of 2014.