Hot 100 Final 2017s… #50-41
Hot 100 Final 2017s… #50-41
FloSoftball continues our final look at the top 100 players in the 2017 class… we're spotlighting 10 each day as we count down from 100 to No. 1.
Oct 31, 2016
by Brentt Eads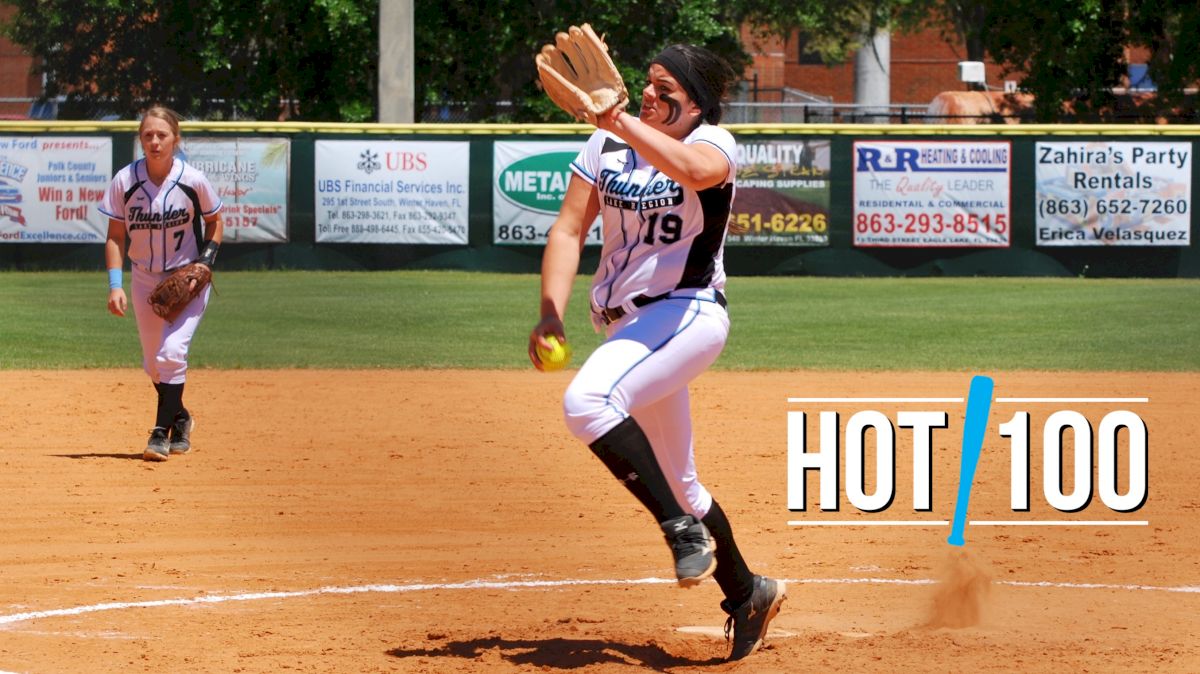 Unlock this article, live events, and more with a subscription!
Get Started
Already a subscriber? Log In
We continue our final look at the top 100 players in the 2017 class… we're spotlighting 10 each day as we count down from 100 to No. 1.

We'll announce the Top 10 of the class on Friday, November 4, then on Saturday, Nov. 5 we will reveal the "Next In (101-200)" and finally on Sunday, Nov. 6 will unveil our Top 50 College Classes.

There's been a lot of movement in these rankings compared to the previous list published six months ago pre-summer tourneys. For example, there are 16 new players in the final 2017 Hot 100 (indicated with an *) and many players making being jumps up the lists.

These players were chosen based on input and feedback from college and club coaches who've seen them play all across the nation.

Criteria for choosing and ranking the players including performances at the club and high school levels and projecting how they will play at the collegiate level.

Below we feature players No. 50-41 with standout players from Arizona, California (2), Florida, Georgia, Louisiana, Missouri, North Carolina, Oklahoma and Texas.

***
50--Chandley Garner SS…NC Lady Lightning (NC State)

Chandley's
brings
fire and passion
to the field every game and has a
strong softball skill set that includes the ability to hit for average and power. She batted .538 this high school season with an on-base percentage of .600 and 11 home runs, that puts her in line to break the North Carolina all-time career home record. Chandley is also a smooth and efficient infielder who was flawless this year in prep ball, not making an error in 61 total chances. She's been a force since she exploded onto the prep scene as a freshman when she led her high school team to a 1A state championship hitting .521 that year with 11 homers and 46 RBI. The senior is the focal point in the Lady Lightning line-up too and adds punch on offense and leadership in the field. She committed to the Wolfpack in December of 2014.
49--Sydney Pennington SS… Tulsa Elite (Oklahoma State)

Sydney is one of the top all-around athletes in the 2017 class and will likely make a splash when she enters the Big 12 next fall. She's an All-State basketball player and scored 15 points per game with five boards last winter and comes from a family of athletes: her mom played college basketball, her father college baseball and an aunt college softball. Sydney is 5-foot-10 and has guested the last two years with the EC Bullets to great success, helping the team win the USA Softball JO Cup this year and going far in the TC/USA Nationals a year ago highlighted by a walk-off grand slam. She's also shined on the big stage of PGF Nationals and helped her Tulsa Elite team to a Top 10 finish a year ago. She committed to the Cowgirls in August of 2014 heading into her sophomore year.

48--Ivy Davis SS… OC Batbusters -- Stith (Arizona)

Ivy is an athletic right-handed hitter who stars on defense; one top coach said of her, "She has one of the most powerful arms I've ever seen." She has the physical make-up and tools to really blossom in college and many scouts feel that once she gets the repetitions in the Pac-10 she has the potential to be one of the best players in the country. Ivy has certainly played for two of the top programs and coaches in the club world as she's been with Tony Rico and the Firecrackers prior to joining Mike Stith's Batbusters this fall. The So Cal senior has 2.6-2.7 speed but can go deep on any pitch as she's hit home runs over 250 feet in major tournaments. She has a strong bat-and-ball background as her father coached her from 6U to 14U and she has a brother that plays college baseball. She even has studied the martial art Muay Thai to help her with her fluidity in the field. Ivy committed to Arizona as a freshman over SEC and other Pac-12 offers.

47--Mary Haff P… Rhode Island Thunder (Arkansas)

Mary was dinged up with injuries and was only able to play 10 games this summer, but she's back on track now and coaches know what she can do: she had over 52 D1 offers from schools in the ACC, Big 12, Big Ten and SEC before she picked Arkansas. Mary throws in the mid-60's with a good curve, rise and change and is having a tremendous fall with 49 K's in 32 innings pitched and a 0.43 ERA including a strong weekend at Diamond 9 in Orlando this past weekend. Though she plays for the Rhode Island Thunder, Mary hails from Florida where she was a FloSoftball 1st Team All-American (Multi-Purpose) after she led her team to the 7A state title game and went 20-2 with a 0.32 ERA and 258 strikeouts in 153 1/3rd innings. A four-time Florida All-State honoree, she was also the Florida 7A Pitcher of the Year.
46--Savanna Bonola SS/3B… Texas Blaze (Texas-Arlington)

Savanna plays for her father Jim in the Blaze organization and this summer was chosen as one of the USA Elite Select 30. A game changer who produces and leads by example, she hit .435 this summer and elevates her game when it matters the most. She is a five-tool player who you can build around as she has slapper-type speed, the power to hit in the 4 and 5-hole, and elite defensive skills in the infield. Savanna is a disciplined hitter who can force the pitcher to go deep in the count until she gets the pitch she wants to hit. Savanna led her district with 27 runs scored and was fourth with a .627 batting average. The Texan had SEC-level interest but choose to stay close to home and play for UTA.
45--Callie Martin 1B/OF… DeMarini Aces (Missouri)

Callie can beat you with her speed and her power bat, making it almost impossible for opposing teams to know how to defend her. For the Aces this year she had 16 home runs--including three at PGF to help the team tie for 9th place--and stole an amazing 85 bases. She had a .498 on-base percentage and a 1.180 OPS that included 56 walks. Callie's a lefty who hits right-handed too and can even play multiple positions including the corners and catcher. Last fall for her high school team she played four positions, primarily catcher, but her speed may make her too good to put behind the plate. This weekend she was just named as a repeat All-State selection, this year at catcher. Callie could have gone to schools in the Pac-12 and SEC outside the Show Me State, but decided to stay home and compete for Mizzou.
44--Jenna Kean OF/SS… Firecrackers -- Rico (Arizona)

Jeanna is the prototypical speedy lead-off hitter who combines great speed with the ability to place the ball seemingly wherever she wants. She's an Alexis Bennett (UCLA)-type catalyst who makes you stop and watch what she's doing at the plate. Coming over from the Ohana Tigers to join the PGF 18U Premier National Champion Firecrackers, Jenna helped the Tigers finish in the top 10 last summer (2015) as she led the team in average and hits with a .458 mark while going 11-for-24. The year before she led her team to a runner-up finish at PGF 14U Nationals when she batted .444. The future Wildcat, who committed in January of 2015, has had a strong fall as well evidenced by her going 10-for-13 with a home run at the Showcase at Big League Dreams tournament in early November. Jenna has speed you can't coach and her breaks on the ball are as good as any outfielder in club ball. She also is well-schooled in softball fundamentals playing for one of the top club and high school coaches in the nation, Rob Weil, at Los Alamitos High (California).
43--Bella Loomis MIF… Firecrackers AZ (Arizona State)

Bella led her Hamilton High (Arizona) team to the state championship this year and will be a four-year starter at shortstop. She has played second base for Firecrackers AZ-Hinkle since 2012 and with and outstanding shortstop Grace Lyons (2018, Oklahoma) gave Jeff Hinkle one of the top middle infields in club ball. Bella has great hands and feet and a rocket of an arm with one of the quickest releases in the class. The Arizona senior is equally talented at short and second but could be a great outfielder too. Bella has transformed her offensive game over the last few years, originally depending heavily on her speed using slap and short game strengths at the top of the order, but now has home run pop to go with hitting for average. She's also an intuitive runner with great leads to jumps to efficiency running the bases. A great leader, some coaches are predicting a coaching future for the future Sun Devil, who committed to ASU her freshman year.
42--Gabby Teran MIF… Georgia Impact (Syracuse)

Gabby is a mighty mite at 5-foot-3 who hit .458 during the summer for the Impact and has looked strong all summer and fall. At the So Cal A's Invitational, she had several extra-base hits against elite competition and over the weekend helped her Georgia high school team make it to the quarterfinals of the Class AAAA playoffs. The senior balances power and speed and can hit for a high average too. She's always been a tough out at the plate and on defense she has all the physical tools: lateral quickness, range, a great glove-to-hand transition and a strong arm. Gabby was overlooked by many schools because of her size and one coach said, "She's an SEC player who got away." Look for her to be a dominant player early in the ACC.
41--Taryn Antione OF… Texas Glory (LSU)

Taryn's stock continues to rise as a leadoff hitter who's a tough out and a defender who is equally skilled at shortstop, which she plays in high school, or centerfielder where she lines up for Kevin Shelton's Glory team. She earned 5A All-State honors after leading her Alexandria High (Louisiana) team to a state championship and batted .484 with seven triples and 26 steals. Taryn hit .433 for the Glory this summer and helped the team to Top 5 finishes at USSSA WFC (2nd), DeMarini Invitational (3rd) and Colorado Fireworks/Sparkler (5th). She has great speed and power from the lefty side and also is a top track athlete in the 100-meters and is a nationally ranked powerlifter in the 132-pound weight class. Said one coach, "Taryn is crazy legit." She committed to LSU in December of 2014.