Hot 100 Final 2017s...Nos. 40-31
Hot 100 Final 2017s...Nos. 40-31
FloSoftball continues our final look at the top 100 softball players in the 2017 class…we're spotlighting 10 each day as we count down from 100 to No. 1.
Nov 1, 2016
by Brentt Eads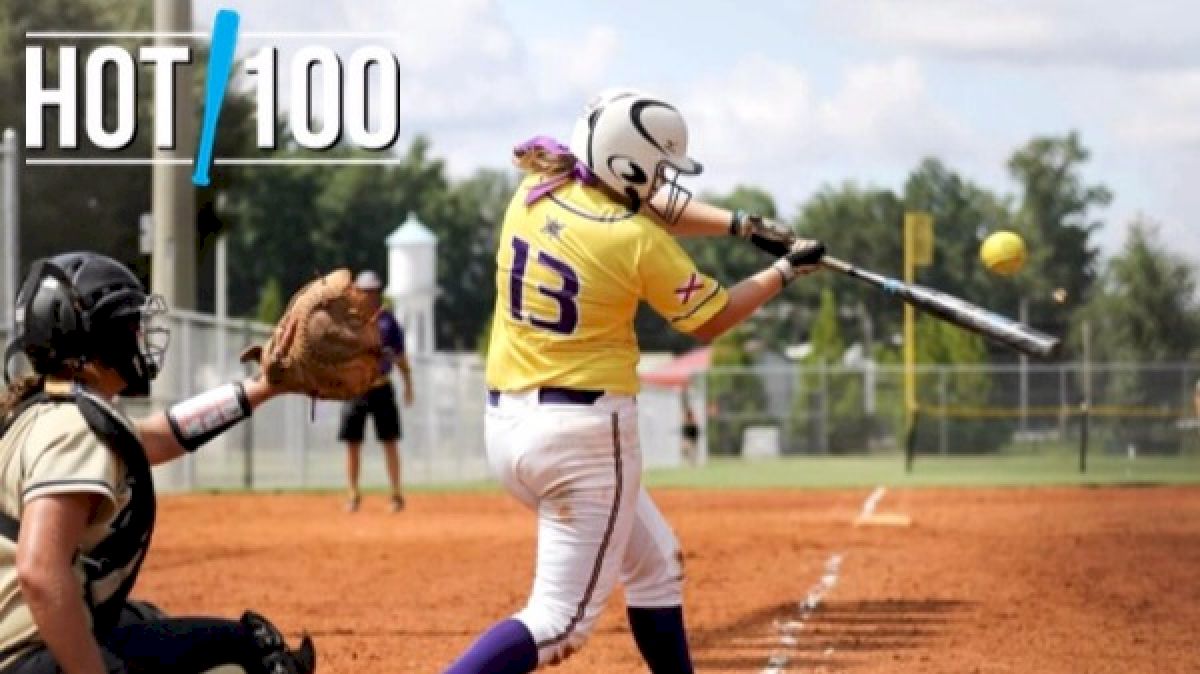 Unlock this article, live events, and more with a subscription!
Get Started
Already a subscriber? Log In
We continue our final look at the top 100 players in the 2017 class… we're spotlighting 10 each day as we count down from 100 to No. 1.

We'll announce the Top 10 of the class on Friday, November 4, then on Saturday, Nov. 5 we will reveal the "Next In (101-200)" and finally on Sunday, Nov. 6 will unveil our Top 50 College Classes.

There's been a lot of movement in these rankings compared to the previous list published six months ago pre-summer tourneys. For example, there are 16 new players in the final 2017 Hot 100 (indicated with an *) and many players making being jumps up the lists.

These players were chosen based on input and feedback from college and club coaches who've seen them play all across the nation.

Criteria for choosing and ranking the players including performances at the club and high school levels and projecting how they will play at the collegiate level.

Below we feature players No. 40-31 with standout players from Alabama, California, Florida, Georgia, Illinois, Missouri, New Jersey (2) and Texas (2).
***
40--Olivia Kinsey P… DeMarini Aces (Oregon)

Olivia had a nagging injury over the summer but came back this fall to dominate in the circle and at the plate for her Missouri high school. She was chosen as the Gatorade State Player of the Year after having a big junior year. She went 17-3 with a 1.03 ERA and 236 Ks and batted .429 with six home runs and 28 RBIs. Despite being at less than 100 percent at PGF Nationals, she still provided quality innings in relief against top teams, helping the Aces tie for 9th at nationals. Olivia is one of the top pitchers in the nation because of a mid-60s riseball that is tempting to chase. She's also an excellent hitter with 72-mph bat speed. Olivia committed to Oregon during Thanksgiving week of 2014.
39--Kyra Lockhart 1B… Georgia Impact (Alabama)

Kyra is one of the most feared sluggers in the country and had seven home runs this fall in school ball. A former FloSoftball All-American, she has a quick bat and can hit to all fields while being an outstanding defensive fielder at first base. Her mechanics are sound and she's been playing 18U ball since the seventh grade. She moved to the Impact after being with the Intensity for several years and is noted by scouts for her outstanding eye at the plate and the ability to foul off pitches she doesn't like until she gets the one she wants to drive. She didn't strike out once during one of her high school seasons. The New Jersey native committed to Alabama during her freshman year of high school.
38--Lauren Rice P/1B… Beverly Bandits (Missouri)

Lauren has always had the heat and has been clocked in the high 60s many times, even touching 70 mph on occasion. She's become an even stronger pitcher in the last several months by mastering her drop ball. When she gets the ball down, it's untouchable. She is also working change-ups effectively. Earlier this fall at the PGF Ultimate Challenge, she threw a no-hitter. Lauren returns to the Bandits after a year with the Firecrackers. She has elevated her hitting too, batting in the third and fourth holes for her Bandits team coached by Cray Allen. She's been a multi-year All-State honoree in Missouri and, after lighting up the radar gun at a Mizzou camp two years ago, was offered and committed to play in-state for the Tigers.
37--Amanda Ayala C/UT… Jersey Intensity (Tennessee)*
Amanda returns to the Hot 100 after missing the last update after suffering a broken left femur injured during a workout. She missed her junior season and had to rehab for five months but came back with a splash when she smacked the first pitch at PGF Nationals over the fence. Back to full health, Amanda returns as one of the top leadoff hitters in the country and as a top-shelf centerfielder. She is a five-tool player who is explosive out of the box and in her first steps tracking down the ball in the outfield. She started her New Jersey high school career off with a bang, hitting .603. She seems to have her game back, including her ability to bunt slap and power hit equally well. Amanda committed to Tennessee in December of 2014.
36--Janae Jefferson OF/SS… Aces Express (Texas)*

Janae is a difference maker as a lead-off hitter who can play shortstop or centerfield. She is an excellent athlete and has been all-district in three sports: softball, basketball, and volleyball. As a freshman, she was her softball district MVP playing at Houston Nimitz, one of the top athletic high schools in the nation. Janae is a high average hitter and, at one point in the USA Softball JO Cup this summer, was 11-for-11. She has great bat control and is almost impossible to get out when she puts the ball on the ground. Janae is also a student of the game and has excellent instincts on offense and defense. She committed to the Longhorns after going to their camps for three years and being offered a spot as a freshman.
35--Shelbi Sunseri P/UT… Texas Bombers Gold (LSU)

Shelbi continues to improve both in the circle and at the plate. This summer, she beat the PGF National Champion Firecrackers-Rico squad at the Colorado Fireworks/Sparkler tournament. She pitched well and had the game-winning hit. During the summer, Shelbi hit over .500 with 10 home runs for the Bombers. As a junior, the Texan hit .461 with 39 RBIs. She went 24-6 with a 0.88 ERA and 293 Ks in 171 1/3rd inning for her Santa Fe High team. That mirrors what she did as a sophomore when she went 29-7 with a 0.70 ERA. A competitive strikeout pitcher who throws heat in the mid 60s complemented by a pinpoint screwball and rise, she hits in the high .400's as a batter who can go deep at any time. Shelbi committed to LSU in March of 2015.
34--Kinsey Goelz SS/UT… Birmingham Thunderbolts (Mississippi State)

Kinsey is one of the few players in the country who has played in three National Championship games, winning one last summer when her father T.J.'s 16U Tampa Mustangs team won the PGF Championship. She got the winning hit and was the MVP. Kinsey is also one of the most improved players in the Hot 100. She has upped her strength and quickness as a high-average hitter with power and a strong defensive shortstop. Kinsey comes up clutch in big games and, the higher the stakes, the better she plays. She committed to South Florida in December of 2013 before de-committing in May after receiving heavy interest from multiple SEC and ACC schools. She chose Mississippi State this summer.
33--O'Neil Roberson IF… Birmingham Thunderbolts (Mississippi State)

O'Neil had an explosive spring which included a .515 batting average with 71 RBIs and a state-leading 21 home runs, which broke her Oak Mountain (Birmingham, Alabama) school record previously held by Mississippi State star Caroline Seitz. O'Neil was named the Alabama 7A Hitter of the Year and followed that up with an excellent summer that included her finishing as the top RBI generator for the Bolts at PGF Nationals and second in batting average. Playing for her father, Jay, she helped the Bolts 16U take 3rd in 2015. Scouts have said O'Neil already has the mental and physical make-up to bat at the college level. One of the earliest commits in her class, she verbaled to the Bulldogs in the fall of 2013.
32--Makenna Dowell MIF… Worth Cobras (Auburn)

Makenna ended her senior year of high school ball in style as she helped lead her North Gwinnett High (Georgia) to the Class 7A state title last weekend, the highest level of play in the Peach State. Makenna had a big game too, going 2-for-4 with a stolen base and two runs scored in the victory. With her former team, the Georgia Elite, not fielding an 18U team this year, the senior is playing for Mark Green's Worth Cobras who will benefit from Makenna's great defensive skills. One coach called her "a defensive machine" while another said, "she's the best high school-aged shortstop I've ever seen." She has great range, terrific instincts and a nose for knowing where the ball is going to be. Makenna is also one of the fiercest competitors you'll find anywhere and she simply makes plays others can't. Offensively, she is able to bat in the 2-spot since she can lay down a bunt or hard slap.
31--Malia Quarles 3B… Ohana Tigers (UCLA)

Malia had a strong summer highlighted by a huge week in Colorado when she helped the Tigers go 8-0 to win the Sparkler/Fireworks Open title. The So Cal senior batted 12-for-18 with three home runs and 11 RBIs and helped the Tigers, coached by her father, Shawn, finish 25th at PGF Nationals after finishing 3rd at the 16U PGF Nationals in 2015. Malia is a pure power hitter with a professional approach and the ability to patiently sort through pitches to get the one she wants. She is strong, but has a great eye and will drive the ball where it's pitched. Malia was seen early in her development by UCLA Head Coach Kelly Inouye-Perez as she attended the same high school, Cerritos Gahr (Califorina), where Malia goes now and her father attended at the same time as the Bruin coach. The senior slugger is also an excellent defender. In high school ball this year, she only made one error thanks in part to her quick feet, fast release, and strong arm.