2017 Hot 100 Rankings: Top 10 Players
2017 Hot 100 Rankings: Top 10 Players
We conclude our final look at the top 100 softball players in the 2017 class with the final 10 Hot 100 list.
Nov 4, 2016
by Brentt Eads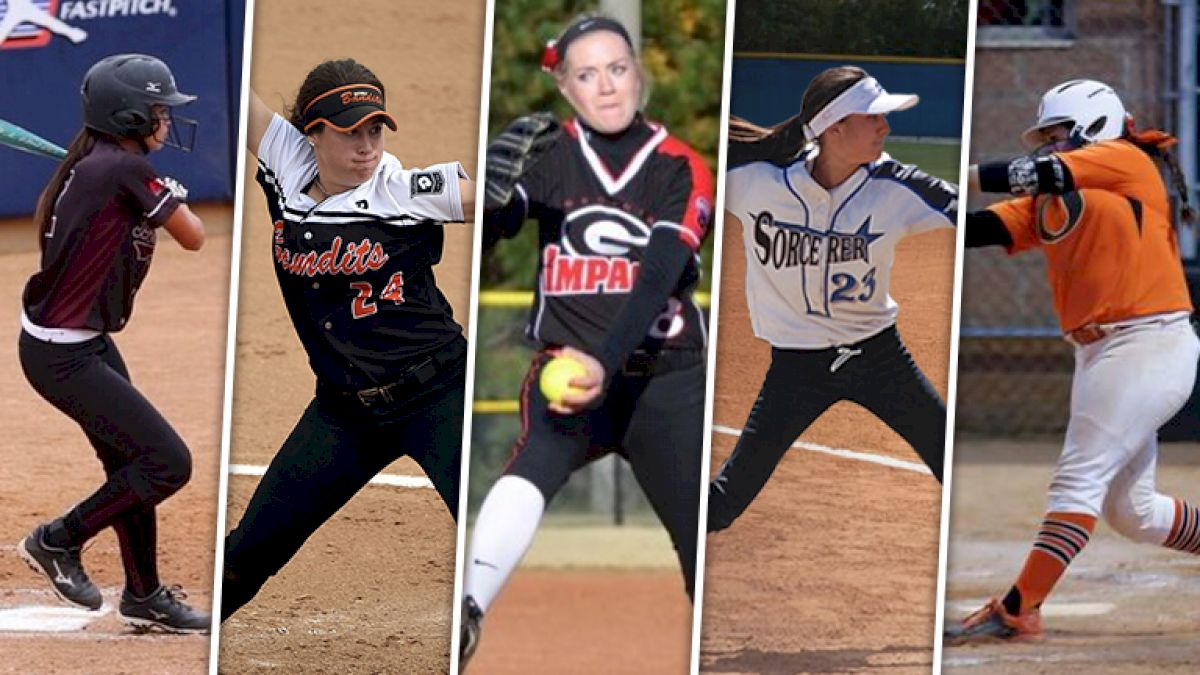 Unlock this article, live events, and more with a subscription!
Get Started
Already a subscriber? Log In
We conclude our final look at the top 100 players in the 2017 class… we've been spotlighting 10 each day over the last two weeks as we counted down from 100 to today's No. 1 overall honoree.

Tomorrow, we will reveal the "Next In (101-200)" and finish our comprehensive look at the 2017 class with our rundown of the Top 50 College Classes, meaning, looking at which universities did the best in recruiting this class.

As always, these highly-esteemed players were chosen based on input and feedback from college and club coaches who've seen them play all across the nation.

Criteria for choosing and ranking the players included looking at their performances at the club and high school levels and projecting how they will play at the collegiate level.

Below we feature players No. 10-1, with standout players from California (3), Georgia, Hawaii, Indiana, Michigan, Minnesota, New Jersey, and North Carolina.

10--Hannah Adams SS… Georgia Impact (Florida)


Hannah is one of the 10 high school players invited to the USA Softball Jr. Women's National Team Select Tryout at the end of December and it's in large part to her great defense. More than one coach has said she's the best shortstop in the game at the club level because she can do it all in the field, including getting to balls most players can't because of outstanding footwork and angles, using her great hands to get the ball out quickly, and making throws almost no player can. Hannah battled a back injury last year but is back to 100 percent and has earned All-State honors in Georgia after leading her team to a state title last year and a trip to the Class 7A title game this fall. She was the Offensive Player of the Year for Gwinnett County this fall and is a two-time Defensive Player of the Year. Scouts also comment on her high softball IQ and how she can drive the ball out of the park while also being a doubles machine. Hannah was first seen by the Florida coaches as a second year 12U player and committed on campus in January of her freshman year right after she was offered.
9--Jocelyn Alo C/IF… OC Batbusters -- Stith (Oklahoma)

Jocelyn is one of the most dangerous hitters in the country and, when she squares up on the ball, it goes forever. She's a dominating hitter who can go deep at any time, including at the PGF Shootout, where she hit a three-run homerun with future Sooner coach Melyssa Lombardi watching her. A MaxPreps Jr. All-American and the Hawaii Gatorade State Player of the Year, Jocelyn led her Campbell High team to a 17-1 record and the Div. I state title. She batted .612 with eight homeruns, 30 RBIs and a stellar 1.726 OPS. She went 2-for-3 in the championship and had a homer and four RBIs. She commutes from the Islands to California to play and practice with Mike Stith's team. She isn't just great in softball--she won the Hawaii state wrestling championship a year ago but is now focusing on softball. Jocelyn originally committed to Cal, but is now heading to Oklahoma after switching this summer.

8--Alexis Allan 1B… Firecrackers -- Rico (Michigan)

Alexis has taken her game to another level. She was already dominant before she starred on the Tony Rico Firecrackers team that won PGF 19U Premier Nationals. Nicknamed "Lou," she hit .600 with 43 RBI, 15 home runs, and compiled a 1.931 OPS in the spring to earn Riverside Daily Press Softball Athlete of the Year honors. The day after winning Nationals, Lou began a hard-core training regime that helped her lose 20 pounds in the last few months and gain even more strength. It's going to be fun to watch how much better she's going to be. The Hesperia, California senior is already wired with great DNA-- her grandmother, Sheila Cornell-Douty, played on the first USA Olympic team (1996), won two Gold medals (1996, 2000), and has been inducted into the National Softball Hall of Fame (2006). Lou has the advanced mental tools to know how to hit at the college level and she can effectively drive the ball based on where it's pitched. A three-time All-Area pick, she committed to Michigan in May of her freshman year.
7--Juliana Rodriguez P/OF… Jersey Intensity (UCLA)

She's not big at 5-foot-3, but Juliana or "Julie" has the heart of a lion and is, pound for pound, one of the best hitters in the country. Kevin O'Donnell, head of the Jersey Intensity organization, has said she's the best hitter the program has ever had. Julie repeated this year as a FloSoftball 1st Team All-American after she hit .590 with a .750 OBP. She finished her New Jersey prep career with a .620 average. She throws 64 mph overhand and dares runners to try to advance a base on her. A five-tool player, her best attribute may be that she can be plugged in to every position but catcher. She's pitched at the high school level and one UCLA scout said the Bruins are excited to bring her in and plug her in where she's needed immediately. Julie has a smooth swing and deceptive speed with the ability to turn a hit into the gap into a double or even triple. She committed to UCLA in the fall of her freshman year after smashing several home runs at a Bruins camp.
6--Meghan Beaubien P/1B… Beverly Bandits (Michigan)

You could make a case that no one in the 2017 class had a better year than Meghan, who won a PGF 16U National Championship with the Bandits following a record-setting high school season. She led her St. Mary Catholic Central (Michigan) team to a second straight Div. 3 title and did so by pitching two perfect games, including the final. Meghan repeated as 1st Team FloSoftball All-American and won Gatorade State Player of the Year honors as well after going 25-1 with 394 Ks in 187 innings and allowing just 10 earned runs all spring. She is now on the Cray Allen Bandits team and, though taking some time off after PGF Nationals, looks poised to have a huge senior year. Meghan is a lefty hurler who has a change-up that, even when batters know it's coming, they're still helpless to hit. She also throws a rise, screw, and drop and knows how to pitch, mastering the mental side of the game as well. And, not least of all, she can hit 64 mph on the gun and isn't afraid to throw any of her pitches no matter where she is in the count and in the game.
5--Taylon Snow 2B/OF… OC Batbusters -- Stith (Auburn)
Taylon was the #1 overall prospect in the spring, but has been dealing with quad injuries that have limited her play this fall. It's a hard call, because, when healthy, she has the talent, physical skills, and mental edge to be a top-ranked player in her class. Coaches rave about her in every aspect of the game--as a great player, teammate, and leader. She has had an amazing high school career, earning FloSoftball 1st Team All-American recognition each of her three years so far, including a freshman campaign that saw her bat .567 and set the CIF Southern Section record with 72 hits. What's great about Taylon is that she can do everything; in her first two years of high school she hit leadoff and slapped and power slapped for a high average. Last season, she hit in the 3-hole and hit away to help drive in runs. She had a career high in home runs (9) and slugging percentage (.848). She's played the outfield and shortstop and can do either exceptionally well; her three year fielding percentage at Chino Hills High (California) is .977 and she's only made four errors. As one coach told us in the spring, "her mind is not locked up in execution, it flows for her. It's a gift." Assuming she returns to pre-injury form, she has the potential to be an All-American candidate in the SEC, as she heads to Auburn after originally planning on joining sister Tannon at Washington prior to her older sister's transfer to Clint Myers' program.
4--Mia Davidson C… Birmingham Thunderbolts (Mississippi State)

Mia Davidson has emerged as the most feared power hitter in the 2017 class. She could always crush the ball, but she's become even more dangerous in the last six months. Mia had a huge weekend at the PGF Ultimate Challenge where she smashed four home runs. Mia joins the Thunderbolts after a strong summer with the Lady Lightning, a team she helped lead to a 13th place finish at PGF Nationals. She gives any team she's on tons of power at the plate and a strong arm behind the plate or at the corners. She is knowledgeable about the game and loves to compete. Mia was a 1st Team All-American after having a monster year for her Orange High (North Carolina) team. She batted .740 with 18 home runs and had a remarkable 2.060 slugging percentage. She's just two home runs away from setting the state career record of 43 dingers. Her on-base percentage was .851 and it's no surprise she was named as the Gatorade State Player of the Year and earned her third straight All-State selection. Mia also walked an eye-opening 44 times, with the majority being intentional to keep her from doing great damage. She and her older sister, Montana (now a freshman at Mississippi State) committed to the SEC school in August of 2013.
3--Gabby Sprang P… Georgia Impact (Tennessee)

Gabby is one of the nine seniors invited to the USA Softball Jr. Women's National Team Select Tryout the week after Christmas and it's easy to see why. She's a 6-foot-1 lefty who has great movement on her pitches, highlighted by a drop ball that is her out pitch. She can spot her pitches and locate so well that she puts up big strikeout numbers. Over one three-game stretch this spring for her Rosemont (Minnesota) team, she had 50 Ks, including a school record 21 in one game. When surveying coaches, both club and college, about the top pitchers in the nation, almost all had Gabby near or at the top of the list. One coach from the South represented many when he said, "She's the best pitcher in the nation, hands down." Another aspect that's helped Gabby up her level of success is her demeanor in the circle. She rarely gets rattled and is mentally as tough as they come. She was dominant at the So Cal A's Invitational earlier in the summer, contributing to a one-hitter in a combined effort during one game and a no-hitter in another. Gabby will be the first lefty pitcher at Tennessee since Monica Abbott graduated in 2007 and realized a dream come true when she got to take a pitching lesson with Abbott in February.
2--Alexis Holloway P/UT… Beverly Bandits (Notre Dame)

Alexis, for the third straight release of the FloSoftball 2017 Hot 100, is ranked as the No.1 pitcher in the class for a very simple reason: she's a winner who knows how to pitch. The Indiana senior may not be a 6-foot-2 flame thrower hitting 70 mph, but she is as effective of a pitcher as you'll find. She went undefeated for Crown Point High with a 13-0 record and a 0.38 ERA with 176 strikeouts in 92 innings. Alexis also hit .398 with 23 RBIs. Nicknamed "The Rock," she was lights out all summer helping the Bandits-Tyrell team to a 7th place finish at PGF Nationals and taking the title at the DeMarini Invitational three weeks before, where she had a perfect 0.00 ERA in 33 innings pitched with 29 Ks. Alexis hasn't missed a beat this fall, either, helping the Bandits-Conroy 18U team win the championship at the PGF Shootout last month. She allowed only one earned run all weekend. What makes her so successful is her competitive mental approach. When asked what her favorite pitches are, she smiles and says, "I never pitch and tell." She can beat you with her riseball and change-up and, while she can throw in the mid 60s, it's her ability to spot the ball, hit her locations, and outthink the batter that makes her so successful. As one top club coach told us in the Spring, "We faced Alexis Holloway last fall in Orlando and all I can say is that I know why you ranked her as the top pitcher--she is awesome and totally shut us down." And that doesn't account for the vast improvement she's made over the last year. Alexis committed to Notre Dame in September of 2013, right at the start of her freshman year, and the Irish have to be thrilled to have a pitcher to build around for years to come.
1--Briana Perez SS… OC Batbusters-Stith (UCLA)
There may be some (hopefully) good-natured smack talk going on around the Thanksgiving table this month in the Perez household in Alhambra, California. Kylee, now a sophomore utility player at UCLA who earned NFCA All-Region and All-Pac-12 honors this year, was ranked #2 in the FloSoftball 2014 Hot 100 and now, her younger sister Briana ("Bri"), takes the #1 spot. We don't think it will be too contentious, however, as Bri will following big sister to Westwood. Both are cut from the same cloth as competitive, dynamic personalities who excel in all aspects of the game. Bri was already in the Top 5 of the previous release of the 2017 Hot 100, but what launches her to the top spot is the development she's made over the last six months not only on the field, but off. She is a personable leader who has the "It" factor that makes great players unique. She has been invited to the USA Softball Jr. Women's National Team Select Tryout and it's very likely she'll make the team and we may not see her on the club circuit next year. A FloSoftball All-American, Bri hit .613 with 40 RBIs, 21 steals, and 56 runs scored and her Alhambra High (California) team won the CIF North Coast Section Div. 2 crown. That follows up on a sophomore year when Bri hit .688 with a strong 1.859 OPS. Moving to the Batbusters this year from Sorcerer Gold, where she and Kylee played for many years, Bri will also be down south in So Cal closer to her sister and future university. For now, it's all about getting her game college ready. The NorCal senior has looked awesome this fall, showing all the aspects of her game that make her elite. At the PGF Ultimate Challenge in Salinas, California, for example, she batted lead-off and got on base playing small ball and would hit the home run when needed. Bri also looked like a college player in her ability to vacuum up ground balls at short. Coach Kelly Inouye-Perez has some dynamic young talent coming to Westwood and expects Bri to make an impact right away as the first two players selected at the top of their classes--Jenna Lilly (2014, Oregon) and Amanda Lorenz (2015, Florida)--did in the FloSoftball Hot 100s. Big footsteps to follow, to be sure, but when you're the #1 overall player in the Hot 100, that's what you're expected to do. But until she steps foot on the Bruin campus next fall, Bri has bigger things to accomplish… like trying out for the USA Softball Jr. National Team, finishing her senior year of high school, and, oh yea, letting her older sister know who's #1!
Get all the hype!
Sign up for the FloSoftball newsletter for instant access to: Breaking News, Rankings, Live Broadcasts, Technique Videos, Archived Games, and more!