Team Spotlight: South Dakota Renegades
Team Spotlight: South Dakota Renegades
The South Dakota Renegades 16U are coming off a runner-up finish at the 2016 PGF Nationals in August and are one of the teams to watch going forward.
Nov 16, 2016
by Brittany Connors Connors
Unlock this video, live events, and more with a subscription!
Get Started
Already a subscriber? Log In
The South Dakota Renegades 16U team is absolutely one to watch.
At the 2016 PGF Nationals in August, in what some called a David and Goliath match, the Renegades lost in a heartbreaker to the Beverly Bandits. Emma Hardin tied it up in the bottom of the fourth with a bomb that flew by the left fielder.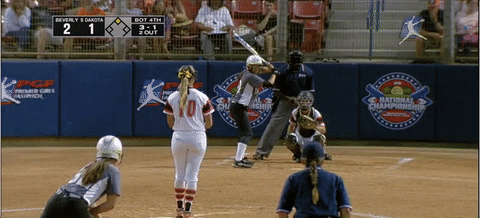 The Renegades ended up down 3-2 and fell just short of the title.
"It was a great experience," Renegades coach Mike Mook said. "I think our kids will remember it for a long time to come. Getting to play on that kind of stage, it changes a little bit of how you look at the game of softball and the opportunities that come along with it."
The Renegades have two players verbally committed to play in college so far -- Grace Glanzer (South Dakota State University) and Avery Wysong (North Dakota State University) -- and a host of others with ability to make an impact on the field.
The team is looking to train hard in the offseason and will come back next year swinging for the fences. "They work hard," Mook says. "I think that's been their strength all the way along through their career. They are a team that comes and shows up every day to practice and they have a good work ethic."


Meet the South Dakota Renegades
#2 Cylie Halverson (1B, UT)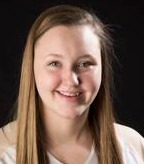 Halverson is a powerful hitter who can hit all different types of pitching well. She is also a versatile defender and has played every position on the field except pitcher. When the Renegades' starting shortstop was out, Halverson filled in and did a good job. She has also been playing first base recently. Halverson is also a positive leader who does a good job of keeping the team loose and having fun playing the game.
#3 Grace Glanzer (P, 3B)

Glanzer is a top pitcher and performs her best when facing elite competition. She has a powerful arm and has the ability to put a lot of spin on the ball. She is a competitor on the mound and just gets better the more she pitches. She also fields her position really well. Offensively, she is the No. 4 hitter and is able to drive in runs. Even though she is one of the younger players in the program, Glanzer displays good leadership skills.
#5 Callie Wethor (OF, 1B)

Wethor is a positive leader who leads by example and works hard. She is a hitter who is able to square the ball up on a consistent basis, and she hits with tremendous power. Defensively, Wethor reads the ball off the bat well and has a strong arm. She is a smart softball player who knows what she needs to do before the ball is pitched.
#7 Avery Wysong (C, OF, IF)

Wysong is a top-level catcher with a strong arm, throwing 70-plus mph. She does a good job receiving pitches and teams do not often try to run on her. She is a strong hitter at the plate and continues to improve. She is a smart, all-around softball player who can also play many other positions.
#9 Sydney Nelson (2B, OF)

Nelson is a leader on the field and off the field. She says exactly what needs to be said at the right moment. She is an excellent second baseman who can play outfield or pretty much any other position in the infield if needed. She has a strong arm and great range. At the plate, she drives the ball into the gaps and runs the bases well.
#10 Emma Hardin (P, OF)

Hardin plays three sports and is good at all of them. She is a power pitcher who can make the ball move and fields the pitching position well when she is on the mound. When she is not on the mound, she is playing center field and tracking down balls. With her speed and strong arm, she often takes hits and extra bases away from the opposing teams. At the plate, she is able to drop down a bunt and beat it out or swing away and hit the ball over the fence.
#12 Micki Twedell (OF, C)
Twedell has the rare combination of speed and power. She is a great outfielder and competitor. At practice, she is the kid who makes diving catches on a regular basis. Twedell is a really coachable player and works hard to improve every day. She is a fast left-handed slapper and puts a tremendous amount of pressure on the defense when she gets into the box or on base.
#15 Becca Koupal (OF)

Koupal is a speedy outfielder who reads the ball off the bat well. She plays center field when Koupal is pitching but can play any outfield position with her speed. Offensively, she is a player who can bunt slap and hit the ball in the gap. She is also an effective baserunner and is always threatening to take the extra base.
#17 Maia Engelkes (2B, OF)

Engelkes is an all-around great softball player. She hits the ball hard and is able to square the ball up consistently, even against the better pitchers. She has great range in the infield and knows where to go with the ball when it is hit to her. She also does a great job in the outfield when she plays there and can play pretty much any position.
#23 Hannah Loving (C, IF, OF)

Loving is a great catcher. Her toughness, game sense, and competitiveness really help lead the team on the field. She also does a good job of working with our pitchers and brings out the best in them. She has a strong arm and not many base runners try to steal on her. She is a strong hitter who always comes through when the team needs her the most. She has home run power and the ability to hit for average.
#27 Megan Guericke (SS)

Guericke is a competitor and can play pretty much anywhere on the field and excel. She is one of the top shortstops, and with her range and arm strength, she will take hits away from her opponents. Guericke is our lead-off batter, because she will always find ways to get on base. She can hit with power or hit the ball in the gaps. She is an excellent baserunner who is always looking to take an extra base.
#32 Carley Goetschuis (3B, C, OF)

Goetschuis is the No. 3 hitter, and she hits for average and power. She can hit off of any type of pitching, and she continues to get better every day. Goetschuis has an extremely strong arm, great speed, and range, and she shuts down the opposing team's bunting game at third. She also plays catcher and does a great job behind the plate. She could play pretty much any position on the field and has played every position on the field, including pitcher. She is just an all-around great softball player who can play the game at a high level.
#67 Ali Lindner (OF)

Lindner is a true triple threat. She can drop down a bunt, slap a ball over the infielders' heads, or hit the ball out of the park. She is a tough person to get out, because she is really good at reading the defense and placing the ball where she wants. She has good hand-eye coordination at the plate and is a strong, fast player. Lindner plays outfield and does a great job of tracking down balls in the gaps and takes away extra-base hits with her arm strength.
Get All The Hype
Sign up for the FloSoftball newsletter for instant access to: Breaking News, Rankings, Live Streams, Original Documentaries, Technique Videos, and more!