Rising Star: Tampa Mustangs 2020 OF/C McKenzie Clark
Rising Star: Tampa Mustangs 2020 OF/C McKenzie Clark
McKenzie Clark of the Tampa Mustangs-TJ 14U and Sarasota Christian is an uncommitted 2020 softball players who loves Florida softball programs.
Nov 22, 2016
by Brittany Connors Connors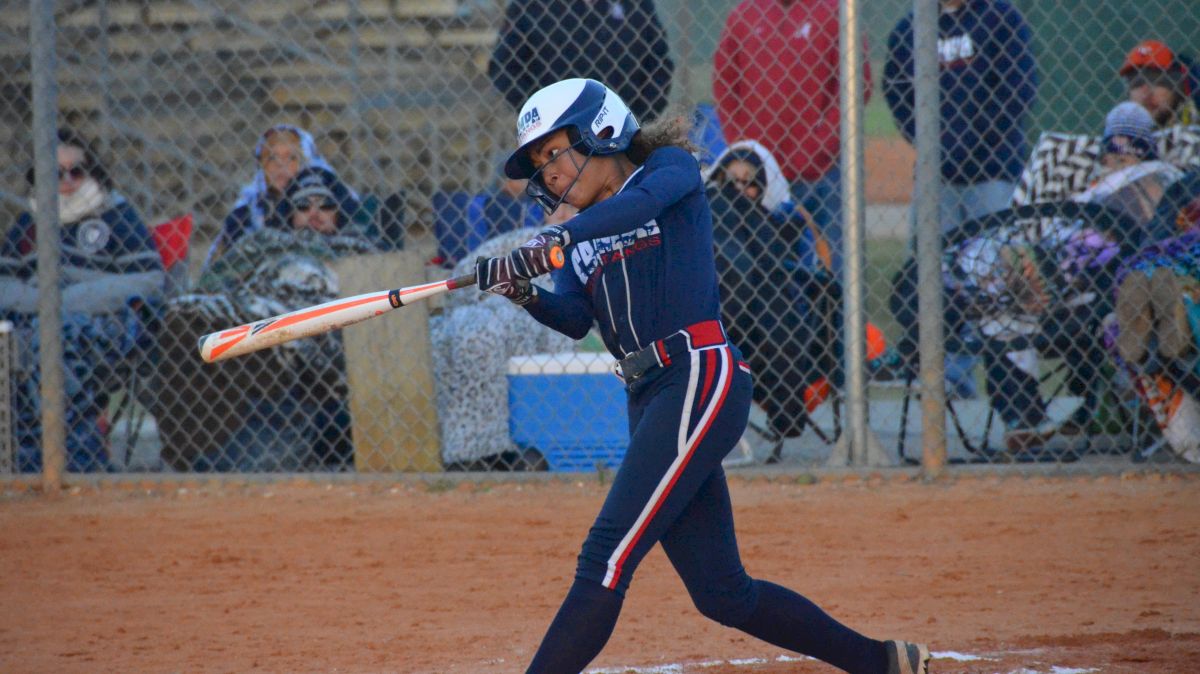 Let's say softball is over and done with. I want to look back and still see people saying things like, 'I love the way that kid played the game right. I love that she was nonstop talking on the field and showed lots of love toward the other players.'
Meet McKenzie Clark.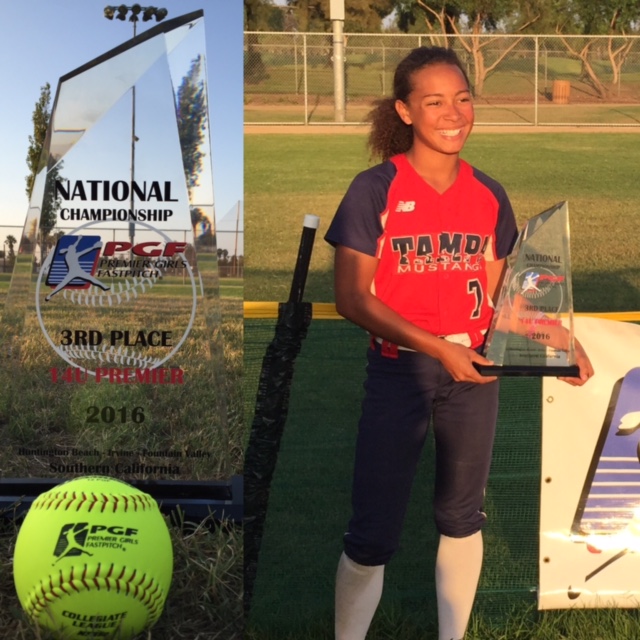 McKenzie plays outfield and catcher for the Tampa Mustangs-TJ 14U. She has played softball since she was 4 years old and has been coached by TJ Goelz since she was 8.
"He is a great coach, and I know he wants the best of all of us and I know he will get it out of all of us," Clark said of Goelz. "And he shows us a lot of respect and love."
Oh, and she has played on her Sarasota Christian team -- the high school squad -- since she was in sixth grade.
"Playing high school ball at a young age really helped me communicate more, because you need to communicate way more in high school," she said. "And I could take what I learned back with me to travel ball."
If you talk with Clark, you will keep hearing the same words: respect, love, communication. She is a compassionate person, and it definitely transitions into her methods as a ball player. Clark thanks her parents and her older brother Hunter for always being there to support her.
"I know that my parents really want me to succeed in my softball career, and that's why they come to almost all of my tournaments and they help me practice on and off the field," she said. "I know my brother wants me to do what my dreams are, and he loves the fact that I play sports and he can tell his friends, 'Well my sister is going on this tournament and she's going to do better than most of the girls.' He just brags about me, and I love it."
Clark's high school experience will be filled with softball, varsity basketball, and studying hard so she can get all A's and transition smoothly into college. She has had one unofficial visit and said she learned a lot just from listening to some of the coaches' stories.

"One of the coaches was telling me a story about her playing and how she couldn't hit and about her family and her teammates that came and picked her up," Clark said. "I was like 'I want to be that person that picks her up. I want to do what she does and I want to be just like her.'"
McKenzie Clark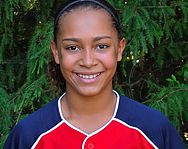 Position: OF/C
Throws/Bat: Right/Right
Grad Year: 2020
Hometown: Sarasota, Florida
High School: Sarasota Christian
Club Team: Tampa Mustangs-TJ 14U
Home to First: 2.90


FloSoftball: Where are you in the recruiting process?
Clark: I would love to play college ball. My options are still completely open. I have been on one unofficial visit, and I have another one scheduled for January.

What are you looking for in a future school?
DI, great academic school, and a coaching staff that I consider as a family.
Most memorable at-bat?
It was a recent game at the Thunderbolts 5 Star Showcase in Alabama. I wasn't hitting well the game before. I would hit it hard, just on the inside pitch, and then I would foul it off really hard. And the pitcher just kept throwing that pitch and I was like "I want it fair!" Our next game, I fouled maybe two or three off. I just ripped them foul and I said, "OK I know she's going to stop throwing me inside pitches at one point," and I had to be ready to go with the outside pitch. The very next pitch, she threw it right on the corner. It was beautiful. I want to thank her. I was rounding second base, and I knew I hit it hard and I knew I hit it high and I was coming around second base and everyone was just like chanting and screaming and I looked at home plate and everyone was crowding around home and it just felt so good. Like, "Oh my gosh, I just went with the pitch! And it was fair, not foul!" It was great.
Greatest strength on the field?
My speed or my communication skills with the other outfielders.
Who are some of your favorite softball players?
Kelly Kretschman, Chelsea Goodacre.

Do you have any favorite college teams?
My favorite college team would probably be FSU, because coach (Lonni) Alameda is wonderful and I love her coaching style. And (UF coach) Tim Walton, definitely Florida. He really teaches the game right.
What do you hope for your next few years of high school?
One of my goals is to get all A's, definitely. I want to do the best I can in my core classes, because I know once I get to college that I need to perform well in those classes in order to pass all my classes so I can graduate.
What do you want to study in college?
I want to do something with animals, so I am hoping to be a veterinarian.
Do you have pets?
Yes, I have a pug named Lola.

Do you have any funny softball stories?
I was really young playing on The Fear, and there were three McKenzies on the field. And coach was like "McKenzie, put your hand in the middle and say something." And me and the two other McKenzies all put our hands in. And he was like "McKenzie C., say something." And I eat pie before every game. And I said "Pie on three! One, two, three! PIE!" and that stuck with me until this day. My nickname has been "Pie" ever since.
Is pie your favorite food?
Yes, definitely. Strawberry pie.
What's your favorite holiday and why?
Thanksgiving, because our extended family always gets together.

What's one things most people don't know about you?
I am adopted, and I am part Indian, Hawaiian, African American, and Caucasian.

What are you thankful for?
Opportunity to play the sport I love at a high level and spending time with my teammates.
How would your family and friends describe you?
My family would say I'm the jokester or the big-hearted person in the family. My friends would describe me as always positive. It's really rare that you'll see me in a bad mood with my friends.
Favorite select tournament?
The D9 Showcase in Florida. There are just a lot of coaches that are there, and I love it when they watch us play because I love showing them what our team can do.
Favorite place you've traveled to?
California.
Dream vacation?
I want to go to Hawaii and learn how to surf, because I'm from Florida and we are known for beaches, but I don't know how to surf. So if I went to Hawaii and learned how to surf, I would brag about it all the time.
Have you had any injuries?
I broke my pinky two or three years ago, and I couldn't go to the world series.
Any softball superstitions or rituals?
Before the game -- and I don't know why I do this -- I take the bat and grab barrel and just mess around with it with my hands. And I'll just point at a spot on the words. Like on my bat, it says "Easton," and I'm like "I'm going to hit the bat right there on the inside pitch. I'm going to hit the ball right there on the outside pitch. It's going to be that exact spot." I do that all the time. Once, one of my friends asked me, "What are you doing?" And I'm like "Shhh!" and I had to restart.
Which celebrity, alive or dead, would you most like to meet?
Zendaya, Kevin Hart, and the Rock because they all have such a great sense of humor.

Favorite song?
Right now, my favorite song is "HandClap" or "Let's Go." That's a really pumped up song.

Favorite TV show?
"Grey's Anatomy."

Movie?
"Secret Life of Pets." I love Kevin Hart, and when he was the little bunny voice, I was cracking up because he has such a high-pitched voice and the bunny just fit him perfectly.
Get Into Full Swing!
Sign up for the FloSoftball newsletter for instant access to: Breaking News, Live Streams, Original Documentaries, Technique Videos, Rankings, and more!