FAB 50 16U Club Rankings: Teams 10 to 1
FAB 50 16U Club Rankings: Teams 10 to 1
FloSoftball ranks the top 10 16u club teams in the nation from California, Illinois, Texas, Georgia, and Alabama.
Nov 25, 2016
by Chez Sievers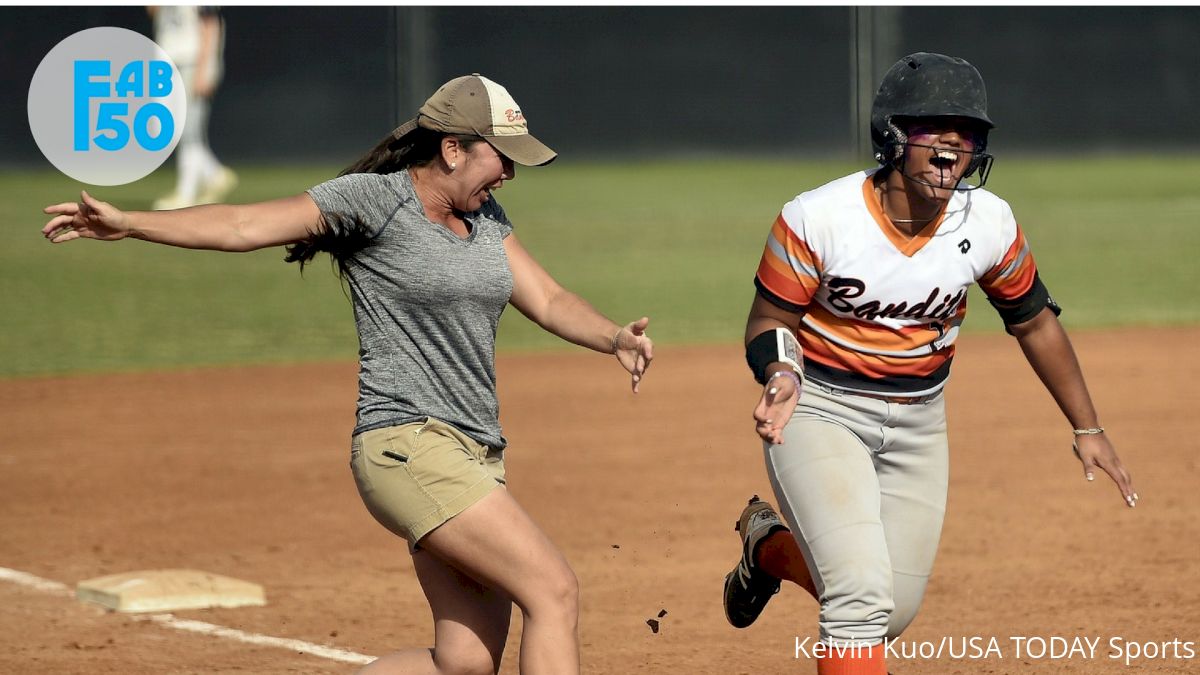 Unlock this article, live events, and more with a subscription!
Get Started
Already a subscriber? Log In
We wrap up our look at the top club teams across the nation by finishing the FAB 50 16U Rankings today.

Each day this week we unveiled 10 teams and conclude here with the elite programs ranked 10-1. Tomorrow, we list the "Next In" teams--those who are next in line to jump into the FAB 50 rankings when it's updated early in 2017.

The deciding factors in the ratings are team performances and results from the summer and fall along with the return of key players and the addition of talented new ones.

Information was acquired by the FloSoftball staff watching teams in person as well as input provided by club and college coaches.

if we've missed anything or you would like to provide input on your favorite teams and players, send your info/insights to: Brentt.Eads@flosports.tv.


***


10 - Oro Valley Suncats
Todd Judge's organization has become one of the best in the West, if not the country, and the 16U team joins the 18U team as making the FAB 50 Rankings. The organization has also expanded to California to field teams playing in major tournaments like PGF Shootout and PGF Ultimate Challenge. The 16U Suncats finished 7th at this year's PGF Nationals and also took 3rd at the Colorado Sparkler/Fireworks tourney. Top players to go through the Suncats include IF Alynah Torres (2019, Arizona State), who split time between the 16U and 18U teams last year; one to watch this year doing the same is SS/C Blaise Biringer, a 2020 Hot 100 honoree (No. 37 ranking) who will play shortstop on the younger team and catch on the 18U squad.


9 - Georgia Impact - Stewart
Jon Stewart's team finished 67-13 last year and won the 16U State championship as a 14U Team. The team lost its starting shortstop and key pitcher to injury before PGF Nationals but has come back strong this fall, winning the Scenic City Super Pool and another showcase. All but one player returns (pitcher Chandler Dennis, a 2019 Michigan commit), but the team has picked up two quality 2019 hurlers in Emily Buck and Blake Neleman, both whom were aces on their previous teams. Key returners are a trio of Hot 100 players--all in the Top 50: P Sara Mosley (2019, Georgia), OF Kinley Stewart (2019, Georgia Tech), OF EC Taylor (2019, Florida). Others to watch are MIF Maddie Perry (2019, uncommitted) and outfielders Jasmine Moore (2019, uncommitted) and Mariah Wicker (2019, uncommitted), who along with EC Taylor give the Impact four players who run 2.65 or faster. Grayson Cruce (2019, Georgia State) is a lefty power hitter of note.


8 - South Dakota Renegades
Last year, many club softball followers were asking, "Who are these guys?" as the Renegades marched to a 5th place finish at Boulder IDT and 2nd at PGF Nationals, just falling short to the Beverly Bandits in the title game 3-2. Coach Mike Mook's team won't be overlooked this year as the core of the team returns including P/3B Grace Glanzer (2019, South Dakota State) and C/IF Avery Wysong (North Dakota State) -- the only two committed players on the team -- along with P/OF Emma Hardin (2018, uncommitted) who had a home run in the PGF championship game. Glanzer is also one of the top hitters on the team, batting in the 4-hole, and has to be one of the top unheralded all-around players in the nation.


7 - Beverly Bandits - EK
It's unusual that one organization has two Top 10 teams in an age division, but the Beverly Bandits organization is so deep that's what we find with Bill Conroy's organization. Eddy Ketelhut's team is led by one of the top pitchers in the nation regardless of age as Montana Fouts (2018, Alabama) is a true ace who can carry a team on her back to a national championship. This summer, the Bandits finished 3rd at Boulder ID and made it to the quarterfinals of three events: DeMarini Invitational, Atlanta Legacy and Scenic City, but even without Fouts at PGF Nationals due to injury the team finished 9th. The team now has a great No. 2 hurler in Alex McManus (2019, Notre Dame), but the defense is strong and the offense very capable with a pair of Michigan commits in OF Lexi Voss (2019) and SS Morgan Overaitis (2018) along with other standout position players like 2B Avrey Steiner (2018, Illinois), C Gracie Voulgaris (2018, Maryland), OF Jayme Bailey (2018, Virginia Tech) and SS/C Ashley Prange (2018, Ohio State).


6 - Birmingham Thunderbolts - Dorsett
As a 14U team last year, Keith Dorsett's team took 3rd at the Atlanta Legacy in the 16U division, 3rd at the Colorado Sparkler/Fireworks 14U division and 5th at the PGF 14U Nationals. Moving up to the 16U level will be a challenge, but the Bolts are loaded with talent and should make the transition seamlessly. A quarter of committed returners will provide the spark in MIF/OF Carlee McCondichie (2019, Auburn), OF Maddie Majors (2019, Auburn), OF Brylie St Clair (2019, Mississippi State) and 3B Caitlyn McCrary (2019, Tennessee). Also, keep an eye on fast-rising 2020 lefty pitcher Shelby Lowe; the 5-foot-10 Hot 100 honoree is a workhorse who has drawn comparisons to Paige Parker of Oklahoma and is down to five schools: Mississippi State, Auburn, Florida State, Alabama and Tennessee.


5 - Texas Glory Naudin
Ed Naudin's team has finished in the Top 10 at PGF Nationals the last two years and is ready to take the next step to play on the final day. Along with a 13th placing at Boulder IDT, Glory is loaded with athletes who can play multiple positions and are experienced in big-game situations. The team has merged top players from 14U, some remaining at 16U and new pick-ups who will add depth. Headlining the 12 committed players is the No. 1 player in the 2020 class, SS Jayda Coleman (Oklahoma), who showed how she can take over a tournament when she hit 12 for 15 in seven games at the D9 tournament this fall. Other key players to watch will be C/IF Raylee Pogue (2019, Oklahoma), C Hayden Brown (2020, LSU) and P Chyanne Ellett (2019, Texas-Arlington), who has looked good this fall throwing a curve, screw and drop ball.


4 - Explosion - Greg
Coach Greg Borzilleri looks to have his best pitching staff yet and deepest unit yet and, coming off a 13th place finish at PGF 16U Nationals, that's saying something. Coming off another great year that saw 16 of the 19 rostered players commit to some of the top schools in the country and a summer run that also included a Top 5 finish in Boulder, Explosion has come out strong this fall winning the PGF Ultimate Challenge in Salinas, California and compiling a 6-1 record at the D9 showcase playing up in the 18U division With the departure of some top talent including some moving up to the Explosion 18U team, Explosion -- Greg still has a strong foundation returning with key returners like P Jenna Bloom (2019, Arkansas), OF Larissa Cesena (2018, Long Beach St.) 1B Kira LaScola (2018, Dartmouth) and SS Taylor Olsen (2018, Grand Canyon and 2019 Hot 100 3B Anissa "AJ" Alatorre (uncommitted) joining key pick-ups in P Miranda Stoddard (2019, Kentucky), C Val Pero (2019, Oregon State), the No. 9 player in the Hot 100, and 1B McKenzie "Tank" Barbara (2019, Ole Miss).


3 - East Cobb Bullets - Biele
The Bullets had an outstanding summer taking 1st place at Boulder IDT, finishing 4th at the USA Softball JO Cup, coming in 5th at TC/USA Nationals and tying for 7th at PGF Nationals. Even better, Andrew Biele's team returns 12 players and added some new ones to add talent and depth. It starts with pitching and the Georgia-based team has the best pitching staff in the country with four hurlers who are No. 1's on any other team: Kelley Lynch (2019, Auburn), Logan Caymol (2018, Tennessee), Angelina Biele (2018, Duke) and Chandler Dennis (2019, Michigan). The Bullets also added two strong power-hitting catchers in Jessica Morgan (2018, Georgia) and Gracie Osbron (2018, Tennessee). The best power-hitter on the team may be Felise Collins (2019, uncommitted) who had 19 home runs last year and runs a 2.76 home-to-first. Overall, the team has nine SEC commits, three ACC verbals and one player going Big Ten and with power and speed u and down the lineup has to be a favorite to go all the way in 2017.


2 - Beverly Bandits JT
The Beverly Bandits organization is so deep that it has three teams in the FAB 50 16U rankings and to the credit of Bill Conroy who oversees the operation, he doesn't stack all the top players in one team, but spreads the talent around so exposure and experience is maximized. Pitcher Meghan Beaubien (2017, Michigan), who led her 16U team to the PGF National Championship this summer, has moved to the 18U Cray Allen Bandits squad and the ball has been handed to P/1B Sydney Supple (2019, Northwestern), ranked No. 4 in her class's Hot 100. Supple and C/3B Hallie Hall (2018, James Madison) were key contributors at the corners at the title team and now step in as one of the top battery pairs in the country. Sydney, a left-hander, has stepped up her game to be a dominating ace as she showed at the PGF Shootout where she went 5-0 and allowed one run or less in all the games to help the Bandits take 1st place. Giving the team solid pitching depth are Sloan Gayan (2019, Kentucky) and Morgan Scivally (2019, Illinois). But as good as the pitching is, some feel this team could be one of the best hitting squads in the nation led by outstanding SS/2B Bailey Dowling (2020, Alabama) who is the No. 14 player in the 2020 Hot 100 and hit multiple bombs at the Shootout. The infield is strong on defense and at the plate with 2B Gabi Carra (2019, Wisconsin, No. 68 in the Hot 100), 3B Stormy Kotzelnick (2020, Washington, No. 42 in Hot 100) and 1B/3B Maeve Nelson (2018, Northwestern), who returns after missing much of the fall with a non-throwing shoulder injury. Mix in one of the best coaches in club ball, Jen Tyrell, who has already won a PGF National Championship, and you have a team that is strong at every position and is technically and mechanically sound.


1- Athletics-Mercado/Smith
The Athletics were such a dominant force at the 14U level in 2015-16 that the team won seven major tournaments including the PGF Nationals and the Colorado Sparkler/Fireworks Power Pool. Moving up to the 16U level this fall after going 87-7-2 last year, including a PGF run where the A's went 7-0 and scored 52 runs while giving up just one all week. The team hasn't missed a beat playing in four tourneys and taking 1st in three of the four: the TCS Dons Battle On, USSSA Phoenix Showcase and the TCS Fireworks NIT. The team plays well together with 15 players all returning and is a Who's Who of the top talent in club ball with nine players ranked in the Hot 100 of their respective classes. Head man David Mercado also rotates players so the talent keeps coming in waves. P Lexi Sosa (2019, UCLA), ranked No. 20 in her class (but sure to jump up in the next ratings update), was dominant in the circle and pitches to the No. 1 player in the 2019 Hot 100, C Kinzie Hansen (Oklahoma). C/UT Alyssa Garcia (2019, UCLA) cranked several bombs at PGF Nationals and is No. 6 in the Hot 100. OF Jasmine Perezchica (2020, Arizona) is No. 7 in her class and is the prototype speedy leadoff slapper who knows how to place the ball at will. The middle infield is outstanding with a pair of 2020s in Presleigh Pilon (LSU, No. 25 in Hot 100) and SS Destiny Noury (Oklahoma, No. 16 in Hot 100) manning the middle with infielder Seneca Curo (2019, UCLA) who has excellent range. Along with Garcia, power is provided by 3B Paige Smith (2019, Ole Miss, #62 in the Hot 100); P/DH Matalasi Faapito (2019, uncommitted); OF Kayla Edwards (2019, Army); 1B/OF Raeleen Gutierrez (2019, LSU, #34 in the Hot 100) and P/IF Hannah Kumiyama (2019, South Carolina). The secret weapon, however, could be P Shannyn Bustamante (2020, uncommitted) who has had the best ERA on the team this fall and leads the team in strikeouts. The team will play up at 18U for many tournaments, but you can bet that when it's time to compete for the 16U National Championships, David Mercado will have his team primed and ready to go.




Get Into Full Swing!
Sign up for the FloSoftball newsletter for instant access to: Breaking News, Live Streams, Original Documentaries, Technique Videos, Rankings, and more!