Faster2First: 12U All-Stars to Watch
Faster2First: 12U All-Stars to Watch
FloSoftball highlights Faster2First 12U all-stars to watch at the Myrtle Beach F2F event.
Dec 5, 2016
by Brentt Eads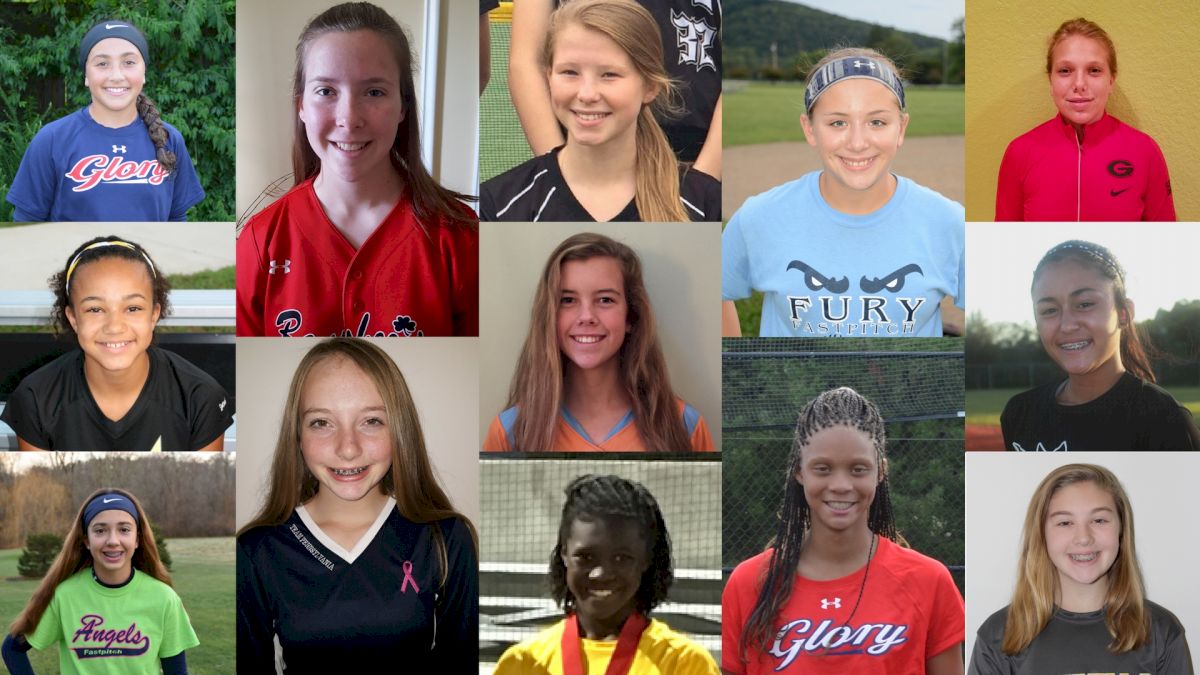 The Faster2First Player Showcase ("F2F") is this weekend in Myrtle Beach, South Carolina, starting Friday and running through Sunday afternoon.

Last week, we previewed the 14U All-Star Game and the great talent that will be there, including players committed to SEC and Big 12 schools (one player was just offered by an SEC power this week!). Today we look at the 12U participants in the other all-star competition.
These select players will be among the more than 200 attending F2F around the country--from as far away as California and New York--and will receive individual testing, analysis, and instruction as well as playing games which will be streamed live on Sunday on FloSoftball.
You won't want to miss seeing many of the top 2019, 2020, and 2021 players in the country!
The 14U and 12U All-Star games will be held at Coastal Carolina on Saturday, Dec. 10, with 25 players on each team. About 20 spots for each age division are filled, but 5-6 openings will be held for camp attendees who impress and will be invited to play in each game.
Note:
There are still some spots open for Faster2First; to register, go to
Faster2First.com
for more info.
Also, there will be a "F2F FAB 50" list of players who impress at the event as chosen by event staff and FloSoftball.
Here is the list of 21 confirmed 12U All-Stars with their position(s), club teams, and relevant notes…
*****
Dana Bell
Position:
P
Club Team:
Horsham Banshees
Noteworthy:
USA elite Select 30 invite; MVP of 11U USSSA World Series (2015); 5-foot-9 pitcher considered one of the top pitching prospects in the East; has played three years with the Banshees; has excellent movement and location; also plays the outfield.
Karley Beltran
Position:
3B
Club Team:
VA Glory-Willemssen
Noteworthy:
Virginia 2022 grad batted .438 this fall; led team to a 28-2 record in five tournaments (four championships, one runner-up); competed in the inaugural PGF 10U Nationals; Pony Nationals 10U East Coast champions; athletic player with power and speed.
Elon Butler
Position:
SS
Club Team:
California Suncats
Noteworthy:
The California standout is a great all-around athlete who, at 5-foot-7, can pitch and play shortstop; hit .523 with six home runs in the fall while recording 59 Ks in 41 innings; has the speed to beat out infield hits and power to hit 250-foot home runs; throws in mid-to-high 50s with good movement; her father, brother, cousin and uncle all played college football; mother played college hoops.
Samantha Derickson
Positions:
P/MIF
Club Team:
Team Phoenix
Noteworthy:
USSSA Elite Select Futures (2016); invited to USA Elite Select 30 All-American Camp; hit .481 with an on-base percentage of .455 this fall against 16U/18U teams; strong defensive player, knows how to get on base; also champion horse rider.
Genevieve Ebaugh
Positions:
P/UT
Club Team:
Angels Fastpich Elite
Noteworthy:
USSSA Elite Select Future All-American (2016); 2015 PONY Nationals runner-up; 2022 grad who competed this fall at 16U level hitting .375 with .432 OB; led team in hits and runs scored; has six pitches including excellent curve and riseball; plays field hockey and basketball.
Madelyn Edwards
Position:
P
Club Team:
VA Glory - Willemssen 12U
Noteworthy:
Great power, has hit several over-the-fence home runs including three with Firecrackers-San Diego prior to joining Glory in August; great bat speed and athleticism for being 6-foot; cancer survivor and battler on and off the field.
Kyra Fischer
Positions:
P/IF
Club Team:
Pitbulls Fastpitch
Noteworthy:
Pitches and can play any infield spot; hit .400 with .455 OBP for her middle school; has good speed and excellent offensive and defensive skills; also black belt in karate.
Kirsten Fleet
Positions:
P/1B
Club Team:
Carolina Elite
Noteworthy:
USA Elite Select 30 All-American; 2023 grad was 11 USA Elite Select Futures All-American; played in PGF 10U Nationals; works with pitching instructor Denny Tincher; throws four pitches well: fastball at 60 mph, curve, drop, and change.
Jasmine Hall
Position:
SS
Club Team:
Lady Blues Elite
Noteworthy:
Played in top tournaments such as Atlanta Legacy, Scenic City, and D9 Sun Classic; hit .459 with a .522 OBP and 1.112 OPS with 27 steals in the 14Y and 16U age divisions; possesses power and speed at the plate with a strong arm and glove in the infield; in 287 at-bats only had nine strikeouts this year.
Karlee Hughes
Position:
SS
Club Team:
VA Glory-Willemssen
Noteworthy:
Batted .455 in six tournaments this fall; versatility is her strength a she can play every position except catcher; four-sport athlete who also shines in volleyball, basketball, and club soccer (was invited to participate in U.S. soccer training).
Madison Inscoe
Positions:
P/UT
Club Team:
Elite Fastpitch of Virginia
Noteworthy:
2015 USSSA Elite Select 10U national champion; 2012-13 NSA Virginia state champion; 2012 NSA World Series top three finisher; three-sport athlete who can play any position in softball; has good velocity, movement, location, and ability to change speeds; works with pitching instructor Rita Lynn Gilman.
Amiya Johnson
Position:
C
Club Team:
Vienna Stars 05
Noteworthy:
Lefty catcher who has recorded two-second pop time and at the plate can hit with power from both sides; also good speed: though just 11 years old can run a 2.95 home to first; willing to run through the fence to catch a ball and offensively can hit with power from both sides.
Emma Langston
Position:
P
Club Team:
Georgia Impact - Langston
Noteworthy:
Placed third at PGF Nationals in 2015; playing mostly up at 14U this fall, had 47 Ks in 49 innings with 1.60 ERA and only 16 walks; throws in mid-to-upper 50s with an excellent screwball, curve and dropball; also throws change and riseball; standout basketball player as well.
Jesiana Mora
Positions:
SS/C
Club Team:
Wagner's Gold -- Rodriguez
Noteworthy: USA Elite All-American; tournament Defensive MVP at USA Elite Tournament and top 30 player at 12U All-Star; USSSA World Series 14U champions; hit .478 with .600 OPG; excellent glove and arm strong with speed on bases; switch hitter with power.
Olivia Packard
Positions:
C/P
Club Team: Fury Fastpitch '04
Noteworthy: strong catcher with a sub-two second pop time and in the circle has a strikeout-to-walk ration of nearly 3-to-1; last season went 22 innings without walking a batter; career .371 hitter who hits to all fields; also runs cross country.
Hannah Pollack
Positions:
3B/P
Club Team:
Pitbulls Fastpitch
Noteworthy: New Jersey 2022 grad is a versatile player with excellent offensive and defensive skills; switch hitter with power who can slap and bunt for hits; in the circle throws seven pitches for strikes; excellent speed and willing to do what it takes to excel.
Abby Quickel
Position:
SS
Club Team:
Team Pennsylvannia
Noteworthy:
Played on the Pittsburg Riot team at 10U that was ranked No. 1 in the nation in the USSSA Power Ranking two years ago; this year put ball in play or walked in 85 percent of at-bats, mostly playing 14U level; hits for high average, has speed, quickness, and range on defense.
Madison Seidel
Positions:
P/C
Club Team:
Banshees Fastpitch
Noteworthy:
Pennsylvania standout has batted over .600 the last three years and was the Defensive MVP of 11U nationals team that went 8-2 (pitched all 10 games) and finished second overall; does pitching/catching workouts with Jaime Wohlbach; great work ethic and passion to improve.
Christina Willemssen
Position:
OF
Club Team:
VA Glory-Willemssen
Noteworthy:
Played on the 10U Pony Nationals champions and was in the inaugural PGF 10 Nationals; fearless outfielder with savvy baserunning skills; also pitches and is unflappable on the mound.
Mia Williams
Position:
SS
Club Team:
Georgia Impact-Langston/Wagner's Gold Rodriguez
Noteworthy:
Both of Mia's parents were pro athletes--her father, Jason, is a former NBA player and her mother ran track professionally (both attended the University of Florida); started playing varsity in the sixth grade and has competed at PGF Nationals; already getting interest from SEC and PAC 12 schools.
Emily Winstead
Position:
P
Club Team:
Carolina Cardinals 03
Noteworthy:
Workhorse who this year played a combination of 12U and 14U; pitched in 61 games with 42 starts; compiled a 2.37 ERA with 256 Ks and limited opponents to .201 batting average; nicknamed "Big Papi," among strikeout leaders at World Fastpitch Championship (2016).