Back in September, the National Fastpitch Coaches Association selected Michael Lotief, head softball coach at the University of Louisiana at Lafayette, as the recipient of the 2016 Donna Newbury Perseverance Award; recognizing him for his demonstration of strength and character in the face of adversity.

And he more than deserves it.

As either head coach or co-head coach of the Ragin' Cajuns (16 seasons overall), Lotief has advanced to the NCAA tournament every season. He's a 2016 ASA/USA Louisiana Softball Hall of Fame inductee, having led his teams to over 40 wins every year. He's recorded eight seasons with 50-or-more victories, and a school-record 60 wins in 2004.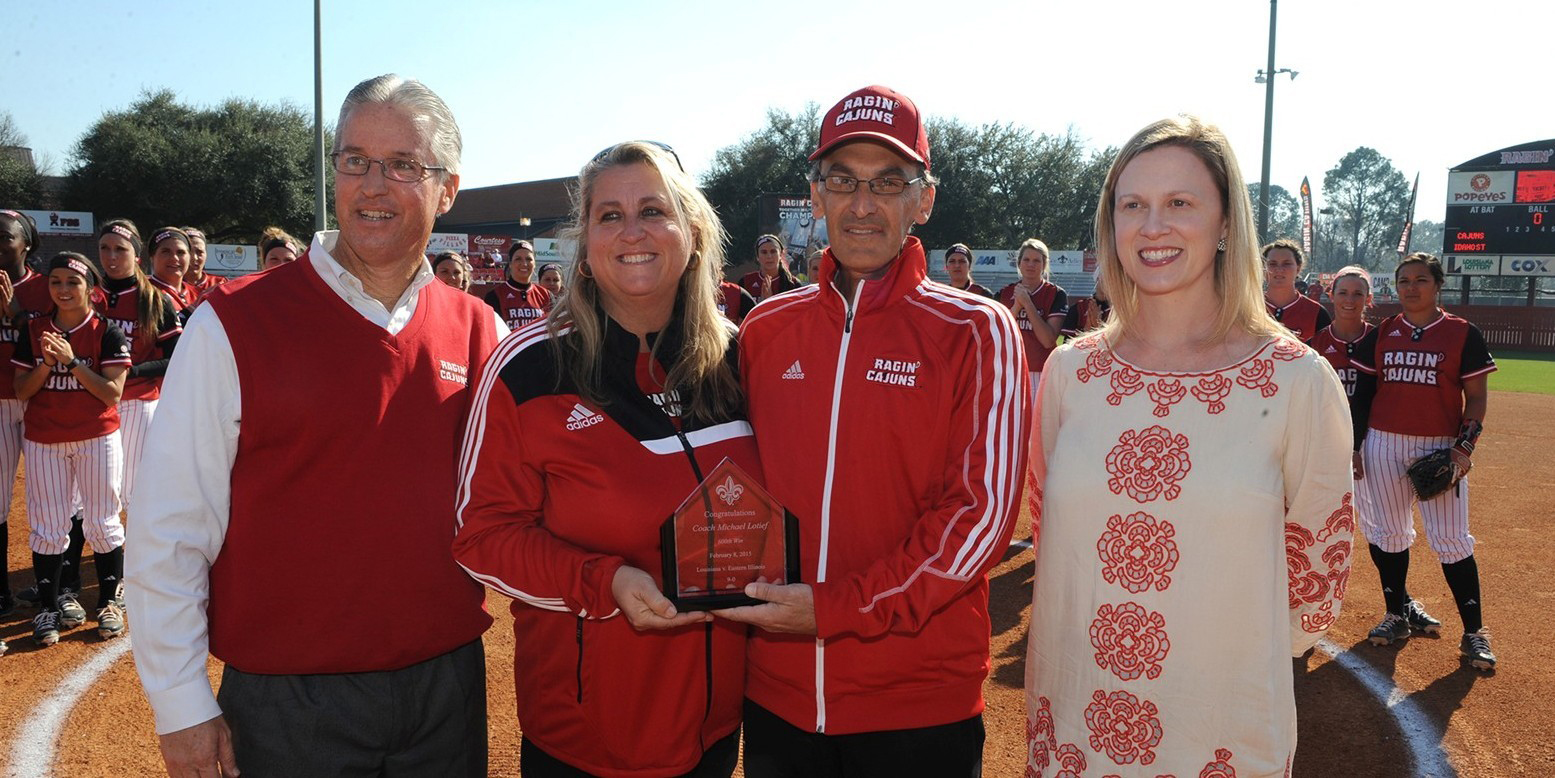 His Cajuns are always in the running during the postseason as nation-wide fan favorites, and they've become a true contender in the world of Division 1 softball. A game at Lamson Park is unlike any other in the country; and it's because of people like Coach Mike who have made it into the powerhouse it is today.

His reputation as a head coach is nothing short of impressive. But it's even more impressive when you consider his health. In 1983, he was diagnosed with throat cancer, which he's battled throughout most of his adult life. And in March of 2015, he fought bouts of serious infections. He was hospitalized (missing a conference series on the road), but was back on the field two weeks later.

Instead of taking time off the field like many expected, he's taken steps to make sure he doesn't have to leave anytime soon. In October of this year, he became the first patient in the country to receive the ProTrach DualCare, a state-of-the-art tracheotomy valve that will allow him to speak more easily and comfortably. He more than exemplifies what it means to persevere, and I couldn't wait to write a piece about it.


Give Credit Where Credits Due
As a Louisiana native and a former college softball player, I've always seen Coach Mike as a sort-of hero. The park, the fans, the atmosphere down in Cajun country… it's something special. "This article is going to practically write itself", I thought. I emailed my pal Matt Hebert, Louisiana's SID, and scheduled a phone interview. With my questions neatly written on a legal pad and my voice recorder queued on my laptop, I was ready to hear the secret to passion and perseverance right from the horse's mouth. But as the phone rang, I suddenly remembered a very important detail:
Coach Mike doesn't like to take any credit for his success.
Ever.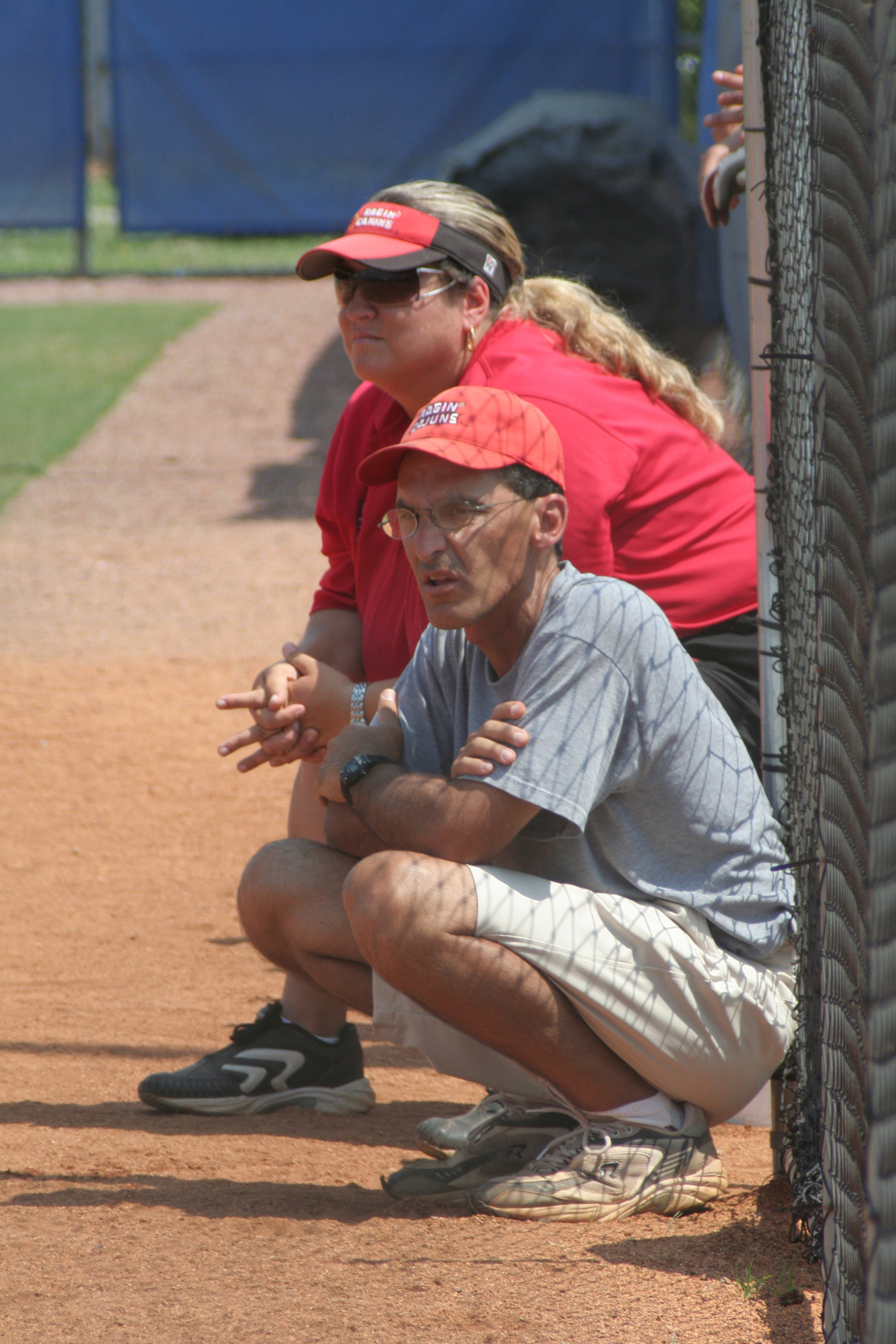 He's too humble; crediting everything to his faith, family, and friends. But for the most part, he gives some serious props to one person. A person that, according to him, has been the true driving force behind the Cajuns' prowess; someone who has been working tirelessly over the years to ensure the success of the program and the girls that play for it. It's always been "her party", he said. "She mapped this out from day number one."
And that person is his wife, Stefni.
Stefni Lotief serves as the Director of Development for the Ragin' Cajun Athletic Foundation, working to ensure the success and well-being of all Ragin' Cajun student-athletes. But to truly understand the journey that Mike, Stefni, and the Louisiana softball program have taken over the years, we have to go back to the late 1980's. Stefni was donning Louisiana softball gear long before Mike was. And that's because she was a Ragin' Cajun herself.
Stef (known at that time as Stefni Whitton) was a pitcher under Head Coach Yvette Girouard (the future head coach of the very successful LSU Tigers.) And it would be an injustice to Stef if I didn't hit you with some of her stats…because she was THAT GOOD.
She garnered 78 victories in the circle, ending her career with a 0.66 ERA (2nd on the all-time list). And those 78 wins still stand in the top five in the school's history. Stef was also the program's first ever All-American, earning the prestigious title in 1989. She was also named the GTE Player of the Year in 1990. And it was during that time when she met her future hubby.
"I'm sure my version is very different than his," she chuckled. "I'll say he harassed me until I agreed to a date, but he'll say I was absolutely smitten with him. But we met while he was producing a local sports show. He was just out of college and I was still playing. He came to do an interview at the field, and the rest, they say, is history."
Stef's love for the sport and her community was evident, even during her playing days. Long-time Louisiana SID and Lafayette resident Dan McDonald recalls witnessing that love during his time with the Cajuns:
"It all started back when Stef was playing for Yvette," said McDonald. "All the younger girls just gravitated toward her…one, because she was so good; but two, because she was just nice to be around. Her love for this game and those kids was so big, even back then."
Career Detour
While they still were involved in youth leagues around the area at the time, both Stef and Mike pursued careers outside of the softball arena. Mike earned his Bachelor's degree from the University of Louisiana at Lafayette in 1985, his juris doctorate from LSU in 1988, and then opened his very own law practice in 1992. Yep. He was a lawyer.
Stef earned a Master's degree in business and began working as an executive. They both flourished in their respective careers, but it didn't take long for both to dedicate most of their time to softball in the Lafayette area.
Quite frankly, the sport was changing rapidly across the country. It was the mid-90's; and the SEC and Big XII added the sport of softball, opening up a whole new realm of options for players nationwide.
"The landscape of the sport changed," said Coach Mike. "Instead of 10 or 15 schools competing to be a national power, all of a sudden, there's 50 or 60 schools in the mix. And in the blink of an eye, those kids from Texas and California, places like that, weren't going to end up here anymore. They had more options."
Stef noticed the transition and decided to act. She and Mike started coaching two competitive ASA summer softball programs -- the LA Reflections and the LA Image. During their tenure, the Reflections would win five consecutive state championships and make five national tournament appearances. The also won the AFA 18U National Championship in 2000. Over 20 high school players that they coached would go on to receive Division I scholarships. But the Lotief's didn't stop there; because the sport of choice in Cajun country was still (believe it or not) slowpitch.
"Even though we had a college team in Lafayette that was nationally ranked, they were still playing slowpitch in the city's recreational leagues," said Coach Mike. "There was no fastpitch around here."
Dan McDonald can still remember the divide within the sport. "For several years, there were basically two state championships -- one fast and one slow," said McDonald.
"But there was virtually no place for a slowpitch player to go after high school. Eventually, the slowpitch option withered away, and Mike and Stef had a lot to do with that. I credit them for being the impetus of the now really competitive high school and youth fastpitch teams. Those weren't always here, and they're a big reason why."
Vision
But to hear Coach Mike tell it, he was just along for the ride. "This is Stef's vision," he said. "She put this plan into place when we started building the travel teams and feeder programs. And she kept doing the little things day in and day out so little girls in our community could play fastpitch. She met with the Mayor, the City Council and recreational boards, organized camps, all that. She did it from the ground up, and I watched her do it."
Fast forward to the year 2001. After a highly successful stint as head coach, Yvette Girouard left Louisiana to take over at LSU. And it didn't take long for the administration to select exactly who they wanted to take Girouard's place.
"Stef was the obvious choice," McDonald said. "Of course, she had other options. She was doing other things. But softball is where her heart was, and the program could only benefit with her at the helm."
Pregnant with their second child, Stefni Lotief officially took over as head coach later that year. Her hubby also joined the ranks, as a non-paid volunteer assistant.
"Honestly, the timing of Yvette leaving couldn't have been any worse," said Coach Mike. "Stef was pregnant. My dad's health was failing. It was the worst time possible. And they asked her to do it for twenty-something thousand…but she stepped right in. Stef could've done anything with her life…could've made a ton of money. But she never blinked. I can still remember exactly what she said in her introductory press conference. She said that our vision was to go to the World Series, and to go now."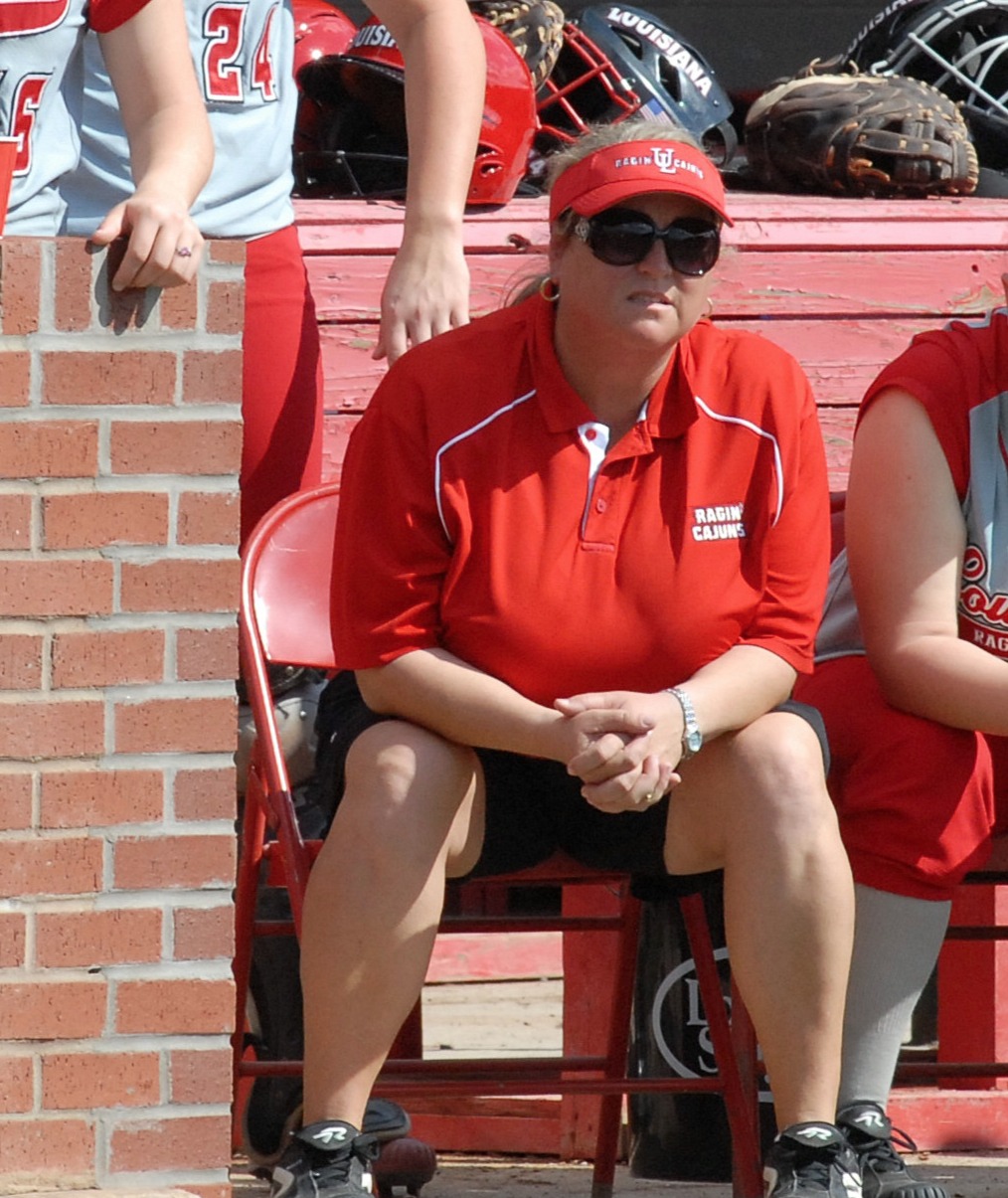 And guess what? They did exactly that. In fact, they did it twice.
The squad made eight NCAA Regional Championship games, three Super Regionals, and two Women's College World Series appearances, becoming the university's most successful program at the national level. Coach Mike came on as co-head coach in 2003, combining his famous hitting philosophies with Stef's one-of-a-kind experience in the circle. Under their leadership, the Cajuns flourished for over a decade. But they also made huge strides off the field, impacting Ragin' Cajun Athletics in areas besides the win column.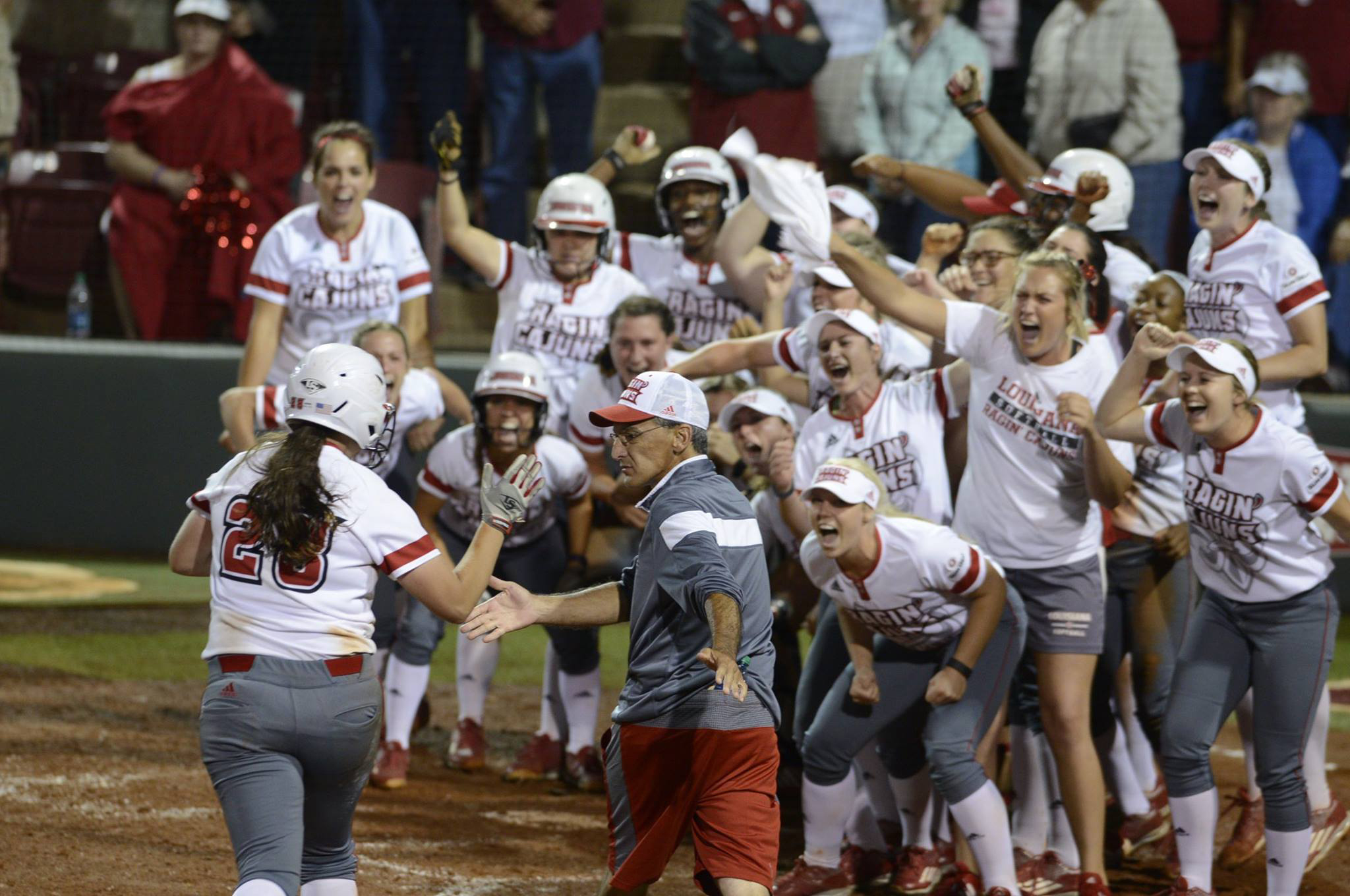 After their countless hours of public promotion and efforts to raise money, Lamson Park went through a $2.1 million renovation from 2007 to 2011; helping it to become the gem you see today. With a new covered grandstand, three private luxury boxes, a 50-seat Stadium Club, and seating beyond the outfield fence, Lamson Park can hold up to 2,790 people. The Ragin' Cajun Athletics Department also oversaw the construction of the Leon Moncla Indoor Practice Facility. Equipped with an artificial playing surface and drop-down batting cages, it sits right next to the field. (Take it from someone who's been there…this place is HUGE.)
Coach Mike still marvels at his wife's indefatigability, as she is constantly attempting elevate the experience for the young ladies who wear the Cajun uniform:
"Stef's personality and relentlessness brought so many people together in this effort," said Coach Mike. "Take a look at this program so many years later, and what do we see? A new stadium, new lights, a state-of-the-art indoor facility…What she's been able to do is amazing, and it's because she's doing what she loves."
And in her true humble fashion, Coach Stef says that she was only a facilitator for the love that is Cajun country:
"It was a grassroots effort from our community and administration," said Stefni. "The President of our University fully stepped forward and allowed us to continue growth. And our fans got behind us and supported in every way they could. From the investment in our new stadium and hitting facility, to buying season tickets…so many people gave us the tools to continue to be successful. I know where their hearts are, and it's amazing."
Stef truly made a mark at the helm of the UL softball program, garnering a 604-145 career record (which is good enough for one of the best winning percentages ever).
Under her guidance, the Cajuns won the regular season Sun Belt Conference Championship every year except one. She is a seven-time winner of the Sun Belt Conference Coach of the Year award, and a five-time winner of the Louisiana Coach of the Year award.
But in 2013, Stef decided to step down as head coach, handing the reigns to her husband. It came as a surprise to some, but they knew she couldn't (and wouldn't) go very far. That same year, Stef joined the ranks as an administrator in UL's Athletic Department. And it would be hard to find someone better suited for the role.
"Stef knows how to fix stuff, how to invest," said Coach Mike. "She did it because that's who she is and what she loves. What she's been able to do as a player, as a coach, and now as an administrator. This is a woman who had courage to see problems and go fix them. That's my wife and she's just amazing."
Coach Mike took over with Stef close by, and the Cajuns never missed a beat. A year later, they went to their sixth Women's College World Series, defeating national powers Texas and Arizona to reach Oklahoma City.
And last season, he steered the program to a third-straight national seed in the NCAA Tournament, hosting regionals at Lamson Park. The feat was their fifth straight NCAA Super Regional appearance and a fifth straight Top 15 finish in the final polls.
Adversity
The ladies in Vermilion kept on winning, despite obstacles that could've stopped other teams in their tracks: from the proverbial passing of the torch to Coach Mike's life-altering illness. But that obviously didn't stop the squad, and it especially didn't stop Coach Mike.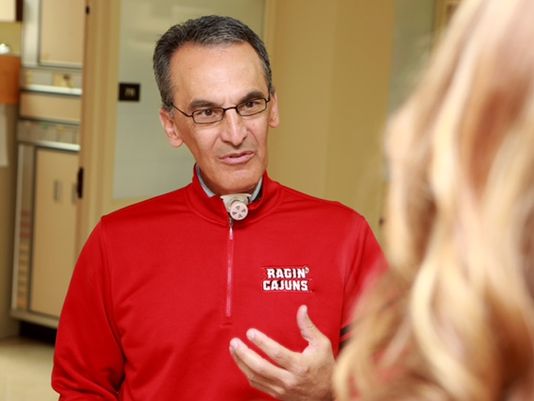 "He hasn't let his illness slow him down," McDonald said. "It's because he's flat-out passionate. He could've easily taken time off to get better, but I think softball is exactly what kept him going."
"I think my husband has been an inspiration to a lot of people," said Stefni. "No matter what he was facing at the time, he was still so dedicated to these girls and their dreams. And it's been very humbling to see how he's handled it. He's my best friend."
It's obvious that the young ladies of the Louisiana softball program see literal #RelationshipGoals on a daily basis. But even more than that, they see how to become well-rounded young adults. The Lotief's passion for Cajun Nation extends way beyond the diamond. They truly care about others, and it's evident in their daily routines.
"It's been a dream come true to be here with these young ladies," said Stef. "Wherever their paths may lead them, I know they have a good base to understand what being a part of a community and a team really means. And that will translate into success in their lives. They'll know what it really means to make a positive change, and that's all I could ever ask for."
The age old saying goes, "Behind every great man, there's a great woman." But in Lafayette, this man and woman are walking side by side.
And it's all for the love of the game.
---
*Author's Note: I'm so honored to write this piece on the Lotief family.
Coach Mike and my dad were childhood friends, spending many summers together in Lafayette. My dad's first cousin Gerald lived in Cajun Country, right next door to Mike. And every summer, my dad would spend a few weeks there, since they were all around the same age.
My dad always recalls his summers there with a shake of his head and a smile. "It's a wonder we didn't burn down the whole city with our shenanigans", my dad told me once. (Louisiana boys can always find trouble, no matter what part of the state they're in.)
They have remained friends over the years. My dad respects Mike and Stefni immensely, and was deeply inspired by their success. And I honestly think that inspiration is what prompted him to drive to S&S Sporting Goods on a windy fall afternoon in 2002 and purchase a bucket of softballs. He pulled up at home in his white F-150, he jumped out of the truck with a smile and asked, "Wanna try and learn to pitch?"
And the rest, they say, is history.
Thank you, Coach Mike and Coach Stef.
Follow Kati on Twitter @MorseCodeRed & Instagram