2018 WBSC World Softball Championship
Outties Anthem: Why The Outfield Matters Most
Outties Anthem: Why The Outfield Matters Most
Team USA outfielder and former Alabama standout Haylie McCleney explains why the outfield matters most.
Feb 16, 2017
by Haylie McCleney McCleney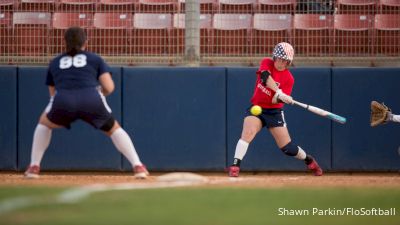 Haylie McCleney is fresh off being selected to the USA National team. She's entering her second season in the National Pro Fastpitch League after four standout seasons as an outfielder at Alabama and being drafted 13th overall by the USSSA Pride and now playing for the Texas Charge.
---
Growing up, I was always one of the most athletic kids on my softball team. In tee-ball, I was a shortstop; in coach-pitch, I was a first baseman. I never touched the grass when I was younger, because I thought all of a team's best players were in the infield.
Every little girl's dream is to play shortstop. At least that's how it was when I was growing up.
There were just a couple of problems with me being an infielder:
I am left-handed.
I was the smallest kid on my team.
Fast forward to when I was moved to the outfield as a 12-year-old playing for the Birmingham Vipers in 2006. Up to that point, all I knew my whole life was that the best players are always in the infield. The competitor in me told me to work harder to earn a spot with the most talented girls on the team. It was my understanding that if you play in the outfield, you're a misfit -- a lost cause.
Everyone on the dirt is better than everyone in the grass. I was feeling like I wasn't good enough. I imagine a lot of other little "misfits" out there feel the same way.
But boy was I wrong.
Being moved to the outfield at such a young age was honestly the best thing that could have ever happened to my softball career, and I bet you my coaches at Alabama would tell you the same thing. I feel like I developed all of the instinctual qualities an outfielder should possess so much earlier than anyone else, and it helped me tremendously in college.
It is frustrating to me that young outfielders, even college outfielders, are nothing but shortstops or second basemen that think, "I'm not good enough to be in the infield, so coach moved me to the outfield."
WHY DO YOU FEEL LIKE THAT?
Outfielders are the last line of defense. They are a vital, integral part of every team. They can make you, and they can definitely break you.
The ball may not be hit out to us as often, but when it is, doesn't it feel like everything is on the line?
As outfielders, we make our pitchers look good (and yes, you can tell your pitcher I said that). We give the pitcher confidence that if they make a mistake, it's OK because we have her back.
Outfielders know and understand pressure and adversity. We throw people out at home. We rob home runs. We dive in the gap even if no one is backing us up. We deliver accurate throws to our cutoffs. We keep things in front of us.
But when we DON'T make plays… EVERYONE notices. After all, when an outfielder makes a mistake, it's not just one base that the runner gets -- it's probably two as well, sometimes even three extra bases. Knowing that, as a coach, why would you not put your most reliable, athletic players out there?
I was always told in college that pressure is a privilege. So why would anyone NOT want to be an outfielder? It's a privilege to be that last line of defense. Age does not matter in this either.
Outfielders are important from tee-ball to professional ball, and they should be treated as such. Coaches, please let your outfielders know how important they are to the team. Current outfielders, appreciate your role. You're one of the most important positions out there on that diamond.
Outties,
We are the rock.
We are the backbone.
We are the true athletes.
We are important.
WE MAKE PLAYS.
Don't you ever forget that.
Related:
An Open Letter From Haley McCleney To Herself
Haylie McCleney's New Year's Softball Resolutions
Get More From FloSoftball!
Sign up for the FloSoftball newsletter for instant access to: Breaking News, Live Streams, Rankings, Technique Videos and more!