Oregon Softball is the last undefeated team in Division I college softball at 24-0.

Oregon swept the Oregon Invitational over the weekend facing weak opposition. Meanwhile, the only other undefeated team in softball, the Minnesota Golden Gophers, lost twice to Washington.

The road warriors from Minneapolis had a much tougher weekend traveling to Seattle to play a very good Huskies team. It was also their fifth out-of-state tournament to start the season.

Meanwhile, Oregon played Pacific, Idaho State, and Hofstra this weekend in Eugene. And, the only ranked teams they've faced this season are Missouri and Kentucky.

The question for the rest of the season is whether the Ducks are capable of winning their first National Title this year.

Since Oregon has played a light schedule this season, we want to see more from the hot-hitting Pac-12 leaders when they start conference play.

That begins this weekend when Oregon hosts No. 19 California. Then, they have a big road test the final weekend in March when they face #21 Utah.


Oregon Gets Some Respect; Glass Ceiling Remains

In last week's USA Softball poll, Oregon ascended to No. 3 in the country. This followed their road trip to Missouri to beat a ranked SEC school twice by a combined score of 17-5.
This week in the poll, the Ducks remained #3 behind Florida and Florida State. It's unlikely Oregon will reach the No. 1 spot on their own; they are dependent on the Gators and Seminoles slipping up in conference play.
Over the weekend, the No. 1 ranked Gators took care of Missouri in their first SEC series. And, the Seminoles wiped out Virginia Tech in a road trip to Blacksburg to improve to 6-0 in ACC games.
Oregon is going to have to prove themselves in Pac-12 games because the voters have not seen enough from the last unbeaten team in major college softball.
The Ducks are also going to need to continue getting great pitching from their three-headed monster of starters.
Oregon Has Great Pitching & Hitting Balance
Because of the schedule, it's tough to truly evaluate Oregon's hitting and pitching this season. But, they are very balanced, especially in the circle.
Oregon features a pitching combination of Megan Kleist (8-0), Maggie Balint (11-0), and Miranda Elish (5-0). Kleist has started 10 games, Balint 7 games, and Elish 7 games.
All three bring different strengths to the circle. Kleist has a miniscule 0.77 ERA, Balint has a team-high 86 strikeouts, and Elish has only allowed one home run this season.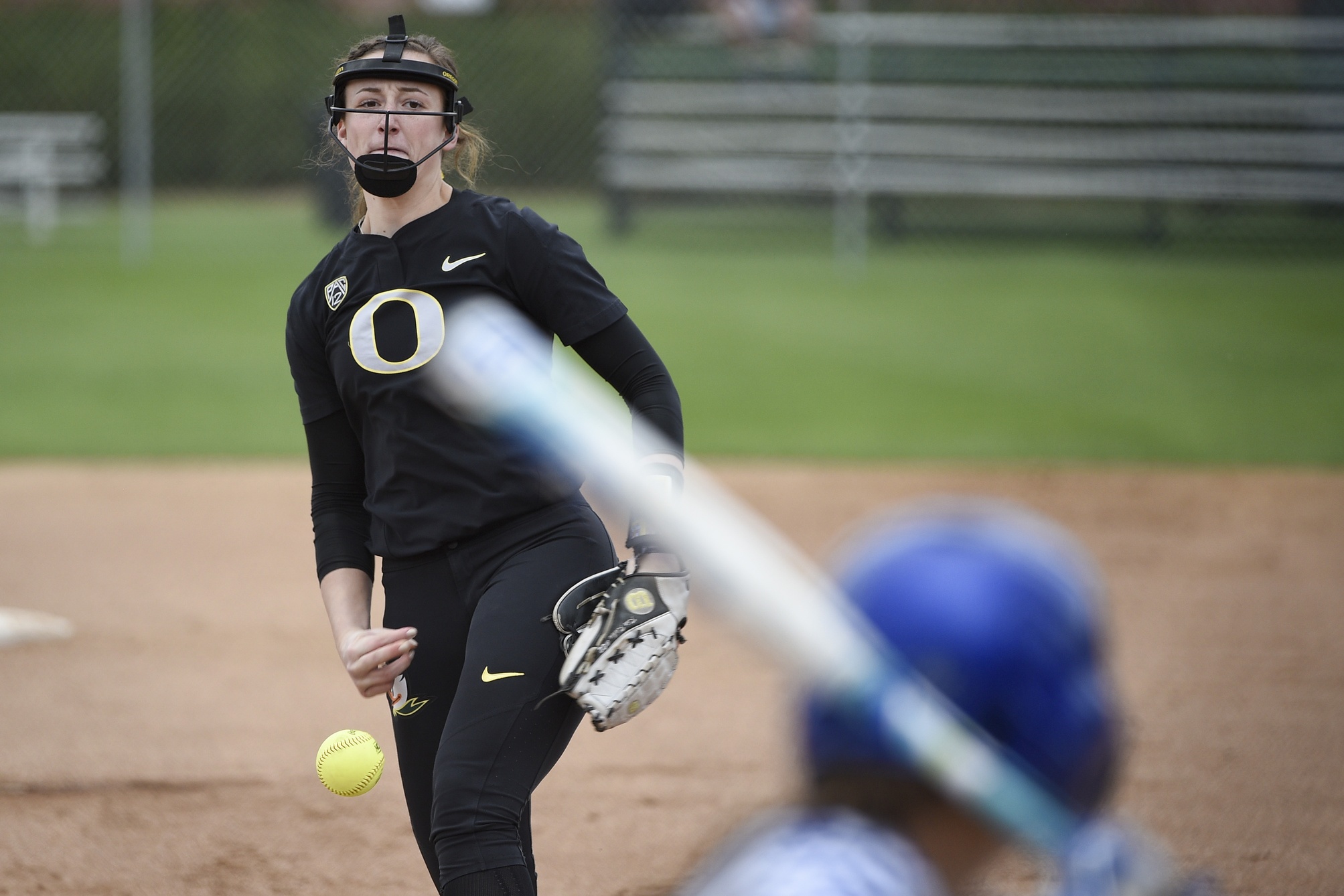 This adds up to a Top 10 pitching staff in the country. But, when it comes down to postseason play, will one of the three be a dominant ace like Delanie Gourley of Florida?
Kleist is the leading candidate because she has only allowed 6 earned runs in 54 innings pitched. And, she has only given up 5 extra base hits this season. So, opposing teams are only getting singles against her, preventing big rallies.
As for the hitters, Oregon is batting .384 on the season, which is #3 in the country behind Southern and Georgia. They also draw a lot of walks, which has translated to the #1 on-base percentage in the country of .482.
The Ducks are led by power hitter Nikki Udria, who has a team-high 6 HRs and 29 RBIs. Udria is hitting .473, she has a .557 on-base percentage, and her slugging percentage is through the roof at .770.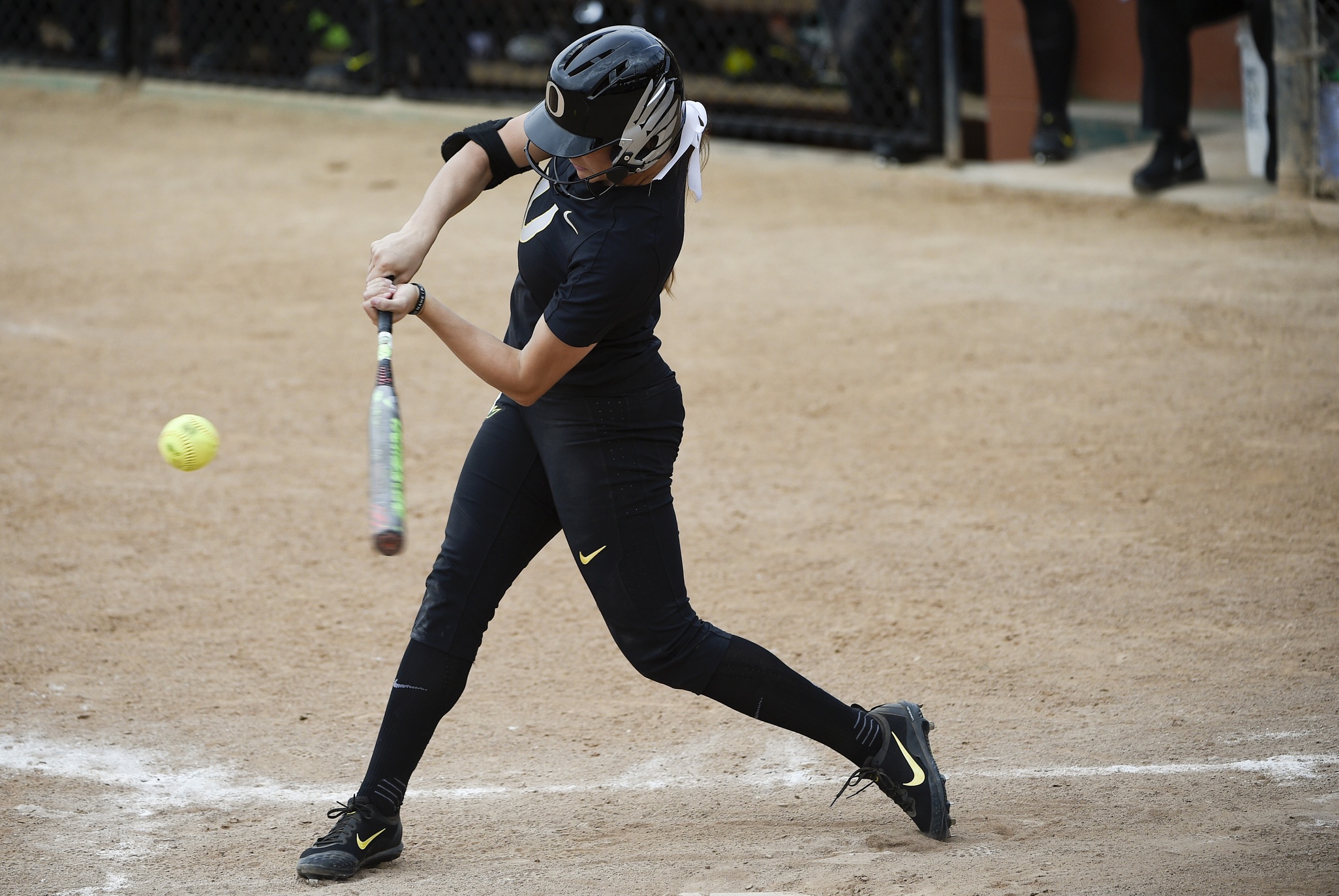 Then, there is Danica Mercado, who gets a hit every other time she records a plate appearance. Mercado is hitting .493 with a team-high 30 runs scored.
Again, though, we want to see how Oregon's pitchers and hitters fares in tougher competition against Pac-12 teams.
There is one concern through the first 24 games, though. It's the same as the last unbeaten at the NJCAA college softball level, the Butler Grizzlies.
Oregon Needs To Clean Up Fielding
The Ducks rank No. 48 in the country in fielding percentage at .970. They are averaging nearly one error per game, which could haunt them in Pac-12 play or if they make a run in the postseason.
Whereas, the top-ranked Florida Gators are also the No. 1 team in fielding percentage. Florida's fielding percentage is nearly perfect at .992. They have only made five errors the entire season, which means they are not going to beat themselves. You have to beat them.
If Oregon wants to compete against the best teams in the country trying to win their first-ever National Title, they need to prove themselves against tougher competition and clean up their fielding.
Like What You See?
Sign up for the FloSoftball newsletter for instant access to: Breaking News, Live Streams, Technique Videos, Rankings and more!