It's a great time to be an Arizona Wildcats softball fan.

Mike Candrea's team is 26-1 and ranked No. 4 in the FloSoftball College Rankings heading into this weekend's trio of games in Corvallis, Oregon against fellow Pac-12 foe Oregon State.

Their only loss was a 1-0 nail-biter against then No. 1 ranked Florida State at the Mary Nutter Classic three weeks ago. Now, the Wildcats are clicking on all cylinders with great pitching (collective ERA of 0.83) and hitting (.350 team average).

The team has won 11 straight and just wrapped up a five-day trip to Southern California that saw them go 8-0 against non-conference opponents including Oklahoma and Long Beach State.

There's a great blend of experience and new talent on this year's team, ranging from National Pitcher of the Year candidate Danielle O'Toole (who is 13-1 with a 0.65 ERA) to super freshmen like Dejah Mulipola, the starting catcher who is second on the team with a .438 average (she leads the Cats with 31 RBI). You can't leave out Jessie Harper, an infielder who is batting .366 and is tied for the team leader in home runs at 8 with Mulipola and Katiyana Mauga.

One big reason the Wildcats are poised to make a deep run in the NCAA Div. I playoffs this year is because of many other contributors who have stepped up when needed. The Pac-12 powerhouse has benefitted from a deep line-up of talent as well as roster that some close to the program are saying is as tight-knit as it has been in years.

Two of those adding to the Arizona success have been sophomore utility player Tamara Statman, also known as "T," who hit a two-run homer to help beat defending National Champion Oklahoma 4-3 this week, and senior pitcher Michelle Floyd, who got her first start of the season last Saturday and threw a perfect game against Hartford on to be named Pac-12 Pitcher of the Week.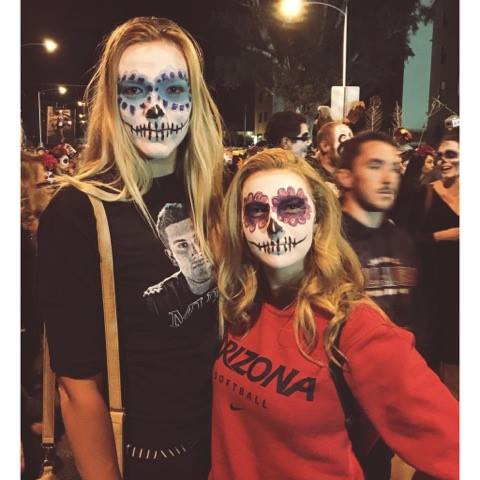 What's unique about this duo is they are the best of friends on and off the field even though they look more like big sister/little sister as the 6-foot-3 Floyd towers over her friend by a foot.

"I'm 5-foot-5," Statman begins before admitting, "Well not really, I'm probably like 5-foot-3 but in cleats on concrete I'm totally 5-foot-5!"

Floyd was Arizona's ace in 2015 when she recorded 19 wins and led the team with 135 strikeouts and 183 2/3rd innings as the Wildcats won 41 games and made it to the Super Regionals.

Last season saw the transfer in of O'Toole, who led the Pac-12 with 26 wins, and the entrance of Taylor McQuillin, the two-time FloSoftball All-American and 2014 Gatorade National Player of the Year who would earn 3rd Team Pac-12 honors.

Floyd's innings decreased significantly, but her support of the team never wavered and she helped out by taking Statman under her wing and helping her acclimate successfully into the tough Pac-12 competitive scene.

As a freshman in 2016, Statman started 55 games as the Wildcats' designated player and hit the game-winning single in an eight-inning win over Tennessee to help Arizona win the Knoxville Regional. This year, she has started 23 games and is batting .347 with a .460 on-base percentage.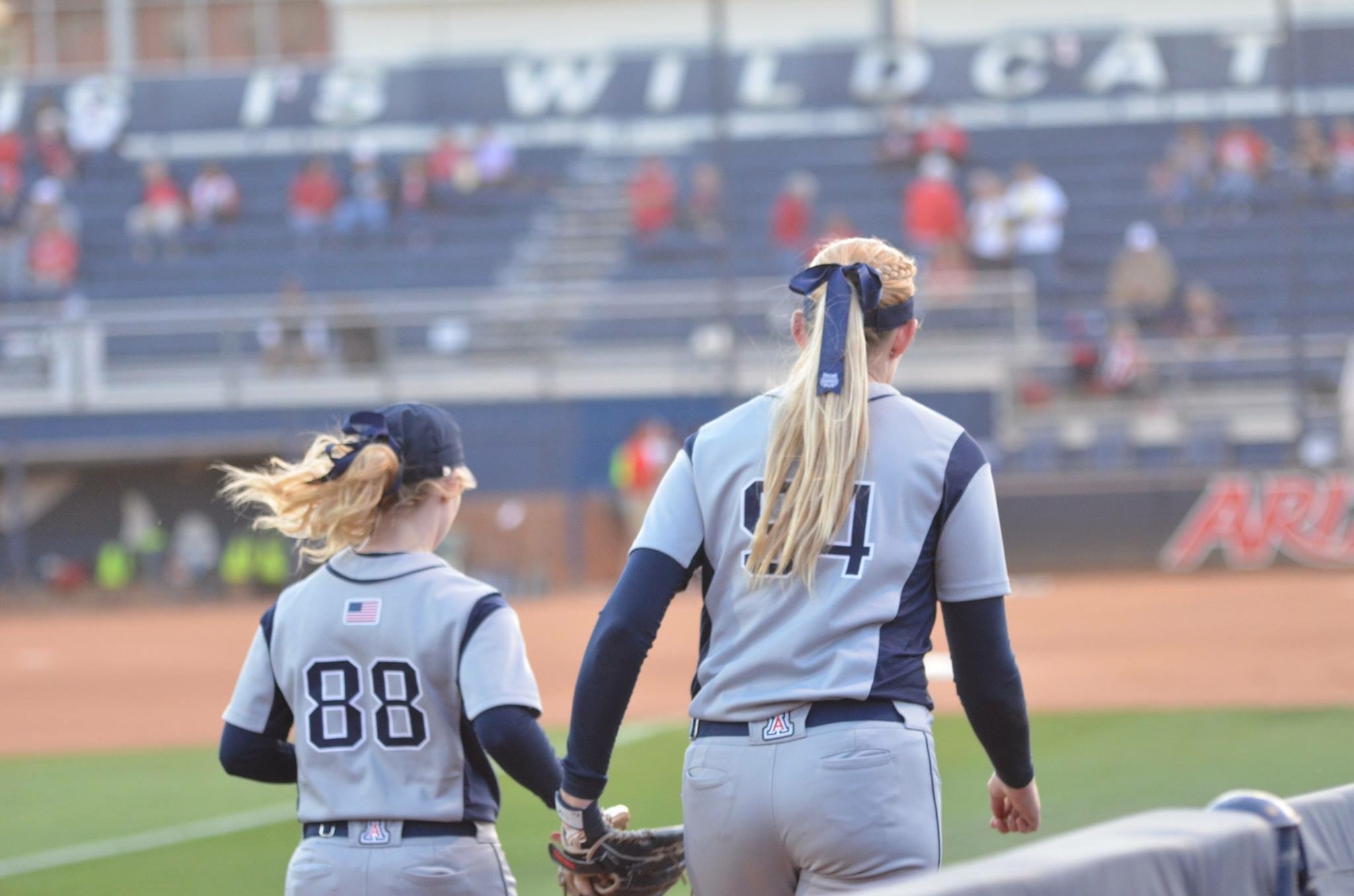 The two first met back in their club ball days.

"My first meeting with Michelle was at Colorado I think," beings Statman. "It was the summer before my junior year of high school and she and Hillary Edior--who's also my teammate now--invited me to get Starbucks with them between games. That was the first time anyone had invited me out to do something like that."

When Statman officially became a Wildcat in the fall of 2015 after leaving Scottsdale, Arizona as a two-time FloSoftball All-American pitcher/hitter, Floyd renewed the friendship and the two quickly became fast friends.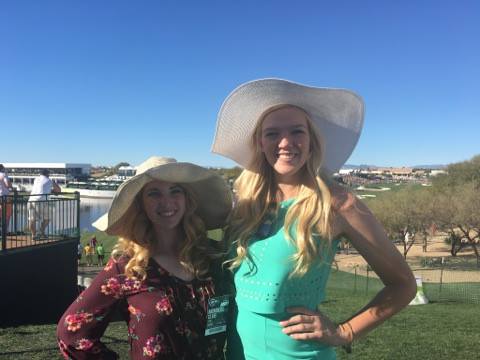 Since then, they've done everything together from swing dancing to Statman attending Floyd's baptism.

"Michelle is just awesome," explains Statman. "We clicked right away and we could just talk about everything from softball to social life with no restraints. We are able to talk to each other and know what the other needs when it comes to advice, conversation, or just space. We can go get pizza after practice and just talk about life."

The pair says their families have even become close: "It's like we each now have a second set of parents as well," adds Floyd.

"Life would be so much harder without T Statman in my life," the pitcher from San Marino, California continues. "I couldn't ask for a better person to have as a best friend. We encourage each other in whatever venture the other wants to pursue and I know she will always be there for me and me for her."

Those ventures have included doing a video show together which they called "LittleBig" alluding to their height disparity. The nickname also stuck to them as friends.

Statman also earned another nickname by hanging around Floyd, who asks, "Don't people call you my 'Mini' sometimes? Except you can hit!"

"Yeah, everyone says I'm like a 'Mini Michelle,' answers Statman, "That was especially prevalent when I was a blonde last year."

Floyd, who is a journalism major, says she loves editing videos to "tell the stories of people and events in a unique way." One of her college projects spotlighted Statman and her array of accomplishments including being a third degree black belt in Tae Kwon Do. It's called "T Statman - Most Interesting Softball Player in the World," a takeoff on the Dos Equis beer commercial.




Statman also has a media background featuring video blogs for FloSoftball during her high school and club years including this one when she played on the Birmingham Thunderbolts and travelled to Southern California to compete in the 2015 PGF National Championship.

The sophomore athlete has a full academic plate, carrying a 4.0 GPA and making the Dean's List, as a Political Science major with minors in Sports Management and Communication.

"I would like to be a political commentator, but my first choice would be President of the U.S," Statman says in all seriousness. "I wrote blogs for Huffington Post and now I'm just focused on writing and planning some political video content."

Their support for each other extends to the field and when asked what each admires about the other, Statman goes first.

"I admire Michelle's determination. She's always ready no matter what happens."

Responds Floyd, "I admire T's tenacity on the field. She gives it everything she has and never backs down or gives up. You can always count on T to give her best and contribute to the team."

This season could be a magical one for the Arizona teammates who both say they love the talent and camaraderie Coach Candrea and his staff have assembled. But that hasn't stopped them from looking ahead to when their college softball careers are over.

One night the roommates were talking before dropping off to sleep and Floyd recalls a conversation that took an interesting turn.

"T goes, 'Hey Meesh?'"

"I was like, 'Yes T?'"

"She asked, 'One day can I be in your wedding?'"

"My response was, 'Only if I can be in yours!'"




Like What You See?
Sign up for the FloSoftball newsletter for instant access to: Breaking News, Live Streams, Rankings, Technique Videos and more!