Bad Blood Between Florida Coach, Auburn Player Results In Postgame Squabble
Bad Blood Between Florida Coach, Auburn Player Results In Postgame Squabble
Florida vs. Auburn SEC rivalry creates unfortunate incident and stirs up drama between Fagan family and Tim Walton.
Mar 29, 2017
by James Caldwell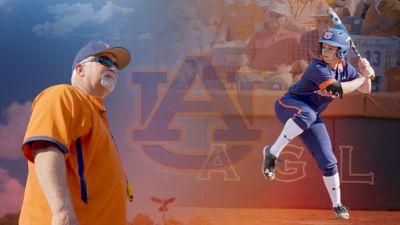 When No. 6 Auburn knocked off top-ranked Florida 1-0 on Monday night, the tightly contested Southeastern Conference game that just took place in Gainesville, FL, should have been the story.
Or, the focus could have turned to a celebration of Auburn head coach Clint Myers notching his
1,500th career win
.
Instead, old family drama involving bad blood between Haley Fagan and Florida head coach Tim Walton has dominated the conversation.
To conclude the the Tigers and Gators' three-game series on Monday, the teams lined up for a customary postgame handshake line following AU's first win of the weekend. Except, there was an issue involving Fagan and Walton.
Video shows that Fagan did not have her hand up to high-five Florida's manager as they neared each other in the line. Walton then patted Fagan on the shoulder in a way that caused Fagan to voice her displeasure. Walton stopped to address her vocal concern, holding up the handshake line.
Fagan's Auburn teammates eventually held her back as she continued to shout in the direction of Walton. You could tell this was about much more than a coach and player simply missing each other's hand in the line. It was about bad family blood coming to the surface and triggering a response from Fagan.
[tweet url="https://twitter.com/jfergusonau/status/846529273385111552" hide_media="0" hide_thread="1"]
The unfortunate Fagan family history at Florida
Five years ago, Walton dismissed Haley Fagan's two older sisters, Kasey and Sami, from Florida's program before the start of the 2012 NCAA Tournament.
According to reports
, there was an altercation involving multiple Gators players, leading to the dismissal of both Fagan sisters and Cheyenne Coyle from the team.
Walton said at the time that he handled the situation "as well as I could," but it certainly affected the team. It also affected the Fagan family.
The Fagan sisters' father, Kevin Fagan, voiced his displeasure to the Gainesville Sun newspaper in 2012.
"The team sort of divided and Walton felt like it was in his best interest to get rid of those three," Kevin told the
Gainesville Sun
. "They're done there. They won't play there anymore."
It's apparent that Kasey and Sami's younger sister, Haley, still remembers the situation. And it was no coincidence that she got into a verbal altercation with Walton five years after her sisters were kicked off the Gators squad.
Throw in a competitive three-game SEC battle between two of the best teams in the country and you're asking for an unfortunate incident.
What's the fallout from Monday's incident?
After video of the incident circulated on social media, Walton and the UF athletic department released a statement addressing what happened.
Walton opened: "I apologize to Haley." He went on to say his intent was to high-five each opposing player from Auburn and he "should have paid closer attention" to their exchange.
Walton closed by saying he regrets that the incident has "taken attention way from the effort and sportsmanship" displayed during the Florida-Auburn series.
[tweet url="https://twitter.com/GatorsSB/status/846740842857598985" hide_media="0" hide_thread="1"]
Meanwhile, Auburn athletic director Jay Jacobs discussed the exchange on the 99.1 The Game radio station in Birmingham, Alabama. Jacobs described it as an "unfortunate incident" and referred to Walton's statement apologizing for what happened.
"Tim issued that statement and you know, he's a class guy," AD Jacobs said. "The Florida AD, Scott Stricklin, called me first thing this morning... Haley is a competitive girl, and that's why she's so good at what she does. But it's a good lesson for everybody, and we'll move along."
But what's strange is that Fagan never put her hand up to Walton the entire series.
[tweet url="https://twitter.com/wecarters4/status/846575646897725440" hide_media="0" hide_thread="1"]
Aftermath in the polls
The fallout from Monday's game was not limited to statements and radio interview comments.
Florida dropped from No. 1 to No. 2 in the latest polls issued Tuesday.
The Gators, now 29-2 on the season, were bumped by the undefeated Oregon Ducks (29-0).
And then there is Auburn, which dropped one spot to No. 7 after it lost two games against UF before winning the series' controversial finale.
Now the question is whether Florida and Auburn will meet again this season.
Possibilities include the SEC Tournament in May, the NCAA Tournament if they are in the same bracket, or even the Women's College World Series.
If the Gators and Tigers do meet again this season, we hope there is reconciliation between the SEC powers, specifically Walton and Fagan.


Like What You See?
Sign up for the FloSoftball newsletter for instant access to: Breaking News, Live Streams, Rankings, Technique Videos and more!