Unlock this article, live events, and more with a subscription!
Get Started
Already a subscriber? Log In
Following up on our 18U and 16U preseason rankings revealed last fall, we continue our look at the top club teams across the nation as we move to the next younger age division to focus on the FAB 50 14U Rankings.
Each day this week we'll unveil 10 teams and conclude on Friday, April 14 with the teams ranked 10-1 and on Saturday list the Next In (51-100) teams.
The key factors in where teams fall in the ratings include performances and results from the summer and in the fall and early this year (although we understand that showcase competition, where some top players are held out to allow others to be seen, can be misleading in terms of "who beat who").
We also weight heavily the return of key players and the addition of talented new ones.
Information was acquired by the FloSoftball staff watching teams in person as well as considerable input provided by club and college coaches across the country.
If we've missed anything or you would like to provide input on your favorite teams and players, send your info/insights to: Brentt.Eads@FloSports.TV.
****
50--PA Strikers Premier
Anthony Marsalo's team went 73-31-2 last year including winning championships at the PGF New Jersey Qualifier and the Pennslyvania ASA "A" tourney with a 3rd place finish at the Futures Elite Showcase. The team has excellent speed--seven of the starters are lefties who can run--but the team can also hit for power. Top returners include a pair of 2020 Penn State commits, CF Paige Olson and 2B Emily Maddock. The infield is further solidified with another pair of 2020 commits in SS/OF Grace Abbonizio (Drexel) and IF/OF Bristol Reichard (La Salle). Leading the way in the circle will be 2021 pitcher Sophia Palyan who posted a 61 mph time at Top Prospect camp in Long Island this winter.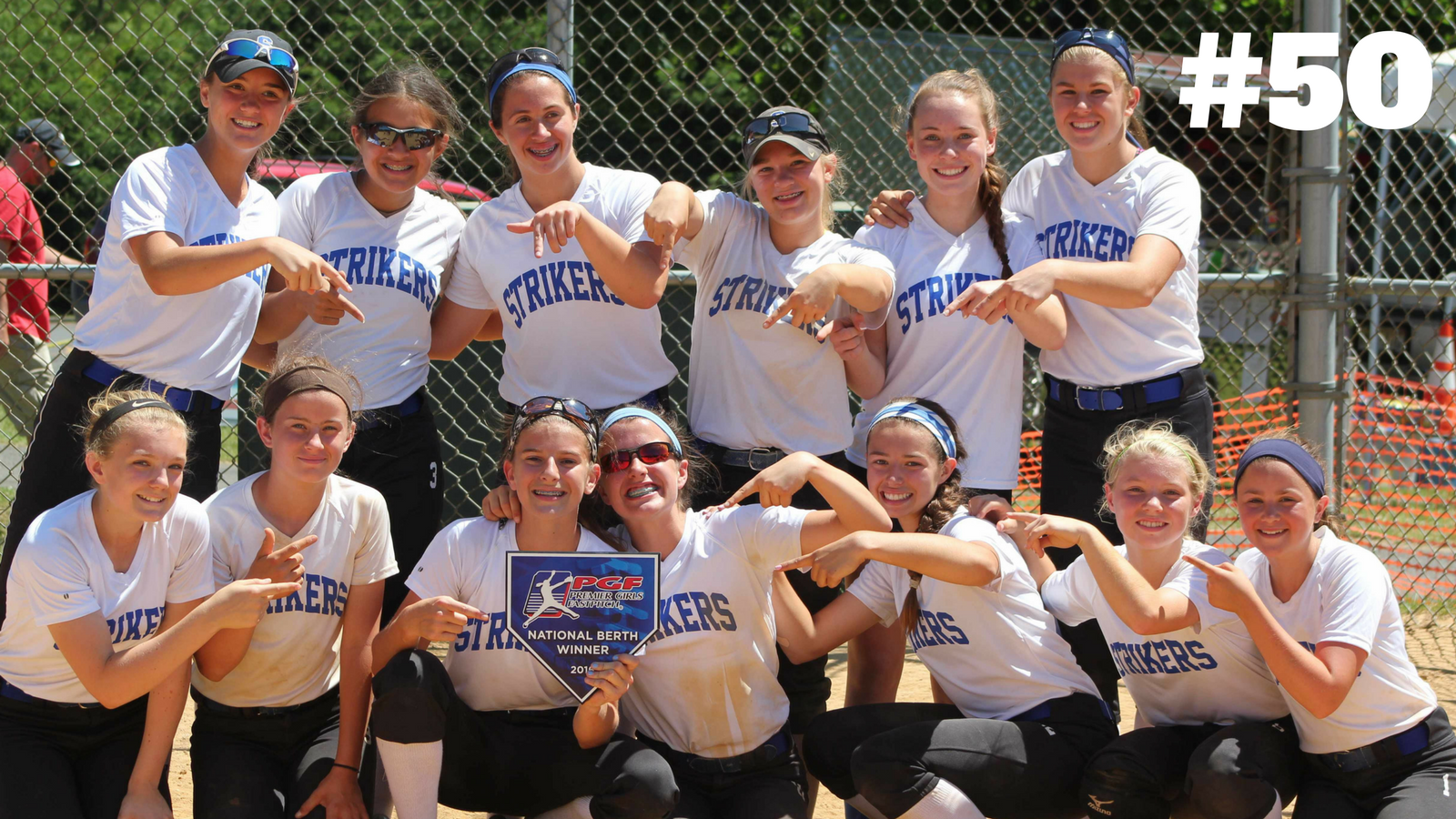 T49--East Cobb Bullets - Aycock
Playing as Team Georgia '02 the last two seasons, the new Bullets team coached by Jeff Aycock took seven core players from that team and added players from the Atlanta Vipers, Atlanta Premier and the Firecrackers to form a new team. After finishing 3rd at the ASA Eastern Elite Fall Qualifier, the Georgia team wrapped up the fall season at the Bolts 5-Star Fall Showcase outscoring opponents 55-14 in five games. This spring, the Bullets finished 3rd of 32 teams at the USSSA Diamond Battle. The offensive firepower will come from 2020 Hot 100 1B Liz Seymour, a power hitter and team leader. The Bullets will have a lefty/righty combo in the circle with Bailey McCachren and Baylor Aycock, respectively. Aycock pitched two complete game shutouts in her first two games this spring.
T49--Texas Blaze - Bonola
The Blaze team finished 17th at PGF Nationals and 8th at the Colorado Sparkler (Power Pool), but lost some key players who moved up to the 16U team. Still, Russell Hartman's squad returns some significant offensive talent including MIF Arriana Villa (Texas Tech), a triple threat at the plate who is ranked #59 in the 2020 Hot 100. The battery combo is strong with Erykah Guerro (2020), a 5-foot-9 fundamentally sound catcher with interest from SEC and Big 12 programs, and righty pitcher Catarina Esteves, who has a tough knee-buckling curve and interest from Big Ten schools. Two new players to watch are 2020 middle infielders Michelle Arias and Kiana Gibson.
48--Atlanta Vipers - Trowell
Tim Trowell's Vipers team combined six from last years squad with six from the the Worth Cobras 03 squad which placed 3rd at ASA Nationals last year to create a team which should be one of the top 03 programs in the South this summer. The Vipers finished 6th at the USSSA World Fastpitch Championships last July with all five teams ahead of them finishing Top 10 at PGF Nationals. The team's strength is speed as four of the seven lefties in the line-up have run 2.71's or faster (home-to-first) at college camps and all are outfielders: Haley Ann Frank (2021); Natalie Ray (2022), Alice Thomas (2021) and Jolie Lester (2021). The pitching runs four deep with a pair of power arms in Brooke McCubbin (2021, interest from ACC, Big Ten and SEC) and Kailey Rusk (2020, a new pick-up who throws 62-63 mph) and a duo of smart spinners in Emma Vessell (2021) and Braylee Mimbs (2021).
47--Team NC - Hatch
The Charlotte, North Carolina team led by Ed Hatch is a first year 14U team that was ranked #27 in the FloSoftball 12U FAB 50 last year. At that level, Team NC went 55-8 playing in major tournaments like the WFC where it finished finished 5th and has already been invited back to PGF Nationals where five of its six games in 2016 was decided by one run. Team NC also went 41-1 in the Mid-Atlantic Region (Carolinas and Virginia) last year. Lefty Jordan Hatch is one of the top pitching prospects in the 2021 class and has competed successfully playing up at the 16U level. She has tremendous movement on her pitches and usually records double-digit K's in every game. ACC and SEC schools are heavily recruiting her and she's taken unofficials to Florida, Duke, Virginia and Virginia Tech. Offensive power is provided at the corners with 3B Meredith Harwood (2021) and 1B Hannah Cohen (2021).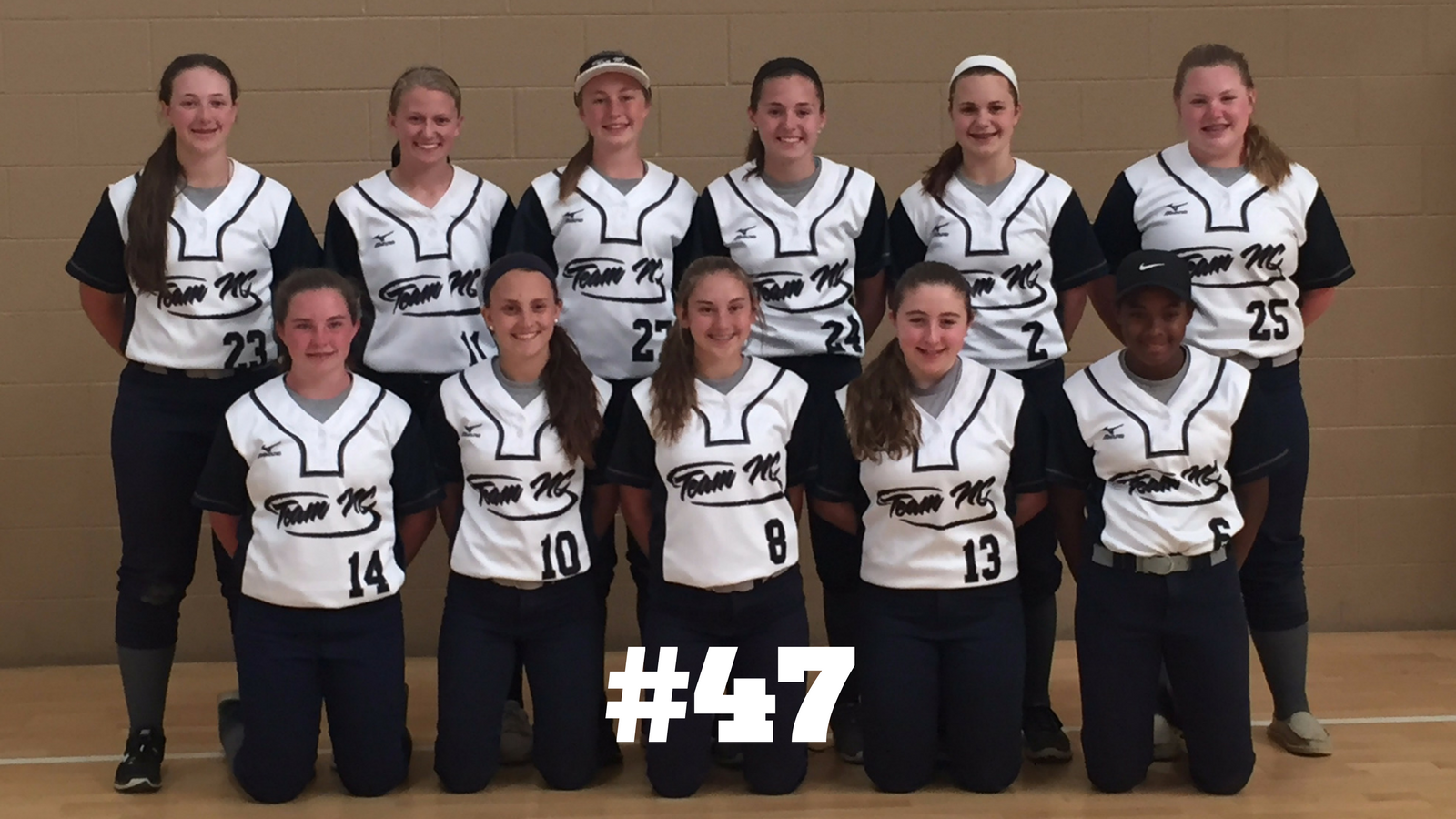 46--Oklahoma Force
The Oklahoma Force went 75-21-4 last summer, 25-6-1 in the fall and so far this year is 8-0-1. As a first year 14U team in 2016, Chris Wells's group finished 5th at USSSA Nationals in Dallas and was the champion of the Triple Crown OKC. The Force has a nice combo of experienced 2020 players with talented 2021's. Key returners include P/IF Caitlyn Wells (2020), who has been the heart and soul of the team for several years and led her Oklahoma high school team to the 5A state semis as a freshman. P/OF Emmy Guthrie (2021) is another tough pitcher who is starting to get major D1 schools showing attention of late. A new player to watch is 2020 P/1B Ashlyn Peterson, a lefty who will add pitching depth as well as a power bat in the line-up.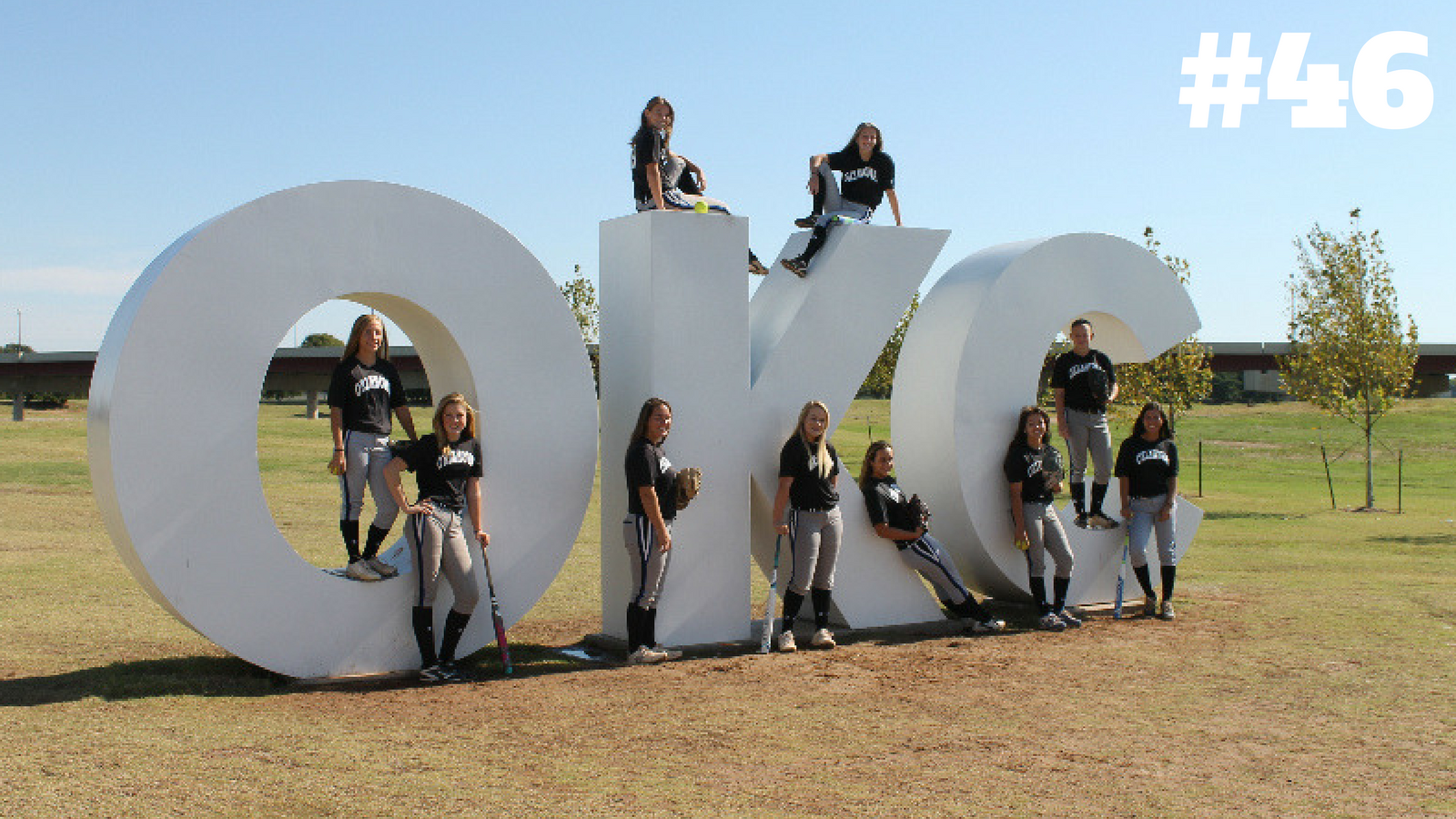 45--Ashburn Shooting Stars
Shawn Gallagher's Virginia-based program is up-and-coming and has been impressive winning five of the eight tournaments it has played so far this year with a record of 42-10-2 against top East competition including many at the 16U/18U levels. It starts with the battery combo of Ivy Rosenberry (2020) who throws in the low 60's with a biting curve. She's also an excellent hitter and could be a dual threat at a high level D1 program. Rosenberry has hit 20 home runs and about .500 over the last year. C/2B Maddie Olivas is one of the fastest rising 2021's and has clocked a 1.78 pop time; she also was the defensive MFP of the USSSA All-American game. Nine players on the team have hit .400 or close to it this spring and are being recruited. Two more to watch are 3B/C Kara Tokarchic, an athletic 2020 with a 60-plus overhand velocity speed and 2021 IF Sidney Torres who is a prodigious power hitter who smashed a 290 foot shot earlier this year.
44--Iowa Premier Black
Greg Dickel's organization has become one of the best in the Midwest--the 18U team won PGF Nationals Platinum last summer--and the talent is lining up nicely now at all age divisions. The Premier Black team, coached by Marty Maynes, is a combination of players from the team that was ranked in FloSoftball's 12U FAB 50 last year and the 14U group that finished 17th at PGF Platinum. So far this spring the team has gon 12-0 winning the USSSA 18U MSP NIT tournament in Kansas City on March 18th and the QB Icebreaker 16U tournament in Moline, Illinois a week later. The team has received an invite to PGF Nationals again as well as the WFC--both at 14U--and is led by 2020 P Jena Lawrence, considered of the top uncommitted players in Iowa. She throws 65 mph with a good change, drop and rise ball and is hearing from schools like Minnesota, Nebraska and Northwester. Another 2020 to watch is 3B/P Denali Loecker whi is a top power hitter. The Premier features of the top young slappers in the Midwest in Ella McVey, a 2021 MIF who has also played for the 18U team this spring at times. She works with former college and NPF star Emily Allard.
43--California Grapettes - Guevara
The Grapettes won the PGF Nationals 14U Platinum championship last summer going 7-0 earning a 2017 return berth to Orange County. Melissa Guevara's team finished in the top three of the talent-heavy PGF Shootout in October and looks strong again, losing two key players who aged up in P Janessa Jasso (2019, Iowa State) and OF Tatum Hayes (2019, uncommitted), but returns a strong core of talent including three 2020s in SS/3B Isabella Pahulu, a team leader with great athletic tools; P/OF Hailee Bryant, a clutch pitcher with excellent movement who also hits for power; 2B/1B Mikaela Ward, the team captain with an outstanding glove and a top 2021 in OF/UT and leadoff batter Tristyn "Boo" Guevara. A new pick-up who should be a difference maker is 3B Miko Hanson (2020) who has great hand, arm and bat speed. Pitching depth was enhanced too with Tawni McCarty (2020), who has great velocity and a dominating rise and change.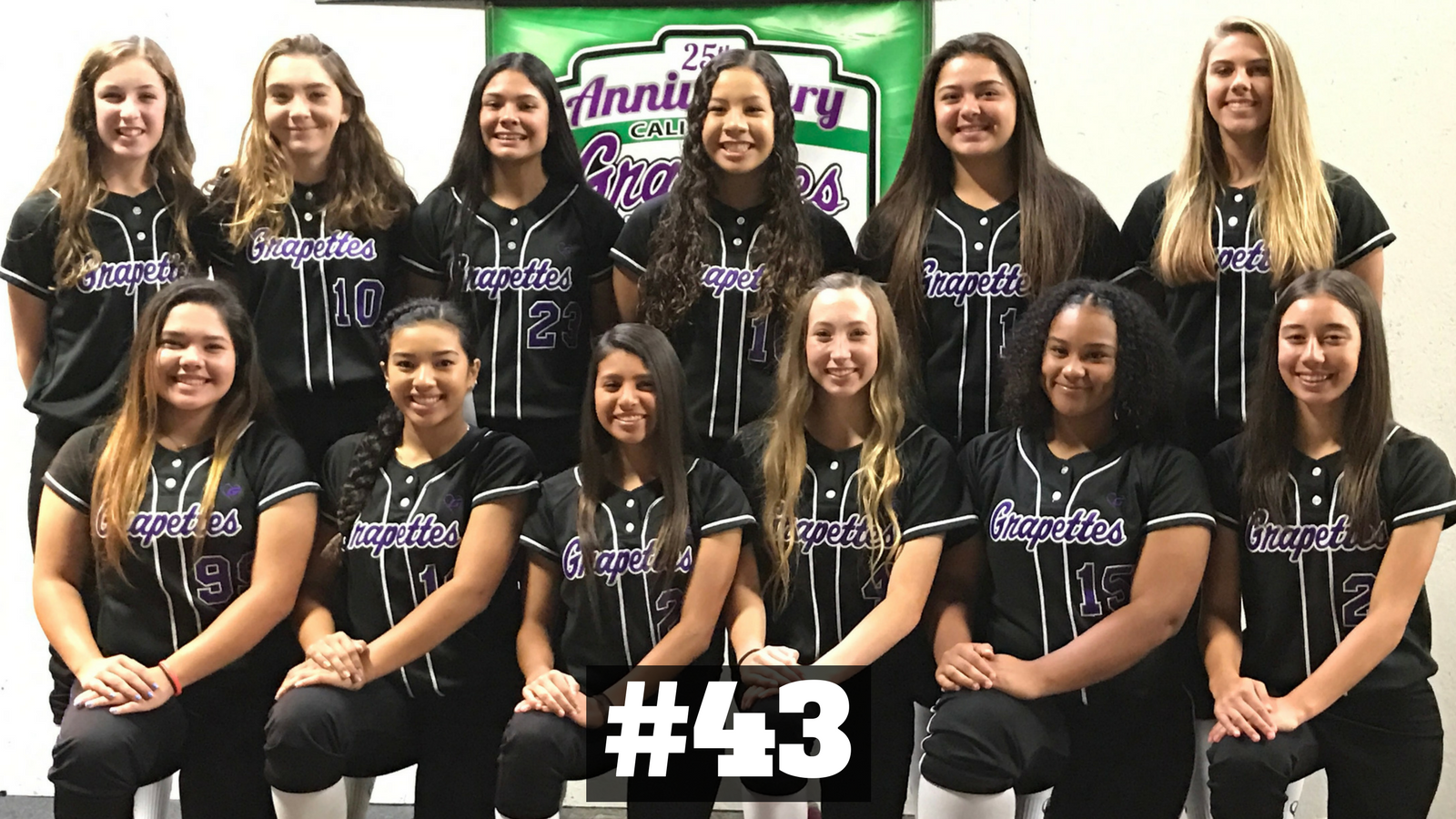 T42--Team Long Island DeMarini
Jimmy Laird's Team Long Island DeMarini squad may be the best sleeper team in the nation but that will change this year as it makes noise at top events. Already invited to this summer's PGF Nationals, Team LI went 62-12-2 last year coming in 7th at TC/USA Nationals and looking impressive at Team NJ and Diamond9 showcases. The team prides itself on defense and "works endlessly at it," according to Coach Laird. That starts with the coach's daughter, Jenna Laird (2020, Hofstra), who another coach called one of the top 10 shortstops in the nation. A five-tool player who could have gone to many Top 20 schools but chose to stay close to home, Laird is athletic with great hands and is a speedy lefty slapper. Also watch for 2020 power pitcher Rachel Perez, a Penn State commit with great control, and another excellent 2020 hurler in Kelsey Carr (Seton Hall), who has excellent movement on her pitches. A key pick up was Megan Herka (2020, Hofstra), a power-hitting lefty first baseman. MIF Maddie Gallagher has good speed and is getting interest from schools up and down the East Coast.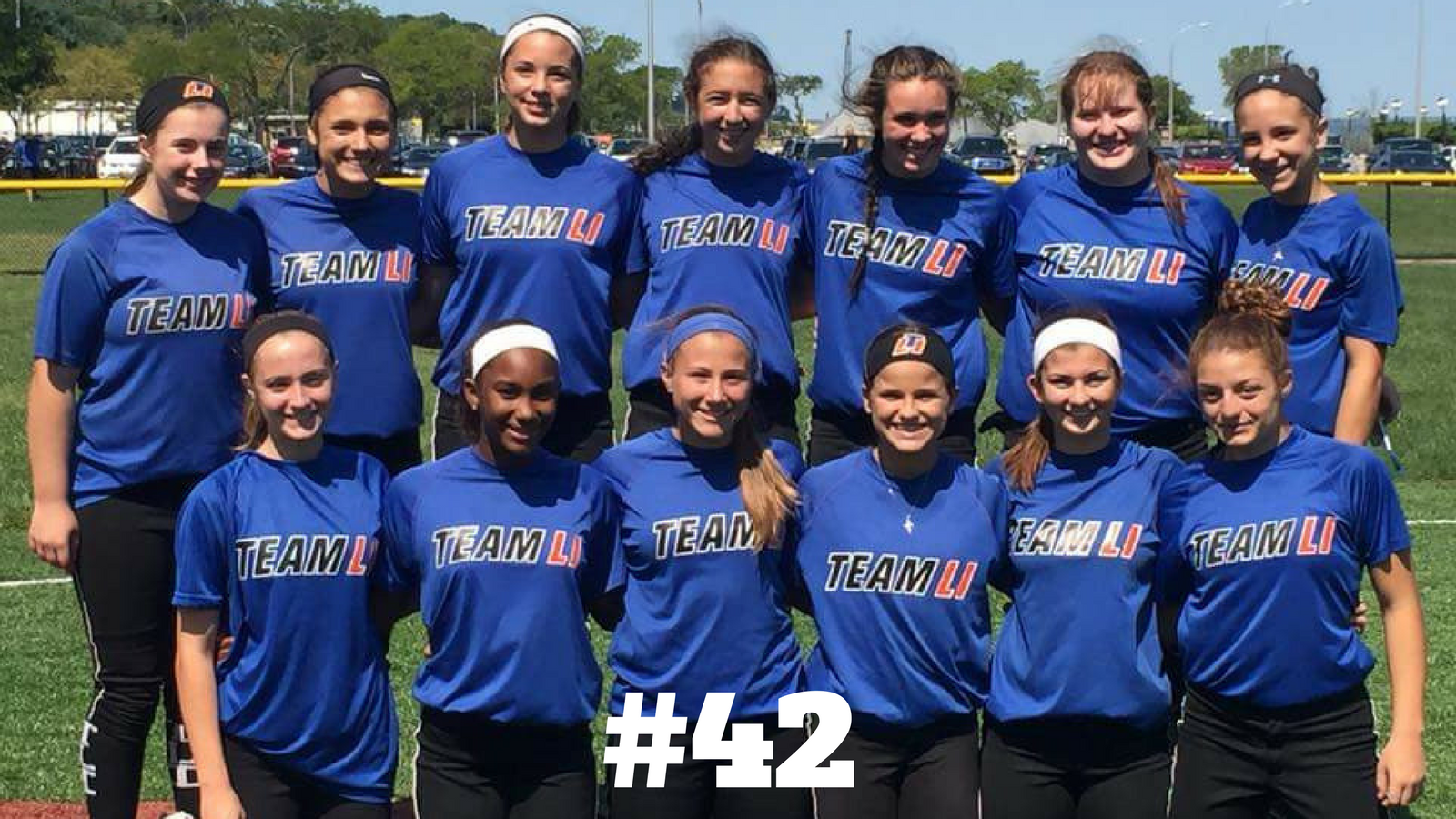 T42--Ohio Hawks
As a first year 14U team, the Hawks guided by Joseph Newton impressed enough at last summer's PGF Nationals to already be invited back. Last year, the Buckeye State team won the Peoria, Illinois PGF 14U National Qualifer and the Dayton, Ohio ASA 14U National Qualifier. In the fall, the Hawks went 7-0 against good competition at the D9 Sun Classic. The team has one of the top 2020 lefty pitchers in the Midwest in Tori McQueen, who committed to Illinois in December and fellow hurler Mary Newton, a 2021 right-hander who has already received multiple offers and is getting recruited by Power 5 schools. Other returners who are being contacted by many D1 programs are power-hitting 2021 IF Jane Kronenberger; 2020 CF slapper Payge Suggs and 2020 1B slugger Dana Anderson.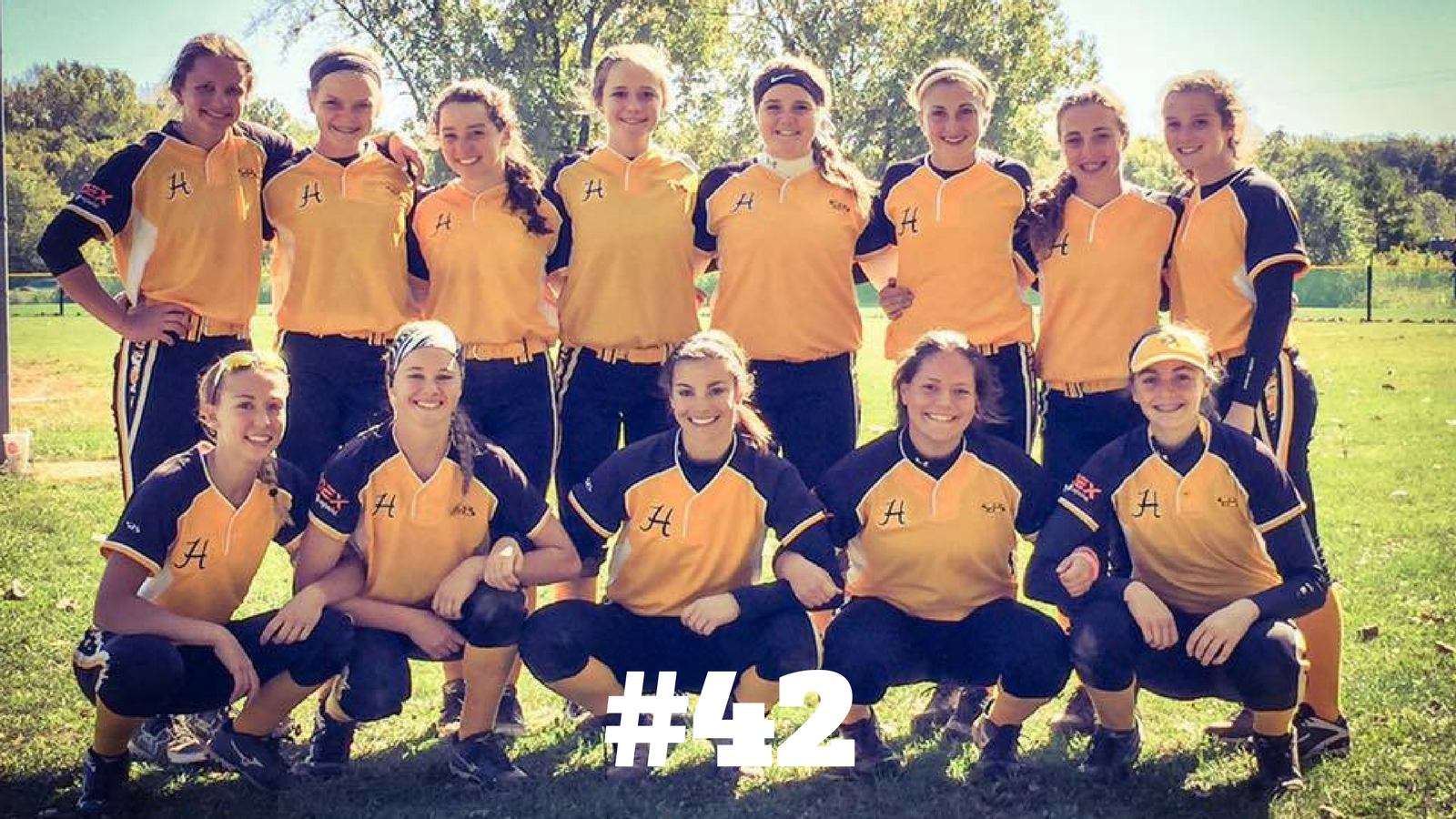 41--Oklahoma Gametime Stars - Walde
The Gametime Stars team came over from the Oklahoma Ultimate organization and has a long history of winning in national tourneys. In 2016 as the Ultimate 02, the team went undefeated at the PGF Qualifier in New Mexico and was competitive against second-year 14U teams at PGF. This spring, Bobby Walde's team has looked strong against top programs in events like the Texas Glory Friendly held in March and will play in top events like the Tulsa Elite Invitationals, The Top Gun Invitational, the Colorado Fireworks/Sparkler Power Pool, the USA Elite Select Championship and will try to qualify for PGF Nationals. Leading the talented team are a trio of 2020 players that could be committed by the time summer play starts: SS/3B Aaiyah Brown; C/OF Whitney Walde, and MIF Kristen Whitehouse.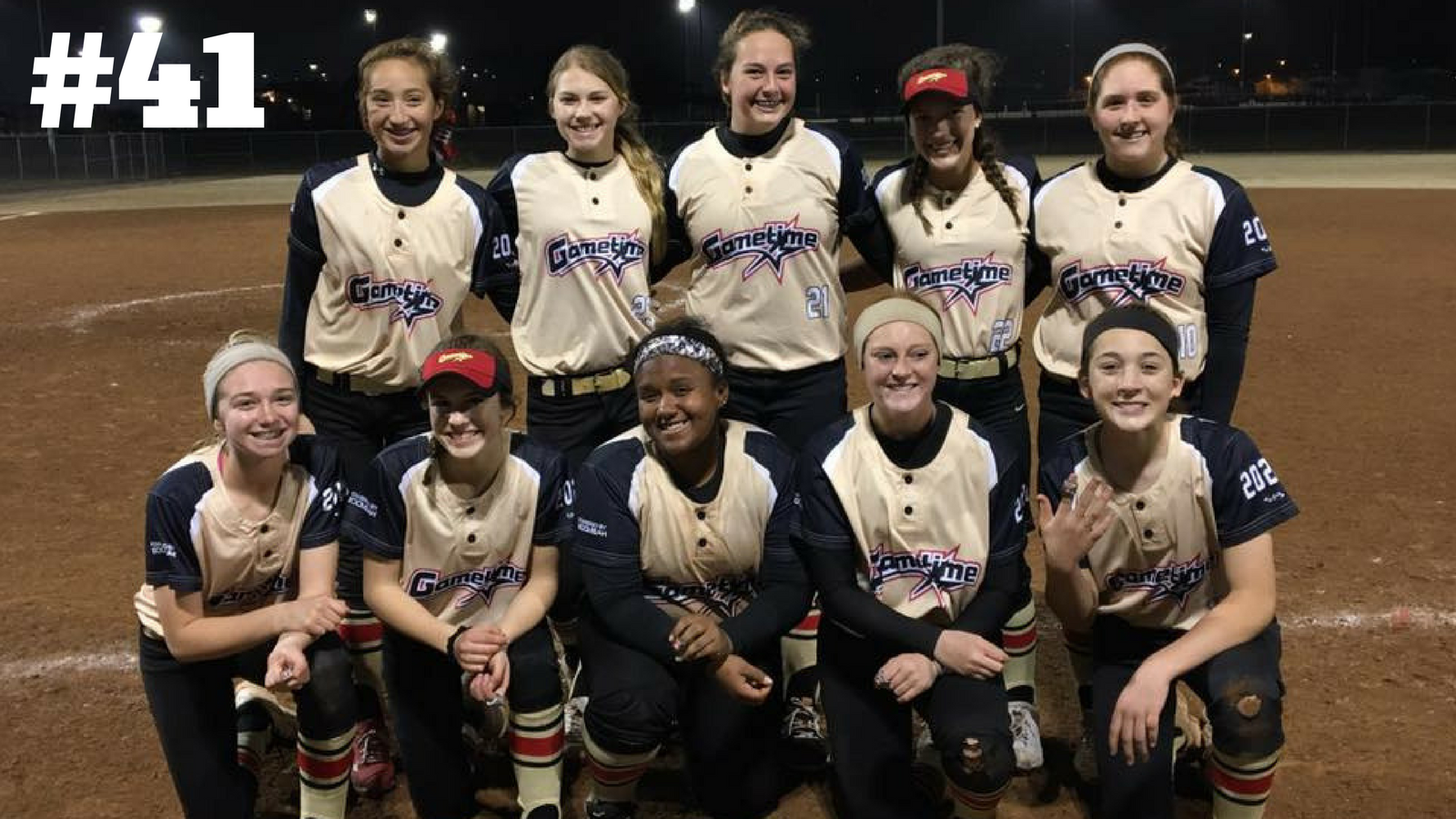 Like What You See?
Sign up for the FloSoftball newsletter for instant access to: Breaking News, Live Streams, Rankings, Technique Videos and more!