​Morgan Kendrick is a right-handed pitcher for the Tampa Mustangs-Hennigar. She recently committed to Florida State. Here is her recruiting story.

I had been able to take several unofficial visits to really great schools, including Florida State. Each school had a lot of plusses, great coaches, and awesome players and not many negatives so it made my decision really hard. I gave myself a couple of months to make sure I knew where I wanted to go, but then after speaking with coach Lonni Alameda several weeks ago, I told my parents I wanted to go to FSU.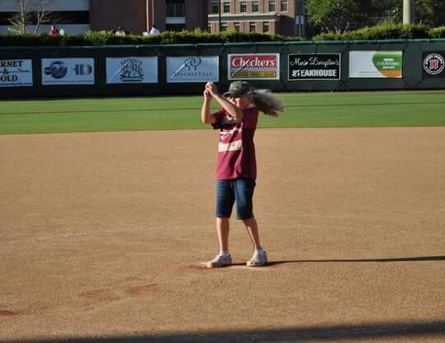 I grew up an FSU fan, so I was really excited about this day. I could spell F-L-O-R-I-D-A S-T-A-T-E (from the fight song) before I could spell my name and went to my first football game when I was 11 days old, so I was born to be a Seminole. I have been to every summer and winter camp since I was 7, and I have a picture of when we snuck on the field when I was 6. I dreamed about being a pitcher for the Noles, and now I get to make it a reality.

My sister had her prom on Saturday night, so we couldn't leave until Sunday morning. We got up at 6 AM to get ready and drive to Tallahassee by 10 to meet with the coaches. The Sunday game was also extra special because my favorite player Jessica Burroughs was pitching on her senior day, so it was really cool. We got to the field at 10 and met with Coach Alameda, Coach Craig Snider, and Coach Travis Wilson in the conference room. We talked about their season so far and how my travel team the Tampa Mustangs-Hennigar is doing. Coach Alameda asked my sister about prom, and they looked at pictures until I finally spoke up and said, "If the offer to play at FSU still stands, I want to be a Seminole."

Coach Alameda smiled and said, "The offer definitely still stands, and we'd love for you to be a Seminole." The whole room (including my parents and sister, my pitching coaches, FSU coaches, and me) jumped up and started giving each other hugs. I couldn't stop smiling, and it was such a relief because I had wanted to do this for a couple of weeks. Then, when we left the conference room, we saw a couple of the FSU players who gave me hugs and welcomed me to the FSU family.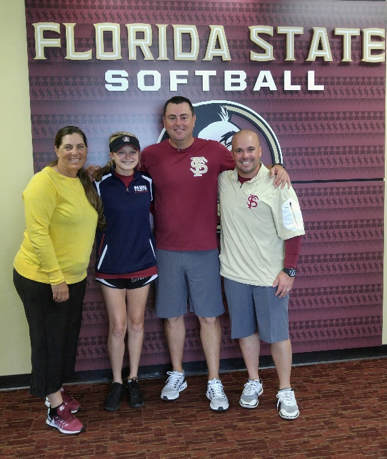 We spent the rest of the day watching the Noles with the catcher from my school ball team and her family and had a great time. It felt like I was supposed to be there and felt like home. The hard work has just started, but I can't wait for the next couple of years to fly by so I can finally get to Tallahassee and pitch for Florida State.



Get More From FloSoftball!
Sign up for the FloSoftball newsletter for instant access to: Breaking News, Live Streams, Rankings, Technique Videos and more!