The NCAA selection committee announced 16 regions for the 2017 NCAA Softball Tournament. All 13 SEC teams made the tournament with some potential SEC rematches in Supers.

The biggest shocker was unseeded Minnesota landing in Tuscaloosa. The Golden Gophers finished the regular season 54-3 without earning a seed.

Check in tomorrow for Here's The Deal at 11:30 CT as Chez and Sarah break down regionals and give their predictions.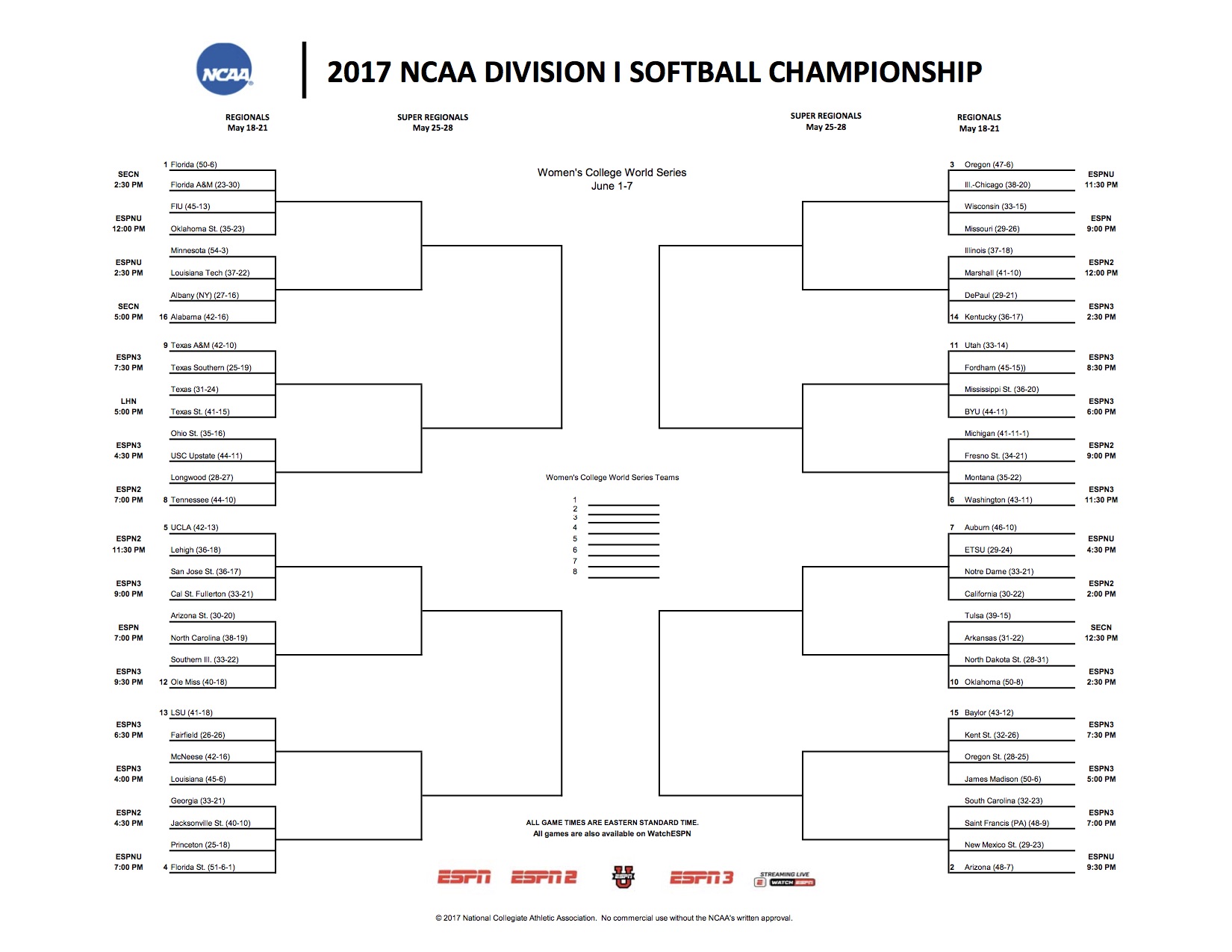 Left side of the Bracket
| Region | | | | |
| --- | --- | --- | --- | --- |
| Gainesville, FL | 1 Florida | Florida A&M | FIU | Oklahoma State |
| Tuscaloosa, AL | 16 Alabama | Minnesota | Albany | Louisiana Tech |
| | | | | |
| College Station, TX | 9 Texas A&M | Texas Southern | Texas | Texas State |
| Knoxville, TN | 8 Tennessee | Longwood | Ohio State | USC Upstate |
| | | | | |
| Los Angeles, CA | 5 UCLA | Lehigh | San Jose State | Cal State Fullerton |
| Oxford, MS | 12 Ole Miss | Southern Illinois | North Carolina | Arizona State |
| | | | | |
| Baton Rouge, LA | 13 LSU | Fairfield | McNeese | Louisiana |
| Tallahassee, FL | 4 Florida State | Princeton | Georgia | Jacksonville State |
Right side of the Bracket
| Region | | | | |
| --- | --- | --- | --- | --- |
| Eugene, OR | 2 Oregon | Illinois-Chicago | Wisconsin | Missouri |
| Lexington, KY | 14 Kentucky | DePaul | Marshall | Illinois |
| | | | | |
| Salt Lake City, UT | 11 Utah | Fordham | Mississippi State | BYU |
| Seattle, WA | 6 Washington | Montana | Fresno State | Michigan |
| | | | | |
| Auburn, AL | 7 Auburn | ETSU | Notre Dame | Cal |
| Norman, OK | 10 Oklahoma | North Dakota State | Tulsa | Arkansas |
| | | | | |
| Tucson, AZ | 3 Arizona | New Mexico State | Saint Francis | South Carolina |
| Waco, TX | 15 Baylor | Kent State | Oregon State | James Madison |