Isabela Emerling is a force to be reckoned with at the plate and on the field. The FloSoftball Rising Star, who will definitely make an appearance in the 2021 Hot 100, shares her recruiting story below.





When I was about ten years old I knew I wanted to play college softball. Seeing older people in my softball organization getting recruited was so exciting and I knew that was going to happen to me one day. So I started to get more interested in college softball and I began to watch more games on TV. I would always say, "That will be me one day." The major turning point of me wanting to play college softball was my competitiveness. I love to challenge myself and I always want to play at the next level.

I started my recruiting process the summer going into eighth grade, about a year ago. I visited San Jose State and the University of Washington. Other colleges also invited me to their campus to attend their camps.

Being one of the youngest players on my team to get looks from colleges was very exciting, and that made my recruiting process very fun. At sometimes it became stressful for my parents, but it ended very well. For me to see over 25 college coaches at our game for the first time, it was probably the coolest thing ever. Many people find it overwhelming to see that many coaches watching you, but I always found it a way to get noticed, turn some heads, and to make a good first impression.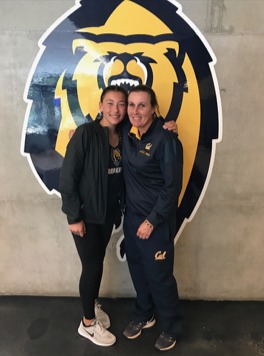 I always knew that I wanted stay close to home. Cal is about 30 minutes away from where I live, and that was huge factor that stood out to me. Family means a lot to me, and you take it for granted when your parents are always there to see you play. So being close to home, and to see my whole family in the stands is going to be a really comforting. It is also very important to me to get an excellent education because I won't be playing softball forever and Cal has some of the best academic programs in the country.

I knew it was the school for me because when I stepped on campus it felt like home. I grew up watching Cal athletics and my family and I would always go to football and basketball games. Having that familiar vibe helped me realize that this was the school I want to go to.

The thing that I'm most excited about for college is having the opportunity to travel to all the Pac-12 colleges and getting to compete against them. I am also excited to have a new softball family, getting to bond with them, and having great team chemistry.

Before I get to college, I will work hard, and hope to continue to get good grades. I've had all A+s throughout the eighth grade. I also hope to win a PGF national title. But the biggest thing I hope to continue to achieve is to be the best daughter, sister, and teammate that I can be.

My biggest motivations are my parents. They do everything for me. My dad spends his free time working out with me, so I'm always on top of my game. Even when I'm being "annoying" he still is always there for me. He pushes me to be the best I can, and he is the reason that I am playing softball today.

My mom motivates me to keep working hard, and to never give up. To not take things lightly when they get hard. Both of my parents make me want to compete, make me want to try, and make me want to strive for greatness. Without them, I wouldn't be the athlete I am today. I owe most of my success to them.


Get More From FloSoftball!
Sign up for the FloSoftball newsletter for instant access to: Breaking News, Live Streams, Rankings, Technique Videos and more!