One of the best moments of Isabella "Bella" Picard's college softball career came on February 28, 2015.

With her team, St. Joseph's University, clinging to a two-run lead against Coastal Carolina with two outs in the bottom of the seventh and the bases loaded, a Coastal Carolina batter hit a bomb into centerfield. If the ball hit or cleared the fence, Coastal Carolina would have won the game, and from the ball's trajectory that seemed the most likely result.

A starting centerfielder for St. Joe's, Bella was hitting .353 through the first 31 games of her sophomore season, but it was her speed that made her the player she was. She was not only fast but fearless, willing to sacrifice her body to help her team, and her gutsy athleticism was on full display against Coastal Carolina as she came seemingly out of nowhere to make a spectacular diving catch to preserve the win.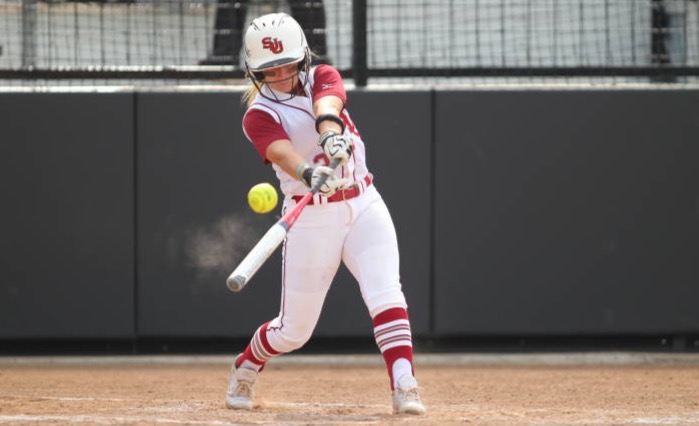 The worst moment of her college career occurred a little less than two months later, on April 18, when St. Joe's traveled to the Bronx to play Fordham University. Bella was particularly motivated to do well that day because Fordham had recruited her coming out of high school but only offered her a partial scholarship, while St. Joe's had given her a full ride. St. Joe's had been scheduled to play two games against Fordham her freshman year, but both had gotten rained out, so this was Bella's first opportunity to show the Fordham coaches exactly what they'd missed out on. And she did so almost immediately, hitting a single in the first inning of the first game of the doubleheader.

As accomplished as Bella was at the plate and in the field, she was downright scary on the base paths. As a freshman, she'd tied for the team lead in stolen bases and already had 10 her sophomore year. With Bella on first, her coaches called for a hit and run. When the next batter up swung and missed at a ball thrown outside, Bella hesitated before taking off for second base. As Fordham's shortstop stepped into the base path to retrieve the catcher's throw, Bella went full Pete Rose, throwing her body at the bag in a head-first slide. Her head collided with the shortstop's knee with the force of a car crash. Knocked unconscious by the impact, she lay on the ground, motionless. An awful silence enveloped the crowd at Bahoshy Field.

When Bella came to, she was confused about what had happened. She wouldn't learn all the grisly details until later when her coaches and teammates filled her in. All she knew was that her neck hurt badly and a tingling sensation emanated from her right armpit all the way down to her fingertips.

She was taken to the emergency room at Lincoln Medical Center, where doctors told her she'd broken her C5 vertebra. Over the course of the next few days the tingling sensation in her arm grew more intense and spread down her right leg. After being transferred to New York Presbyterian Hospital, Picard awoke three days after the accident to discover she couldn't move the entire right side of her body. An anterior cervical corpectomy, aka spinal fusion surgery, was planned for May 6 at Massachusetts General Hospital in Boston.

"I was terrified," Bella said during a recent phone conversation. "I said, 'Doctor, when I wake up will I be able to move again?' He looked at me and he said, 'You know what, Bella? That's the beauty of the spinal cord. It's just like the ocean and deep space. No human being will ever know everything about it.' Those are the last words I heard before I went under."


Bring Back the Right Side
The surgery was a "success." Bella quickly regained some sensation in the pinky finger of her right hand, but the doctors informed her that, best-case scenario, it would still take two to three years before she was walking again. As for softball? They said she'd almost certainly played her last game.
No 19-year-old in the prime of her athletic career wants to hear such a thing, but the news was particularly painful for Bella. She'd already been forced to give up one sport she loved. She wasn't ready to do it again.
Before discovering softball, Bella had been a star forward on the soccer team at Blackstone Valley Technical High School in Upton, Massachusetts. Following in the footsteps of her older sister, Maria, who played on the University of Connecticut's women's soccer team, Bella was recruited by numerous colleges. She even spent some time on the Olympic development team. But after being diagnosed the summer before her junior year with compartment syndrome, a rare condition that causes decreased blood flow and excruciating pain in the lower legs, she underwent three surgeries and was advised to play another sport.
Switching her focus to softball, she batted .902 as a high school junior, the highest batting average in the nation, and was named first-team all-state her senior year. She also had the good fortune of playing for the Worcester Hawks 18U Gold, the elite travel softball team founded by Ralph Raymond, who coached the U.S. national team to gold medals in the 1996 and 2000 Olympics.
Bella embraced Raymond's philosophy. "He would say, 'Bella, just do it right.' That advice stuck in my head because when I was playing soccer I couldn't stand when my teammates couldn't do their jobs," Bella said. "Because that's what makes a winning team: Everyone do your job and work together. I carried his advice with me: 'Do it right, treat your team as family, learn from each other, accept constructive criticism.'"
As much of a team player as Bella had been, rehab is very much an individual pursuit. While her teammates were playing summer ball, she was trying to regain the use of the right side of her body at Boston's Spaulding Rehabilitation Hospital. Five days after the accident, Bella, who describes herself as "a goofy bastard," posted a cheeky message on Twitter about the travails of wiping her butt and signed off with the hashtag #bringbacktherightside.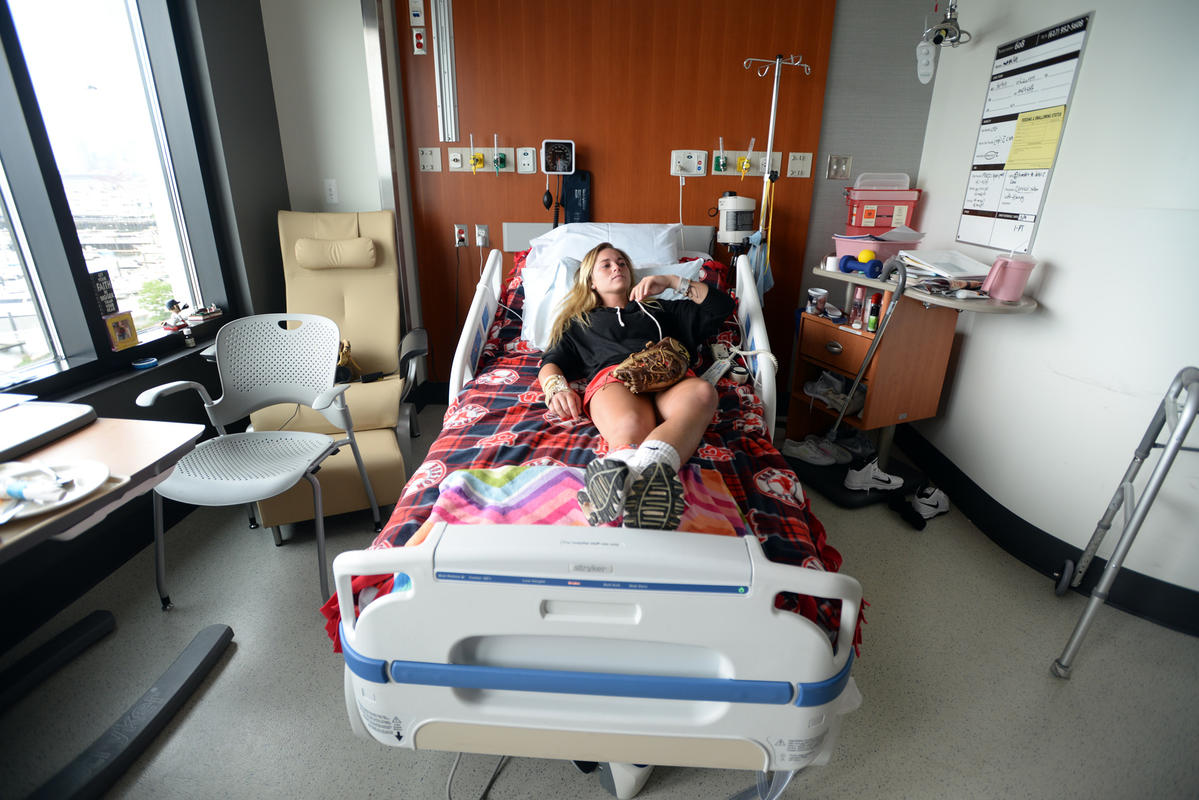 (Photo:
Faith Ninivaggi)
The slogan was picked up by her sister Ashley. At a Memorial Day weekend cookout, she gave Bella and their entire extended family silicone bracelets that read "Bring Back the Right Side" on one side and "Bella Strong" on the other. After Ashley posted a photo of them all wearing the bracelets, orders began pouring in from friends and friends of friends.
[tweet url="https://twitter.com/DavisLytle/status/725806231449817088" hide_media="0" hide_thread="1"]
[tweet url="https://twitter.com/Marguerite005/status/761744199238684672" hide_media="0" hide_thread="1"]
[tweet url="https://twitter.com/ejrbrtsn/status/759537307531837440" hide_media="0" hide_thread="1"]
Bella laughed at the memory. "Ashley was like, 'Oh my gosh, I'm getting messages left and right. They all want bracelets, but I only got 30!'"
To help offset Bella's medical expenses, her parents created a Bring Back the Right Side fund, which raised more than $20,000, but it was the emotional support Bella received, quite often from complete strangers, that helped her get through what she calls "a hard and confusing and just like what-the-hell-happened-time in my life." All the local professional sports teams -- the Red Sox, Patriots, Bruins, and Celtics -- reached out, as did softball teams from across the country, including the University of Tennessee, Virginia Tech, and the University of Arizona.
One team in particular impressed Bella with its compassion. "The whole Georgia softball team got my bracelets," she marveled. "Honestly, the biggest highlight of my recovery was having the support from a completely different team that I didn't know a thing about. That was amazing."
[tweet url="https://twitter.com/redblacksports/status/700067335642726400" hide_media="0" hide_thread="1"]
The Low Point
From the outset of her recovery, Bella made it clear that her goal wasn't just to regain the use of her right side but also to play softball again someday. To that end, she maintained a very aggressive therapy schedule, pushing her body to its limit every day.
She used an exercise ball to strengthen her core. She underwent neuromuscular re-education. She practiced walking using a treadmill, parallel bars, and a harness. And she worked on her balance.
She also relied on what she called her "robot leg" to help her relearn how to walk. "It would electrocute my quad when my foot hit the ground," she explained, "and it would electrocute my shin to lift up my foot."
All the hard work paid off when, six months after the accident, she managed to take a few glorious, albeit awkward, steps on her own. "I felt like my left leg was in the middle of my body," she said. "It was so odd. It was the most uncomfortable, most unsettling feeling ever."
A month later, she was moving around with only the aid of a walker. But just as she was starting to feel good about her chances of making a full recovery, her doctors told her they wanted to operate on her legs to address the lingering effects of her compartment syndrome.
"I was like, 'Are you kidding me? You're going to take away both of my legs now?' she said. "I ended up having to get two more surgeries after that. I had to learn how to walk
three times
, and every single time I said, 'I'm done.'"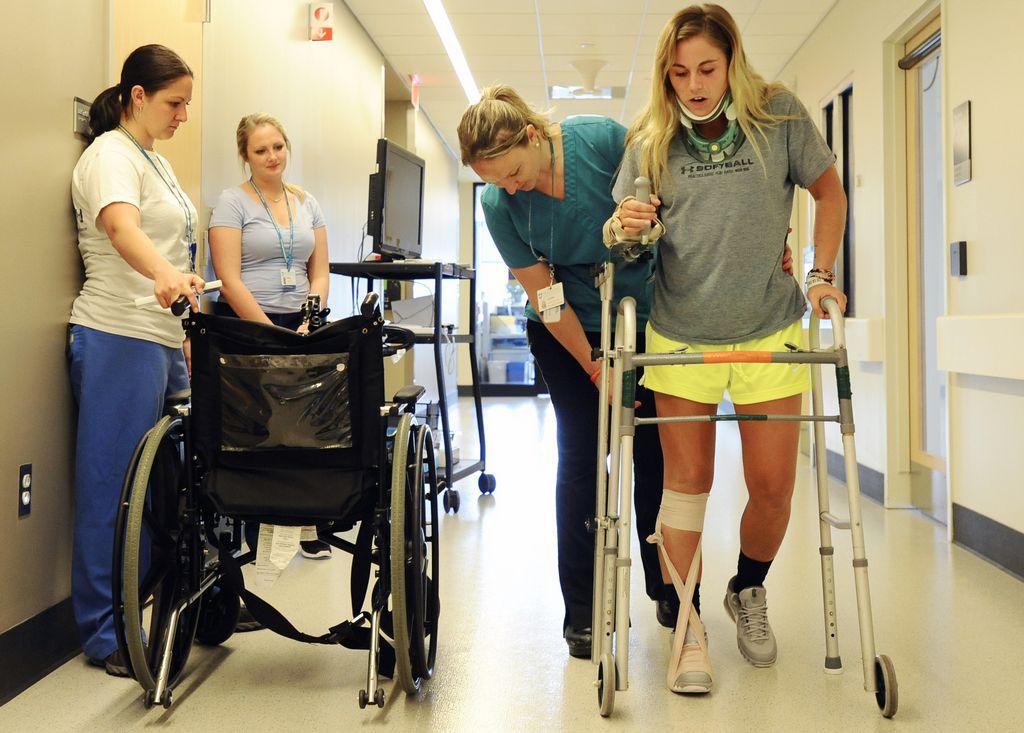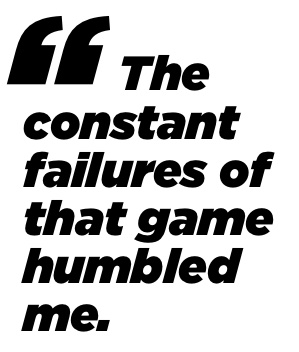 Why didn't she give up? "Honestly, that's where playing softball helped because softball is such a game of failure," Bella said. "The constant failures of that game humbled me. This injury is so similar to softball. This morning, I was brushing my teeth and my whole hand cramped up and I dropped my toothbrush and got toothpaste all over my face. If I was like, 'I'm just going to brush my teeth with my left hand,' then I would never get better. That's what softball taught me. If you strike out, if you're in a slump, if you miss a ball, if you pop up, if you storm off the field and throw the bat, you're not going to get better."
The lowest point in Bella's recovery came last spring after a series of upsetting one-year anniversaries: one year since she'd last played softball, one year since the accident, one year since her spinal fusion surgery. Her old teammates were back on the field, and she wasn't. Having to relearn how to walk for the third time was the final straw.
[instagram url="https://www.instagram.com/p/BEW7RsgCcPA/?taken-by=isabellapicard" hide_caption="0"]
"It was the worst time of my life. Some people get angry, and they'll punch a wall. For me, it was always pushups. But during the most frustrating time of my life, I couldn't even do that."
She found the support she needed to get through that difficult time from the people who had come to know her best: those who had spinal cord injuries just like her.
We've Got You for Life
One of the more important uses of social media is the way in which it allows those who would never cross paths in the real world to meet. From Instagram and Twitter, Bella has connected with a vast community of people who not only empathize with her situation but continually boost her spirits with their kind words.
"I wouldn't even have an Instagram account if it weren't so crucial in my recovery," she said. "Getting that support from random strangers is so huge. As stupid as it sounds, people care. I go through the messages on my Instagram account of people saying, 'I had this spinal cord injury,' or 'I have this nerve disease,' or 'I had a stroke,' and I'm just like, 'This is such an amazing thing,' because I'm helping other people. I'm helping my friends and my friends are helping me, and complete strangers are connecting with each other because of my page."
One of the people she met online was Corey Hahn, who, while playing baseball for the University of Arizona in 2011, had suffered a spinal cord injury in almost the exact same way Bella did. "I thought I was the only person in the entire world to break my neck in a softball game until he reached out to me," she said. "The feeling of comfort that brought me sparked my interest in getting involved with the spinal cord injury community."
From there, she connected with Eric LeGrand, the former Rutgers defensive tackle who broke his neck in a game against Army in 2010. When Eric saw that he and Bella shared a mutual friend and that Bella had also suffered a spinal cord injury, he reached out to her online. "Ever since then I consider her one of my best friends," he said. "She's a great girl. The journey she's been on is pretty crazy, but she still tries to find the best in everything, which is pretty amazing."
Bella and Eric have never actually met in person, but she and Denna Laing, who broke her neck while playing for the Boston Pride of the National Women's Hockey League, have. "We first met, randomly, on a warm day in Charlestown [in Boston] this past summer," Denna said via text. "Bella was taking a stroll around the pier and I was soaking up some rays. We exchanged numbers and have been friends ever since."
The two have a lot in common. Both grew up in the Boston area. Both were phenomenal athletes. And both know more about the Spaulding Rehabilitation Hospital than anyone really wants to learn.
Bella calls her connection with Corey, Eric, and Denna "a game changer in my recovery," but as much as they've helped her, she's helped them, too. "Bella often describes us as teammates because we are fighting for each other to get better," Denna said. "I think I help her the same way she helps me -- by motivating each other to work hard and never rule out any possibilities."
Thanks to his frequent appearances at fundraisers and awards ceremonies, Eric has become the face and voice of the spinal cord injury community in much the same way that actor Christopher Reeve once was after he was paralyzed in a 1995 horse-riding accident. "You just hear stories and understand what others may be going through," Eric said. "It's kind of neat when you can talk to somebody who relates to the same situation that you relate to. It's like a tight-knit family that you don't want to be a part of, but once you're in it, we've got you for life."
Before her injury, Bella could probably count her Instagram followers on her two hands. Today, she has more than 53,000. Her posts about the highs and lows of her recovery have attracted a wide audience, but a few in particular have resonated with Denna. "They are all pretty good," she said. "They often get me fired up and motivated to go through my day. But looking back, the ones I love are the video montages of where she was and where she is now and the ones where she writes about appreciating playing your sport. The first gives me such hope for what is possible and the second I just really share her feelings and thoughts about."
[instagram url="https://www.instagram.com/p/BQ64yJAFL3f/?hl=en" hide_caption="0"]
[instagram url="https://www.instagram.com/p/BMh-N_tAWN4/?taken-by=isabellapicard&hl=en" hide_caption="0"]
Together these two posts have generated more than 130,000 views and scores of appreciative comments. More importantly, they're almost guaranteed to inspire viewers to give thanks for what they have and to stand in awe of Bella's indomitable spirit. When she makes the diving catch at the end of the video and comes up smiling, you can't help but get chills.
I Want to Be the Best Damn Mom I Can Be
In hopes of playing softball again someday, Bella has had to relearn all the skills she once took for granted. When she lived in the rehab hospital, she slept with a softball in her bed and at the end of each therapy session she would practice simply trying to hold it in her right hand.
Three months after her accident, Bella was invited to throw out the first pitch at an exhibition game in Ewing, NJ, featuring the U.S. women's national softball team. She succeeded by lifting her paralyzed right arm with her left and using it as, in her words, "a floppy whip" to toss the ball toward home plate.
By the end of that summer, she could grip a softball with the pinky and ring finger of her right hand and fling the ball in a catapult-like motion. "I said to myself, 'I will be throwing a softball next spring,' and I did it," Bella said. "To this day when I hold a softball and I'm just tossing it around, I get emotional because I'm like, 'I used to be able to do this without even thinking.'"
Relearning how to swing a bat has proven to be more challenging, as it requires a certain measure of balance she has yet to fully regain. Practicing the diving catches she routinely used to make has also proven difficult because her therapists have only grudgingly supported it.
As remarkable as it is to see Bella diving to catch a tennis ball on the beach, it's still a far cry from laying out to snag a line drive during a game, but she hasn't abandoned her goal of returning to the field someday. "I'm going to find a way to do it," she said.
However, she has begun to temper her expectations about what that game might look like. "Maybe it'll be a college game," Bella said. "Maybe it'll be a fundraising game for someone else. Maybe it'll be a church league softball game. I don't care."
One day she also hopes to shed the leg brace she often relies on to get around. "I know that's probably not realistic, but that's one of my goals," she said. "I don't care if I'm on my deathbed. Take my brace off. I don't want it. I hate it."
One of her biggest short-term goals is simply finding a better way to control her nerve pain, which can be so severe it prevents her from sleeping. "The doctors just throw pills at everyone, but I think there are better ways," she said.
Last spring, she discovered a natural remedy that was much more appealing to her. While visiting her grandmother in Florida, she noticed that the warm weather made the pain more tolerable. Her time in the Sunshine State proved so therapeutic she moved there last fall with her brother, Julian.
"It's amazing how the human body reacts to the environment," she said. "I moved to Florida because the cold weather in Boston was awful. My nerves did not like the cold. They still don't. I'm like a lizard. If it's 50 degrees or below, I'm in an Eskimo outfit."
The move brought to fruition a prophecy she made on her 42nd day of rehab when, on her Instagram page, she described "a vision I have of myself in the future someday staring into the ocean on a beach somewhere on this planet and that is where I'll heal the most."
Bella's biggest long-term goal is to have children someday. "That's one of my biggest motivations to get better," she said. "I want to be able to run with my daughter. I want to be able to teach her how to throw, knock her down, and teach her how to get up. I want to be the best damn mom I can be for my kids. I can't wait to run with my babies."
While it would be easy for her to focus solely on her own recovery, lately she's begun to shift some of her attention to others who have spinal cord injuries. Before the accident, she planned on using the communications degree she was working on at St. Joe's to do broadcast journalism. Now she hopes to use her public speaking ability to inspire those who have suffered spinal cord injuries and warn high school athletes about the importance of keeping things in perspective.
"It was such an enlightening time for me when I realized that we have to exercise not just the body but the mind and the heart and the soul," she said. "That's one of my main messages when I talk to athletes. I'm like, 'You're the leading goal scorer? You have the highest batting average? Okay, well, where's your mind at? What are you thankful for? Why do you play?' I get super passionate about that because it hits home, obviously."
Everything Happens for a Reason
As brave and determined as Bella has been throughout her recovery, she's still human, prone to the same doubts and frustrations as anyone else. More often than she'd like, her peace gets disturbed by the "What if…?" question. As in, what if, during that game against Fordham, she'd taken off for second base a split-second sooner? What if she'd gone to Fordham instead of St. Joe's? What if she'd never gotten compartment syndrome and had continued to play soccer? This sort of speculation has no end and, as Bella has discovered, can make a person very unhappy.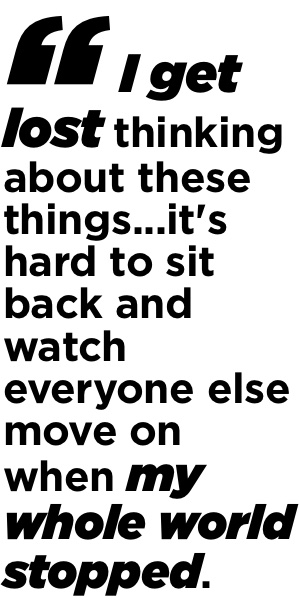 "I get lost thinking about these things because it's hard to sit back and watch everyone else move on when my whole world stopped," she said. "I would dive into bases all the time and so did my teammates, and you'd turn on the College World Series games and all the girls dive into bases. You know how many times I've collided with the shortstop? At that point, my faith really kicks in. Everything happens for a reason. You can't change anything."
Bella is most comfortable talking about such things with those who've been through it themselves like her good friend LeGrand. "She has faith and believes that God truly has a plan, that [her injury] happened for a reason, and that we will overcome this," he said.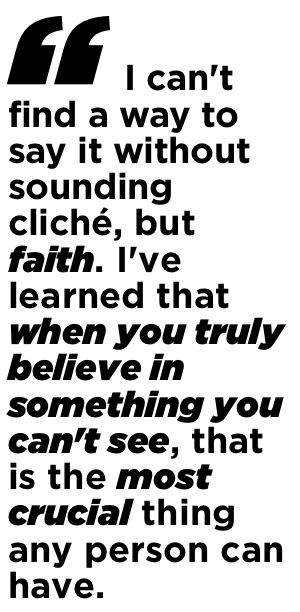 After all that she's been through, Bella could be bitter and jaded and no one would fault her, which makes her prevailing optimism even more inspiring. She hasn't turned her back on her injury. She's learned from it.
When asked what she's taken away from the experience, she said, "I can't find a way to say it without sounding cliché, but faith. I've learned that when you truly believe in something you can't see, that is the most crucial thing any person can have. It keeps you emotionally healthy to have faith in yourself. You're not bound to your situation. You always have a choice."
Bella's injury was certainly traumatic, but only to the extent that she's let it. She was undoubtedly a strong, self-assured person before breaking her neck. Now she sounds like someone wise beyond her years. "With an injury like this, it can either make you or break you," she said. "You can either say, 'Oh, the spinal cord is so tricky and so intricate that I'll never walk again.' Or you can look at it as, 'Oh my gosh, the spinal cord is so tricky and intricate, I might walk again.'"
Written By Storms Reback