Florida's Kelly Barnhill Named 2017 USA Softball National Collegiate Player
Florida's Kelly Barnhill Named 2017 USA Softball National Collegiate Player
Florida's Kelly Barnhill Named 2017 USA Softball National Collegiate Player
May 31, 2017
by FloSoftball Staff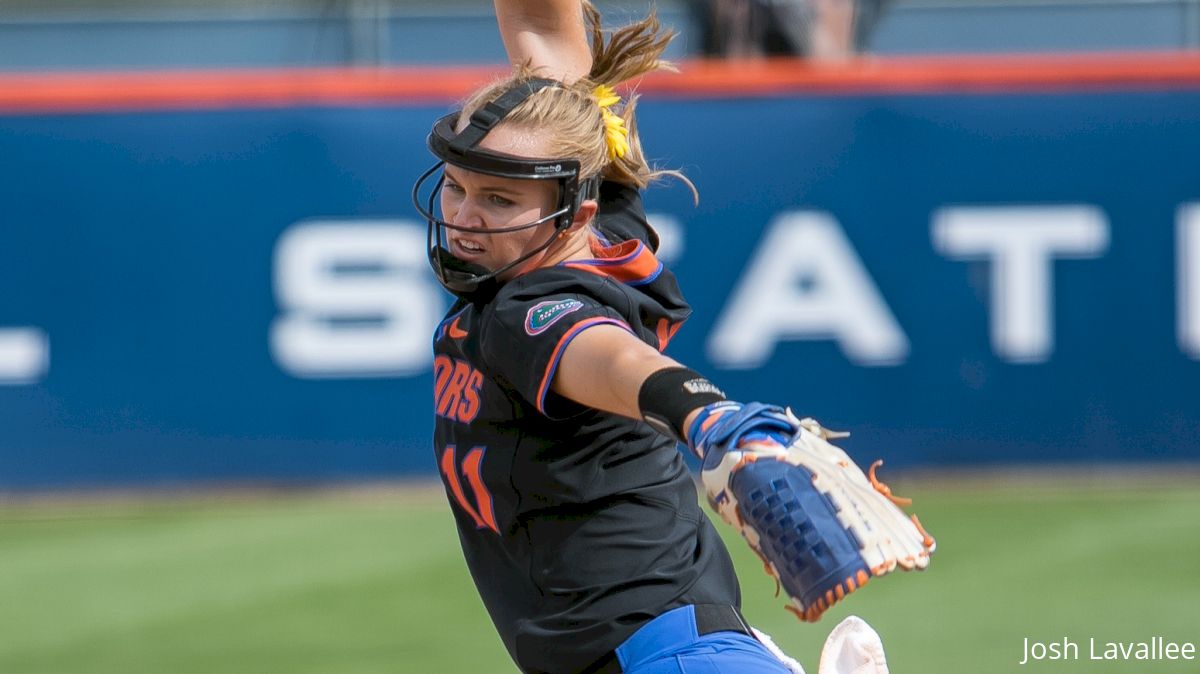 OKLAHOMA CITY —USA Softball, the National Governing Body of Softball in the United States, announced today that Florida's Kelly Barnhill was named the 2017 USA Softball National Collegiate Player of the Year. The award, which is considered the most prestigious honor in Division I women's softball, is designed to recognize outstanding athletic achievement by female collegiate softball players across the country. This season, Barnhill helped lead Florida to its eighth NCAA Women's College World Series (WCWS) appearance, where the Gators will look to take back the NCAA title for the first time since 2015.

"It's really amazing to be chosen for this award as just a sophomore," said Barnhill. "There are so many amazing players out there and to be honored at such a young age is a special accomplishment."

The 2017 Southeastern Conference (SEC) Pitcher of the Year, Kelly Barnhill leads the nation with a 0.36 ERA and ranks in the Top 10 in shutouts and strikeouts. In just her sophomore season at the University of Florida, Barnhill has racked up First-Team All-SEC honors and boasts a 24-3 record with 333 strikeouts and only nine earned runs allowed through Super Regional play. Behind the arm of Barnhill, who was named an NFCA First Team All-Region honoree, Florida earned the No. 1 overall seed in the NCAA Softball Championship.

Notable 2017 performances for Barnhill include 14 wins and nine shutouts over Top 25-ranked opponents this season. Earning SEC Pitcher of the Week five times this season, the first pitcher in Florida history to do so, Barnhill has thrown four no-hitters in her sophomore campaign.

"The first thing that I can say is to attribute a lot of her success to just how much she's embraced being a competitor and her tremendous work ethic," said Florida Head Coach Tim Walton. "Not only have her teammates embraced her, but she's embraced her teammates and is really becoming very comfortable in being a quite superstar. She's very humble and very driven."

The other two finalists for the 2017 award were 2017 Colonial Athletic Association (CAA) Pitcher and Player of the year Megan Good (James Madison) and 2017 SEC Player of the Year Meghan Gregg (Tennessee).

Barnhill now joins the ranks of past winners of the award, which include UCLA's Stacey Nuveman, Florida State's Jessica Van der Linden, three-time winner from Texas Cat Osterman, Tennessee's Monica Abbott, Virginia Tech's Angela Tincher, two-time winner Washington's Danielle Lawrie, Stanford's Ashley Hansen, back-to-back winner Oklahoma's Keilani Ricketts, Lacey Waldrop from Florida State, Lauren Haeger of Florida and 2016 winner Sierra Romero from Michigan.

The USA Softball Collegiate Player of the Year award is voted on by coaching representatives of 10 Division I Conferences in the 10 USA Softball Regions, members of the media who consistently cover Division I Softball across the country as well as past winners of the award.

About USA Softball
USA Softball is a 501(c)(3) not-for profit organization headquartered in Oklahoma City, Okla., and is designated as the National Governing Body (NGB) of Softball in the United States and a member of the United States Olympic Committee. One of the nation's largest sports organizations, USA Softball sanctions competition in every state through a network of 70 local associations and has grown from a few hundred teams in the early days to over 150,000 teams today, representing a membership of more than 2 million. USA Softball is dedicated to providing people of all ages the opportunity to play the game they love at a variety of levels by offering recreational, league, tournament and competitive play for fast pitch, slow pitch and modified pitch. USA Softball annually conducts thousands of tournaments throughout the country including over 100 National Championships. The USA Softball umpire program is among the nation's largest and are widely known as the best trained umpires in the game.

As the NGB for the sport of softball, USA Softball is responsible for training, equipping and promoting the six USA Softball National Teams that compete in events such as the Olympics, Pan American Games, World Championships and other international and domestic events. For more information on USA Softball, including its founding and history as the Amateur Softball Association of America (ASA), please visit, www.USASoftball.com.

About the NCAA Women's College World Series
USA Softball Hall of Fame Stadium – OGE Energy Field serves as the home to the NCAA Women's College World Series (WCWS). For the 27th year, the top eight college teams in the nation will head to Oklahoma City and compete for a national championship. Last year, over 78,000 fans attended the WCWS. Be there to Share The Experience with softball fans from across the country June 1-7 in Oklahoma City. Tickets for the 2017 NCAA WCWS are on sale now, click here to purchase your tickets and secure your championship experience!