Somehow, someway the Oklahoma Sooners won the WCWS and are college softball National Champions for the second consecutive year and three times in five years.
We'll call it the Shay Knighten Show, as the sophomore infielder was so clutch in two WCWS games to help No. 10 seed Oklahoma beat the No. 1 overall seed Florida Gators.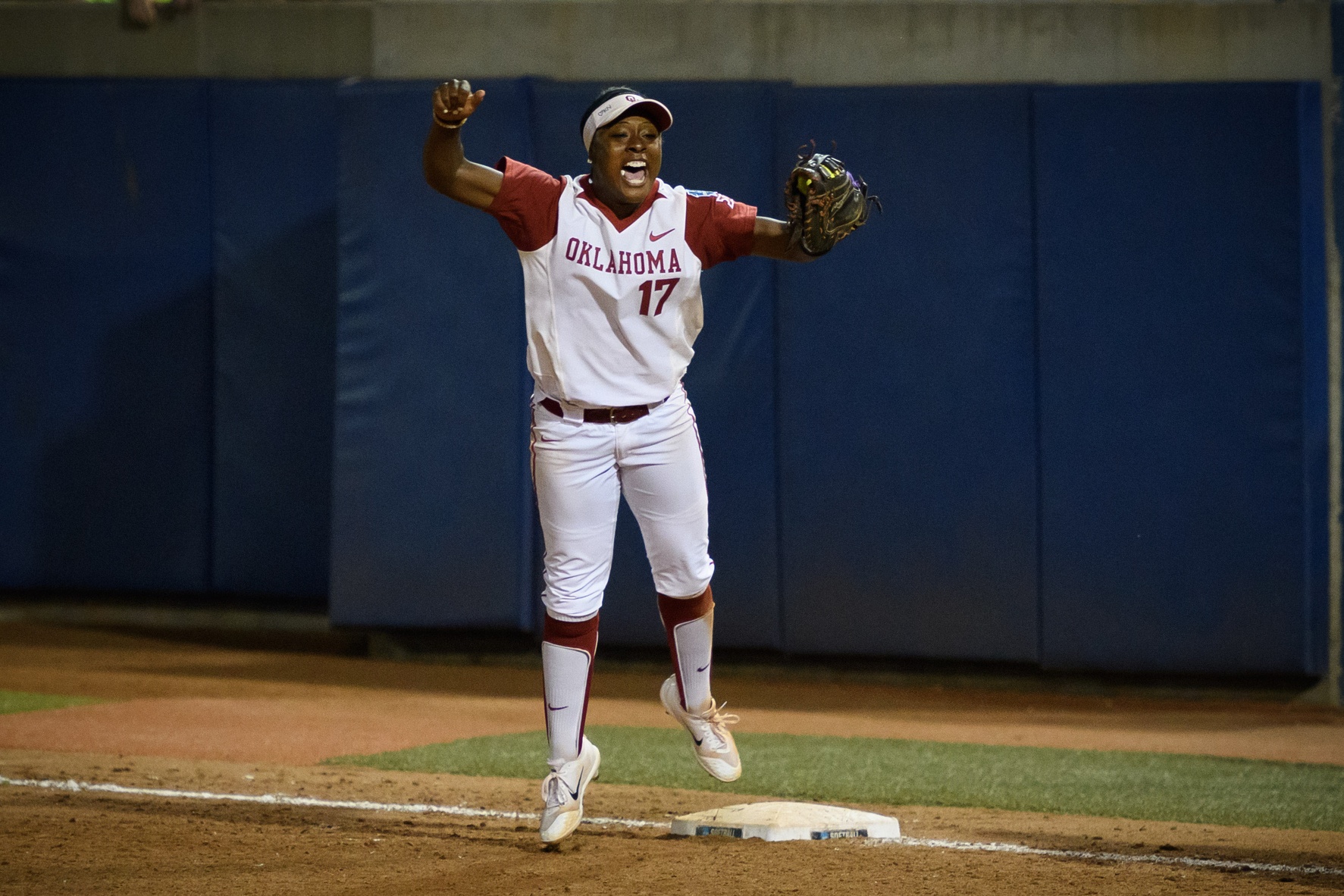 (Photo By Rob Ferguson/USA TODAY Sports)
After Monday's marathon, epic, 17-inning game that Oklahoma won 7-5, the Sooners eked out a 5-4 win on Tuesday night to win the National Title.
Shay Knighten provided the heroics early on Tuesday. With the Gators clinging to a 3-2 lead in the second inning, Knighten cleared the bases with a three-run double off senior ace Delanie Gourley to give Oklahoma 5-3 lead.
On Monday night, Knighten hit a game-winning home run off Florida's other ace pitcher, Kelly Barnhill. That's about as impressive as it gets against two of the best pitchers in the country.
After OU took the 5-3 lead on Tuesday night, the Gators responded with a run in the third inning to draw closer to 5-4. But, neither team scored again the rest of the game.
For WCWS Most Outstanding Player Shay Knighten, she finished the 2017 WCWS hitting .350 with a home run, 8 RBI, and six of those RBIs in the Championship Series.
Pitcher by Committee in Game 2 of WCWS
After Oklahoma and Florida battled for 17 innings on Monday, it was anyone's guess which pitchers would be effective on Tuesday.
So, early on, the hitters took advantage. All nine total runs in the game were scored in the first two and a half innings as the Sooners and Gators tried to figure out who could pitch.
The Gators' Kelly Barnhill never got into the game, as she was reserved for a closing opportunity or was saved to pitch Game 3 if Florida could tie the series.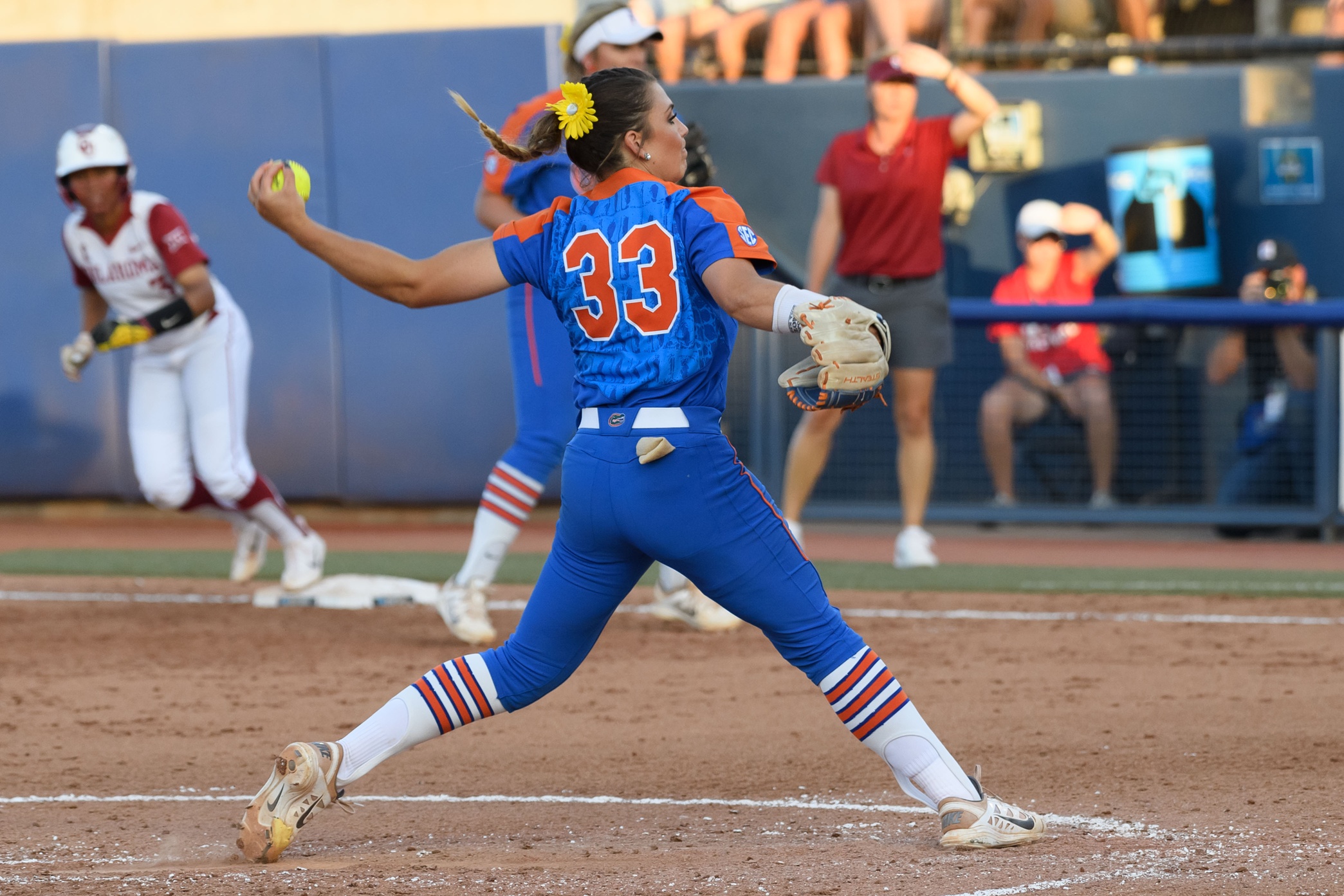 (Photo By Rob Ferguson/USA TODAY Sports)
That left it up to Aleshia Ocasio and Gourley. Ocasio gave up four runs on four hits in one-plus inning, then Gourley gave up the big hit to Shay Knighten before settling down in the final innings.
Meanwhile, Oklahoma tried to start the game with Paige Parker, but she gave up three runs on four hits. So, the Sooners turned to Nicole Mendes and Mariah Lopez. That set up Paige Lowary for a two-inning save. And, Lowary got the job done, not allowing a hit and striking out two Gators to win the WCWS.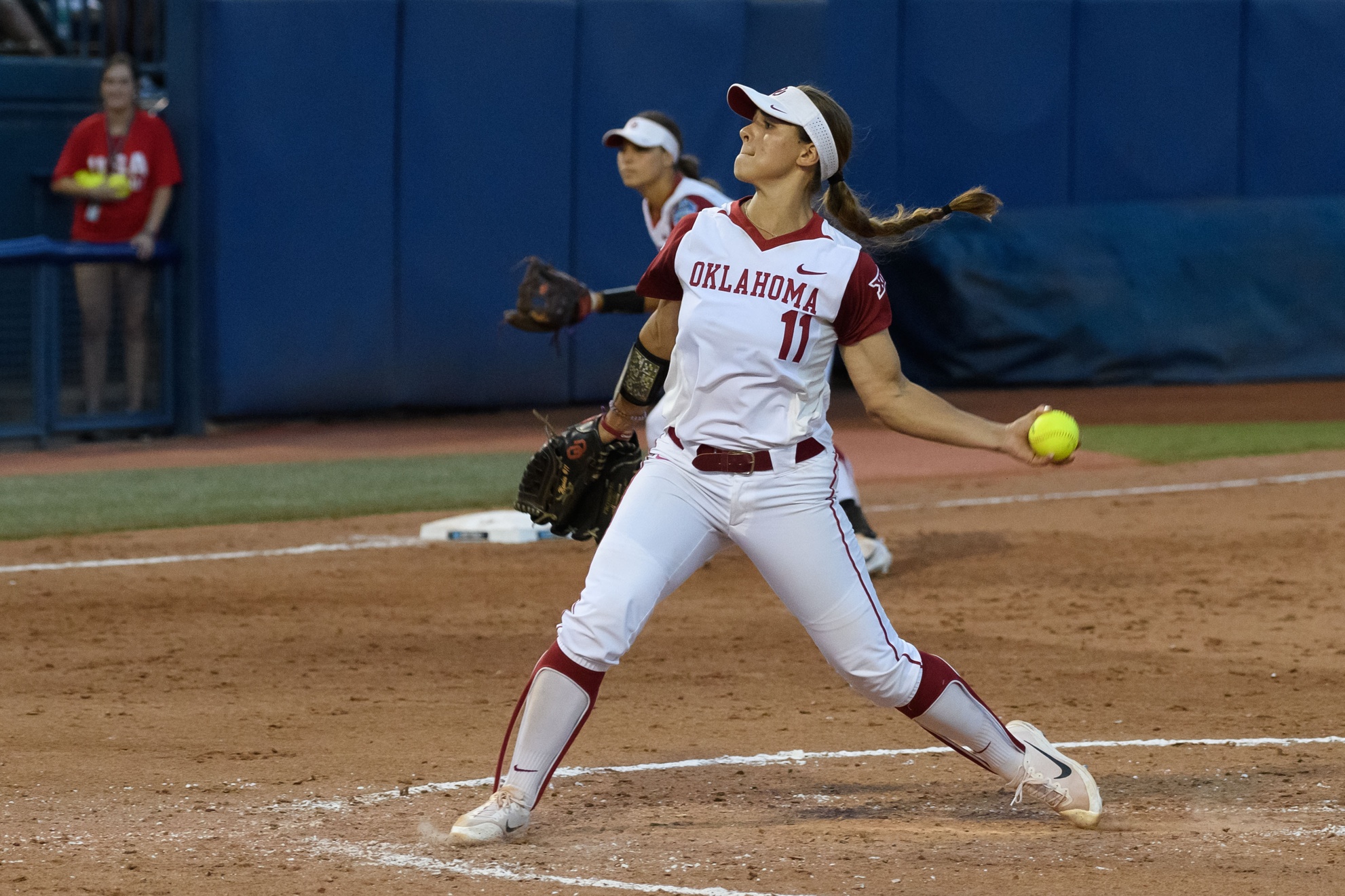 (Photo By Rob Ferguson/USA TODAY Sports)
Oklahoma vs. Florida Was Everything We Could Ask For
Overall, the 2017 WCWS was the result of seven years of buildup. Now, either Oklahoma or Florida has won the last five National Titles. And, either Oklahoma or Florida has appeared in the last seven WCWS Championship Series.
But, the Sooners and Gators had not crossed paths during this recent run. That's why Game 1 was so epic because these programs are so battle-tasted, so talented, and so familiar with the bright lights and big stage of the WCWS. Neither team was going to flinch. It was just going to come down to one or two mistakes.
That set the stage for a wild Game 2 that started hot with a lot of offense before settling down into a pitcher's duel over the last four innings.
This very easily could have ended with Florida winning Games 1 and 2 to claim their third National Title in four years. That's how razor thin the margin was between these two elite programs.
[tweet url="https://twitter.com/GatorsSB/status/872278976483536897" hide_media="0" hide_thread="1"]
Instead, Oklahoma and head coach Patty Gasso claimed their fourth overall National Title.
How Oklahoma arrived at this point is legendary. And, also why Coach Gasso broke down in tears after the final out was recorded.
The Preseason Voters Got it Right After All
This year's college softball season was completely unpredictable. No. 1 teams lost left and right, unbelievable upsets like Maryland beating Florida happened so many times, and Oklahoma nearly lost their Regional before even making it to OKC.
Go back in time to the beginning of the season, though. Oklahoma, the defending National Champions, was voted No. 1 in the country in the preseason poll.
Then, Oklahoma traveled to Mexico and lost to Auburn and Washington their first weekend of the season.
After seemingly getting back on track, the Sooners traveled to California, where they lost to Tennessee and Notre Dame at the Mary Nutter Classic.
The Sooners seemed to get back on track again, but they went back to Southern California, where they lost to Arizona and then twice to Cal Poly.
Those two losses to Cal Poly in mid-March turned the season around. Oklahoma returned to Norman, got right before the start of Big 12 play, and then went on a tear. The Sooners won 27 of 28 games, with the lone loss being against Baylor.
But then came more adversity. The Sooners lost the first game of their own Regional against North Dakota State. So, Oklahoma had to battle all the way through the loser's bracket just to make it out of their Regional. And, in the Regional, the Sooners needed come-from-behind wins against Arkansas and Tulsa to advance.
In the Super Regionals, Oklahoma swept Auburn in a rematch from the 2016 WCWS. Then, the Sooners went undefeated in the WCWS, including two epic wins against Florida in the WCWS Championship Series.
Overall, the Sooners won 38 of their last 40 games. They lost once to Baylor in Norman and once to North Dakota State in the Regionals in Norman. That means they did not lose a single road or neutral site game in the final two and a half months of the season.
It was quite the turnaround for the team voted No. 1 in the preseason poll. This team had it in them to pull off this kind of run, but it did not seem likely based on where they started.
Shay Knighten showed, though, that it's how you finish. And Oklahoma is back-to-back WCWS National Champions after an epic battle with the No. 1 overall seed Florida Gators that provided a legendary conclusion to a wild, unpredictable 2017 college softball season.
[tweet url="https://twitter.com/OU_Softball/status/872280025332154368" hide_media="0" hide_thread="1"]