If you are familiar with No. 7 Hot 100 2021 recruit Rylee Holtorf, then you already know she is a team player and is absolutely grateful to the people who have supported her and made her better. The middle infielder from Peoria, Arizona, shares her recruiting story and why she decided to verbally commit to Washington.





My recruiting process started when I was in seventh grade. I tried out for the Arizona OnDeck Jamboree at the beginning of my seventh-grade year. After making that Jamboree, I got invited to the California Jamboree. I continued to attend the Colorado June Jamboree and National Elite Jamborees. It wasn't long after when schools started asking my coaches about me.

I began communicating to the schools via email through me and my coaches, letting them know my schedule every time I played. I think the OnDeck Jamborees were what kick-started the process for me. OnDeck provided me with a great platform to be seen by schools that may have missed me.

Because I played on an amazing team, I started to get noticed by more schools. Last year, I was very fortunate to play with such an amazing group of girls on Mizuno Storm Holtorf 02. These girls were a group of studs and my best friends. They all pushed me to be better and made me work harder. A lot of those girls drew coaches to our games, which gave me an opportunity to get recruited.

Since all of those girls are older than me, I made the hard choice to move on to the 03 team, Mizuno Storm Mathis/Holtorf 03, which is the team I am on now. I'm not going to lie, I was a little nervous going into it because my old team was the "dream team." But after a couple weeks of practice and tournaments, I realized this team was amazing as well. These girls all have the drive and work ethic to push me to be better. I am so blessed and grateful that I get to and got to play with such amazing groups of girls! I definitely wouldn't be the player I am today without all these girls' support and drive for the game.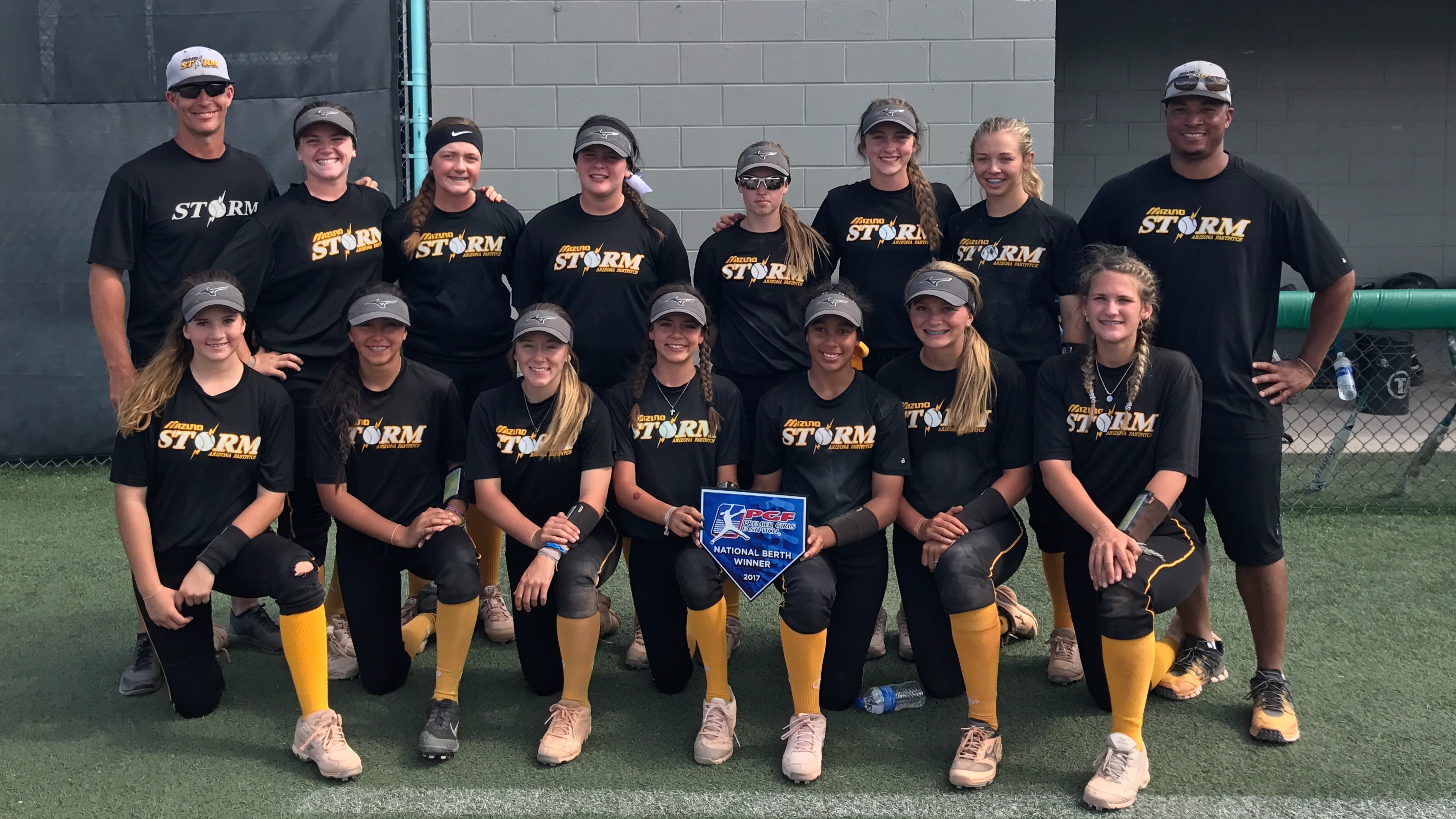 In the beginning, I honestly had no idea where I wanted to go or even what program was my "dream school." The first unofficial visit I went on was Grand Canyon University in the summer of my seventh-grade year. Prior to my visit, I had been to some of their camps, including their elite camp. After my visit, I still attended camps.

I got invited to the Oklahoma camp and visited later that year. I really enjoyed GCU and Oklahoma, and the coaches at both schools were amazing. The next unofficial visit I went on was University of Arizona. Prior to that as well, I attended the elite camp. I really liked the school and the coaches. Oregon was next on the list. I got invited to their camp and visit. Oregon was a sight to see and such a cool campus. I had a great time getting to know these coaches and touring the campuses. They were all experiences I'll never forget.

In early May of this year, I flew up to Washington to watch a series and went on my unofficial visit. This was my third time seeing the Huskies after watching them play Arizona and GCU. While touring the campus and watching them play, I knew Washington was the school I wanted to attend. The campus was beautiful, close together, within walking distance from the softball field and complexes, and different than the other schools I had seen prior.

Watching the girls play and coaches coach was probably what sold me. The energy level they had through the whole game and the way they communicated to each other, not caring about the score but playing pitch by pitch and being able to see how relaxed they played and how much fun they were having on the field, got me excited about Washington. Obviously, those girls won't be there when I get to college, but knowing that this is the kind of program UW coach Heather Tarr develops seems like a perfect fit.

Seeing the coaches coach and meeting them off the field was definitely a bonus. Coach Tarr and assistant J.T. D'Amico coach with confidence and have fun, which allows their girls to play with confidence and swag. Seeing some of their relationships with the girls was pretty cool as well. The girls had a level of respect for the coaches that they could mess around with them, talk to them, and also be instructed by them. All of the things I saw at Washington were priorities I had when looking for a college. I wanted to commit right when I was offered, but my parents said I should wait and think about everything. After praying about it and thinking about everything, I knew 110 percent that Washington was the school for me.

Though at times this process was a little bit stressful, and even crazy, I really enjoyed it. And that's thanks to the awesome coaches I met along the way, my two amazing teams, and my parents. Being committed to a school that became my dream school and fits me perfectly makes the entire process very rewarding.



Like What You See?
Sign up for the FloSoftball newsletter for instant access to: Breaking News, Live Streams, Rankings, Technique Videos and more!