PGF 2017 Premier Nationals 14U
2017 PGF Nationals Week 2 Ultimate Streaming Guide
2017 PGF Nationals Week 2 Ultimate Streaming Guide
The ultimate streaming guide for the Week 2 of the 2017 PGF Nationals and PGF National Championships, streaming live on FloSoftball.com
Jul 20, 2017
by Brittany Connors Connors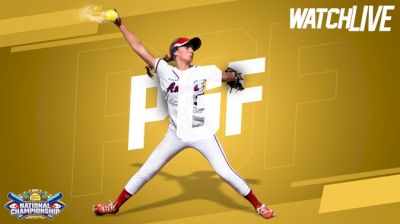 Club softball's crowning national championship, the PGF Nationals, will be streamed LIVE for the second year in a row on FloSoftball. Streaming for the second weekend featuring 16U and 14U age divisions starts on August 2 and runs through the championship games on August 5.
Softball fans will have the opportunity to watch most of the 16U premier and select 14U premier bracket play games, as well as the 16U premier, 16U platinum, 14U premier, and 14U platinum championship games LIVE.
FloSoftball will stream fields 1-4 from Huntington Beach and Fountain Valley as well as both platinum and premier championships for each age group.
Below are links to info on all the age divisions plus ALL the live streams you can watch on FloSoftball.com!

PGF Nationals Week 2: 16U/14U
August 2-4, 2017
(Info)

16U Premier Bracket Play
(WATCH LIVE)

August 2-4, 2017
(Info)

14U Premier Bracket Play
(WATCH LIVE)

August 5, 2017
(Info)

14U Platinum National Championship
10:30AM PT
(WATCH LIVE)

August 5, 2017
(Info)

16U Platinum National Championship
1:00PM PT
(WATCH LIVE)


August 5, 2017
(Info)

14U Premier National Championship
4:00PM PT
(WATCH LIVE)


August 5, 2017
(Info)

16U Premier National Championship
7:00PM PT
(WATCH LIVE)