USA Softball JO Cup 2017
Greg Schnute Builds EC Bullets On The Foundation Of Excellence
Greg Schnute Builds EC Bullets On The Foundation Of Excellence
Greg Schnute, Head Coach of the East Cobb (EC) Bullets builds the softball program on the foundation of excellence.
Jul 23, 2017
by Dan Pearson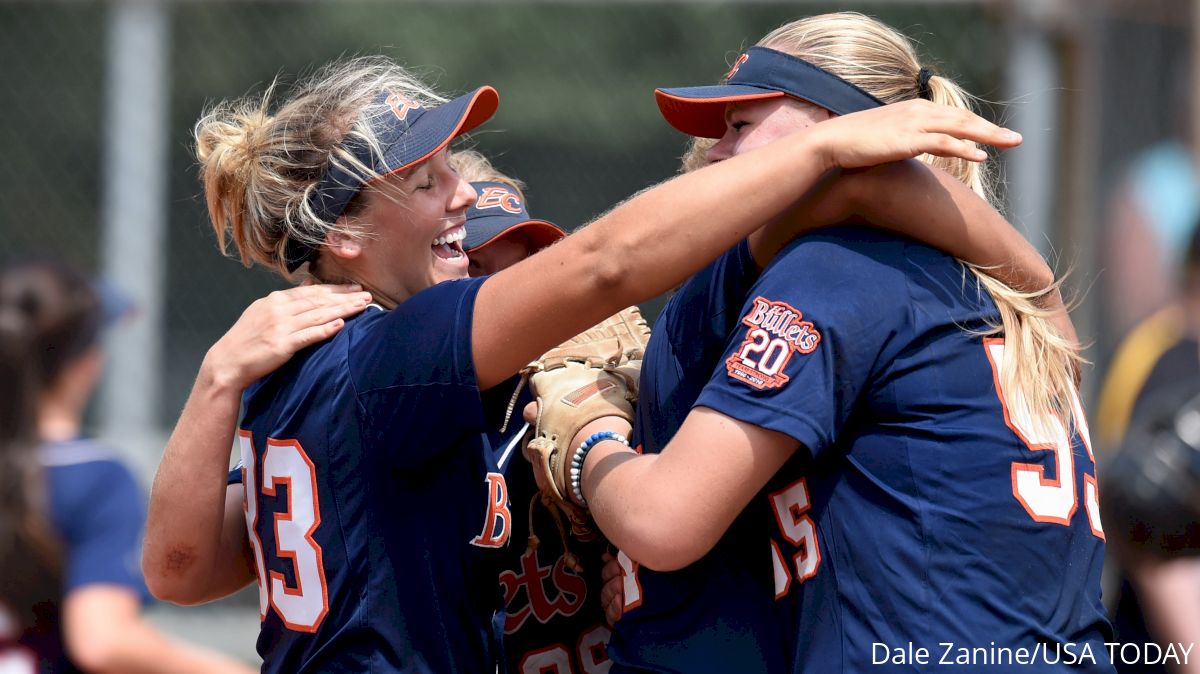 What makes a person want to spend hundreds of hours organizing, recruiting, and coaching elite softball players year after year?
For Greg Schnute, head coach of the East Cobb (EC) Bullets in Georgia, the reason is straightforward -- even if his initial foray into a softball dugout was anything but planned.
"The simple answer is I love it," says Schnute, a former Florida State baseball player who started for the Seminoles team that made the 1970 College World Series finals. "I was always a highly competitive person, and when I quit playing sports, coaching became the natural progression."
Schnute's playing career ended when he injured his ankle in that same College World Series. He graduated from college, got married, and spent time in both Nashville and Birmingham. By the time he moved to the Atlanta area, his first daughter had taken an interest in sports.
He became a softball coach by accident.
"My daughter played on a youth team with my next door neighbor's daughter," Schnute recalls. "My neighbor, who was the coach, asked me to come to a practice. I told her I didn't know much about softball, but I went to the practice anyways and realized how horrible the fundamentals where. I made a few suggestions, and the next thing I know I'm coaching."
Back then, high schools in Georgia played the slow-pitch version of the game. Schnute was coaching his son in East Cobb youth baseball but he foresaw fast pitch softball coming.
"There was some talk that the [Southeastern Conference] was going to do away with slow-pitch softball and start sponsoring fast pitch," he says. "I went to the East Cobb leaders and told them that when that happened we would be doing a huge disservice to our kids if we didn't establish a fast-pitch program. I told them if they would support it, I wanted to coach it."
A short time later, in 1996, the EC Bullets were formed, and Schnute quickly built the team into a national power.
"We were the first fast-pitch travel ball team in Georgia," he says. "We were the first team from the state to gain a national ranking, and we have been fortunate to have had some great players come through the program."
That success included last year, when the Bullets won the 2016 Junior Olympic tournament, a title Schnute hopes to defend
next week
in Lake Elsinore and Perris, CA.
"It's a great tournament, a lot of the top teams are there and all of the Olympic coaches will all be there," he says. "It's great exposure for our kids."

While Schnute says he coaches the Bullets because he loves it, there are also factors away from the field that explain why he's led the program for over two decades.
"We spend a lot of time with these kids at tournaments and when we go to meals or have some down time I usually pick a different group of players to sit with and I spend a lot of time talking about their goals and dreams," he says.
"I tell these athletes when their careers are over and they are out in the job market, employers are going to see that they were NCAA athletes and they will be looked at differently. Employers will understand that as an athlete you are coming from a disciplined environment and that you know how to problem solve and that you know how to deal with adversity."
It is also why Schnute demands excellence.
"It keeps with that same philosophy of preparing these kids for life after softball," he says. "We work them hard and we demand that they do things the right way both on and off the field. The end result is we helped close to 500 athletes earn college scholarships."
That list has included many outstanding players, including current Florida All-American and NCAA Player of the Year Kelly Barnhill.
Fourteen of his 17 current players have either signed or have been offered college scholarships, including Lexi Kilfoyl, an Alabama commit who has already been selected to the National Junior Olympic team. It is a figure that Schnute is especially proud of, given that 12 of his rostered players are rising high school juniors and sophomores.
"I'm really excited about this team and the future," Schnute says. "This is the youngest 18U team we have ever had, and if we can keep them together over the next few years they can really be special."
As to any regrets, Schnute only has one.
"The nature of travel ball means we get little practice time," he says. "I have girls from seven different states getting together for weekend tournaments. It would be great if we could get together and practice two or three times a week but it's just not possible."
After 20-plus years in charge of the Bullets, Schnute does not see himself slowing down or retiring anytime soon.
"I love this sport and I love coaching," he says. "I'd be really hard-pressed to think of anything else I rather be doing."


Get More From FloSoftball!
Sign up for the FloSoftball newsletter for instant access to: Breaking News, Live Streams, Rankings, Technique Videos and more!