PGF 2017 National Championships (18/12U/10U)
Salinas Storm-Heen Win 18U PGF Platinum National Championship
Salinas Storm-Heen Win 18U PGF Platinum National Championship
Salinas Storm-Heen Win 18U PGF Platinum National Championship
Jul 29, 2017
by Brittany Connors Connors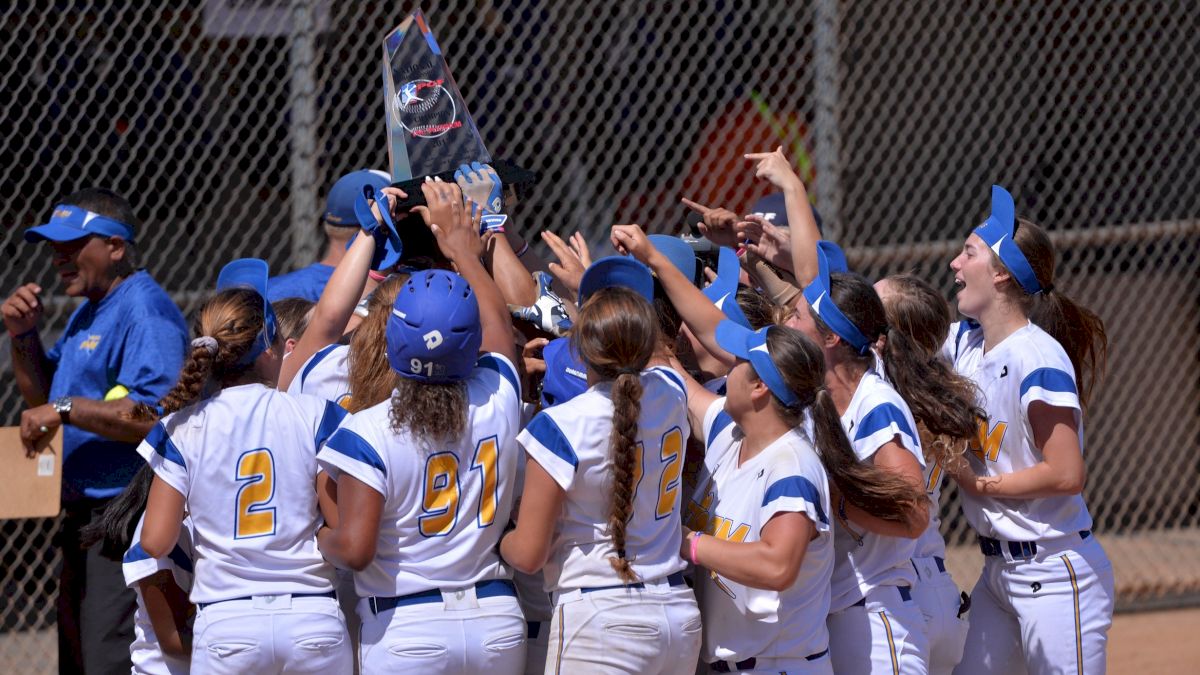 By MANNY ALVAREZ
Most players go to Disneyland to celebrate a national championship, but Noellah Ramos went to the emergency room.
Ramos delivered a walk-off single to right field that scored Alyssa Ito in the bottom of the seventh to give Salinas Storm-Heen a 5-4 victory over Batbusters-Gomes/Clark in the PGF 18U Platinum national championship game on Saturday morning at Deanna Manning Stadium in Irvine, California.
During the post-game championship ceremony, Ramos was hit in the eyebrow with the trophy as they tried to hand it to her.
"We were celebrating and one of my teammates tried to hand it to me," Ramos said. "It ended up hitting me right on the eyebrow. It's a nice cut, but it's worth it."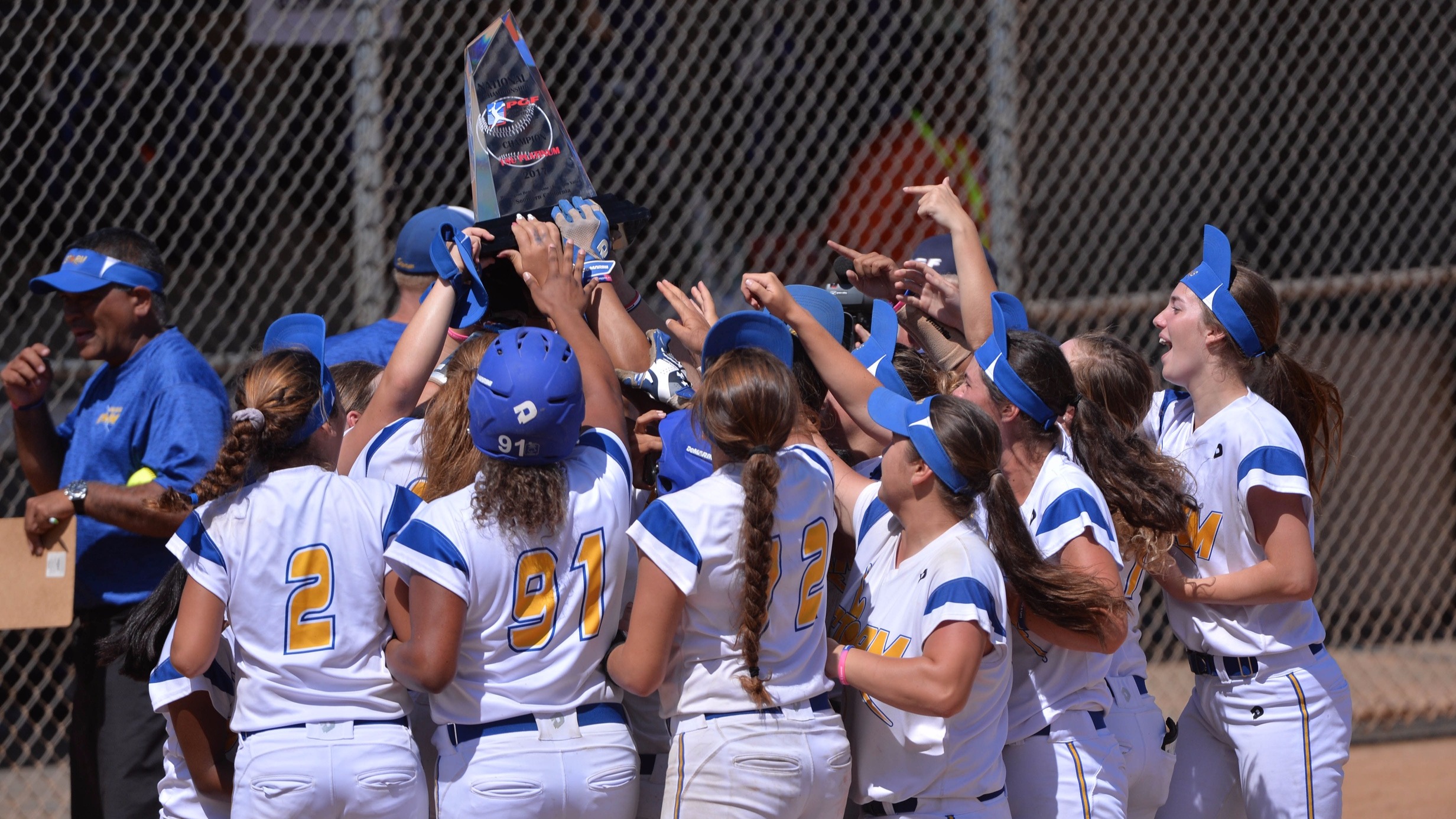 The Batbusters got off to a quick start when Megan Massa walked and ended up on third because of an overthrown ball. She eventually scored on another throwing error. Alyssa Ramirez scored on a Melissa Nunes sacrifice fly and the Batbusters were up 2-0.
The Batbusters added a run in the top of the fourth to make it 3-0, but the Storm began to chip away at the lead thanks to a two-run home run to left field by Alexis Kaiser. The Storm tied it 3-3 after Ramos' RBI triple off the wall in centerfield. Ramos scored on Alyssa Gomonet's sacrifice fly to left field to give the Storm a 4-3 lead.
"We just needed a spark," Storm coach Marc Kaiser said. "We have been down 2-0 before. It doesn't put us in a pressure situation. We just need that one player and we get Alexis here to hit a two-run jack. That got everybody lighted up. From there, it was a matter of closing the deal. We knew if we kept it close, that we would have a chance and that is what our pitching staff did. They kept us in the ballgame. Our offense was in a never-die attitude. We knew coming in late in the game, bottom of the seventh, the game was ours. We did a great job, a fantastic job."
The Batbusters tied it 4-4 in the top of the seventh inning, but the Storm came in the bottom of the seventh. Ito reached first on an error and moved to second base on a ground ball to first base to set the stage for Ramos' heroics.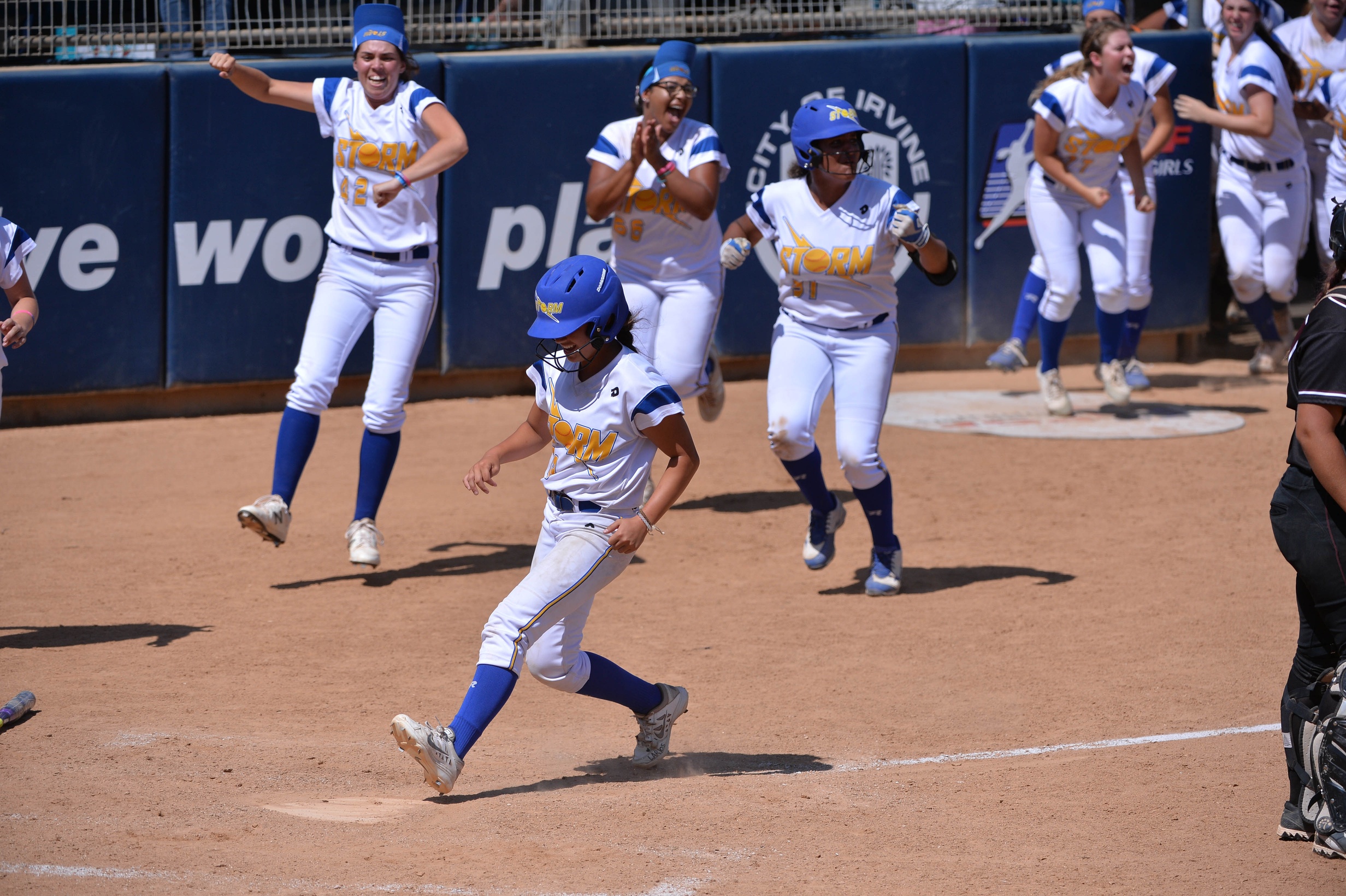 "I had to key in on the ball," Ramos said. "I remembered my last hit and I tried to key in and try to remember the seams. If I really key in on the ball, I know it is going to be a hit."
Nunes, Xiara Diaz, and Peyton Mott each drove in a run and Cheyenne Mahy drew the loss in 1.1 innings of relief work for the Batbusters.
"It started in Portland," Batbusters coach David Waltman said. "We got to the finals there. We took third in Colorado and here we are two week later taking second in PGF. This has been a run these girls have been on. It's not surprising. I expect them to come back real strong. We only lose five key pieces, but I imagine we can replace them real quick and get right back into it, no problem. We have a lot of key returners back."
Ramos went 2 for 4 with a triple and two RBIs, Kaiser went 1 for 2 with a two-run home run, and Avery Fitch picked up the win in relief for the Storm.
"It feels great," Ramos said. "It wasn't just me. It was my teammates as well. We just stick together."
Follow Manny Alvarez on Twitter @SoCalSidelines.



Get More From FloSoftball!
Sign up for the FloSoftball newsletter for instant access to: Breaking News, Live Streams, Rankings, Technique Videos and more!