The Texas Dirt Divas were known by few heading into the PGF Nationals this week, but after advancing to the PGF 14U Premier national championship game without a loss they've caught everyone's attention in the softball world.

Lamar commit Crissy Bird broke open a close game with a two-run home run to left field to help the Dirt Divas beat Indiana Magic Gold-Rudd 7-3 to advance to the national title game on Friday at the Fountain Valley Sports Complex in Fountain Valley, California. The Dirt Divas will face Mark Campbell's OC Batbusters on Saturday at 4 PM at Deanna Manning Stadium at Bill Barber Park in Irvine, California.





Vanessa Miller scored on a passed ball in the bottom of the first to give the Magic and early 1-0 lead. It would be the only lead the Magic would have.

The Dirt Divas tied it in the third thanks to a double by Baylee Chandler that scored Louisiana Tech commit Caleigh Mullican from second base. Amanda Carden singled in the fourth to knock home Jaylyn Davis, giving the Divas the lead. They added two more runs to make it a 4-1 game thanks to back-to-back sacrifice flies from Texas A&M-Corpus Christi commit Kaitlyn Dutton and Mullican. The Magic and Dirt Divas each added a run to their score, but it was Bird's home run that put the nail in the coffin.

"All I was thinking is I need a hit," Bird said. "I haven't had a hit in 2-3 games. I just went up there and got my pitch. I just went in thinking I got it and it went over the fence."

The Magic -- who lost to So Cal Choppers-Fausett 5-0 earlier in the day in the winners bracket and defeated Tampa Mustangs-TJ 11-7 to get into the semifinals -- would had an opportunity in the fourth with the bases loaded and no outs, but couldn't capitalize, leaving the bases juiced without a run scored.

The Dirt Divas were ranked No. 15 in the nation by FloSoftball and had been getting noticed regionally, but had been an unknown commodity nationally, sometimes being called "The Dirt Devils" by some softball fans. But after defeating every opponent they faced this week, they have begun to get the national respect that they deserve.

"It's been kind of crazy," Dirt Divas coach JD Chandler said. "We do get a lot of regional action and we do win a lot of games. We have beaten some of the top teams, but we don't get the recognition. We are a single-named organization and we have one team. These girls here worked their tails off. It's good for them to finally get some recognition at the national level."

Grace Lorsung and Miller each drove in a run and MiKayla Jolly drew the loss in 3.2 innings of work for the Magic, who finished in third place.

Texas commit Hannah Earls went 2 for 4 with an RBI double in the sixth inning, Davis went 2 for 4 with a double, Baylor commit Sydney Collazos went 2 for 4, and Kaci West -- also headed to Baylor -- threw five innings to get the victory for the Dirt Divas.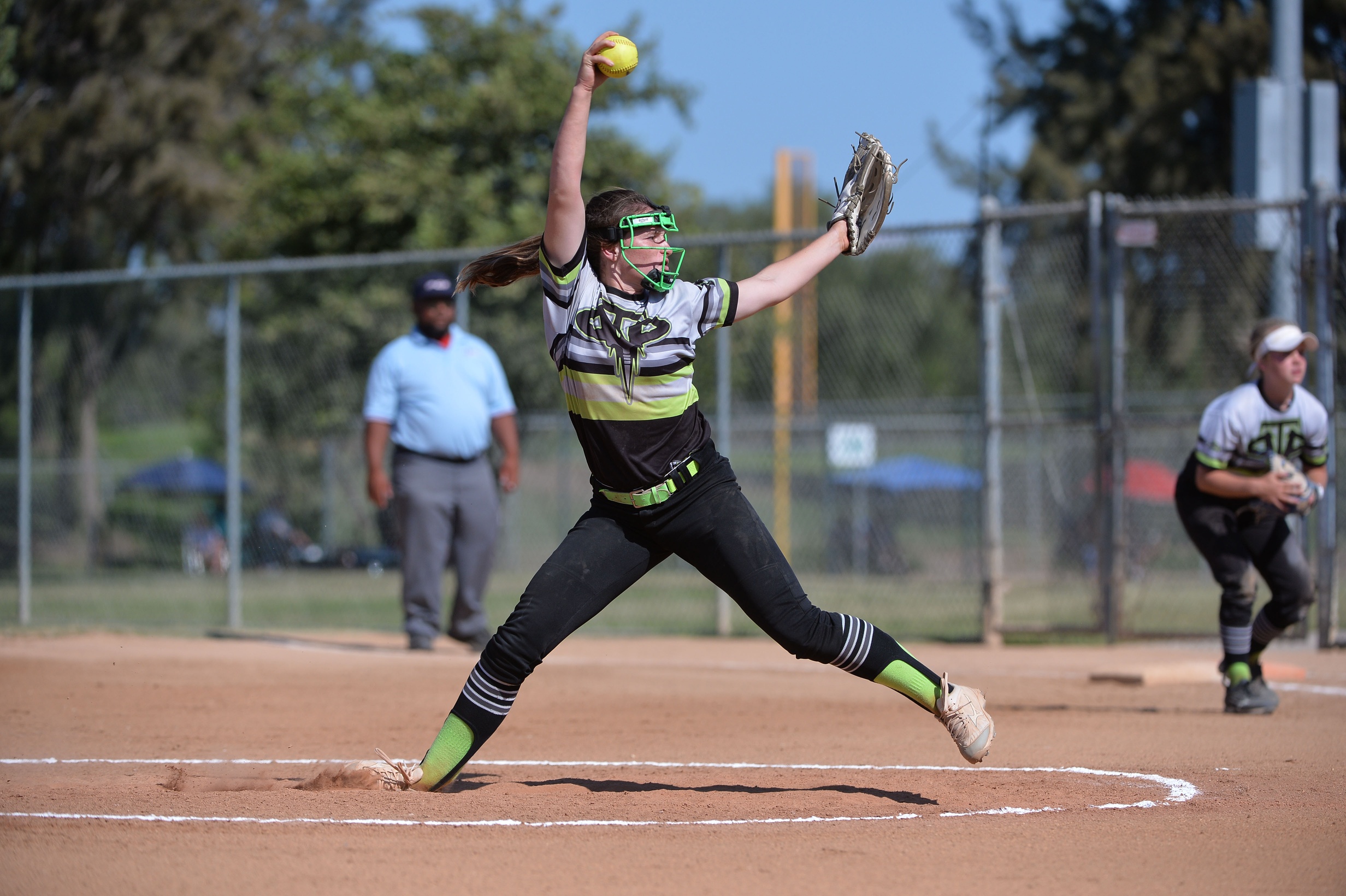 "It's going to take effort," Bird said. "It is going to take everything that we got. We have to put our heart and soul in this game. We want to take the title home."


Elish Leads OC Batbusters To PGF 14U Finals
It was already going to be a tough day for the Batbusters in order to get to the championship game, but to run into one of the best teams in the country in the losers bracket and then play two games against another team with one of the best pitching duos at the tournament made it a lot tougher. The Batbusters went through it with ease.
Tiare Jennings drove in three runs and Morgan Smith hit a solo home run to lead the Batbusters to a 6-1 victory over So Cal Choppers-Fausett to advance to the national title game.
Photo: Orlando Jorge Ramirez/USA TODAY Sports
Angelina Devoe threw a complete game two-hitter to get the Batbusters their fifth victory on the day. Three of those games were won by pitcher Madilynn Elish, who won game one over the Choppers 2-1 in the semifinals.
"It has obviously been a long day," Batbusters coach Mark Campbell said. "The success that we had today is reflected upon Madilynn Elish. She came in and pitched like a rock star for four games. She kept the ball down, changed speeds, did everything that we needed her to do. She got us a lot of ground balls. She doesn't pitch 65 miles per hour, but she pitches and hits her spots. This is the reason we are moving on to tomorrow."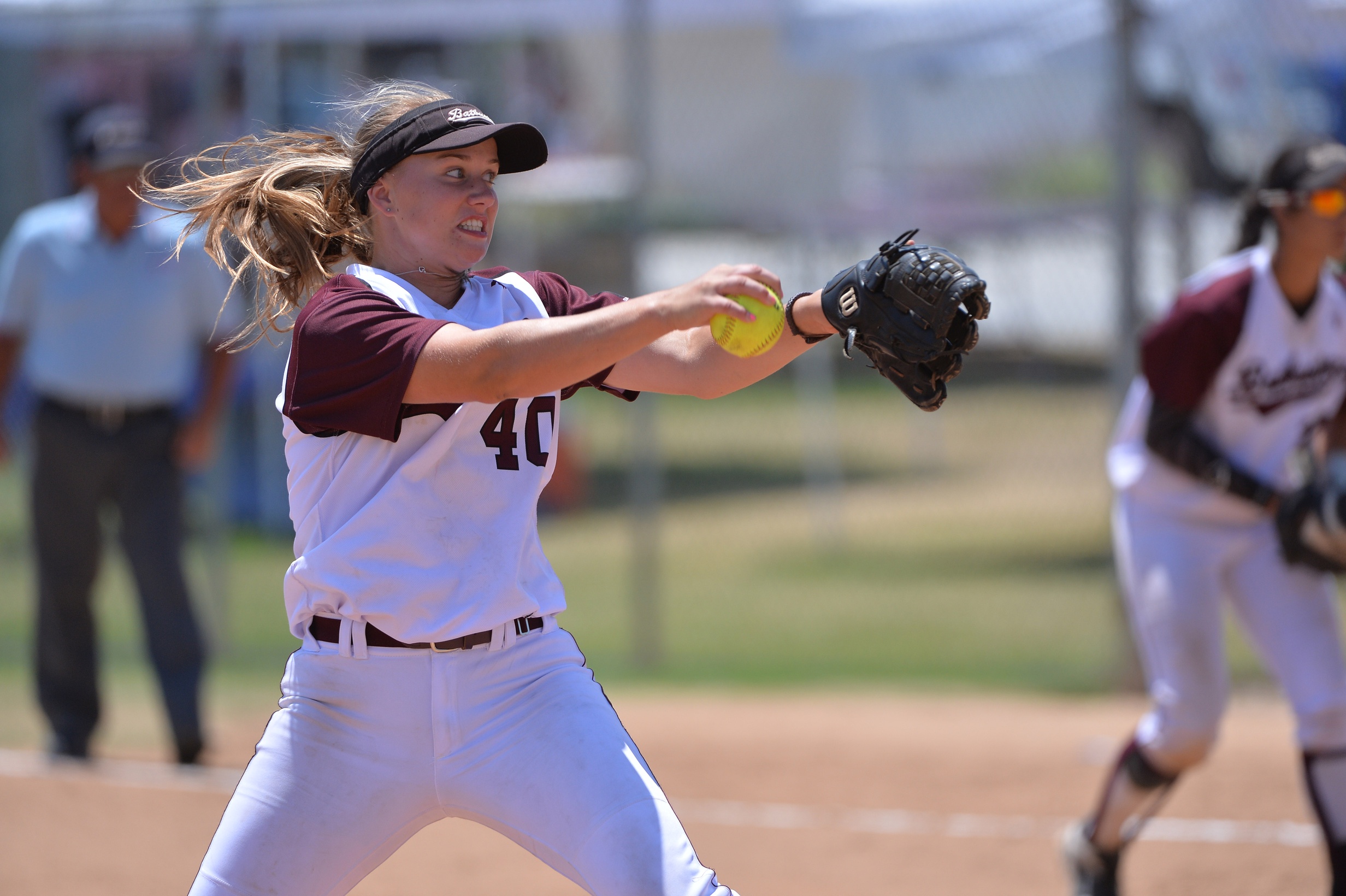 Photo: Orlando Jorge Ramirez/USA TODAY Sports
The Batbusters, who lost in a run-rule game to the Corona Angels-Tyson on Thursday to move down to the losers bracket, faced the Ohio Hawks Gold in the 8 AM game and defeated them 14-4 in four innings thanks to Alyssa Brito's three-run home run in the first inning. Elish threw 3.2 innings to get the win. Meagan Mullaney went 2 for 3 with two RBI for the Hawks.
The Batbusters next opponent was a familiar one: Marty Tyson's Corona Angels.
With Auburn commit Sarah Willis on the mound for the Angels, the Batbusters knew that they would not be able to duplicate the same offense from the previous game, but Elish battled Willis and got a two-hit shutout in the 2-0 victory. Hanna Delgado went 2 for 3 with a two-run single in the third. Willis threw six innings, striking out seven in the loss for the Angels.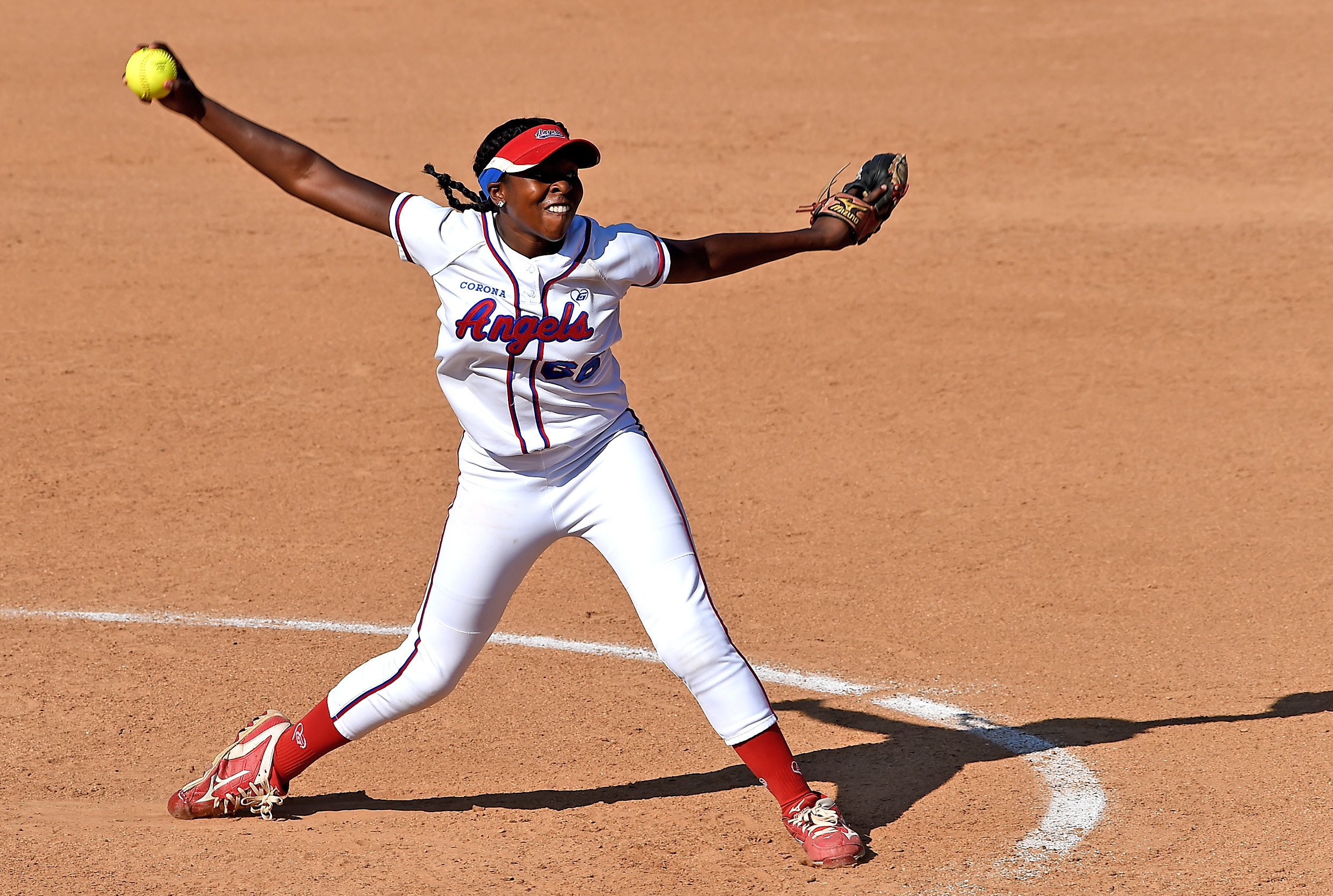 Photo: Jayne Kamin-Oncea/USA TODAY Sports

The bats woke up again in the Batbusters' next game against Georgia Impact-Newland in a 9-1 five-inning game. Elish threw five innings, striking out four to get her third win of the day. Smith went 2 for 3 with three RBIs and Jennings went 1 for 4 with two RBIs for the Batbusters. Elish's only mistake was in the third when she gave up a solo home run to Georgia Impact's Abby Hughes.
The Batbusters headed back to the winners bracket, but had to face Ava Justman and the Choppers. Jennings and Giulia Koutsoyanopulos each drove in a run for the Batbusters. Justman struck out five for the Choppers, but Elish also struck out five in a complete game shutout to force a second game.
Elish went again for the Batbusters, but started to run out of gas. Devoe came into the game after Elish gave up an RBI single to Grace Keene that scored Libbie McMahan. Devoe kept the Choppers bats quiet while the Batbusters got the best out of Arizona commit Jessie Fontes, who hadn't given up a run the entire week, but gave up four earned runs in seven innings to take her first loss in the tournament.
"I just had to focus on keeping the ball down and hitting my spots," Elish said, "which I haven't been doing as much, but I had to today. I just have to keep the ball down and hit my spots tomorrow."
The Batbusters head to Deanna Manning Stadium tomorrow to take on the Texas Dirt Divas at 4 PM for the PGF 14U Premier national championship.
"We don't know much about them," Campbell said. "It doesn't matter. We have a way of playing against everybody. It won't be any different tomorrow. Hopefully, we will make some plays and get things done."
PGF NATIONALS CHAMPIONSHIP SCHEDULE
Where: Deanna Manning Stadium at Bill Barber Park on Saturday, August 5
14U Platinum Division: Firecrackers-Brashear/Oakes vs. Birmingham Thunderbolts 2003, 10:30 AM (streamed live on FloSoftball.com)
16U Platinum Division: Birmingham Thunderbolts-Dorsett vs. Firecrackers UT-Rollin, 1 PM (streamed live on FloSoftball.com)
14U Premier Division: Texas Dirt Divas vs. OC Batbusters-Campbell, 4 PM (streamed live on FloSoftball.com; tape delayed on Fox Sports West Prime Ticket and Comcast)
16U Premier Division: Beverly Bandits-Ketelhut vs. Athletics-Mercado/Smith 1, 7 PM (streamed live on FloSoftball.com; tape delayed on Fox Sports West Prime Ticket and Comcast).
Written by Manny Alvarez
Follow him on Twitter @SoCalSidelines.


Get More From FloSoftball!
Sign up for the FloSoftball newsletter for instant access to: Breaking News, Live Streams, Rankings, Technique Videos and more!