From the heart of Georgia is a softball star -- sophomore Riley Blampied -- who hopes to make a big impact on Alabama's championship-level program.
That opportunity won't begin until the year 2020.
It might seem like a long time from now, but Riley knows that she made the right decision committing to the Alabama softball program early in her high school career.
"When I first set foot at Alabama, it just felt right, like being at home," Riley told FloSoftball. "I always found myself comparing the other schools to Alabama. In the end I choose Alabama because of how down-to-earth the coaching staff was and how the current players seemed to truly love playing at Alabama. That was something I wanted to be a part of."

The journey to arriving at her decision has been well documented -- especially on social media. Riley posted so many intriguing tweets and photos from her trips to SEC, Big 12, and Pac-12 schools during her junior high years.
Riley even tweeted a photo in LSU colors after visiting the Tigers' football locker room, but her heart was always with Alabama.
Hey les miles, put us in coach!!🐯💪🏻 pic.twitter.com/8CZBYWBP0K

— Riley Blampied (@Rileybrooklyn22) September 17, 2016
So, what was the experience like on the recruiting journey?
Riley saw it as a chance to "visit some wonderful programs and to meet to some other players from different organizations and establish some new friendships along the way."
Riley also visited with top coaches in the country to continue growing as a player and developing her softball skills. This has put her on the right track to be a difference-maker in 2020.
"During my recruiting process, I was blessed to have the opportunity to visit different schools across the country. It gave me the opportunity to visit with some of the top coaches in the game today," Riley said.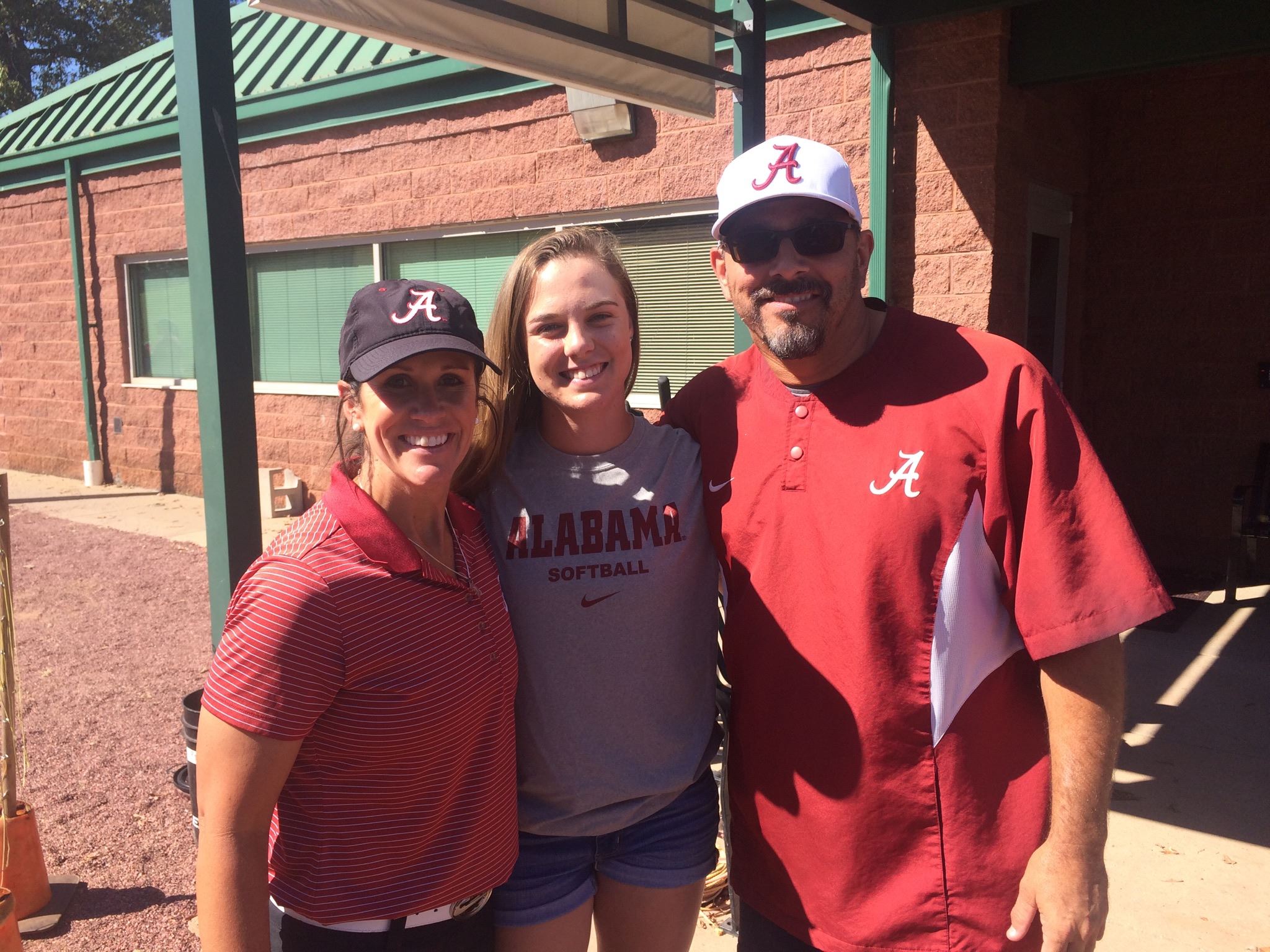 Riley Blampied Gets First-Hand Look at Alabama Softball
Last August, the Select 30 All American Camp was held in Tuscaloosa, home of the Crimson Tide. It gave Riley the opportunity to meet with Bama coaches and get a feel for the program.
But how much of a factor was the camp in her decision to commit to Alabama Softball?
"I wouldn't say that had a big effect on my decision, even though it gave me an opportunity to spend some time with the coaching staff and players," Riley said. "I really enjoyed the Select 30 Camp . . . it gave me the opportunity to meet some terrific players from across the country."
The camp in August was followed by her decision to commit to Alabama in the fall.
Was she too young to make the decision?
Riley doesn't think so. She already knew exactly where she wanted to contribute as a college softball player.
"I felt really comfortable about making my decision last year," Riley said. "No schools ever pressured me or gave me a timeline for a decision. They all said it was up to me and my family when I felt it was the right time to decide. Whether I decided my freshman year or my senior year, I still would have chosen Alabama."
Riley already knew the type of program she was looking to join for her college career. She wanted to be part of another winning team like her Georgia Impact club team.
Described as "the most celebrated club in Georgia softball," the Georgia Impact has prepared Riley for competing for championships on the big stage of SEC and NCAA Tournament.
A Championship Mentality For Riley Blampied
Alabama is rich with championship success. Everyone knows about the football team's recent dynasty, which has carried over to other sports such as softball.
Alabama Softball won the National Championship in 2012 but lost in the WCWS Finals to rival Florida in 2014.
Riley Blampied will certainly contribute to the offense when she heads to Tuscaloosa in 2020. But it's not her hitting that she is most proud of on the field.
"I believe my greatest strength is being a good teammate. Being there to help, lead and support each other," Riley said. "I also love it when I have the opportunity to try to get a clutch hit to help us win."
Make no mistake about it: Riley wants to win, and she wants to win big-time softball games at Alabama. How she leads will be key to having a championship career starting in 2020.


Get More From FloSoftball!
Sign up for the FloSoftball newsletter for instant access to: Breaking News, Live Streams, Rankings, Technique Videos and more!