Great leaders pay attention to details. They tend to treat all tasks -- regardless of whether they're big or small -- extremely seriously and address them in a timely fashion.
Judging from what has been accomplished in the last two years, Duke University has found a great leader to build its first softball team in head coach Marissa Young.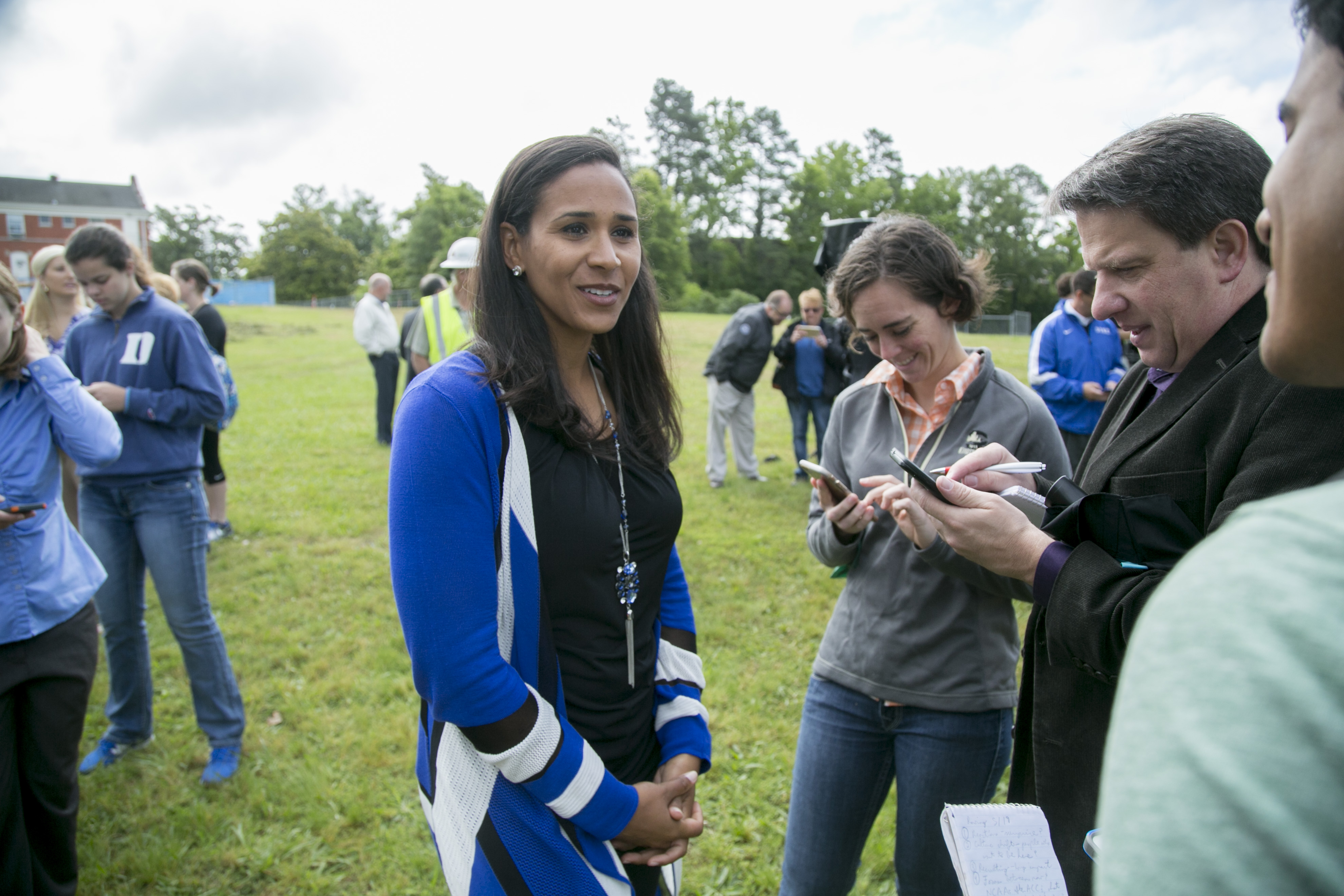 "It's been a whirlwind to say the least," Young said during our 7 AM phone interview. "Without question, this has been the most difficult, yet most rewarding job I have ever attempted. We are not only starting a program, but we were building a new facility and hiring a new staff. Along the way there were new challenges and a thousand different things that seemed to pop up on a daily basis. But for as crazy as it has been, we have always had the support to overcome the problems."
Young credits Duke athletic director Dr. Kevin White for that support.
"He's an amazing man who has been on both the coaching and administration side of college athletics so he understands what coaches go through on a daily basis," she said. "From my first day on campus he has been nothing but totally supportive of the softball program."
That support has included the construction of a brand new $9 million softball stadium complex complete with all the bells and whistles, including a large conference and video room, state-of-the-art batting cages, and a beautiful player's lounge.
[album albumId="450750"]
"The new softball facility is incredible, but Dr. White and the school has done so much more in giving us the resources we are going to need to be competitive in both the ACC and national level," Young said. "Duke hired a new trainer, a sports information assistant, a director of softball operations, a new equipment manager and several other support staff that will be primarily responsible for the softball program. I hear stories from so many coaches around the country who say they are promised things that never seem to materialize. The support and resources the school is putting into this program has been nothing short of amazing."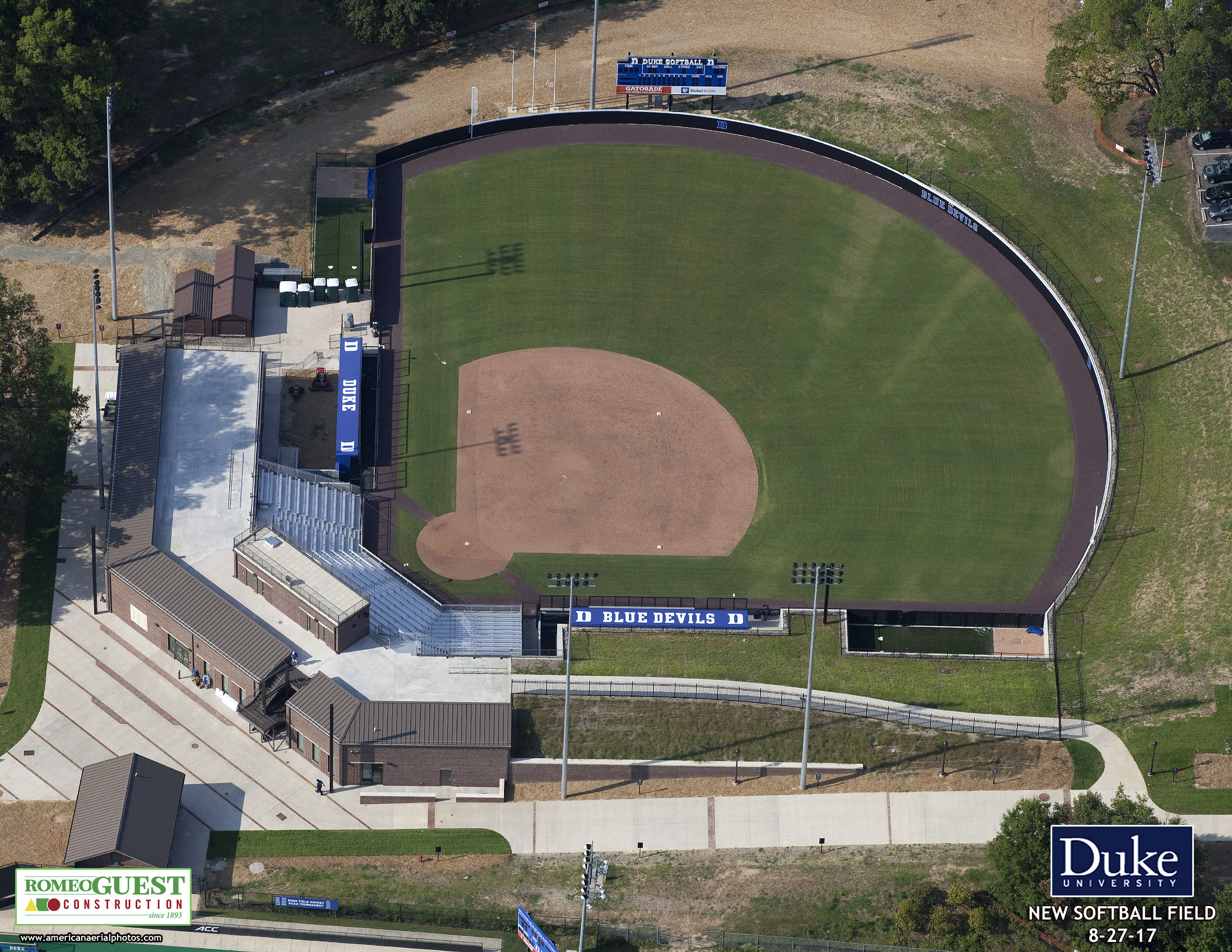 In building her staff, Young hired a pair of successful young assistants, pulling Laura Valentino away from North Carolina-Charlotte and adding Lacey Waldrop, a former All-American selection at Florida State who spent one year on the staff at National Champion Oklahoma. She also added her father Robert to the staff, who will serve as a Volunteer Assistant.
A well-known and highly-respected youth softball coach in California, Robert Young brings 30-plus years of coaching experience to Duke. An expert in batting and defensive fundamentals, Robert coached four different teams to ASA national championships and mentored dozens of youth players that eventually went on to become college All-Americans.
"Being from California, going all the way to Michigan for school was a big deal for me," Marissa said. "After college, it was always my goal to move my parents closer to me. My dad's reply to that idea was always the same. He told me that he would move when I got a head coaching job and when the Duke opportunity came up I finally convinced him to make the move."
Young added that she will rely greatly on her dad's experience and expertise as she builds the Blue Devils' program.
[tweet url="https://twitter.com/DukeCoachYoung/status/808357273085026304" hide_media="0" hide_thread="1"]
"His credentials as a coach speak for themselves," she said. "But more importantly, I have always been able to count on him to tell me the things I needed to hear, not the things I wanted to hear. He is a great teacher and motivator of the game. He is also the type of coach that keeps everyone focused on the big picture."
And, of course, Young always looks forward to her dad's daily Robertisms.
"Every day he comes up with these little quotes -- sometimes they sound a little corny -- but they always deliver a great message. Our players love them."
As for putting together her first team, Young says that has also been a challenge.
"Duke is a self-selecting school," she said. "By that I mean Duke has always been and always will be an academics-first institution. We have to find student-athletes who understand what will be expected of them in the class room. From there, I want players who have a passion for the game. I want competitors and fighters."
In her first year, Young signed five players who agreed to accept a redshirt year. They will be joined by seven true freshmen and two graduate student transfers.
"To say we are going to be a young team will be the major understatement of all time," Young says. "As a coach you really don't understand how much coaching, leadership, and mentoring assistance you get from your juniors and seniors until you are placed in a situation where you don't have any."
Young added that she hoped the two graduate transfers, which include Jill Ferraro (North Carolina), will provide some of that needed leadership.
"I coached Jill when I was an assistant at North Carolina," Young said. "She is exactly the type of player we want to recruit to Duke. Still, every player on this roster is new to Duke, so there will be a period of adjustment for all the players -- including the few veteran players we have."
Still Young, who was a three-time All-American at national power Michigan and was both the 2002 Big Ten pitcher of the year and 2003 Big Ten player of the year, says the success of the Duke program will absolutely be measured in the team's success on the diamond.
"Given the same opportunity to start a program from scratch, it's understandable that a lot of coaches would approach the situation by saying that their goal is to build a program that would continue to show improvement each week without worrying too much about the win totals in the first year or two," Young said. "I am not wired that way. I am [an] extremely competitive person who hates to lose. We are definitely going to have specific internal team goals that are going to include win totals in our first year."
As the team prepares for its first game of the fall season against state rival NC State on September 30, Young added that support from the Durham community has also been overwhelming. For example, the Duke Softball facebook page has more than 4,000 followers already.
"Both internally and externally program has created a tremendous amount of interest," she said. "It will be our job to build off that momentum that has been created."
If Young's drive and energy, along with her previous success as both a player and coach, is any indication of where the program is headed, Duke softball is in good hands.


Get More From FloSoftball!
Sign up for the FloSoftball newsletter for instant access to: Breaking News, Live Streams, Rankings, Technique Videos and more!