After a highly successful national debut last December in Myrtle Beach, South Carolina, the Faster2First Showcase ("F2F") returns this week with the first of four events set for the next few months.




Starting on Friday and running through Sunday, elite softball players from across the east in the age divisions of 16U, 14U, and 12U will converge in Mount Olive Township, New Jersey, to get a packed weekend of high-tech testing, training, development, on-field skills work, competition in games, and recruiting insights -- as well as national exposure.

FloSoftball will be onsite covering the action and also live-streaming the games on Sunday, September 17.

Up next on the schedule will be the second year of the National Showcase, which returns to Myrtle Beach and October 6-8.

Two more regional events will follow: December 1-3 in McKinney, Texas, and January 5-7 in Vero Beach, Florida, at Historic Dodgertown.

Note: there are a few spots remaining for the NJ event. For consideration to be invited, you can call and/or email Faster2First event director Joe Van Valkenburg at 201-741-5390 and jvanvalkenburg@faster2first.com. For those interested in being considered for one of the approximate 150 spots at the other sites, you can register on the Faster2First.


What Is It?
The F2F Showcase is a nice balance of instruction, competition, and exposure. Over about a 48-hour period, the athletes receive classroom instruction, testing, analysis, development, and evaluation off the field, and then compete in drills and ultimately games against other elite athletes.
The data is recorded and videos and photos are taken to help analyze the athletes' performances and also to be used by FloSoftball for Hot 100 consideration and articles and for college coaches to evaluate for recruiting consideration.
The first event saw players from 15 states attend and come from as far away as California and Texas, and has led to four events this fall and winter with more planned in 2018.
Level Of Competition
The caliber of players at last December's showcase included double-digit numbers of Hot 100 players and elite standouts like 1B/OF Avery Goelz of the Tampa Mustangs TJ, a 2020 commit to Florida, and SS Riley Blampied of Georgia Impact-Newland, also a 2020 commit who is headed to Alabama. These athletes proved on the field why they are headliners of the their class.
The competition also allowed other national standouts- -- such as Taylor Middlebrook, a 2020 3B/SS with the Birmingham Thunderbolts who committed to Mississippi State during the F2F camp -- to wow and impress. Middlbrook, who was rated No. 97 in the first 2020 Hot 100 list, hit several long home runs and was one of the most impressive players of the more than 150 who attended last year. Look for her to jump into the top 30 after her eye-opening performance a year ago and successful play this summer.
As to why she attended the event, Taylor commented: "I believe I'm one of the best and I wanted to compete with the best!" Her mother, Marcia, added, "Taylor loved the Faster2First camp. Everyone on the staff was awesome and it was a great experience all around."
Younger players shined too, like a pair of top 10 honorees in the 2021 Hot 100: SS Brooke Blankenship of Tampa Mustangs-Hennigar, a commit to Florida State and No. 2 ranked player in her class, and OF McKenzie Redoutey with Georgia Impact-Gusaeff, ranked No. 8 who later would verbally commit to LSU. Both players, like the aforementioned 2020 players, made the camp's all-star game.
"Faster2First helped me improve my game by learning from some of the best in the country and playing along the best in the country," Blankenship said. "I stay in touch with my teammates from the all-star game and see them at many tournaments. [F2F officials] did a great job of allowing us to get a lot of awesome reps and play in game situations. It was definitely a place that helped my recruiting process!"
And dozens of players who weren't on the recruiting radar impressed enough to now be getting recruiting and greatly increase their exposure to college coaches.
Hot 100 Consideration

Next week, FloSoftball begins its rollout of the updated 2020 Hot 100 class following on the launch of the 2021 Hot 100 a few months ago. Events like F2F and the USA Elite Select 30 are hugely helpful not just for what is shown on the field in terms of position-specific skills, but also the growing importance of athletic testing and measurements.
"We're constantly asked, 'How can I get my player considered for the Hot 100 lists?'" explained Brentt Eads, General Manager of FloSoftball. "The Faster2First format is a great way for us to validate those standouts we know about and thought were Hot 100 caliber while finding new ones who deserved to make the lists.
"Having measurable data that is legit and accurate -- like a 2.65 home-to-first time -- is a great additional tool to have in helping us select and rank players," Eads added.
Astute Leadership
One of the key reasons for the event's success was the on-field directors who come with notable backgrounds of success.
Overseeing the player development aspect of the camp is Rob Crews, considered one of the top hitting coaches in the nation who has worked with MLB teams like the San Diego Padres and Seattle Mariners, elite D1 softball programs like UCLA, Florida, LSU, and Stanford, and top club programs up and down the East Coast including Georgia Impact -- whom he accompanied to Colorado for a week this summer -- along with Team NC, Carolina Elite, Gold Coast Hurricanes, Atlanta Premier, East Cobb Bullets, TC Tremors, and the NC Lady Blues among others.
An energetic and vocal presence on the field, Crews said of his F2F role: "My job is to help in the selection and organization of the event staff and to get everybody on the same page in understanding how to make Faster2First a unique experience for every participant. It's not easy, though. For example, selecting which technology we're going to use and then training staff on all the technology is probably the most difficult part, but organizing an event comes easy for our staff because -- between the F2F administrators and myself -- we have so much experience running successful events."
Crews added that he takes the job seriously of evaluating the players at the camp.
"A lot of the subjective evaluations such as hitting to the opposite field, separation in a swing, arm angles, and position specific analysis requires a level of experience to know how to project. We try to keep the numbers as low as realistically possible in order to get all participants ample amount of reps."
The lead talent evaluator and recruiting analyst is Amanda Freed, the former gold-medal-winning Olympian for the USA Softball national team who also won a national championship at UCLA and was a three-time All-American. Freed, now a broadcaster for the Pac-12 Network, will also oversee the pitching components as she was an elite hurler and utility player through her national championship-winning club days all the way through winning a title in the pro ranks.
Coming Back For More . . .
Nothing speaks to the value of an event more than returning attendees. Several from the East Coast who played last December is taking the field this weekend in New Jersey to continue their efforts to improve their game and gain a competitive advantage.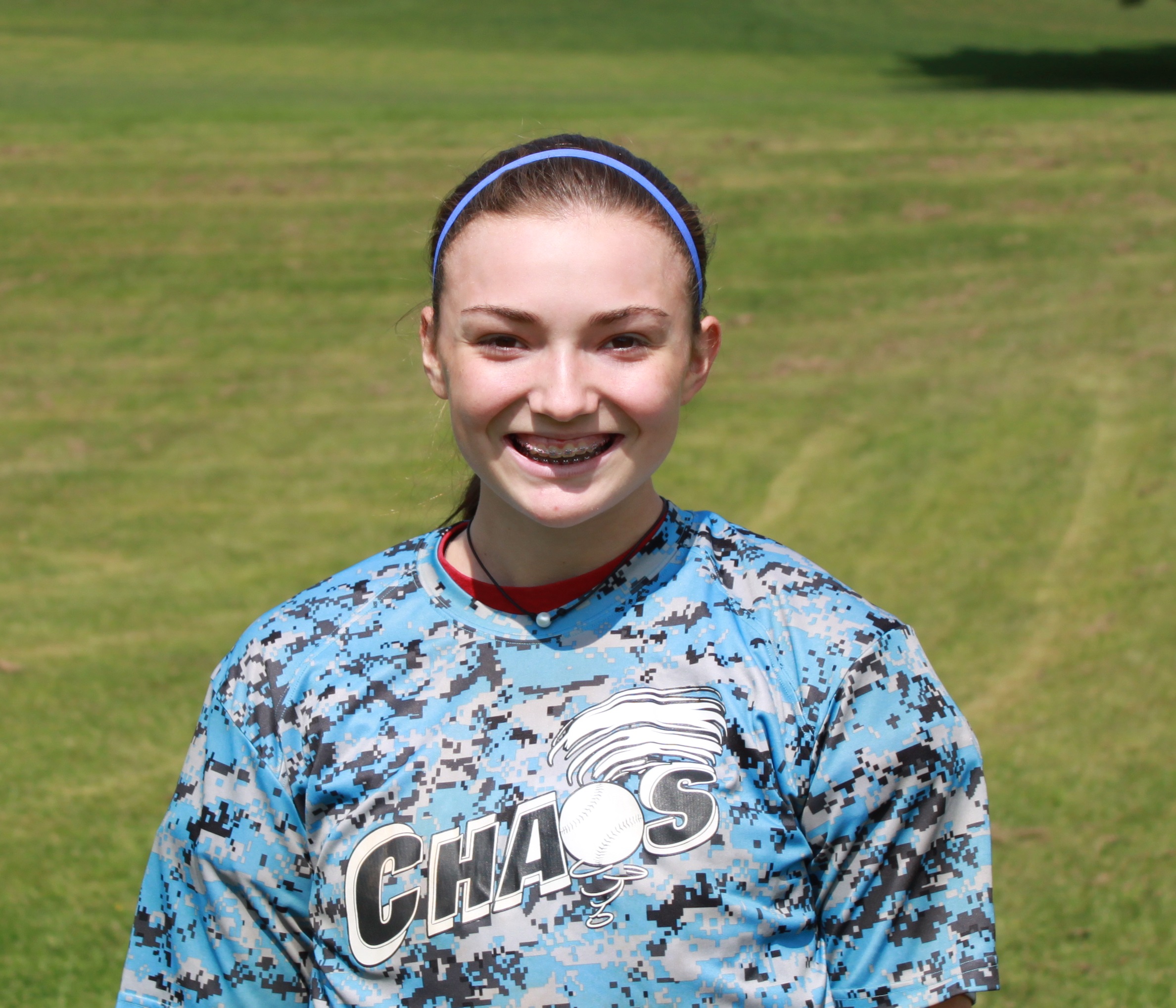 One of those is 6-foot pitcher and infielder Madison "Mayday" Knight, who plays for the PA Chaos 14U team. Considered an athletic pitcher with excellent velocity and tight spins, she also hits for power and says she's looking forward to a return to the F2F event.
"Being in the Showcase last December, I couldn't help to notice that I was surrounded by so many talented players," she said. "Those players helped motivate me to get better. Also, the feedback I received from the instructors was awesome and I took that information home and really tried to improve my skills from their feedback. I thought I saw a tremendous improvement this past summer in my game."
Another second-timer is New York pitcher Shannon Becker, who plays with the Empire Huskies and followed up her F2F experience by leading her team to a fifth-place finish at the USSSA Northeast Nationals and camping at colleges such as Duke, Syracuse, and New York.
The 2021 grad says she benefitted from the mental instruction as well as the on-field lessons and competition.
"Last year's F2F was a really cool experience," she remembered. "I loved all the talent there and I loved competing against some of the best softball players in my age group from around the country and I also loved the drills we learned. Pitching was one of my favorite parts, since we did pitching-specific drills. At the end, we had a long talk about the pitcher's mental game and I still remember and use the information to help me. My favorite part, though, were the scrimmages at the end!
"I am coming back because I had such a good time the first time I went. I want to see how much I've improved, and what I need to work on. F2F provides accurate tests that help us figure out more about our strengths and weaknesses and I'm very excited to be going back!"


Get More From FloSoftball!
Sign up for the FloSoftball newsletter for instant access to: Breaking News, Live Streams, Rankings, Technique Videos and more!