Doesn't it snow it Michigan? Why yes it does. But inclement weather is no match for the talent emerging from the Michigan Finesse softball organization. Donny Dreher and his staff continue to train top athletes who are knocking off some of the top programs in the nation.

Dreher describes the evolution of the Michigan Finesse softball program and more on his 16U team that dominated PGF Labor Day Showcase.

When did the team/program start and how/why did it come to be?
Finesse began as a youth slow pitch program in 1986. The founder, Denny Slimgen, was a regional VP for Helene Curtis which was the parent company of Finesse Hair Care Products. Denny's daughter played softball, so he convinced his company to sponsor a team and that is how it got started.

Where are you based? Where do your athletes come from -- all locally, some out of state?
Finesse is based in Southeast Michigan. Most of our athletes come from Michigan and Northern Ohio. Occasionally, players from other states such as Illinois, Indiana, and New York request to play for Finesse.

What was the purpose of creating the team (showcase players, win titles, develop skills, etc.)?
The main purpose of creating Finesse softball has always been about training and teaching good softball fundamental skills. Locally, Finesse is known for the quality of skill development and upbeat pace taught during our winter training. Many players from other organizations pay to participate as guest players during our Finesse winter training.

What have been some of your successes in terms of winning or placing at events?
In the past, Finesse has won numerous national titles. Most recently in 2017, Our Fineese 18U-Dreher team finished tied for fifth at TC/USA National Championship in Texas, Finesse 14U-Skapyak finished second at the ASA A National Championship in Tennessee and Finesse 16U-Bressler won the USA J.O. Cup National Championship in California.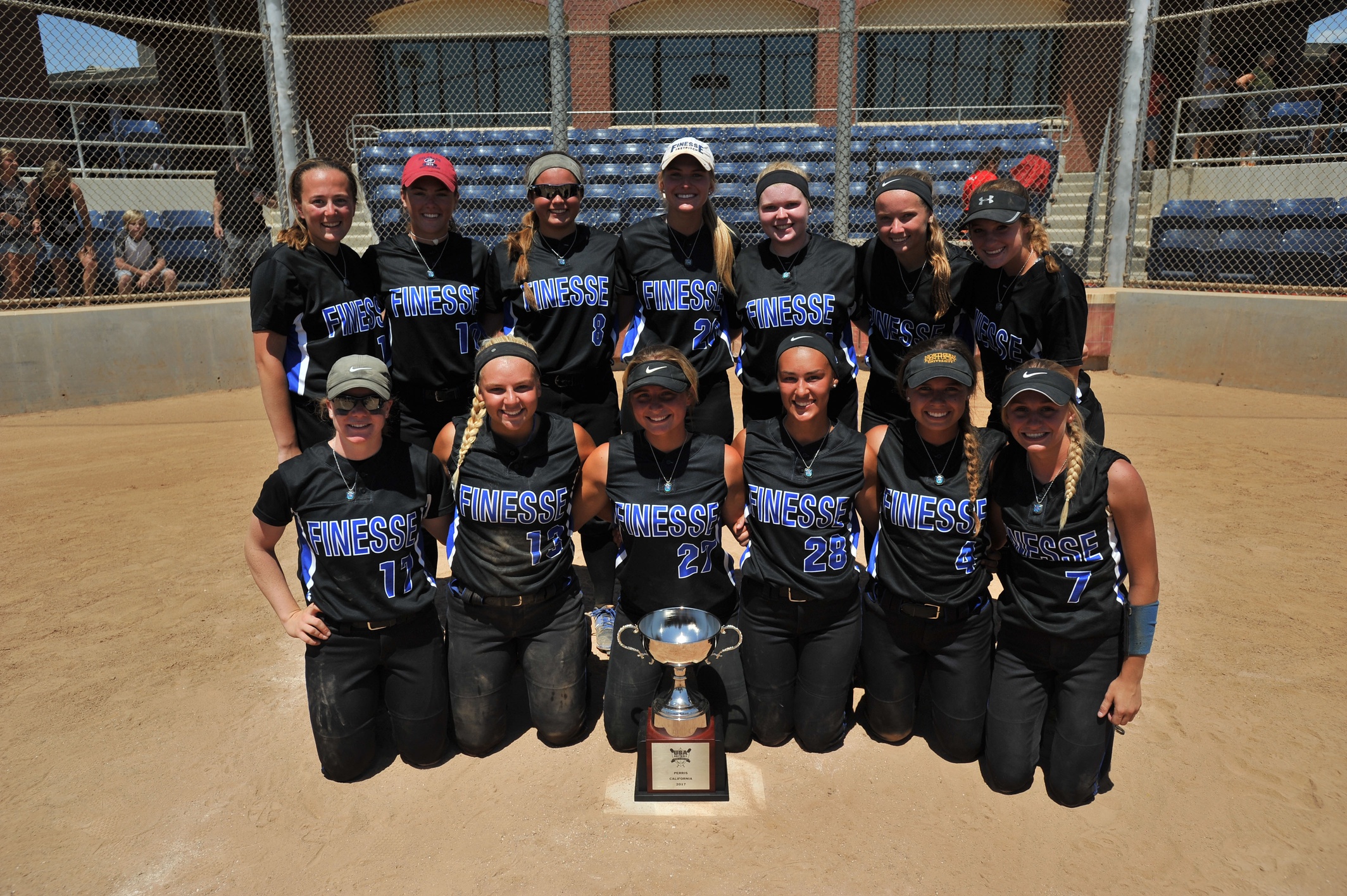 What makes the organization unique?
1) Our in-depth interview process conducted by our president, Tommie Walker, identifying quality coaches with a passion to work with student-athletes. 2) Our commitment to recruit great athletes with great attitudes that come from quality families, and 3) Provide high-level skill training year-round.

What's your softball background and how did you get to the point of leading the team?
I played some college baseball. After college, I played a game called modified fastpitch for about seven years traveling the country on weekends.

In 1992, I was introduced to the Finesse organization at one of their clinics and fell in love with it. I started out as an assistant on the 18U team coached by Barry Patterson. Over the years, I have coached just about every age group but spent most of the time with the 18U division preparing the players for the college game. This year, we have such a large bubble of great players at the 16U age group that I moved down to be more directly involved with the recruiting process.

How many teams are there in the organization overall?
In 2015 we had eight teams, 2016 we had 14 teams, 2017 we fielded 21 teams, and this year we have 22 teams. It sounds like we are trying to grow but actually we are not. Currently, we have an abundance of talent so we decided to temporarily expand the number of teams. Typically we feel comfortable with 12-14 teams between the ages of 10U-18U. It is extremely important for us and the players in our organization to maintain the quality of our Finesse brand.

Has there been a key moment or defining experience in the team's history?
The defining moment of the Finesse organization was the decision to convert to fastpitch in 1997 after the Atlanta Olympics in 1996.

It is too early in the season for my team to have a defining moment but it may be coming soon. We've had early success this fall so I expect there to be a big bull's-eye on our team's back. My players are young and they will struggle with everything that comes with being "the hunted." However, the struggles and the failures that come from those experiences will make them stronger in the long run.

What is your primary focus or goal with this team?
The goal is very simple and never changes: continue to get better individually and as a team. Respect the game, respect your opponent, and respect the umpires. Practice and play with enthusiasm and passion.

What do you think are the strengths of the team?
I would say our strength is our depth. We have 15 players that are very versatile. We have five pitchers, three catchers, and multiple players who can play in and out. We have speed in the key spots of the lineup and plenty of offensive power.

If there is one thing you would say that separates you from other club programs, what would it be?
We compete against some incredible organizations that recruit players nationally but we prefer to recruit players within our Michigan and Northern Ohio market. It's really important for Finesse to train our players on a regular basis and get to know them personally. We also feel it is essential for the players to know each other, have fun together on and off the field, and cultivate friendships with each other.




Meet Michigan Finesse -- Dreher
Lauren Sciborski, C/3B, R/R (2021, uncommitted)
Sciborski is ranked in the FloSoftball 2021 Hot 100 and has offers from most of the Power Five conferences. She has a great arm (66 mph overhand) and great footwork behind the plate and at third base. Offensively, Sciborski hits for average and power. Last summer Lauren hit .463 with 20 home runs in just over 200 at-bats. She will bat somewhere between 3-5 in our batting order.
Lauren Curry, P/1B, R/R (2021, uncommitted)
Curry is 6-foot and consistently throws 63 mph. Her fastball has natural movement and she throws a great curve and drop. She is a still raw talent but her upside is tremendous. Curry will be one of the top pitchers all time in the Finesse organization. She is being heavily recruited and will have multiple DI Power Five offers.
Hannah Cady, SS/C, L/R (2020, uncommitted)
Cady has a high level softball IQ and will typically bat 1 or 2 in our lineup. She hits for a high average but has home run power as well. Cady has good speed and hits both the inside and outside pitch well. She is a great defensive player with a quick release at catcher and SS. Academically, Cady ranks 1/578 in her class and scored in the 98th percentile nationally on her PSAT. She is being recruited by many conferences including the SEC, Big Ten, and Pac-12.
Sierra Kersten, OF/IF, L/R (2020, uncommitted)
Kersten is your prototypical 5-tool, multi-sport athlete. She has great speed and size, she can bunt, slap, and has 240 foot-plus home run power. Kersten is our leader defensively in the outfield, she can rundown deep fly balls, and she has a strong and accurate arm. She is entertaining a number of DI offers from mid-major and Power Five conferences.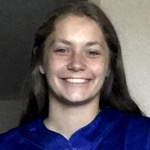 Taylor Turner, P/OF, R/R (2020, uncommitted)
Turner is a power pitcher with a velocity of 62-63mph, great movement pitches and a good change-up. Her size and great athleticism allows her to be a really good outfielder. Offensively, Taylor swings a power bat with home run power to all fields. She is being recruited by multiple DI schools.
Abbey Tolme, OF/1B, L/L (2020, uncommitted)
Tolme is living proof that great things come in small packages. She is a team leader with a great softball IQ and the catalyst of our team. Tolme will typically bat in the 2-hole. She can get on base in a number of ways, knows when to move runners, and can hit the gaps for doubles and triples. She primarily plays OF but is also really good at first base. Tolme has an offer to play in the Big Ten but still has a number of visits before making a final decision.
Kylie Millhorn, C/3B/2B, R/R (2020, uncommitted)
Millhorn is probably my favorite player to watch; I love how she is "all in" on every play, every at-bat. She always ends up with the dirtiest uniform and plays the game with a hockey mentality. Millhorn is an incredible power hitter, and like all great hitters, she has streaks where she is almost impossible to get out. She is rock solid behind the plate and plays a great third baseman.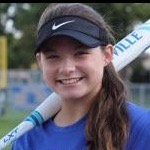 Lena Monteith, P/3B/1B, R/R (2020, uncommitted)
In the last year, Monteith has really taken her game to a new level through incredibly hard work. She really strengthens our lineup, hitting for average, power, and she's also a clutch hitter, constantly driving in runs in key situations. Defensively, Monteith is a great corner player but she is also a Division I pitching prospect with velocity at 60 mph, great at spotting pitches with a number of movement pitches. Monteith is getting great looks and visiting a number of DI schools.
Lucy Cronin, SS/3B, R/R (2020, uncommitted)
Cronin is an amazing two-sport athlete with incredible hand-eye coordination and loves to compete. She is a great infielder with a strong arm and quick release. Cronin is not exceptionally fast but uses her instincts on the field to position herself to make all the plays. She is another player that gives us depth in our lineup usually hitting in the 6, 7, or 8 spot. Cronin already has great offers on the table and will probably verbal once she finishes her visits and the fall season has completed.
Cassidy Brendtke, 2B/SS/OF, R/R (2020, uncommitted)
Brendtke is your prototypical middle infielder, built low to ground, tough, great lateral movement, and a strong arm. We have been resting Brendtke this fall, letting her shin splints heal after playing most of the summer season through pain leading her team to a second place ASA National finish. Brendtke is also a strong hitter, using all fields equally, depending on the pitch and situation. Looking forward to having her back in the lineup soon.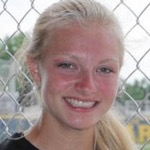 Lauren Esman, P/1B/OF, L/L, (2019, uncommitted)
Esman has been dominant in every facet of the game. Offensively, she can literally take a game over. The velocity at which the ball comes off her bat is virtually unmatched and most of her home runs are "no-doubters." Esman single-handedly led her 18U team offensively and on the mound to a fifth-place finish at the 2017 Triple Crown Nationals. She is a finesse (pardon the pun) pitcher, moves the ball in and out, hits her spots, and has ice in her veins in key situations. With multiple DI offers, Lauren is close to making her final decision.
Sam DiCicco, 2B/SS/OF, R/R, (2019, uncommitted)
DiCicco combines great athleticism and speed to make her a dominant player offensively and defensively. She plays at a high level as a middle infielder and outfielder. DiCicco gives us great depth at key positions defensively, hits for average, and is a leader in the dugout. So far, early in the season, DiCicco has been a huge contributor. She is receiving a lot of collegiate interest in the Midwest and as far away as Florida.
Lauren Bobowski, OF,2B/3B, L/R, (2019, uncommitted)
Bobowski is the fastest player on our team; she truly has game-changing speed. She can hit in the 1 and 2 spot in the lineup but we also love her turning the lineup over from the 9 spot. Bobowski recently converted to a full-time lefty to take advantage of her speed, she will continue to improve and be truly a nightmare for the opposing defense. Like a lot of our players, Bobowski provides our defense with so much flexibility because she can play multiple outfield and infield positions. She is an exceptional student and is being recruited by a number of high-academic and Ivy League schools.
Mara Sczecienski, OF, 2B/SS, R/R, (2019, uncommitted)
Sczecienski is another key utility player for us. She hits for average and power and can play outfield and middle, providing us up with tons of depth and versatility. Sczecienski is our most outgoing player and keeps everyone loose. Just like every successful team needs its superstars, every successful team needs a Mara. Mara is another outstanding student on our team and receiving interest from schools interested in her softball ability and academic excellence.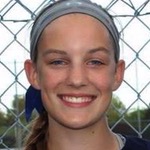 Kate Vara, OF/1B, L/L, (2019, uncommitted)
Vara is an impressive Division I athlete combining speed and power. Offensively, she can hit to all fields with power. Defensively, Vara is a high level outfielder who can take hits away in the gaps and possesses a strong throwing arm. Most of the collegiate interest for Vara has been in the east since she lives in New York. However, that may change after this fall.


The Best Softball. Straight To Your Inbox.
Sign up for the FloSoftball newsletter for instant access to: Breaking News, Live Streams, Rankings, Technique Videos and more!