2020 Hot 100 Rankings
2020 Hot 100: Players 40-31
2020 Hot 100: Players 40-31
FloSoftball 2020 Hot 100 rankings, players 40 to 31.
Sep 26, 2017
by Brittany Connors Connors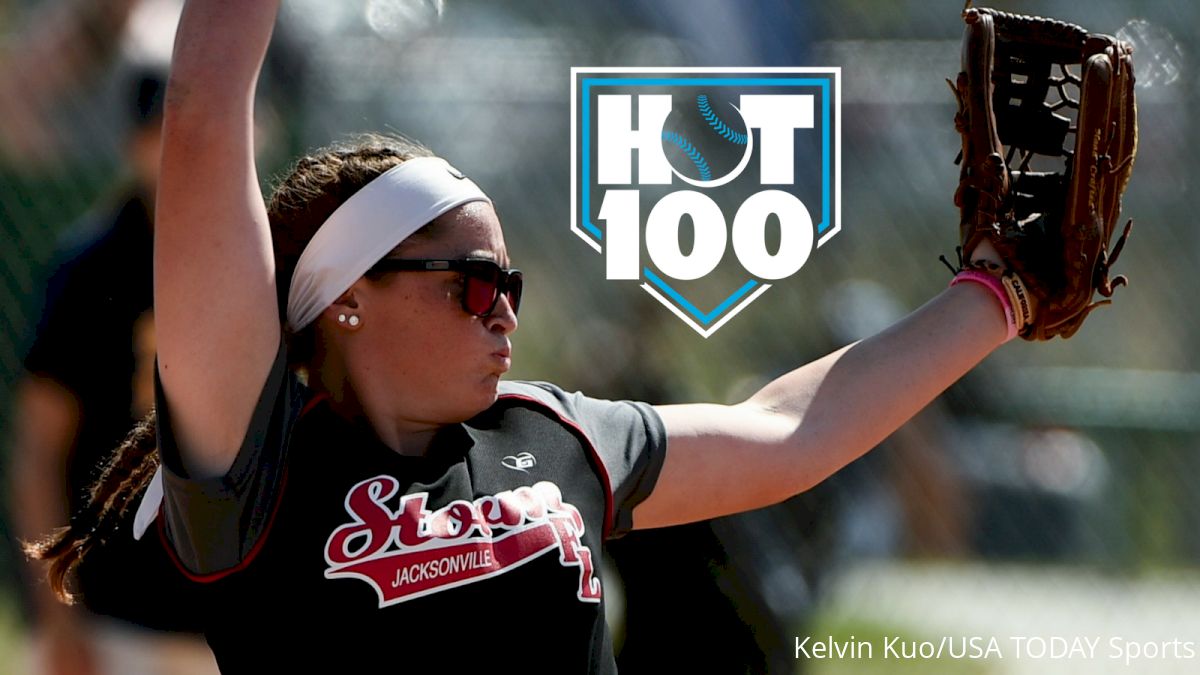 Unlock this article, live events, and more with a subscription!
Get Started
Already a subscriber? Log In
We continue our 2020 Hot 100 identifying top talent in the class of 2020. We will reveal the Top 50 prospects this week, spotlighting 10 or more outstanding players each day on the way through our countdown from 100 to No. 1.
This list is an updated version of our initial 2020 Hot 100 rankings and over 40 percent of the players are new additions!
We'll announce the top 10 of the class on Friday, September 29, and shortly after will profile the No. 1 player and then list the "next in" classes comprising recruits 101-200, 201-300, 301-400, and 401-500 as well as which colleges have done the best so far in recruiting this outstanding group of players!
FloSoftball has ranked the Hot 100 beginning with the 2014 class and has done every grad year since including 2015, '16, '17, '18, '19, '20 (the first list exactly a year ago), and '21. We've also updated most of those years several times.


These 2020 honorees were chosen based on input and feedback from college and club coaches as well as our own FloSoftball event and in-person observations.
Criteria for choosing and ranking the players includes performances at the club and high school levels and projecting how they will play at the collegiate level.

40 | Allison O'Heany, C/3B | Monarchs (uncommitted)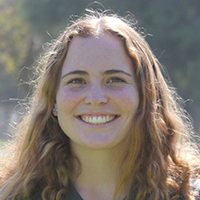 O'Heany is a 5-foot-10 catcher with a cannon for an arm and one of the quickest releases behind the plate, boasting around a 1.68 pop time. A diligent worker both in the classroom and on the field, O'Heany is known to hit the long ball and had hit several 250-footers this past summer with the Monarchs. One of the biggest upsides to this tremendous athlete is her ability to get out of the box and down to first at 2.85. Because of her success on the field and in the classroom, O'Heany is gaining interested from several top-level programs including Pac-12, Big Ten, and Ivy League Schools.
39 | Riley Frizell, P/1B | Beverly Bandits - Moran (Missouri)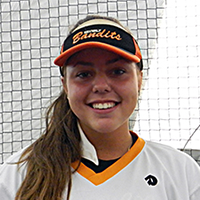 Frizell is a very versatile pitcher and infielder who can do both at a very high level. In the circle she throws consistently in the low- to mid-60s, but it's her bat that will, without a doubt, keep her in the lineup game after game. During her freshman year at South High School in Willoughby, Ohio, Frizell hit .455 with 10 home runs and 40 RBIs while also earning 13 wins in the circle. Her overall athleticism on the field and at the plate is what caught the attention of the big SEC schools before she made her decision and verbally committed to Missouri.
38 | Melody Coombs, SS/OF | NC Lady Lightning (Syracuse)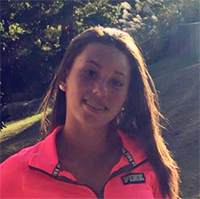 Coombs, AKA "Mel," is a tremendous all-around athlete with fantastic speed, great range in the field, and versatility at the plate. Coombs can drive the ball into the gaps or over the fence for a round-tripper, but can also use the short game to mix up the defense. During her freshman year at St. Mary's Ryken High School, Coombs hit for a .426 average, 32 RBIs, 35 runs scored, and 11 home runs. She also used her quickness on the bases to mark a perfect 11 for 11 in the stolen base department. Coombs has chosen to further her education and softball career at Syracuse.
37 | Claire Davidson, P | Tampa Mustangs - TJ (Auburn)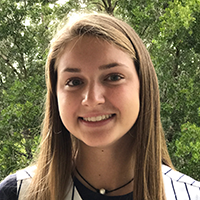 Davidson is a lefty pitcher and power hitter who is no stranger to performing on the big stage. During her freshman year at West Potomac High School, she led her team to its first title in 12 years while earning conference MVP, first-team all-conference, and second-team all-region. This past summer with the Vienna Stars, Davidson hit .408 with 39 RBIs and 14 home runs. In the PGF Platinum division she batted .444 with five home runs and 14 RBIs. In the circle, Davidson throws in the low 60s and has excellent command of her pitches. At PGF, she finished with a 5-1 record and a 0.53 ERA taking her team to a third-place finish. Davidson will soon be seen on the field at Auburn.
T36 | Katelynn Carwile, P/1B | Gametime Stars (Oklahoma State)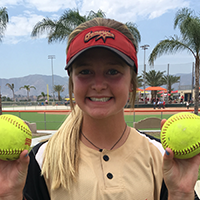 Carwile is a true lefty who throws in the mid-60s and complements her heat with a drop, curve, rise, and changeup. She went 29-4 this summer and helped the Stars make the championship game at the USA Softball 16U J.O. Cup. An excellent all-around athlete, she is a top-tier outfielder and first baseman when not in the circle. At the plate, she uses her speed at the top of the order to bat .495 with a .562 on-base percentage. She was just starting to get heavy interest from other Big 12 and national programs when she committed to OSU in the fall of 2015.
T36 | Sophia Carroll, MIF/OF | Firecrackers - AZ (Arizona)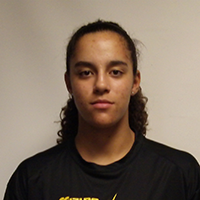 Carroll is a versatile athlete who can line up almost anywhere in the field, but her great range and cannon for an arm makes her a definite shortstop candidate. The Arizona sophomore has great body control and makes the acrobatic plays almost no other infielder can. She has a high softball IQ and at the plate can hit for a high average as well as drive the ball deep. Carroll batted .398 as a freshman at Shadow Ridge High in Sunrise, Arizona, and had 12 home runs with 49 RBIs. She and her twin sister Aris committed to the Wildcats in November of 2015 after being recruited by other Pac-12 programs as well as Big 12 and Big Ten schools.
35 | Aynslie Furbush, P | Jacksonville Storm (Ole Miss)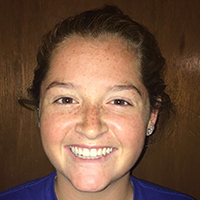 Furbush is a big, strong, right-handed pitcher who tops the radar gun at 64 mph and has a great riseball that helps keep hitters off-balance. She can be dominant and take over a game, not just in the circle -- where she went 22-3 with over 100 Ks this summer -- but at the plate, too, as shown by one month in club ball when she bashed 14 home runs with 11 doubles and 42 RBIs for the Storm squad. As a freshman at Winter Springs High in Florida, she had 10 wins and compiled a 1.30 ERA while limiting opposing hitters to a .208 batting average to earn second-team all-state honors at the 8A level.
34 | Hayden Brown, C | Texas Glory - Naudin (LSU)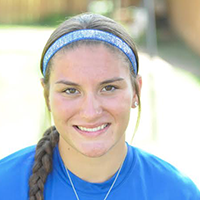 Brown is a power-hitting backstop who drives rocket shots to all fields and has college-caliber size and strength behind the plate as a catcher and at the plate as a hitter. She possesses uncommon athletic ability for a player with her frame. Says one coach about the Texas freshman who led her team to the district 2-6A softball championship game, "Hayden improves every time out; she has the chance to be special." The sophomore is a franchise catcher who controls the game and is adept at helping the pitching staff stay focused. Next spring, she'll play for Keller High, the two-time defending 6A champs, and she'll make the team despite the squad only losing one senior. Brown had interest from Power Five programs in the SEC, Big 12, and ACC before she committed to LSU in September of 2016.
T33 | Karina Gaskins, 3B/OF | Jersey Intensity (Notre Dame)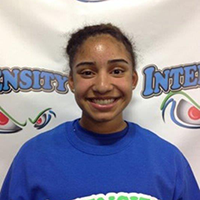 Gaskins can smash the ball to all sides of the field -- and the ball explodes off her bat. One coach said of the New Jersey freshman, "Karina is one of the fiercest hitters I have ever seen." Gaskins was sidelined for 22 games in the 2017 season due to an ankle injury, but she emerged stronger than ever. For her Donovan Catholic High School, she held a .429 batting average and even hit two home runs in one game. She consistently comes in clutch for her teams, hitting game-winning doubles and putting up the sac fly when necessary. She also plays a strong third base with a good arm aided by a quick release. Gaskins continues the Irish pipeline from Kevin O'Donnell's program that included at least one signee from 2014-2016 with commits in the classes of 2018, '19, and now '20.
T33 | Taylor Middlebrook, 3B/SS | Birmingham Thunderbolts 02 (Mississippi State)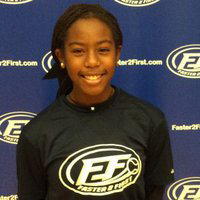 Middlebrook is a great all-around athlete who is sharp on fielding, base running, and hitting bombs. She holds a .559 batting average for her Chapel Hill High School team, which is well above the national average, according to MaxPreps. During the Birmingham Thunderbolts 5-Star Exposure Showcase, she wowed coaches by hitting five bombs during the tournament. SEC schools began flocking to her games -- except for the one school she was looking for, Mississippi State. She eventually went to the Mississippi State camp and the rest is history.
32 | Kennedi Houshmandzadeh, SS | Firecrackers - TJ (LSU)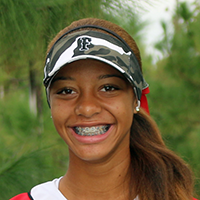 Daughter of former Cincinnati Bengal wide receiver T.J. Houshmandzadeh -- her club coach now -- Kennedi is also a great athlete who combines excellent speed and strength. Playing shortstop, she has superior lateral and vertical movement to get to balls most defenders can't. When she puts her glove on the ball, Houshmandzadeh has a quick release and strong arm which make her one of the top defenders in the nation. One coach said she has the best glove-to-hand transition time he's ever seen. She hits as a right-handed batter, but will transition to lefty periodically because of her 2.78 laser speed home-to-first time. Houshmandzadeh visited several SEC schools before committing to the Tigers.
31 | Kylie Taylor, P | Birmingham Thunderbolts 02 (Mississippi State)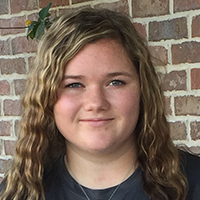 Taylor is a strong left-handed pitcher from Ocean Springs, Mississippi. For her high school last season, she held a 1.14 ERA and had 167 strikeouts in 135 innings pitched. She won all 17 games she pitched and held her opponents to a .163 batting average. Taylor is also a huge threat at the plate. She had a .469 batting average last season with a .516 OBP, .728 slugging percentage, 38 runs, 31 hits, six doubles, and five home runs. Taylor Initially committed to Missouri last December before deciding to re-open her recruitment in order to stay closer to home. She will do just that when she heads to Mississippi State.


Get More From FloSoftball!
Sign up for the FloSoftball newsletter for instant access to: Breaking News, Live Streams, Rankings, Technique Videos and more!