It's mid-day Saturday at the PGF Ultimate Challenge in Salinas, California, and as the pool games start to wrap up and the 18U, 16U, and 14U teams prepare for the start of bracket play tonight, we're enjoying seeing outstanding young players show what they can do!


Watch the PGF ULTIMATE CHALLENGE action live-streamed this weekend including Sunday's championships!\\




Earlier, FloSoftball listed nearly two dozen uncommitted talented players to watch at the Challenge who we were looking forward to see and already several have shown why they're highly touted.

Here's a look at some notes on a few of these promising recruits, plus some other top performances and news and notes at the top club softball event in the nation this week.
***
The Lady Magic 16U team, coached by
Ernie
and
Lindsey (Ziegenhirt) Munoz
are young and have lost a few games, but their talent base of 2020s and some younger players is impressive and the future is bright for the NorCal team.
Keep an eye on 2020
Savanah Watley
, a second baseman who went 3 for 3 in a loss to the So Cal A's-Briggs team (more on them in a second).
Watley had three infield hits and she is skilled at putting the ball on the dirt and using her speed to get on base. She also is a defensive standout, diving for one ground ball and collecting herself to flip it to first for the out.
Savanah has several offers already and is hearing from schools like Arizona State, Oregon State, Fresno State, St. Mary's, Utah State, and Pacific. She's a legit talent.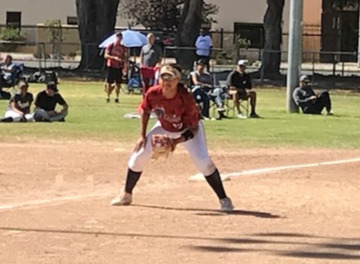 The baby on the team is
Jordan Woolery
(pictured), a 2022 third baseman who looks like a high school upperclassman already and is skilled at third and as a power hitter. She is getting weekly calls from schools like UCLA, LSU, and Oklahoma and should be one of the top players in her class by the time she's done.
Two other 2020's to watch on the Magic: MIF
Kameron Welch
, who beat out an infield field, stole second and third, and then scored on an errant catcher throw, and
Harleigh Braswell
, the team's catcher who looks good physically and with her positional skills and tools.
***
Ken Brigg
's So Cal A's 16U team, which topped the Magic 3-2 in a game in the afternoon, always has speed and lefties and benefits from having a great power-hitting lead-off hitter with speed in
Ali Belarde
, a 2020 Utah commit.
She hit a homer to right field her first time up and then chopped the ball perfectly for an infield single and looks like she can step in early in Salt Lake City for the Utes.
***
Our best wishes go out to P/UT 2018 standout
Danielle Williams
, the Northwestern commit who plays for Sorcerer Gold coached by her parents Mike and Jenny Williams.
Danielle had knee surgery nine days ago but according to her father, she's recovering very well. The Sorcerer team lost to
Bruce Richardson
's So Cal A's 18U team in the afternoon, but we look forward to seeing Danielle back on the field soon.
***
Speaking of the A's, the team always seems to reload with talent that can get them to the final day of any tournament and one who looked good Saturday is
Daisy Munoz
, a 2018 corner infielder who has committed to Cal State Fullerton.
She had a big home run in the win over the Sorcerer Gold and looks great at the plate. With new players like her and pitcher
Lexi Berg
(Georgia), it just makes the A's once again a team to keep an eye on at the 18U Gold level.
***
On the topic of big bashers,
McKenzie Barbara
, the 2019 Ole Miss commit, was on fire for Explosion -- Denio/Wilson. In the 7-0 win over the Grapettes, she smashed a two-run home run and showed why she's a top-50 player in the 2019 Hot 100.
There has been a LOT of long balls this weekend, but one of the biggest smashes came from 2019 catcher
​Taylor Pack
​ with the Corona Angels. The Ohio State commit hit a three-run monster shot over right-center that gave
​Marty Tyson's
​ 18U team a 3-0 lead in the game versus the NW Bullets.​ The ball may still be airborne; it was hit that hard.


As was a two-run shot by ​Rachel Cid

​, the 2018 infielder with the All-American Sports Academy, that helped her team win the final game Saturday night in a 5-3 victory over San Jose Sting.



***
More Hot 100 news:
we can definitely see why Oregon was so high on top 25-ranked 2020 Hot 100 standout
Tehya "T-Bird" Bird
(pictured hitting) after watching her in action Saturday.
She has a college physique right now and is athletic and fluid in the field and at the plate. She should definitely make an early impact in Eugene and expect her and
Raegan Breedlove
, her Universal Fastpitch teammate and also a 2020 Hot 100 player headed to Oregon, to be stars in the Pac-12.
***
Finally, getting back to the topic of young talent, keep an eye on the California Breeze 14U team coached by
Jen Birch
.
A talent-laden team out of Sacramento, there's a very coveted 2021 pitcher who drew 20-plus college coaches at games this summer -- her name is
Carolina Evans.
The big lefty who throws in the low 60s with a drop and rise is nicknamed "El Burro Grande" (The Big Donkey) and she is a workhorse who is hearing from programs everywhere including Texas, Arizona, Arizona State, Oregon, Virginia, Maryland, Cal State Fullerton, and many more.
She'll be playing for a top school of her choice as will another young hurler on the Breeze in
Jenna Birch
, the coach's daughter, who pitched a 3-0 shutout Friday night against the consistently talented Corona Angels 14U Tyson team.
Jenna has a drop, curve, screw, and changeup and only gave up two hits against the powerful Angels and showed why she's one of the top 2022 players to watch for. She has interest from Washington, Ohio State, Boise State, and Arizona State.
Her battery mate, 2022 catcher
Lauren Asia,
has played with Jenna for four years and is also getting college interest. She's had an excellent weekend at the plate and has been consistently on base, with a .700 OBP.