Unlock this article, live events, and more with a subscription!
Get Started
Already a subscriber? Log In
Sam Roe is a 13-year-old player from Destin, Florida, who has the X-factor coaches are looking for. She has been heavily recruited since she stepped on the field for an exposure event. She holds down the primary catching job for the Birmingham Thunderbolts 2022 team. Her head coach, Ted Flannery, can't even quantify how many college teams have inquired about her.
"Every time we play at an exposure or national event, someone asks me about Sam," Flannery said. "I can't even tell you a number."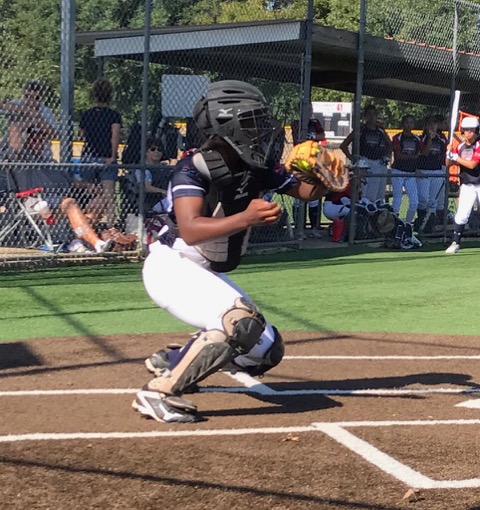 When asked for Sam's most valuable attribute, Flannery's answer speaks volumes: "It has to be leadership. The kids all look to her because her skill level is so high, she's so vocal, so positive, and just picks all of the players up. If I had to pick just one thing, that would be it."
Combine that leadership with a pop time of 1.7, a home to first time of 3.0, and a bat that is consistently above .400 while playing up an age group, and you have one of the hottest 2022s on the diamond right now.
"I really think she's one of the best 2022s out there," said Flannery, who has just returned from PGF with his Thunderbolt team, tied for seventh. "Sam's primarily a catcher for us and catches most of the innings. But she's also good at shortstop and third and outfield. You can put Sam anywhere. She's even pitched for school ball. She is an amazing player, and she comes off the field and is just so humble."
Roe's favorite position on the field is catching.
"I love seeing the entire field, communicating and being the leader out there," Roe said. She became a catcher by accident. On her first travel team, a catcher had gotten heat stroke, and Roe volunteered to gear up. She got the hang of it by the second game and fell in love with the position by the end of the tournament.
Roe plays school ball for Rocky Bayou Christian School in Niceville, Florida, when she's earned Northwest Florida all-area team honors -- as a 6th and 7th grader. She carried a high school batting average of .508 and stole 23 bases last season. She begins 8th grade this year. She also plays basketball and volleyball for Rocky Bayou, but she doesn't attend any classes there; she's homeschooled by her parents, Steve and Bobbi Roe. They began homeschooling when their oldest son, now 24, started school and haven't looked back.
"For our family, it is a lifestyle choice," Bobbi said. "It gives us so much time with our children, we get to travel, we get to really see them develop. For Samantha, it gives her more flexibility with her schedule."
For Sam, homeschooling isn't different: "It's just like regular school but I can go in my pajamas," she said. "And when I finish (my work), I don't have to stay in school or stick to a schedule. I can do what I want. When I'm done with school, I usually go hit."
The Roe family has a unique dynamic. They have four children, two of whom are adopted -- Samantha and her older brother Samuel. Bobbi dreamt of adopting a child since she was 13. When they filled out their application to adopt, they waited only eight months for a baby. Then Samantha came along 11 months later. The Roes opened their home -- and hearts -- again.
"We definitely believe that God intended for Samuel and Samantha to be with us," Bobbi said. "They were prayed for and wanted. I actually had a dream about Samantha before she came to be ours."
Flannery credits the Roes for the parenting job they have done with Samantha. But Bobbi has something to say to the people who offer them praise: "People want to say how kind we are to be giving these children so much. But it is really that these children have blessed Steven and I -- and their older siblings. We're a very close family."
It isn't a challenge to discover that Sam learned humility by example.
Early recruiting is a topic of debate in the softball world, and Sam is in the thick of it, having received her first offer at age 12 -- in the 7th grade. Some naysayers have cited pressure as a chief concern as it relates to the athletes.
"I don't feel any pressure to commit," Sam said. "Every coach has said to take my time." She's received offers and more are coming, according to her coach, as eight more schools have invited her to campus for unofficial visits. "I want to wait until I know for sure," she said.
As for the process, Sam attends camps in addition to playing exposure and competitive tournaments with her select team, who are technically a first-year 14U team in January of 2018. She's also in close touch with five college coaches. She communicates to each of them regularly, as permitted by NCAA rules, building a relationship as they get to know her as a person. All are from top-15 Power Five programs, mostly from the SEC.
"That's what's really important to me," Sam said. "I want a college that likes me not just as a softball player but as a person."
The Roes have a plan for reducing the pressure for Sam.
"We work our hardest to make sure softball is still a game," Bobbi said. "The world is so serious right now. We shelter her by making it fun."
The process that the Roes thought would take until well into 9th grade sped up for Sam this fall. She had several camps and visits planned. After one visit -- to Gainesville -- it became very clear to Bobbi that Sam was getting attached to one school.
"It was amazing to hear the things that meant so much to her," Bobbi said. "She began to tell me for the first time that the school felt like home. I was truly shocked that this happened so fast."
On September 22, 2017, the Roes went back to UF for their camp. They went early, to meet with coach Walton yet again. The meeting was the Roes' dream come true. On that day, Sam decided to wear the orange and blue and play for coach Walton.
Quickfire
How do you feel when you know coaches are behind the backstop to watch you?
Sometimes, I get nervous, but I'm really honored that they're coming to watch my team. We always remind each other to keep calm, be ourselves, and that we have each other's backs.
When did you join the Thunderbolts organization?
After 10U, I joined this team. I'm so blessed to play for such an awesome organization. I'm so thankful to the Shea family for the opportunity.
When did you hit your first home run?
At the USA Elite Select All-American Games. It was my last 10U at bat. I was playing for the Atlantic team and it was at Disney, so it was pretty special. I had no idea it was going to go out. I just kept saying, "Oh my goodness!"
What do you think about at the plate?
I keep it simple. I just want to see the ball, hit the ball, and have fun.
What's your favorite softball moment?
I once hit three out at the same tournament, one in each of three games we played that day.
Who is your favorite player?
Sahvanna Jaquish, because of the amount of confidence she has behind the plate. And she hits the snot out of the ball.
Who's your biggest inspiration?
Samantha Holcomb, who plays on my high school team. She took me under her wing there. Her work ethic inspires me; she made me a better player.
Who is your hero?
My parents. They always put me and my siblings first. They're so supportive of us. They're amazing people. My family is really close. And my dad was an Army Ranger, so I'm proud of him for that.
Have you ever been injured?
Yes, twice. My ankle, which was easy to come back from, and my wrist. I tore a ligament and had to be in a cast for 10 weeks. I learned not to take softball for granted and to trust God because he had a plan for me during that.
Favorite Food?
Steak and mac and cheese.
Favorite Music?
AC/DC
Two things you'd take with you to an island if you could only take two things?
My brother, Samuel, and my dog, Oliver.