Class of 2020: Softball Recruits 201-300
Class of 2020: Softball Recruits 201-300
FloSoftball Class of 2020: Softball Recruits 201-300
Oct 3, 2017
by Brentt Eads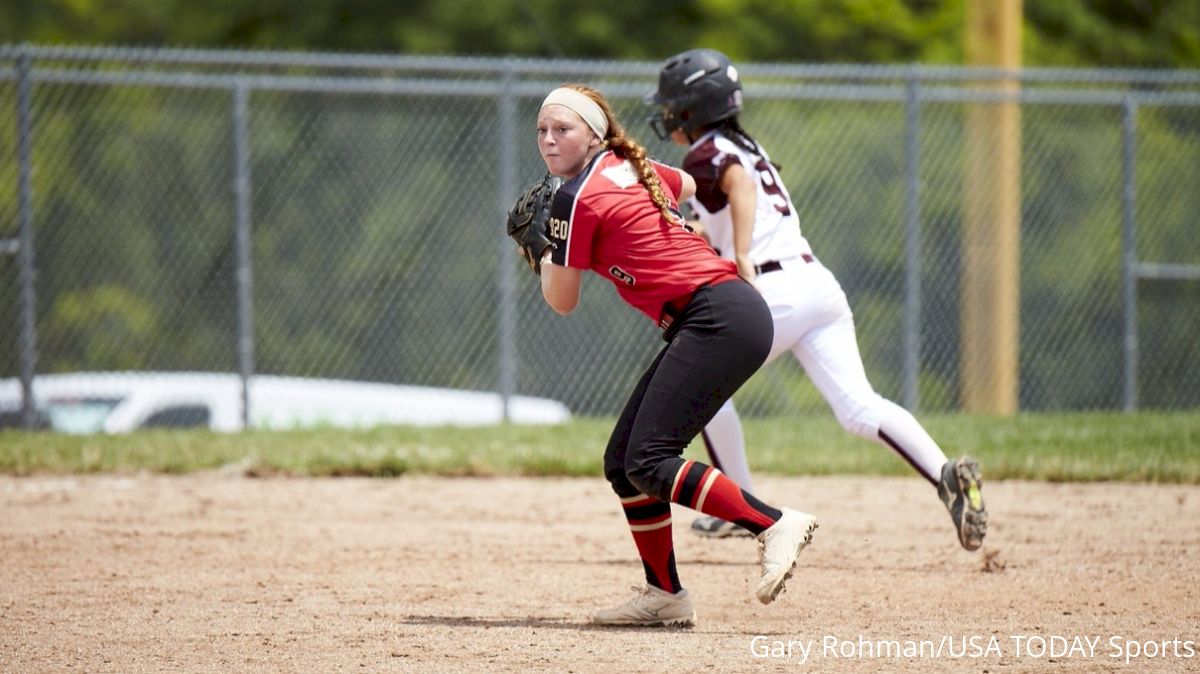 Unlock this article, live events, and more with a subscription!
Get Started
Already a subscriber? Log In
Over the last two weeks, FloSoftball unveiled the updated 2020 Hot 100 list, and today we roll out the players ranked 201-300 after revealing our 101-200 list yesterday.
Over the next few days, we'll also reveal our picks for other players who make several other lists including numbers 301-400 and 401-500, and ultimately our top college class rankings so far for the sophomore crop!
As always, if any of the players' information needs modification -- perhaps because of switching club team or finalizing the college choice -- please email information to flosoftball@flosports.tv.

| Rank | First | Last | Pos | Club Team | University/College |
| --- | --- | --- | --- | --- | --- |
| T-201 | Carson | Saabye | MIF | Team Mizuno Impulse - Gwyn | Florida State |
| T-201 | Grace | Uribe | P/OF | Firecrackers - TJ | Missouri |
| 202 | Carlie | Scupin | P/1B | Oro Valley Suncats | Arizona |
| T-203 | Kaley | Robinson | IF | Athletics - Mercado | Loyola Marymount |
| T-203 | Anayah | Baker | IF/C | Atlanta Premier - Ryman | uncommitted |
| 204 | Reagan | Williamson | C/1B | Ohio Lasers Green | Bowling Green |
| 205 | Lindsey | Nelson | OF | Atlanta Vipers - Holbrook | uncommitted |
| 206 | Sara | Kinch | C | Athletics - Mercado | uncommitted |
| 207 | Alexandra | Williams | P/3B | Factory Fastpitch | San Diego |
| T-208 | Hailey | Niederkohr | CF/2B | Ohio Lasers Green | Radford |
| T-208 | Angelique | Devoe | P/LF | Corona Angels - Tyson | uncommitted |
| 209 | Harlie | Vannatter | P/OF | Ohio Lasers Green | Bowling Green |
| T-210 | Abbey | Tolme | OF/1B | Finesse - Dreher | uncommitted |
| T-210 | Lauren | Keleher | OF | Rhode Island Thunder | uncommitted |
| 211 | Mariah | Lopez | P | Desert Thunder | Sacramento State |
| 212 | Ansley | Houston | SS | Easton Elite Speed | uncommitted |
| 213 | Allie | Light | P/UT | Carolina Elite | uncommitted |
| T-214 | Biviana | Figueroa | C | Stingers Gold | uncommitted |
| T-214 | Taylor | Woodring | 1B | Tampa Mustangs - TJ | uncommitted |
| 215 | Abigail | Dorsett | OF | Birmingham Thunderbolts 01 | uncommitted |
| 216 | Isabella | Dawley | OF | OC Batbusters - Lara/Portesi | uncommitted |
| 217 | Kail | Reis | SS | Tampa Mustangs - TJ | Central Florida |
| 218 | Kennedy | Crites | C | Impact Gold DFW | Texas Tech |
| T-219 | Kylee | Gleason | MIF | Carolina Elite - Gleason | uncommitted |
| T-219 | Hannan | Razeq | MIF | EC Bullets - Aycock | uncommitted |
| 220 | Madison | Jenkins | P/UT | Mississippi Bombers | uncommitted |
| 221 | Alyssa | Giles | OF | Carolina Elite - Gleason | uncommitted |
| 222 | Caroline | Cagle | P | Texas Blaze | North Carolina |
| T-223 | Sierra | Jeyvak | OF/IF | Gainesville Gold | uncommitted |
| T-223 | Cheyenne | Chavez | P/OF | Firecrackers Brashear/Chavez | Utah State |
| 224 | Gennah | Sanchez | SS | California Suncats - Jiminez | uncommitted |
| 225 | Alyssa | Gappa | IF/OF | Team Nebraska | uncommitted |
| 226 | Caison | Byars | OF/UT | EC Bullets - Byars | Mercer |
| 227 | Abby | Gravlin | P | Georgia Impact - Newland | uncommitted |
| 228 | Kaylan | Cole | 3B/OF | Fury Platinum | uncommitted |
| T-229 | Hannah | Rose | OF | Ohio Outlaws Premier - Lucas | uncommitted |
| T-229 | Camryn | Compton | UT | KC Peppers-Wallace | uncommitted |
| 230 | Abbey | Newlun | IF/OF | Scrap Yard Dawgs | Nebraska |
| 231 | Cora Jo | Allison | OF | Gametime Stars | Wichita State |
| 232 | Annuli | Paoli | IF | Ohio Outlaws Premier - Hoffner | Pitt |
| 233 | Danieca | Coffey | MIF/OF | Diamond Sports Hotshots South | uncommitted |
| 234 | Lexi | Cobb | OF/2B | Top Gun Academy - Angels | Louisiana-Monroe |
| 235 | Keahilele | Mattson | OF | Firecrackers - Roth | uncommitted |
| T-236 | Jamie | Sellers | P/1B | Ohana Tigers - Quarles | uncommitted |
| T-236 | Makenzie | Chappell | P/OF | Texas Glory - Adkins/Berkhiser | Harding |
| 237 | Caitlyn | Kowalski | P | Finesse - Skapyak | uncommitted |
| 238 | Ansleigh | Hollifield | P/1B | Atlanta Vipers-Holbrook | uncommitted |
| 239 | Piper | Randolph | OF/MIF | Firecrackers - DFW | Texas State |
| T-240 | Kylie | Hobbs | P | Texas Blaze | uncommitted |
| T-240 | Lourdes | Bacon | OF | Texas Bombers 16U Gold | Texas-San Antonio |
| 241 | Mya | Hill-Brown | UT | Beverly Bandits - Tyrrell | uncommitted |
| 242 | Jordan | Warzynski | P/1B | Fury Platinum | uncommitted |
| 243 | Emma | Ritter | OF | Rock Gold - Waye | Virginia Tech |
| 244 | Malia | Luna | OF/3B | Ohana Tigers | San Jose State |
| 245 | Natalie | Wilson | 3B/C | Washington Ladyhawks | uncommitted |
| T-246 | Alexis | Rios | OF | Locomotion | uncommitted |
| T-246 | Sami | Diaz | 2B/OF | So Cal A's - Briggs | uncommitted |
| 247 | Camilia | Melgar | MIF | Ohana Tigers - Quarles | uncommitted |
| 248 | Hannah | Bryan | C/3B | Beverly Bandits | Indiana |
| 249 | Staci | Chambers | P/1B | So Cal Breakers - Labs | Cal State Fullerton |
| 250 | Riley | Love | SS | Texas Glory | Texas Tech |
| 251 | Katie | Enneking | OF/MIF | KC Peppers-Wallace | uncommitted |
| T-252 | Malia | Benson | OF | Athletics - Mercado | uncommitted |
| T-252 | Amaya | Harris | IF/OF | Firecrackers - Sewell | uncommitted |
| 253 | Hope | Jiles | OF | Atlanta Vipers - Jiles | Kennesaw State |
| 254 | Tiffany | Iliff | MIF | Firecrackers - Brashear | Long Beach State |
| 255 | Kayeigh | Kruger | P/UT | Firecrackers - Gale | uncommitted |
| 256 | Sandra Beth | Pritchett | 1B/3B | Atlanta Vipers - Holbrook | uncommitted |
| 257 | Alissa | Humprey | P | Santa Fe Inferno - Humphrey | uncommitted |
| T-258 | Tanner | Thompson | P | Texas Blaze | uncommitted |
| T-258 | Kara | Amos | P/MIF | KC Zephyrs | Missouri-Kansas City |
| 259 | Makayla | Gallagher | 2B | Ashburn Shooting Stars | uncommitted |
| 260 | Gracie | Mixson | MIF | Atlanta Vipers - Jiles | Kennesaw State |
| 261 | Annie | Ormsby | UT | Georgia Power | uncommitted |
| 262 | Baylor | Aycock | P/IB | EC Bullets - Aycock | uncommitted |
| T-263 | Bailey | McCachren | P | EC Bullets - Byars | uncommitted |
| T-263 | Cassidy | West | P | Firecrackers - Brashear/Thornburg | uncommitted |
| 264 | Riley | Olson | OF/1B | Firecrackers - Gale | uncommitted |
| 265 | Madelyn | McNally | MIF | Firecrackers - Brashear/Thornburg | UC Santa Barbara |
| 266 | Donna | Tubby | MIF | Team Mizuno Impulse - Brochu | uncommitted |
| 267 | Lena | Monteith | 1B/3B | Finesse - Dreher | uncommitted |
| 268 | Lauren | Lindsey | 3B/1B | Impact Gold MS - Holeman | uncommitted |
| T-269 | Mikayla | Ceballos | C | OC Batbusters - Mascarenas | uncommitted |
| T-269 | Michaela | Edenfield | C | Florida Elite - Green | uncommitted |
| 270 | Sophie | Golliver | P | Firecrackers Tennessee | Belmont |
| 271 | Jena | Lawrence | P | Iowa Premier | uncommitted |
| 272 | Lilly | Holston | IF/OF | Fury Platinum | uncommitted |
| 273 | Chelsea | Collins | P/1B | Beverly Bandits - Kelly | uncommitted |
| T-274 | Hannah | Mearns | P | Factory Fastpitch | uncommitted |
| T-274 | Ashley | Rico | 2B/OF | Firecrackers - Brashear/Thornburg | uncommitted |
| 275 | Claire | Campbell | UT | Georgia Power | uncommitted |
| 276 | Virginia | Nemeth | OF | So Cal A's - Briggs | uncommitted |
| T-277 | Simone | Mediros | OF/SS | California Suncats - Jiminez | uncommitted |
| T-277 | Sarah | Kelly | OF | Ashburn Shooting Stars | uncommitted |
| 278 | Savanah | Henley | P | Carlina Elite | uncommitted |
| 279 | Alexandra | Fiske | IF | Ohio Storm | Kent State |
| T-280 | Josie | Wefer | C | Ohio Hawks - Newton | Miami-Ohio |
| T-280 | Lauren | Nett | 3B | TNL - Mena | uncommitted |
| 281 | Sasha | Judge | C | Gold Coast Hurricanes - Herrera | uncommitted |
| 282 | Danielle | Taitt | P/IF | Georgia Impact National - Lewis | uncommitted |
| 283 | Madyson | Estorga | C | So Cal A's - Briggs | uncommitted |
| 284 | Jessica | Berger | 2B/UT | Long Island Crush | uncommitted |
| 285 | Kayla | Inzunza | MIF | USA Athletics - Moeai/Salamanca | uncommitted |
| T-286 | Kristen | Whitehouse | MIF | Gametime Stars | uncommitted |
| T-286 | Katie | Kistler | OF | Santa Fe Inferno - Humphrey | uncommitted |
| 287 | Isabelle | Cox | P | Angels Fastpitch | uncommitted |
| 288 | Mackenzie | Denson | OF | Impact Gold - Middlebrook | Minnesota |
| 289 | Grace | Abbonizio | SS | PA Strikers | Drexel |
| T-290 | Bailey | McLaughlin | OF | Universal Fastpitch | St. Mary's |
| T-290 | Rayanna | Janke | IF | ProStar Fastpitch | Tennessee-Chattanooga |
| 291 | Taylor | Harrington | OF | Birmingham Thunderbolts - Dorsett/Burt | uncommitted |
| 292 | Stephanie | Schoonover | P | Birmingham Vipers - Standifer | uncommitted |
| 293 | Jenna | Pappas | 3B/2B | Locomotion | uncommitted |
| T-294 | Kali | Gose | OF | LTG Lions | uncommitted |
| T-294 | Zadie | Lavalley | C/IF | Gametime Stars | Tulsa |
| 295 | Peyton | Dolejs | 2B/OF | Beverly Bandits - Moran | Bowling Green |
| 296 | Paxton | Hayes | C/OF | Tulsa Elite | uncommitted |
| 297 | Alivia | Eastman | IF | Oregon Thunder | uncommitted |
| 298 | Ansley | Yantis | SS/UT | Atlanta Vipers - Jiles | Samford |
| 299 | Alexis | Cosgrove | MIF/3B | EC Bullets - Byars | uncommitted |
| 300 | Camryn | Stickel | P | Top Gun Academy - Sciara | uncommitted |