Class of 2020: Softball Recruits 301-400
Class of 2020: Softball Recruits 301-400
FloSoftball Class of 2020: Softball Recruits 301-400
Oct 4, 2017
by FloSoftball Staff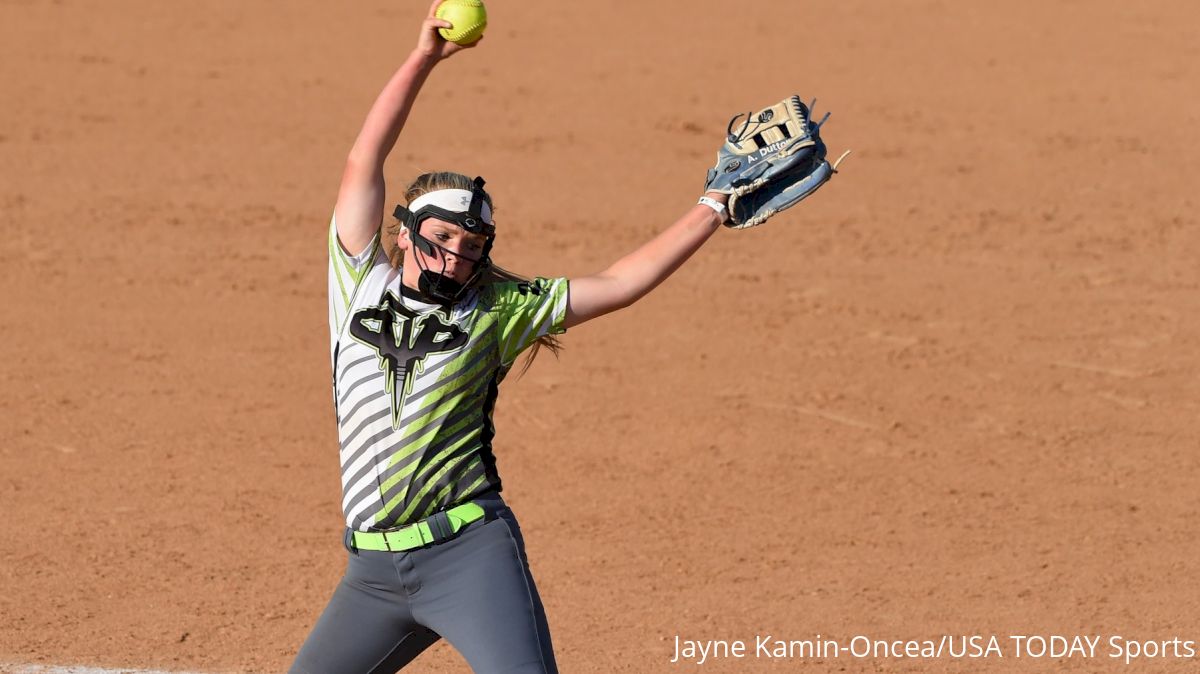 Unlock this article, live events, and more with a subscription!
Get Started
Already a subscriber? Log In
Over the last two weeks, FloSoftball unveiled the updated 2020 Hot 100 list and today we roll out the players ranked 301-400, following the lists of #'s 101-200 and 201-300.
Tomorrow, we'll with our Top 500 sophomores as we publish players ranked #'s 401-500 and join us Monday to find out which college programs are scoring early in the race to get the top 2020's!
As always, if any of the players' information needs modified--perhaps because of switching club team or finalizing the college choice--please email information to flosoftball@flosports.tv.

| Rank | First | Last | Pos | Club Team | University/College |
| --- | --- | --- | --- | --- | --- |
| 301 | Malia | Xiao Gin | P/IF | California Suncats - Jiminez | Oregon State |
| 302 | Mackenna | Steele | 3B/MIF | Universal Fastpitch | Fresno State |
| 303 | Sydney | Collazos | C | Texas Dirt Divas | Baylor |
| T-304 | Jillian | Hewes | 1B/P | Carolina Elite | South Carolina |
| T-304 | Rachel | Perez | P | Team Long Island DeMarini | Penn State |
| 305 | Jacee | Hamlin | OF/IF | Impact Gold DFW | Texas Tech |
| 306 | Celeste | Simpson | C/IF | Carolina Elite-Gleason | uncommitted |
| T-307 | Julia | Mortimer | OF | Firecrackers - Lutterloh | Penn |
| T-307 | Lexi | Parsons | 3B | Ohio Outlaws Premier - Parson | uncommitted |
| 308 | Kalei | Chrisensen | UT | Texas Glory | North Texas |
| 309 | Gracen | Chambless | C/1B | Carolina Elite - Pack | USC Upstate |
| 310 | Shelby | Sargent | OF | Tennessee Fury | Middle Tennessee State |
| T-311 | Caleigh | Millican | P | Texas Dirt Divas | Louisiana Tech |
| T-311 | Regan | Edwards | 3B | Tulsa Elite | uncommitted |
| 312 | Morgan | Maddaluna | OF/2B | Carolina Elite - Pack | Western Carolina |
| 313 | Abby | Gunter | C/IF | Central Coast Athletics | Iowa State |
| T-314 | Ashley | Kennedy | C/IF | Lemont Rockers | uncommitted |
| T-314 | Bryn | Elliott | C | Ohio Outlaws Premier - Parson | uncommitted |
| 315 | Gabby | Givers | OF | EC Bullets - Byars | uncommitted |
| 316 | Jocelyn | Currie | 2B/OF | Illinois Chill | uncommitted |
| 317 | Raigan | Mock | P | Centex Buzz | Stephen F. Austin |
| 318 | Jocelyn | Abbott | IF/OF | St. Louis Chaos - Eagan | uncommitted |
| 319 | Ja'Lynn | Swiney | IF | Angels Fastpitch | uncommitted |
| 320 | D'Aun | Riggs | OF | Birmingham Thunderbolts - Dorsett/Burt | uncommitted |
| T-321 | Allie | Beck | OF | Corona Angels | Biola |
| T-321 | Ashley | Vallejo | P | Texas Bombers | McNeese State |
| 322 | Marley | Holmes | P/1B | Georgia Impact National - Lewis | uncommitted |
| 323 | Zahri | Dunson | 1B/OF | Georgia Impact - Newland | uncommitted |
| 324 | Jessica | Acosta | 2B | Athletics - Mercado | uncommitted |
| T-325 | Maddy | Duryea | OF | Desert Thunder | Dixie State |
| T-325 | Simone | Medeiros | OF | California Suncats - Jiminez | Stephen F. Austin |
| 326 | Anna | Carden | 2B/OF | Factory Fastpitch | uncommitted |
| 327 | Liz | Seymour | 1B | EC Bullets - Aycock | uncommitted |
| T-328 | Maddy | Mays | P/3B | Universal Fastpitch | uncommitted |
| T-328 | Bristol | Reichard | 3B | PA Strikers | La Salle |
| 329 | Olivia | Marshall | OF | Carolina Elite - Pack | USC Upstate |
| 330 | Hannah | Farley | P/1B | Firecrackers - Gale | uncommitted |
| T-331 | Bailey | Welch | OF | Birmingham Thunderbolts 02 | uncommitted |
| T-331 | Olivia | Fannin | P | EC Bullets - Byars | uncommitted |
| 332 | Alex | Perren | C/OF | Impact Gold MS - Holeman | uncommitted |
| T-333 | Elianna | Reyes | OF/IF | Firecrackers - TJ | uncommitted |
| T-333 | Camyl | Armendariz | SS/3B | Corona Angels - Tyson | uncommitted |
| 334 | Mackensie | Vasquez | MIF/OF | Texas Blaze | uncommitted |
| 335 | Brooklyn | Linneman | P/1B | Ohio Hawks - Joseforsky | uncommitted |
| 336 | Annabel | Adams | IF | Impact Gold | North Georgia |
| 337 | Kayla | Stone | SS | Central Coast Athletics | Hawaii |
| 338 | Claire | Carson | OF | Georgia Impact National - Wright | uncommitted |
| T-339 | Jaya | Herring | OF | TN Elite Gold | uncommitted |
| T-339 | Zoey | Jones | OF/1B | Rock Gold - Waye | Florida Atlantic |
| 340 | Kylie | Gaffney | P | Firecrackers - Jensen | uncommitted |
| 341 | Lindsey | Richardson | 1B | Birmingham Vipers - Standifer | Jacksonville State |
| 342 | Karlee | Juarez | C/OF | California Grapettes | Miami-Ohio |
| 343 | Paige | Andrews | IF/UT | EC Bullets - Byars | uncommitted |
| T-344 | Ally | Bigham | MIF | Team NC - Baylog | UNC Charlotte |
| T-344 | Hallie | Bryant | OF/2B | Gainesville Gold | uncommitted |
| 345 | Kinsey | Ventura | OF/1B | Ohio Hawks - Joseforsky | uncommitted |
| T-346 | Katie | Contreras | 1B | Factory Fastpitch | uncommitted |
| T-346 | Lauren | Anderson | C/OF | Factory Fastpitch | uncommitted |
| 347 | Avery | Bellai | OF | Team NC - Mele | Appalachian State |
| 348 | Juliana | Perez | MIF/OF | Universal Fastpitch | uncommitted |
| 349 | Breanna | Cooper | OF/SS | Ohio Lasers Green | uncommitted |
| 350 | Mary Beth | Cahalan | C/3B | EC Bullets - Byars | uncommitted |
| T-351 | Valerie | Ornelas | C | Firecrackers - Davis | Cal State Fullerton |
| T-351 | Shelby | Buchanan | OF | So Cal Choppers - Fausett | uncommitted |
| 352 | Kaytlin | Leyvas | C/3B | Oro Valley Suncats | uncommitted |
| 353 | Natalie | Hurdle | OF/IF | Birmingham Thunderbolts 02 | uncommitted |
| 354 | Alexa | Williams | P | Firecrackers - Brashear/Thornburg | San Diego |
| 355 | Zaia | Castruita | 3B | Athletics - Mercado | uncommitted |
| T-356 | Lauren | Florez | P/1B | KC Peppers-Wallace | uncommitted |
| T-356 | Nicole | Bondoc | OF | Jersey Nightmare | St. Joseph's |
| 357 | Anna | Lewis | MIF/OF | EC Bullets - Byars | uncommitted |
| 358 | Ashleigh | Robinson | MIF | Tampa Mustangs - TJ | uncommitted |
| T-359 | Elie | Roberts | SS/P | Factory Fastpitch | uncommitted |
| T-359 | Johnna | Staggs | P/1B | Huntsville Sparks Elite | uncommitted |
| 360 | Brooklyn | Ostrowski | OF | Panthers Fastpitch | Fordham |
| 361 | Kendall | Shank | P/1B | PA Strikers Premier | uncommitted |
| T-362 | Hallie | Mele | P/MIF | Team NC - Mele | USC Upstate |
| T-362 | Sydney | Nuismer | P | Nebraska Gold 14U | uncommitted |
| 363 | Sasamamao | Koria | 3B/1B | Athletics - Mercado | uncommitted |
| 364 | Caroline | Lively | C | Georgia Impact National - Wright | uncommitted |
| 365 | Lexi | Moore | OF/SS | Wagner's Gold-Allender | Delaware |
| 366 | Izzabela | Goerke | C/UT | Oro Valley Suncats | Grand Canyon |
| T-367 | Kat | Grill | OF/UT | Birmingham Thunderbolts - Dorsett/Burt | uncommitted |
| T-367 | Easton | Head | UT | KC Peppers Gold - Eakin | uncommitted |
| 368 | Taylor | Snow | P/1B | Louisiana Voodoo | Memphis |
| T-369 | Mattie | Lee | 3B/SS | Oklahoma Athletics | McNeese State |
| T-369 | Lanaya | Bates | OF/SS | Jersey Intensity | uncommitted |
| 370 | Lindsey | Phares | MIF | Ohio Outlaws Premier - Lucas | uncommitted |
| 371 | Emma | Bode | OF/2B | Ohio Hawks - Joseforsky | uncommitted |
| 372 | Abigail | Turner | | Georgia Power | uncommitted |
| 373 | Maddie | Kieity | C | Top Gun Academy - Sciara | uncommitted |
| T-374 | Kelsey | Carr | P | Team Long Island DeMarini | Seton Hall |
| T-374 | JoJo | Rodriguez | 1B/OF | Ohana Tigers - Quarles | uncommitted |
| 375 | Ellie | Easterly | P | Atlanta Premier 02 - Ryman | uncommitted |
| 376 | Bess | Adams | P | Birmingham Thunderbolts 02 | uncommitted |
| T-377 | Alyssa | Kaneshiro | C | So Cal Choppers - Fausett | uncommitted |
| T-377 | Victoria | O'Keefe | C/3B | Atlanta Premier 02 - Ryman | uncommitted |
| 378 | Shelbie | Caro | 1B | Lady Magic 14U | uncommitted |
| 379 | Abby | Hughes | P | Georgia Impact - Newland | uncommitted |
| 380 | Jordan | Cabana | MIF/P | Texas Glory | Harding |
| T-381 | Sam | Oliver | 1B | LTG Lions | uncommitted |
| T-381 | Kaitlyn | Tucker | MIF | Carolina Elite 14 Gold - Fisher | uncommitted |
| 382 | Audrey | Shebloski | SS | Factory Fastpitch | uncommitted |
| 383 | Alexis | Holloway | OF/3B | Athletics - Mercado | uncommitted |
| 384 | Janie | Worthington | P | Oklahoma Athletics | uncommitted |
| 385 | Erykah | Guerrero | C | Texas Blaze | Texas-San Antonio |
| 386 | Sam | DiCicco | 2B/SS | Finesse - Dreher | uncommitted |
| 387 | Macey | Keester | OF/2B | Firecrackers - TJ | uncommitted |
| T-388 | Kennedy | Foote | MIF/OF | Birmingham Thunderbolts - Dorsett/Burt | uncommitted |
| T-388 | Emily | Silberman | P | PA Strikers | uncommitted |
| 389 | Cassidy | Brendtke | 2B/3B | Finesse - Dreher | uncommitted |
| 390 | Isabelle | Shroyer | P/OF | Ohio Lasers Green | uncommitted |
| T-391 | Jacie | Hambrick | P/IF | AZ Desert Thunder | Grand Canyon |
| T-391 | Libbie | McMahan | MIF | So Cal Choppers - Fausett | uncommitted |
| 392 | Megan | Herka | IF | Team Long Island DeMarini | Hofstra |
| 393 | Gracie | Benton | OF | Birmingham Vipers - Standifer | uncommitted |
| 394 | Lauren | Bobowski | OF/3B | Finesse - Dreher | uncommitted |
| 395 | Torrie | Gall | IF/OF | Ohio Lasers Green | uncommitted |
| 396 | Katie | Parker | SS/OF | Finesse - Skapyak | uncommitted |
| 397 | Anna | White | MIF | EC Bullets - Byars | uncommitted |
| T-398 | Lucy | Cronin | IF | Finesse - Dreher | uncommitted |
| T-398 | Taryn | Lennon | P/UT | So Cal A's - Briggs | uncommitted |
| 399 | Alena | Ramirez | 2B/OF | Factory Fastpitch | George Washington |
| 400 | Alexis | Bonk | P | Finesse - Wojcik | uncommitted |