Class of 2020: Softball Recruits 401-500
Class of 2020: Softball Recruits 401-500
FloSoftball Class of 2020: Softball Recruits 401-500
Oct 5, 2017
by FloSoftball Staff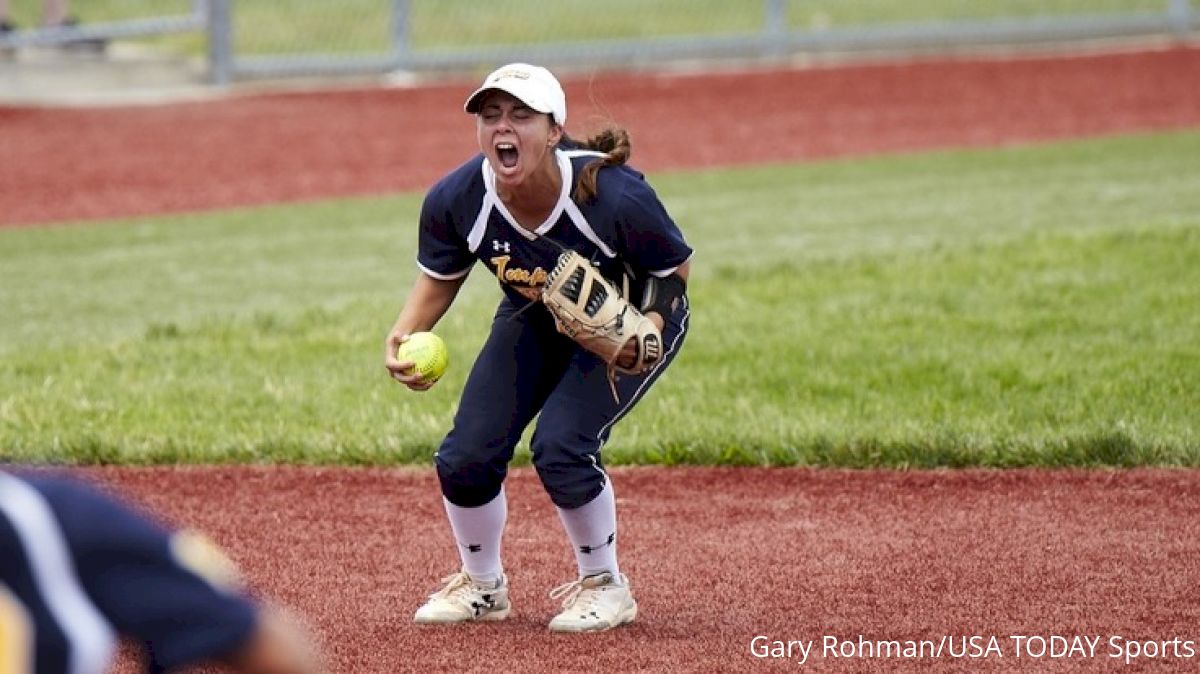 Unlock this article, live events, and more with a subscription!
Get Started
Already a subscriber? Log In
Over the last two weeks, FloSoftball unveiled the updated 2020 Hot 100 list, and today we roll out the last of the players rankings as we honor those listed 401-500.
Check in Monday to find out which college programs are doing the best so far in getting verbals from top 2020s!
As always, if any of the players' information needs modified -- perhaps because of switching club team or finalizing the college choice -- please email information to flosoftball@flosports.tv.

| Rank | First | Last | Pos | Club Team | University/College |
| --- | --- | --- | --- | --- | --- |
| 401 | Faith | Callahan | C/SS | Finesse - Skapyak | uncommitted |
| 402 | Alicia | Estrada | P | ACES | Utah |
| 403 | Abigail | Buettner | 1B/3B | Team Mizuno Impulse - Gwyn | Maryland |
| 404 | Alex-Rose | Molinar | SS | The Next Level | Boston Univ. |
| 405 | Madison | Reger | P | Universal Fastpitch | uncommitted |
| 406 | Lauren | Marcotte | SS | Beverly Bandits - Moran | Penn State |
| 407 | Aubrey | Moon | OF/MIF | Texas Glory | Harding |
| 408 | Emily | Barras | 3B/OF | Wagner's/3n2 | Mercer |
| 409 | Kenzi | Traylor | P/1B | Huntsville Sparks Elite | uncommitted |
| 410 | Kyleigh | Sanders | SS/OF | Corona Angels | DePaul |
| 411 | Ansley | Duffy | C/3B | Easton Elite Speed | uncommitted |
| 412 | Raelee | Weaver | P/UT | East Cobb Bullets - Caldwell | Mercer |
| 413 | Marlie | McNulty | OF | Beverly Bandits - Moran | Pitt |
| 414 | Kennedy | Reynolds | 1B/OF | Impact Gold - Mata | McNeese State |
| 415 | Haley | Schmaltz | C/1B/3B | Texas Glory | Texas-Arlington |
| 416 | Karlie | Moore | OF | Finesse - Skapyak | uncommitted |
| 417 | Bianca | Morales | 3B | Factory Fastpitch | uncommitted |
| 418 | Makenna | Russell | C/1B | Sorcerer - Schroll | Fresno State |
| 419 | Skye | Grant | C/3B | Finesse - Skapyak | uncommitted |
| 420 | Skylar | Sheridan | C/IF | Easton Elite Speed | uncommitted |
| 421 | Anna | King | P | Lady Blues Elite | Campbell |
| 422 | Harlow | Sage | UT | Texas Glory | Tulsa |
| 423 | Jalyn | McGuffin | C | Texas Bombers | uncommitted |
| 424 | Sidney | Torres | IF/OF | Ashburn Shooting Stars | uncommitted |
| 425 | Isabella | Pahulu | UT | California Grapettes | uncommitted |
| 426 | Saya | Swain | P | Texas Glory - Naudin | uncommitted |
| 427 | Ryleigh | Mata | MIF/OF | Impact Gold | Stephen F. Austin |
| 428 | Auryana | Johnson | CF/2B | Tulsa Elite | uncommitted |
| 429 | Peyton | Lee | P | Texas Glory - Adkins | uncommitted |
| 430 | Sami | Adams | OF/C | Ohio Outlaws | Saint Francis |
| 431 | Kierson | George | OF | Beverly Bandits - Moran | Purdue |
| 432 | Jenna | Laird | SS | Team Long Island DeMarini | Hofstra |
| T-433 | Phoebe | Schultz | OF | Washington Majestics | Dixie State |
| T-433 | Karolyn | Walker | P/UT | Jersey Intensity | uncommitted |
| 434 | Kennady | Warder | C/IF | Prodigy Fastpitch Elite | uncommitted |
| 435 | Bryn | Boznanski | 1B/SS | Firecrackers - Brashears | uncommitted |
| 436 | Gabby | Holloway | P | Carolina Elite 14 Gold - Fisher | uncommitted |
| 437 | Valerie | Joaquin | SS | Firecrackers - Ensey | uncommitted |
| 438 | Dariane | Cram | OF/MIF | Impact Gold - Mata | uncommitted |
| 439 | Brooke | Davis | SS | Team Mizuno Impulse - Gwyn | uncommitted |
| 440 | Alanah | Rivera | SS | Gainesville Gold | uncommitted |
| T-441 | Kaitlyn | Gee | SS/UT | Texas Glory | Harding |
| T-441 | Carley | Auten | 2B | Ohio Outlaws Premier - Parson | uncommitted |
| 442 | Mia | Greenzweig | MIF/OF | Impact Gold DFW | Memphis |
| 443 | Eryn | Sanchez | P/1B | Impact Gold - Mata | uncommitted |
| T-444 | Rylee | Lamb | P | Atlanta Premier 02 - Ryman | uncommitted |
| T-444 | Carson | Armijo | P | Texas Glory - Naudin | uncommitted |
| 445 | Kaylan | Cole | P/UT | TN Fury Platinum - Hughes | uncommitted |
| 446 | Paige | Sandidge | C/OF | Ashburn Shooting Stars | uncommitted |
| 447 | Regan | Krause | P/1B | Beverly Bandits - Tyrrell | uncommitted |
| 448 | Madyson | Blake | P/1B | Impact Gold - Mata | uncommitted |
| 449 | Avery | Shepherd | SS | Ohio Outlaws Premier - Parson | uncommitted |
| 450 | Sadie | Hewitt | P/IF | Texas Futures | Southeastern Louisiana |
| 451 | Milaysia | Ochoa | OF | OC Batbusters - Lara/Portesi | uncommitted |
| 452 | Nicole | Giery | 3B | Vienna Stars | uncommitted |
| 453 | Anslee | Day | 1B | Atlanta Vipers - Jiles | Kennesaw State |
| 454 | Daryn | Lamprecht | C | Top Gun Academy - Angels | uncommitted |
| 455 | Raina | Lange | P/SS | Impact Gold HTX | Texas State |
| 456 | Sierra | Brodgon | 1B/2B | Firecrackrs SWG | uncommitted |
| 457 | Rilee | Jones | P | Carolina Elite - Baker/Fusetti | uncommitted |
| T-458 | Mariana | Vazquez | C/MIF | Impact Gold - Mata | uncommitted |
| T-458 | Gracie | Lusk | IF/OF | TN Fury Platinum | uncommitted |
| 459 | Izzabela | Goerke | C/UT | Oro Valley Suncats | Grand Canyon |
| 460 | Addie | Lightner | P/IF | DeMarini Aces | uncommitted |
| 461 | Sydney | Little | OF | East Cobb Bullets - Wright | uncommitted |
| 462 | Jackie | Jessup | 3B/1B | Impact Gold HTX | Houston Baptist |
| 463 | Lilanna | Martinez | 2B/OF | OC Batbusters - Lara/Portesi | uncommitted |
| 464 | Layla | Barron | P/IF | Easton Elite Speed | uncommitted |
| 465 | Abby | Martin | OF | Atlanta Vipers | Samford |
| 466 | Taylor | Minnick | C/OF | Indiana Gators - Linton | uncommitted |
| 467 | Kaitlyn | Mulchahey | P | Jersey Intensity | uncommitted |
| 468 | Caroline | Easom | P/MIF | Impact Gold - Mata | uncommitted |
| 469 | Anna | Pires | 3B | Lady Magic | uncommitted |
| 470 | Alyssa | Daniell | 1B/OF | NW Bullets - Cepeda | uncommitted |
| 471 | Sarah | Conklin | OF | Ohio Outlaws Premier - Karcher | uncommitted |
| T-472 | Addy | Greene | MIF/OF | Orion Hunter Teal | uncommitted |
| T-472 | Ariell | Romero | OF | Ohana Tigers - Quarles | uncommitted |
| 473 | Grace | Jackson | P/2B | PA Chaos | uncommitted |
| 474 | Kelly | McGuigan | 1B/OF | West Bay Warriors | uncommitted |
| 475 | Makayla | Rice | SS/C | DeMarini Aces | uncommitted |
| 476 | Mia | Rushton | OF/2B | San Diego Renegades - Pearlstein | uncommitted |
| 477 | Hannah | Jacobsen | C/IF | OC Batbusters - Lara/Portesi | uncommitted |
| 478 | Makenzie | Mason | 2B/OF | Lady Blues Select - Mason | UNC-Wilmington |
| T-479 | Payton | Cox | 1B/OF | Beverly Bandits - Dorsey | uncommitted |
| T-479 | Daisy | Taloa | UT | California Cruisers | uncommitted |
| 480 | Jaycee | Ginter | P/SS | Top Gun Academy - Angels | uncommitted |
| 481 | Courtney | White | IF | Texas Blaze | uncommitted |
| 482 | Morgan | Bennett | 3B/UT | Georgia Impact National - Lewis | uncommitted |
| 483 | Kayley | DeVii | OF/3B | Williamsburg Starz | uncommitted |
| 484 | Jordan | Caple | OF | Glory Adkins/Berkhiser | uncommitted |
| T-485 | Megan | Lee | P | Impact Gold - Mata | uncommitted |
| T-485 | Milaan | Joseph | 1B/3B | Easton Elite Speed | uncommitted |
| 486 | Ellie | Griffin | C | Oklahoma Athletics Futures | uncommitted |
| 487 | Julia | Petrovich | 2B | Jersey Intensity | uncommitted |
| 488 | Kameron | Welch | 2B | Lady Magic 14U | uncommitted |
| 489 | Madison | Mok | P | Ohana Tigers - Quarles | uncommitted |
| 490 | Jane | Garver | P | Ohio Outlaws Premier - Karcher | uncommitted |
| 491 | Troy | Hoge | P | Iowa Blitz | uncommitted |
| T-492 | Emily | Schumacher | OF | PA Strikers | uncommitted |
| T-492 | Jordan | Frasure | C | Utah Premier | uncommitted |
| 493 | Marie | Trimboli | P/UT | Regulators | uncommitted |
| 494 | Tori | Brennan | P | Tampa Mustangs 02 | uncommitted |
| 495 | Marrit | Mead | IF | Top Gun Academy - Angels | uncommitted |
| 496 | Kiana | Gibson | SS/OF | Proform | Louisiana-Monroe |
| 497 | Taylor | Turner | P/UT | Finesse - Dreher | uncommitted |
| 498 | Maicie | Levitt | SS/3B | West Bay Warriors | uncommitted |
| 499 | Megan | Vaughn | P/UT | Firecrackers-SC Vaughn | uncommitted |
| 500 | Jessica | Mullins | P/UT | Texas Bombers HTX | uncommitted |